Today it is my pleasure to Welcome author
Amanda Bouchet
to HJ!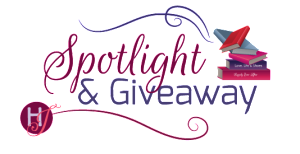 Hi Amanda and welcome to HJ! We're so excited to chat with you about your new release, A Promise of Fire!

Thank you so much for having me on Harlequin Junkie today!

Tell us about the book with this fun little challenge using the title of the book: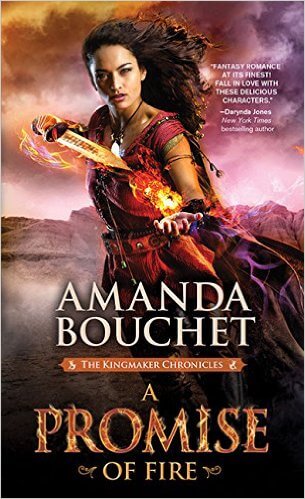 F is for Fierce and feisty heroine
I is for Intense and impassioned hero
R is for Romance and rebellion
E is for Excitement and emotion

Please share your favorite quote from the book:
"You're not who you think you are. You're better, and you're more."
Please share a few Fun facts about this book…
Most of the dialogues and scenes in A Promise of Fire came to me in the middle of the night, which is when the characters chose to play out their story in my head—usually in vivid, action-packed detail. They were adamant and rather stubborn about it, and I was completely sleep deprived for at least six months!
Using Greek mythology in A Promise of Fire came about naturally (and without much forethought) as a result of my part Greek heritage. I ended up taking the stories, gods, heroes, and legendary creatures I grew up hearing and reading about and applying the familiar Greek mythos to a new fantasy world of my own creation.
I spent hours combing baby name websites to find the classical Greece-inspired names for most of my secondary characters.
If your book was optioned for a movie, what scene would you use for the audition of the main characters and why?
What a fun question! I think the first scene where the main characters interact would be great for an audition because it establishes the chemistry between the hero, Griffin, and the heroine, Cat, who are both strong and stubborn people. The actors would need to nail that initial back-and-forth between them, but also the inherent "alphaness" of both the male and female leads, and the wariness on the part of the heroine. While attraction is there, so are suspicion and Cat's intense need for secrecy and caution—things Griffin will slowly chip away at, by any means at his disposal!
Here is a snippet from when Cat and Griffin first meet at the circus fair where Cat is working as a clairvoyant:
The low voice washes over me like the incoming tide on a dark night, chilling despite the heat. I turn, my heart leaping into my throat. The warlord who was staring at me earlier steps closer, his long fingers nearly brushing my shoulder as he points to the banner proclaiming me a soothsayer. "You planted an idea. You didn't tell him his future."
"These conversations are supposed to be confidential!" I snap, springing to my feet. Oh, Gods! How much did he hear?
"The boy asked if he'd have magic, and you never told him if he would."
My jaw unhinges. How dare the brute listen in! "I gave him a way to get magic. That's better than answering a yes-or-no question."
"So will he get it?"
I have no idea. That depends on the Oracle. It depends on Jason. "That's none of your business."
"You went to an Oracle. Which one?"
I feel the blood drain from my face. "That's none of your business, either."
His eyes narrow, and he stares down that hawkish nose at me. "What did you whisper to the boy?"
My heart stutters. "That's none—"
"—of your business," the warlord finishes dryly.
If looks could kill, I'd be dead. I don't respond well to threats, even ocular ones, and my spine shoots straighter than Poseidon's trident. "If you're trying to intimidate me, then don't bother. It won't work."
His full lips curve into a cool smile. "In my experience, I can intimidate anyone."
I huff, incredulous. "Do you want my services? If you do, sit down. Otherwise, go away. You're scaring people off with that look."
His expression darkens. "What look?"
"That one." I wag my finger in his face. "The one that says I'm big, I'm bad, and I can chew you up, spit out your guts, and use your bones for toothpicks."
The warlord's face blanks with surprise. You'd think I just morphed into the Hydra and grew some extra heads.
One of his four men, an auburn-haired ax-wielder to his left, can't repress a snort and gets the back of the warlord's fist in the gut for it. Not too hard, but hard enough that the end of the laugh comes out as a wheeze.
I glare at the semicircle of large, muscular men now cutting me off from the noise and bustle of the rest of the circus fair. My table is at my back, they're at my front, and I can't walk away, even if I want to. "Take your violence elsewhere. This is a peaceful table."
Peaceful? Me? Ha!
"All fragile flower," the warlord mocks, magnetic gray eyes looking me up and down in a way that makes my temperature rise. He studies me intently and a little too long. "And wilting in the heat."
I scowl, repressing the urge to wipe my sweaty palms on his white tunic. He's too clean for a tribal warlord. He doesn't even smell bad, and his slightly wild, jet-black hair is shiny, curling softly around his neck. There's not a drop of perspiration on him, which infuriates me. I contemplate the sword with its two-handed hilt poking up over his shoulder from the leather harness on his back, pretty sure I can't even lift the monstrosity. Good thing I have other strengths.
The sharp pinch of magic stings my skin, and I turn. Aetos is watching.
"Either sit down and get a question answered, or that man over there"—I point to my painted friend—"is going to pop your skull like a cherry in a crow's beak."
The warlord's teeth flash in the way of wolves before they pounce. "You think he can?"
"I know he can."
The idiot actually chuckles. "He wouldn't know what hit him."
I snort. "He'd incinerate you."
"He could try."
His tone is utterly unconcerned. I grit my teeth. Typical warlord: huge ego, huge sword, huge ass. Figuratively—the rest looks just right.
"Go." I point away from my table. No one insults my friends.
His eyebrows lift. "Go?"
"Do you need me to say it in sign language?" I make a rude hand gesture that universally conveys my meaning.
Setting his jaw, the warlord circles my table. I turn, too. His men follow, and the semicircle of muscle moves to the other side, guarding the warlord's back and leaving mine once again open to the circus fair and a dozen very powerful people who will come running if I need them.
The warlord sits in the chair the boy used, dwarfing it. "You're awfully small to be making threats," he remarks casually.
"It was more of a message," I reply, still standing.
His gray eyes turning steely, he rises halfway, plants his hands on the table, and leans forward until we're practically nose to nose. "Send that message again, and I'll teach you how to make a real threat, and carry through on it."
My scalp tingles. I have to give him credit; the warlord does menace with a capital M. But I grew up on a steady diet of terror, and I know true malice when I see it. This isn't it. This is banter to people like us.
Excerpts. © Reprinted by permission. All rights reserved.

If you could have given your characters one piece of advice before the opening pages of the book, what would it be and why?
This is a tough one! If I give them any advice, they might not end up making the same decisions that bring them to their adventures and trials and relationships. But because everyone sometimes needs a nudge in the right direction, I can try 😉
To Cat, the heroine, I might say that giving another person the benefit of the doubt doesn't necessarily mean being a fool. Out of caution, Cat separates herself from everyone, but she has no desire to be alone. Trust is fragile and precious, and I wish she could find it sooner in her life.
As for Griffin, the hero, I would probably let him know that abduction doesn't usually go over well, especially when the Cat you catch has claws. He's intelligent and resourceful, and I'd love to tell him to find another way to secure Cat by his side. But he gets exactly what he deserves for a domineering move like that—which is one hell of a fight on his hands.
What are you currently working on? What other releases do you have planned for 2016?
A Promise of Fire is my only release in 2016, but Breath of Fire, the second novel in the Kingmaker Chronicles will be available in January 2017. I'm currently working on Heart on Fire, the final novel in the trilogy.

Thanks for blogging at HJ!
Giveaway:

2 Print copies of A Promise of Fire (Kingmaker Chronicles) by Amanda Bouchet
To enter Giveaway: Please complete the Rafflecopter form and

leave a comment with your thoughts on the book…
Book Info:
KINGDOMS WILL RISE AND FALL FOR HER…
BUT NOT IF SHE CAN HELP IT
Catalia "Cat" Fisa lives disguised as a soothsayer in a traveling circus. She is perfectly content avoiding the danger and destiny the Gods-and her homicidal mother-have saddled her with. That is, until Griffin, an ambitious warlord from the magic-deprived south, fixes her with his steely gaze and upsets her illusion of safety forever.
Griffin knows Cat is the Kingmaker, the woman who divines the truth through lies. He wants her as a powerful weapon for his newly conquered realm-until he realizes he wants her for much more than her magic. Cat fights him at every turn, but Griffin's fairness, loyalty, and smoldering advances make him increasingly hard to resist and leave her wondering if life really does have to be short, and lived alone.

Buy Links: Amazon Apple Books-A-Million Barnes & Noble  Chapters Indiebound
Meet the Author: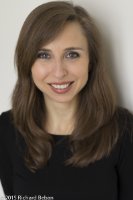 Award-winning author Amanda Bouchet grew up in New England and studied French at the undergraduate and graduate levels. She moved to Paris, France, in 2001. Her first novel, A Promise of Fire, won several Romance Writers of America chapter contests, including the Orange Rose Contest and the paranormal category of the prestigious Golden Pen.