Please welcome historical romance author

Anna Campbell

to HJ!
Hi Anna, Welcome to HJ!
Hi Sara! Thanks for having me as your guest today. Love the site!
If you gave one of your characters an opportunity to speak for themselves,what would they say about you?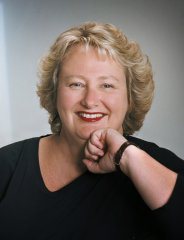 Ha ha. Great question. I think my characters would all say they're not going to let no stinkin' author push them around! Seriously, I had quite a different story in mind when I set out to write A RAKE'S MIDNIGHT KISS, but both Genevieve and Richard came on the page as such strong individuals with such strong ideas of what they wanted to do (and not do, curse them!) that I ended up letting them have their way. Of course the fact that they're strong individuals means there's plenty of sparks flying as they unwillingly fall in love.
What would you say are the defining characteristic of your Novels?
I write emotional and sensual novels with high stakes stories. One of the things about my real life self that hasn't perhaps been that obvious in the books till now is that I like jokes. Richard is one of those heroes who hides his wounded heart behind many a witty quip so I got to be funny (well, at least do my best!) in A RAKE'S MIDNIGHT KISS.
Do you find writing love scenes giggle-worthy or cringe-worthy?
Neither. I love writing love scenes. It's when I can really get to grips with my characters' deepest motivations and emotions! And they can get to grips with each other, both literally and figuratively! I think in a good love scene, the characters are naked emotionally as well as physically!
Which hero, among your books has given you the biggest run for your money?
Ha ha! I'm a bit of a serial monogamist. I fall in love with each hero in turn. It's an occupational hazard. Just because he's my current squeeze, I'll choose Camden Rothermere, the Duke of Sedgemoor, who's a secondary character in SEVEN NIGHTS IN A ROGUE'S BED and A RAKE'S MIDNIGHT KISS. I'm currently writing his story and he's fighting like a demon again falling in love. I have fun with guys who need to be dragged kicking and screaming to recognizing that they can't escape their destiny.
What are you currently reading?
I've just finished THE LADY AND THE LAIRD by the fabulous Nicola Cornick, the first in her Scottish Brides series. This story combines a whole stack of things I love – Regency setting, Scotland, a brave and protective Highland hero, a very gutsy heroine, lots of problems before they get their happy ending, and some wonderful sexual tension.
If you had to summarize A Rake's Midnight Kiss for the readers here ….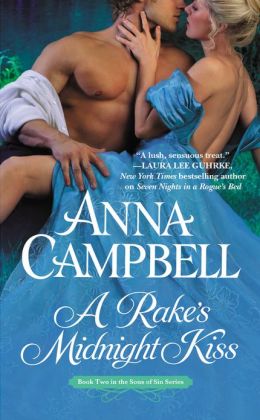 When I came up with the idea for A RAKE'S MIDNIGHT KISS, I had a picture in my mind of a man who becomes a hero in spite of himself. Sir Richard Harmsworth avoids emotional commitments like the plague and hides his deepest feelings beneath an elegant, careless façade. But when he falls in love with scholarly vicar's daughter Genevieve Barrett and discovers that there are some genuine baddies threatening her, he has to step up to the plate. Always love that moment. I had a couple of models in my mind when I wrote the story – the old Cary Grant film TO CATCH A THIEF and the Scarlet Pimpernel.
Please tell us about the characters in your book
Sir Richard Harmsworth has always known he was the result of an illicit liaison between his mother and a man who wasn't her husband. And so has the rest of the world. He's grown up facing down scandal by pretending he doesn't care. But when someone taunts him about his birth, he finally loses his temper and swears to lay his hands on the Harmsworth Jewel, a family heirloom that confirms his birthright. This quest leads him to burglary, a false identity, danger, passion and true love – and the realization that what matters is who he is, not what the world thinks of him.
Genevieve Barrett is a woman who hides away from involvement in books and scholarship. But she's never received adequate credit for her work. Now her research into the Harmsworth Jewel offers the opportunity for independence and academic reputation. She might be unworldly, but she's smart and she knows her father's new student, the rich dilettante Christopher Evans has hidden motives. He also wants to seduce her, but he doesn't try to hide that! It would be so much easier if, despite her suspicions, she didn't find Mr. Evans so irresistibly attractive.
What scene did you have most fun writing? why?
Actually I had fun with pretty much all A RAKE'S MIDNIGHT KISS. There's such a cat and mouse game between Genevieve and Richard and you just know they're falling in love even as they fight it all the way. Speaking of cats, Genevieve owns a man-hating cat and this is Richard's first encounter with the ferocious feline Hecuba. Richard and his dog Sirius have arrived at the vicarage and have just been introduced to Genevieve, her aunt, and her father's aristocratic colleague Lord Neville Fairbrother:
"Is this an inconvenient time? I can come another day." A quizzical expression lit Mr. Evans's face and Genevieve realized he'd misunderstood her scowl. Apparently awkward social behavior at the vicarage wasn't confined to the maid. Color pricked at her cheeks.
"Mr. Evans, I'm—"
A storm of screeching and hissing drowned her answer. Hecuba, her aged black cat, leaped onto Genevieve's shoulder, dug her claws in, then launched herself at the high shelf lined with china plates. The dog barked once, then settled at his master's heel.
"Good God!" Lord Neville jumped back. Aunt Lucy shrieked and cowered against her chair. Mr. Evans, who had until now struck her as a rather languid gentleman, moved with impressive speed to save a blue and white Delft plate that Genevieve had always hated.
"I'll put Sirius outside," he said calmly, handing her the dish.
The dog regarded her with reproach. He was behaving perfectly so she felt like a traitor when she agreed. "That might be wise."
"But first I'll rescue your cat."
"Hecuba doesn't like men," Genevieve said quickly, but Mr. Evans had already reached up. To her astonishment, Hecuba dived into his arms as fast as a gannet plunged into the sea after a herring.
"I see that," he said solemnly. Somehow she knew that beneath his grave demeanor, he laughed at her.
"How bizarre," she said, momentarily distracted from the chaos. Even from a few feet away, Genevieve heard purrs of delight as the big, lean man cradled Hecuba to his dark brown coat. She'd rescued Hecuba as a kitten from neighborhood lads attempting to set fire to her tail. Since then, the cat couldn't abide the touch of any human male.
With a gentleness that made Genevieve's foolish heart skip a beat, Mr. Evans passed Hecuba across. Hecuba's reluctance to forsake her new beau was audible. The man snapped his fingers at the dog. "Come, Sirius. Outside."
Genevieve still recovered from her odd reaction to the sight of those capable, deft hands handling her cat. She bent over Hecuba, hoping that nobody noticed that the usually unruffled Genevieve Barrett was indisputably ruffled.
Who would who cast in the role of hero and heroine if your book was optioned for a movie?
What a fun idea! I think I'll go a bit old school. Because Richard has a touch of the Scarlet Pimpernel about him (and he's a gorgeous blond!), I'll choose Anthony Andrews as he was in the Scarlet Pimpernel movie. For Genevieve, because of the TO CATCH A THIEF CONNECTION, let's go for Grace Kelly.
What are you currently working on? What other releases so you have planned for 2013?
I'm currently writing Cam's story and really enjoying it. He's been Mr. Cool, Calm and Collected in the other Sons of Sin stories. He's falling in love with the last woman he ever expected to right now and he's very far from CC and C about it all! I'm having a busy year for releases. In March, I indie published a Regency ghost romance called THESE HAUNTED HEARTS (Amazon). In July, there was a Sons of Sin novella called DAYS OF RAKES AND ROSES (Amazon). Then toward the end of the year, I've got a short story in a Christmas anthology with a couple of other fantastic authors. Watch for more information about that!
Where can readers get in touch with you?
I love to hear from readers. You can contact me in several ways:
Website: www.annacampbell.info
Twitter: @AnnaCampbellOz
Facebook: https://www.facebook.com/AnnaCampbellFans
GoodReads: http://www.goodreads.com/author/show/296477.Anna_Campbell
Thank you for stopping by HJ!
Thank you for having me. That was a fun interview!
Giveaway:

2 print copies of A Rake's Midnight Kiss
To enter Giveaway: Please complete the Rafflecopter form and Post a comment to this Q:

Let's talk gorgeous guys! Who's your current favorite romance hero and who would you choose to play him if they made a movie of the story?
An excerpt:
When innocent vicar's daughter Genevieve Barrett chances a midnight swim on the Duke of Sedgemoor's estate, she gets more than she bargained for when rakish Christopher Evans (aka Sir Richard Harmsworth) discovers her:
The night was so still that Richard heard the soft pad of her feet as Genevieve approached. He turned around. Control, man. Control.
"Genevieve, you are beyond lovely." Admiration roughened his voice.
The downward flicker of her lashes betrayed a bashfulness that touched him as much as her defiance. "It's a very old dress."
That doyen of fashion Sir Richard Harmsworth should scorn the drab garment, but Genevieve's beauty transformed the worn muslin. He held out a hand, unsurprised to note that it wasn't steady. A distant warning clanged in his brain that with this woman he risked the detachment that protected him from emotion. But how could he heed caution's call with her standing so close?
"Come here," he murmured, taking her hand. Her skin was cool from her swim. Slowly he drew her nearer.
Hesitantly she advanced. Her shyness quieted the rapacious beast inside him, so gentleness came naturally when he slid his hand around her waist. Her innocence seemed precious and fragile. As precious and fragile as the Harmsworth Jewel. His heavily armored heart cramped with poignant longing and his grip turned coaxing, soft. Touch confirmed what sight had hinted. She wore nothing beneath the flimsy muslin.
"I'm sure this is a mistake." Her body lost its stiffness and she curved into his hand.
"I'm sure it's not." Which wasn't completely true, damn it.
He was accounted a master of seduction. But this tremulous, delicate anticipation made him feel like a boy with his sweetheart. He lifted the hand he held and placed it over his heart. Through his thin cambric shirt, her touch melted all remnants of calculation.
Experimentally she flexed her hand, spurring his heart into a gallop. "You're so warm."
"Let me warm you," he whispered.
Her chin tilted until glittering eyes met his. What he read in her gaze was no surprise. Trepidation. Questions. Courage. And something else. Something he'd longed to see since he'd climbed through her window little more than a week ago.
Desire.
He'd imagined when he kissed Genevieve, he'd be eager to stake his claim. That wasn't how he felt, holding her tall, trembling body in the moonlight and staring into her beautiful face. Perhaps the night indeed possessed magic. Or, much easier to believe, the woman did.