Today it is my pleasure to Welcome author
Melanie Milburne
to HJ!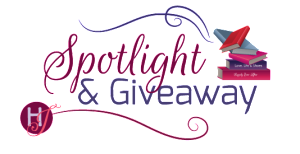 Hi Melanie and welcome to HJ! We're so excited to chat with you about your new release, A Ring for the Greek's Baby!
Hello!
Please summarize the book for the readers here: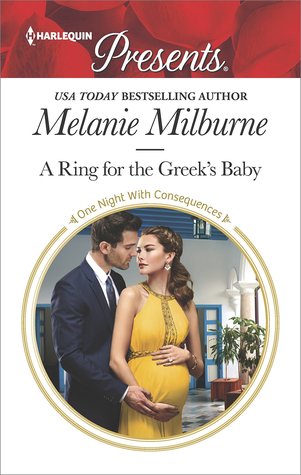 Emily is a clumsy London legal secretary who had a one-night stand with the best man at her friend's wedding where she was the bridesmaid. (This is the second in my Greek billionaire duet- Book one was-Wedding Night With Her Enemy) Loukas Kyprianos is a locked down loner carrying a guilty secret and it is only when he meets Emily that bright sunshine finally comes into his life.

Please share the opening lines of this book:
When the seventh test came back positive, Emily knew it was time to face the truth. Face it or spend a fortune on pregnancy tests until there wasn't a pharmacy she could walk into in the whole of London without blushing with an 'it's me again' grimace. She'd thought buying a jumbo box of tampons was embarrassing, but a basket full of pregnancy tests was way worse.
Please share a few Fun facts about this book…
I really enjoyed writing Emily's character. She was such a loving person who wanted the fairy tale so much. Her quirkiness was a good counter to Loukas's dark seriousness. They belonged together so it was a joy to make sure they had their happy ending.
Please tell us a little about the characters in your book. As you wrote your protagonist was there anything about them that surprised you?
My characters always surprise me! But with this particular story it was Loukas more than Emily that caught me off guard. He had a tragic secret that I didn't know about when I first thought of his character. The guilt he carried defined him in so many ways.
If your book was optioned for a movie, what scene would you use for the audition of the main characters and why?
I enjoyed writing the scene where Emily is trying to work up the courage to tell Loukas her news.
The intimacy they'd shared that night was like a presence hovering. The air was charged with it. Electrified by it. Humming with it.
His bottomless brown gaze moved over her body like a caress. 'You look beautiful.'
Emily wished she didn't have such a propensity to blush. She could feel it crawling over her cheeks like a spill of red wine on a cream carpet. She tucked a strand of hair back behind her ear. Shifted her feet. Smoothed her hands down the front of her dress. 'Would you like a drink or…?'
He stepped closer, placing his hands on her waist and bringing his mouth down to within a breath of hers. 'Let's get this out of the way first.'
With a willpower Emily hadn't even known she possessed, she placed her hands against his chest and took a faltering step backwards. 'Can we have dinner first? It's just, it's been a month, and I feel a little…'
He gave one of his rare smiles. It was little more than an upward movement of his lips but it made something quiver on the floor of her belly like autumn leaves rustling in a playful breeze. 'You don't need to be nervous.'
Yes, I flipping well do.
Emily couldn't quite meet his gaze and focussed on the knot of his tie instead. 'Would you like to sit down? I just have to get my…my bag.'
And my courage, which seems to have left the building. Possibly the country.
'Take your time. The booking isn't till eight.'
'Right, well, then, I'll just be a moment.' She backed away but bumped into the lamp on the table behind her. 'Oops. Sorry. Won't be a tick.'
Emily dashed back to the bathroom and gripped the edge of the basin.
You can do this. You can do this. You can do this.
She glanced at her reflection and stifled a groan. Was it her imagination or did she look a-vampire-just-left-me-for-dead pale? Maybe a bit more make-up would help. A bit of bronzer or something. She reached for her bronzer pad and brush but her hand knocked her bottle of perfume to the tiled floor with a glass-shattering crash. She looked at the shards of glass for a split second before she bent down to scoop them up, slicing one of her fingers in the process. Blood oozed down over her hand and wrist as if she was on the set of a horror movie. Footsteps sounded outside the bathroom, each one of them stepping on her flailing heart.
Boom. Boom. Boom.
'Are you okay in there?' Loukas asked, opening the door.
What do you want people to take away from reading this book?
Sometimes when things happen to us we see them as nothing but disastrous. And yet, as time goes on we sometimes come to see some good amongst the bad.
What are you currently working on? What other releases do you have planned for 2017?
I am working on a Marriage of Convenience story between two archenemies. I have another book out later this year-The Tycoon's Marriage Deal, which I am really excited about. I LOVED writing that story. Tillie, a recently jilted bride is asked by a notorious playboy- Blake McClelland to be his pretend fiancée to whitewash his reputation so he can buy back his ancestral home from its current elderly and conservative owner. I had so much fun with these two as well as Truffles the labradoodle.

Thanks for blogging at HJ!
Giveaway:

A signed copy of A Ring for the Greek's Baby by Melanie Milburne – all regions.
To enter Giveaway: Please complete the Rafflecopter form and Post a comment to this Q:

Emily has great difficulty telling Loukas he is to be a father. What is the most difficult conversation you have ever had with someone?
Excerpt from A Ring for the Greek's Baby:
Emily walked out of the hospital with Loukas beside her. 'I can't believe you told her we're getting married,' she said once they were clear of the busy entrance and on their way to his car. 'Not only Dr Freeman, but the receptionist as well. Are you nuts? What if they tell someone?' 'They're meant to keep patient information confidential,' he said. She stopped walking to look up at him. 'And what about everyone else in that emergency department? What about those women in the waiting room? They recognised you. They took a photo of you. They've probably sold it to one of those media sites by now.' His features gave a tight spasm. 'If it happens, it happens.' 'But why say we're engaged when we're—' 'We're what?' he said. 'Virtual strangers? How do you think that would've made you look?' Emily blinked. 'Oh…' 'Exactly.' He let out a short breath. 'You've come out of a long-term relationship only to get pregnant after a one-night stand. It's not fair, but women still get frowned on for stuff like that. I figured it was best to let Dr Freeman think we've known each other for a while and were planning to marry.' Emily could see his point and was unexpectedly touched he'd considered the impact on her reputation. But she suspected his motives were not entirely about protecting her reputation. Loukas wanted to marry her and was refusing to take no for an answer. She hadn't taken him for a my-way-or-the-highway guy, but then she was hardly an expert when it came to reading men. She had been with Daniel for seven years and had never once suspected he was interested in men instead. Once they were inside Loukas's car and on their way, she swivelled in her seat to look at him. 'So, what was the business with your father those women in the waiting room spoke of?' His mouth tightened as if invisible stitches were being tugged from inside his jaw. 'Nothing.'

'It can't have been nothing if those strangers know about it,' Emily said. 'And Dr Freeman didn't say anything but I could read the subtext. Don't you think I should know too, since I'm now apparently—' she made air quotes with her fingers '—engaged to you?' He blew out another breath, longer this time, and his hands gripped the steering wheel firmly, as if he was worried it was going to be snatched away from him. 'He got a partner pregnant earlier this year. She was nineteen years old. He insisted she have an abortion and when she refused he dumped her.' His knuckles and tendons showed white through the tan of his skin. 'She tried to kill herself by slashing her wrists soon after. Someone found her in time but not in time to save the baby. There was too much blood loss. She miscarried on the way to hospital.' 'Oh, that's terrible…' 'My father is a high-profile businessman here and in the US, and of course the press love salacious stories like that,' he said. 'The young woman got offered a large sum of money for a tell-all interview. I can't say I blame her but it's made my life difficult, because everyone's waiting to pounce on a "like father, like son" follow-up story.' Emily could see the invidious position Loukas was in with her pregnancy. No wonder he'd insisted on marriage. He would be keen to avoid any remote comparison with his father. But marriage was meant to be a sacred commitment between two people who loved each other. How could he possibly think a marriage between them would work? They barely knew each other. 'Loukas, it's terrible what happened to that poor girl—shocking and awfully sad. But you're not your father, and shouldn't be judged by his standards or lack thereof.' 'Try telling the media that.' Emily sat quietly for the rest of the journey back to her flat. Loukas seemed disinclined to talk and she could hardly blame him. In the space of the evening, he had found out he was to become a father, had had to deal with her cutting her finger and fainting and take her to hospital and deal with an inquisitive public and hospital staff. She would discuss the marriage thing when they had both had a decent night's sleep and were in a better frame of mind.
But when Loukas turned the corner to the townhouse her little flat was housed in, she realised the night wasn't over yet. Loukas slowed down to swing into the parking space two spots behind her car. 'Are you expecting visitors?' he asked. 'No.' Emily shrank back down in the seat as a man wielding a camera came rushing towards the car. A woman with a recording device was close behind. Another person hopped out of a car further along the street and came towards Loukas's side with a camera poised. Emily sent Loukas a panicked glance. 'How did they find me?' 'Someone must have tipped them off at the hospital,' Loukas said. 'Let me handle it.' He wound down his driver's side window to the approaching journalist. The man leaned down. 'Mr Kyprianos, a source tells us you and Miss Seymour are engaged and expecting a baby. Do you have any comment to make?' 'Only to say we're thrilled to be getting married and starting a family,' Loukas said. 'Now, if you'll excuse us, we have things to do.' He got out of the car and came around to Emily's side, but the female journalist was already at the passenger window. 'Miss Seymour, how does it feel to be engaged to one of Greece's most eligible bachelors?' Emily got out of the car and slipped her hand into Loukas's. 'It's…great. Wonderful. Amazing. I mean, he's amazing. Truly amazing and so kind and thoughtful and…'
Excerpt. © Reprinted by permission. All rights reserved.
Book Info:
Notorious playboy Loukas Kyprianos cannot forget his wild night with sweet, innocent Emily Seymour. But when he arrives in London to offer a no-strings arrangement, Loukas uncovers a surprise consequence of their passion-Emily is expecting!
Despite their exquisite encounter, Emily knows Loukas can't give her the fairy tale she dreams of-so when he insists they wed, she agrees for their child's sake alone. But their engagement fuels their hunger, and when the irresistible Greek's protection turns to seduction, it's only a matter of time before Emily succumbs to his touch!
Book Links:


Meet the Author: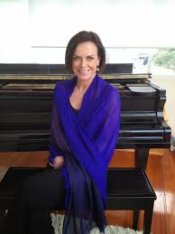 Melanie Milburne loves reading romance almost as much as she loves writing it. She grew up with a love of reading and reading her first romance book at age seventeen heavily influenced her decision to become a romance author.
She has won several awards for her fast-paced, passionate stories, including Australian Romance Writers Romantic Book of the Year in 2011 and Australian Romance Readers in 2008 and RT top pick and Cataromance Reviewer's Choice Awards. And a HOLT Medallion winner in 2015. RWNZ Koru Award of Excellence in 2015. As well as HOLT Medallion Award of Merit in 2014 & 2016.
For more information about Melanie go to www.melaniemilburne.com.au
Website | Facebook | Twitter  | GoodReads