Today it is my pleasure to Welcome author
Grace Burrowes
to HJ!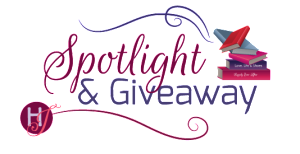 Hi Grace and welcome to HJ! We're so excited to chat with you about your new release, A Rogue of Her Own!
Please summarize the book for the readers here: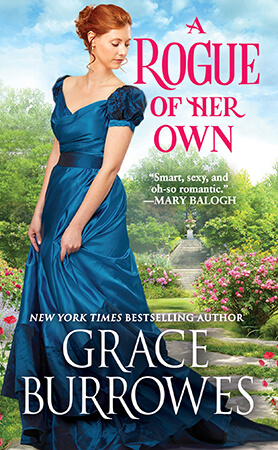 For Miss Charlotte Windham, the best way to maintain her spinsterhood-and her independence-is a teeny, tiny brush with scandal. She chooses wealthy, handsome upstart Lucas Sherbourne as her unwitting accomplice. He's intelligent, logical, and ambitious. What Charlotte doesn't count on is that one kiss will lead them straight to the altar.
Sherbourne has no love for polite society, nor is he keen on being anybody's husband of last resort. He is attracted to Charlotte's boldness, though-and her family's influence. Without a title, he knows he'll never truly be part of their world, even as he and Charlotte inch closer to a marriage that means much more than convenience. But a scheming business partner is about to test that tenuous trust, forcing Sherbourne to make a drastic choice: his wealth or his wife.

Please share a few Fun facts about this book…
Wales is believed to have more castles per square mile than anywhere else on earth. I figured that would bother Lucas Sherbourne, whose dwelling was a mere dower property a few miles distant from the local castle. He's filled his house with art and gracious appointments, but it's still not a castle—or a home—until Charlotte Windham makes it one.
Wales is the only part of the UK not represented on the Union Jack flag. A docent in Buckingham Palace told me that's because "Wales was never a country." I let him live, because Wales has its own flag sporting a nice, big, bright red, DRAGON.
The British royal family use Welsh gold in their wedding rings. This doesn't have much to do with the book, but Sherbourne and Charlotte wanted you to know (waves to Prince Harry and Mehgan).
Not so happy fact that I came across while researching Charlotte and Sherbourne's story: Pit Ponies were used in Welsh coal-mining in large numbers starting in the 1840s, when employing children under the age of ten (or women) below the surface became illegal. (We don't use pit ponies anymore either.)
The oldest preserved Welsh Love Spoon dates from 1667. I am still kicking myself for not incorporating a Welsh Love Spoon into this story. Griffin doubtless carved something simple and beautiful for Biddy, and even Sherbourne should have had an heirloom spoon or two. Did you know that the number of balls carved symbolized the number of children hoped for? No pressure!
Thanks for blogging at HJ!
Giveaway:

Print copy of A Rogue of Her Own (Windham Brides) by Grace Burrowes
To enter Giveaway: Please complete the Rafflecopter form and Post a comment to this Q:

As a reader, if your collection of books had a flag, what would you depict on that flag, what would your colors be and why? I'd have a white cat (for hope and cleverness) curled up on a soft red pillow (courage) field of brown, an open book beneath its paws. (Brown for chocolate, of course.)
Excerpt from A Rogue of Her Own:
Charlotte Windham has little use for the typical bachelor, but for Lucas Sherbourne, she does have a few plans….
Sherbourne set down his teacup. "You are understandably upset, but why seek ruin, Miss Charlotte? Windhams are nearly unruinable."
Full blown impropriety did not appeal to Charlotte, but perhaps…? "If the right people came upon me in a torrid embrace with the right sort of man, I'd be ruined." Charlotte took a sip of Sherbourne's tea, which was perfectly hot, sweet, and strong.
He crossed his arms, regarding her as if she'd proposed building a bridge across the Channel. Fine idea—if daft.
"Have you ever been in a torrid embrace, Miss Charlotte?"
Charlotte rose, because that was not a question a lady answered sitting down. "I've never so much as said the word torrid aloud before, but the plan has merit. I thought I could put up with all the matchmaking, be the family project for a few years, then the doting aunt, but I'm alone now."
The admission hurt as Papa's ridiculous letter had not. Papa was simply being a papa when he asked Charlotte to tolerate addresses from a dunderhead like Needby—half blind, well-meaning, fallible.
But the aloneness…In less than a year, all three of Charlotte's sisters had married well, and to men who lived very far from London, Kent, or Hampshire. The Moreland townhouse, always spacious, was now a maze of empty rooms and silent reproaches.
"You'll be much more alone if you're ruined," Sherbourne said. "You'll be packed off to some distant cottage, the only people to visit you will be other outcast women, some of them so poor they'll impose on your hospitality for months. You won't like it."
Well, no. To be smothered by family was unbearable, but to be abandoned by them…
"I'm prepared to endure a kiss or two in the interests of broadening my options. Vauxhall should serve for a location, which means—"
Sherbourne moved so he stood immediately before Charlotte. "Shall I kiss you?"
Though he'd asked permission—to kiss her—the question was far from polite. The whole discussion was outlandish, for that matter, and Sherbourne's tone was pugnacious rather than flirtatious.
"Why?"
"You think some dashing cavalier can buss your cheek and earn you a holiday in Kent for the next six months. Room to breathe and rest from the blows this year has dealt you. A buss to the cheek won't cause any stir whatsoever. Your family will brush it aside, the witnesses will recall it as a harmless indiscretion on your part, a daring presumption from the gentleman."
He was right, drat him clear back to Wales. "I must do something, Mr. Sherbourne. The present course is unsupportable."
"Kiss me."
Charlotte never, ever complied with orders given by men, but she occasionally compromised. In this case, she closed her eyes, raised her chin, and wondered if truly her reason hadn't already departed.
"You kiss me," she said.
Sherbourne obeyed her.
Excerpt. © Reprinted by permission. All rights reserved.


Meet the Author: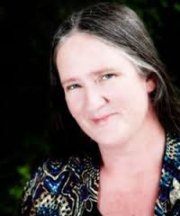 Grace Burrowes grew up in central Pennsylvania and is the sixth out of seven children. She discovered romance novels when in junior high and has been reading them voraciously ever since. Grace has a bachelor's degree in political science and a bachelor of music in music history, both from Penn State, a master's degree in conflict transformation from Eastern Mennonite University, and a juris doctor from the National Law Center at the George Washington University.
Grace writes Georgian, Regency, Scottish Victorian, and contemporary romances in both novella and novel lengths. She's a member of Romance Writers of America, and enjoys giving workshops and speaking at writers' conferences. She also loves to hear from her readers, and can be reached through her website, graceburrowes.com.
Twitter @GraceBurrowes
Facebook.com/grace.burrowes
Book Links: Amazon | B&N | iTunes | kobo |