Today it is my pleasure to Welcome author
Cat Schield
to HJ!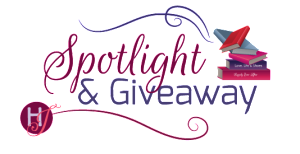 Hi Cat and welcome to HJ! We're so excited to chat with you about your new release, A Royal Baby Surprise!

Hello, I'm so happy to be here.

Please summarize the book a la Twitter style for the readers here: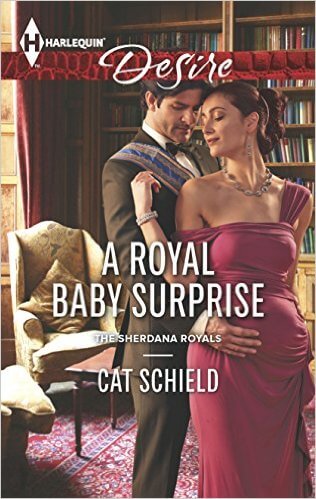 A rocket-scientist prince must marry and produce an heir for his country's throne, but the only woman he wants is the one he can't have.

Please share your favorite line or quote from this book:
"And I'm just an ordinary girl from California with two doctorates." The corners of her mouth quivered in a weak attempt at a smile. "Complete unqualified to be your wife. I get it."
Please share a few FUN facts about this book…
in 2008 I spent a week sailing around the Greek Ionian islands where the first part of this story takes place. I fell in love with the town of Kioni and had to set a story there. Initially I'd thought to write about a woman who gets stranded on the island after her brother and his girlfriend take off on the sailboat, but then I dreamed up my Sherdanian princes. The original title for the book was Bound By Duty.

Please tell us a little about the characters in your book. As you wrote your protagonist was there anything about them that surprised you?
Nic Alessandro is the second of three triplet princes. Since his older brother will one day inherit the throne, Nic took the opportunity to pursue his dream of privatized space travel. Unfortunately, all has not gone well with the project and in the beginning of the book his confidence is pretty low.
Since Nic is a scientist, I thought a free spirited woman would drive him crazy. Brooke is an academic so they have that in common, but her area of interest centers in romantic Italian poetry. She is outgoing and laughs easily and often. Nic finds all of this far too distracting.

What kind of research did you do for this book?
I researched a group that is currently working on building a rocket that will one day carry anyone who can afford it into space. They've had great advances and terrible set backs. I found this fascinating. Where Brooke was concerned, I had her spouting Italian poetry and so needed to discover who wrote poetry in the fourteenth century.

The First kiss…
She got up from her chair and stepped into his space.

He tipped his head back and assessed her determined expression. His heart shuddered as she put her palms flat on his shoulders and settled on his lap. Even though Nic had braced himself for the arousing pressure of her firm rear on his thighs, it took every bit of concentration he possessed to put his hands behind his back, safely out of range of her tempting curves. What sort of hell had he let himself fall into?

"What do you think you're doing?"

"Are you all right?" she asked, tracing her fingertips across his furrowed brow.

God, she was a tempting lapful.

"I'm fine."

"You don't look fine."

"I'm great and you didn't answer my question." He pulled her spicy scent into his lungs and held it there. He longed to bury his face in her neck and imprint her upon his senses. "What are you doing on my lap?"

"Demonstrating that you want me as much as I want you."
Was there a scene in this book that was harder to write than others?
Normally I love tormenting my characters by keeping them apart, but Nic and Brooke were so great together that it wasn't fun watching them try to do the right thing. Below is part of a scene where Nic decides he can't leave Brooke in Greece while he travels home.
After five years of teasing and cajoling, bullying and begging, Brooke thought she had Nic all figured out. He preferred working in solitude, hated drama and rarely veered from a goal once he'd set his mind to something. But this announcement left her floundering. Had she ever really known him at all?

"What do you mean you're taking me home with you?" The notion thrilled and terrified her.

"Exactly what I said." Nic's jaw was set in uncompromising lines. "You will fly with me to Sherdana and from there I will make sure you get a flight back to California."

The knot in Brooke's stomach didn't ease with his clarification. "I assure you I'm perfectly capable of getting a flight home from Greece." With morning sickness plaguing her, she'd given up the idea of a summer holiday to Italy. She wanted to be surrounded by familiar things and her favorite people. Maybe she'd spend a week in L.A. visiting her parents.

"Don't make this difficult on yourself."

"Isn't that what I should be saying to you?" Seeing he didn't comprehend her meaning, Brooke clarified. "Have you considered what happens when we land? How fast can you get me on a plane to the states? In the meantime are you planning on leaving me waiting at the airport? Putting me up in a hotel? Or perhaps you think I'd be more comfortable at the palace?"

Expecting her sarcasm to be lost on him the way it usually was, Brooke was stunned by his matter-of-fact retort.

"My brother said he'll make sure the staff sets an extra place for you at dinner next to my mother." A trace of malice lit up his eyes as her mouth dropped open.

"I can't have dinner with your family." Her throat clenched around a lump of panic.

"Why not?"

"I have nothing to wear."

"You look well covered to me."

With lids half closed, his gaze roamed over her body, setting off a chain reaction of longing and need. The July morning had gone from warm to hot as the sun had crested the horizon and Brooke had dressed accordingly in a loose-fitting blue and white cotton peasant dress with a thigh-baring hem and a plunging neckline. The look was fine for traveling from one Greek Island to another or catching a short flight to Rome, London or anywhere else she could snag a connection home to California. But to go to Sherdana and be introduced to Nic's family.

"Why are you really bringing me along?"

"Because I'm not ready to let you go." As light as a feather, he slid his forefinger along her jaw. It fell away when it reached her chin. "Not yet."
If your book was optioned for a movie, what scene would be absolutely crucial to include and why?
I think a crucial scene would be when Brooke defends Nic's dream of privatized space travel to his mother.
The edges of Brooke's vision darkened. What was Nic's mother trying to establish? Already Brooke had accepted that she and Nic had no future. She knew he would never give his mother any cause to believe otherwise so she guessed the queen's protective instincts were kicking in. She understood. In eight months she would have her own child to keep from harm. Heaven help anyone who got in her way.

"He was my brother's best friend for over ten years," Brooke said, her voice trailing off. "I saw Nic when I visited. Did I once want something more? Yes. But that was before I knew who he was and what was expected of him."

"Are you trying to tell me you didn't know he was a prince?"

Brooke held still beneath the penetrating regard. The queen's face became difficult to stay focused on. Brooke wanting nothing more than to lie down until the spinning stopped.
"I didn't know until a few days ago. He left California without a word after the accident. I tracked him down to Ithaca because he wouldn't return my phone calls or e-mails. I was worried about him."

The queen nodded. "The rocket ship was very important to him. But it's gone and he needs to put it behind him." Her tone was dismissive as if Griffin wasn't her son's driving passion.

"He can't just put it behind him. He feels responsible for the death of one of his fellow scientists." Brooke endured a sharp pinch of sadness that Nic's mother didn't understand this about her son. "Walter hadn't been with the team long, but he'd worked closely with Nic. I think part of the reason why Nic was so willing to come home and let you marry him off was because he felt as if he'd failed Walter and Glen and even you and the king. I think the reason he worked so hard was to justify being away from Sherdana. He spent every day proving that his work would benefit future generations, driving himself beyond exhaustion in order to contribute something amazing to the world. So that his absence from you had meaning."

Brooke didn't realize she'd gotten to her feet until the gazebo began to sway around her. She clamped a hand over her mouth as the unsettled feeling in her stomach increased. She couldn't throw up. Not now. Not here. Sweat broke out on her body. She was about to ruin Olivia's gorgeous dress in an inglorious way the palace would be talking about for weeks. Brooke blinked and gulped air to regain her equilibrium. But she was too hot. Too dizzy.

"I have to…" Go. She didn't belong here. She'd been unbearably rude to Nic's mother and the queen of a nation. But she could no longer tell which direction lay escape.

"Dr. Davis, are you alright?" The queen sounded very far away.

Brooke tried to orient on the queen's voice but she stumbled. Abruptly a wood column was beneath her fingers and she clutched the rough surface like a lifeline as darkness rushed up to claim her.
What do you want people to take away from reading this book?
I hope they enjoy the setting and the fairy-tale quality of Nic and Brooke's romance.

What are you currently working on? What other releases do you have planned for 2015?
I'm currently working on the third Sherdanian Royals story. For those who've read the first book, Royal Heirs Required, this is Christian's story. It's coming out in April 2016. But before that, I'm participating in another Texas Cattleman's Club continuity. Nanny Makes Three comes out in January 2016.
Thanks for blogging at HJ!
Giveaway:

I would like to give away a copy of A Royal Baby Surprise and my brand new book bag to 3 US readers.
To enter Giveaway: Please complete the Rafflecopter form and Post a comment to this Q:

I love to travel and often set my stories in places I visit. If you could travel any where in the world, where would you go?
Excerpt from A Royal Baby Surprise:
Above the sound of the breeze blowing through the cedar trees that dotted the island hillside Nic Alessandro heard the scuff of a footstep on flagstone and knew he wasn't alone on the terrace.

"So this is where you've been hiding."

Even with his head pounding from a well-deserved hangover, Nic recognized the owner of the voice. Brooke Davis sounded like his favorite vodka: smoky and smooth, with a sexy, implied bite.

And she went to his head just as swiftly. Something he'd have to resist now that his older brother had married a woman incapable of having children. As next in line to the Sherdana throne, it was up to Nic to find a wife that the laws of his country would accept as the future mother of the royal line. Brooke wouldn't suit.

"Is this the rustic cabin on the side of a mountain you told me about?" she asked. "The one you said I'd hate because it had no running water and no inside toilet?"

Nic detected the strain she tried to hide beneath her teasing tone. He never should have acted on the powerful attraction he had for her. Even when his duty to Sherdana had been symbolic, when it was up to Gabriel to sacrifice his personal life for the sake of the country's future, Nic should never have let her think he was an average guy capable of offering her a normal life.

"Here I was picturing you suffering in some hovel in the middle of nowhere. Instead, I find you living in a luxurious villa above the most gorgeous harbor I've ever seen."

Her voice came from the side of the terrace that led down to the beach, so she must have arrived by boat. Walking up the hundred and fifty steps hadn't winded her a bit.

"You're probably wondering how I found you."

Nic opened his eyes as the muted snap of sandals against bare feet began again. His gut twisted as he watched Brooke wander across the terrace. She wore a white, high-waisted cotton blouse and faded denim shorts with a ragged hem. The gray scarf wound around her neck was one of her favorites.

Everything she passed she touched: the back of the lounge chair, the concrete wall that defined the terrace, the terra cotta pots, and the herbs and flowers they held. As her fingertips drifted along the fuchsia petals of a bougainvillea, Nic envied the flower she caressed.

At this hour of the morning, the sun was behind the villa, warming the front garden. On winter days he would have taken coffee to the side patio and made the most of the sunshine. In late July, he preferred the back terrace where he could enjoy the view of the town of Kioni across the harbor. The wind off the Ionian Sea kept the humidity at bay, making this a pleasant spot to linger most of the morning.

"I'm guessing Glen gave it up." Nic wondered what she'd told her older brother to get his cooperation. They'd been keeping what had happened between them a secret. His idea, not hers, but Brooke had gone along because she knew Glen wouldn't be happy if he learned their relationship had gone way past flirtation.

"You brought him here two years ago for a boys' weekend after a successful test firing. He came back with horror stories of long hikes in the mountains and an abundance of wild life. I realize now those hikes involved stairs leading down to a private beach and the wild life was in the bars in town. Shame on you two. I actually felt sorry for him."

Nic rubbed his hand across the stubble around his mouth, hiding a brief smile. They'd certainly had her going.

"Now, I see you two were living like kings."

Kings. Her word choice smothered Nic's amusement. Had she used the word deliberately? Had his friend give up all Nic's secrets?

"How can you afford a place like this? You guys were always looking for investors. It seems to me that anyone who had enough money to own this villa could have financed the entire project."

A little of his tension fell away, but only a little. She didn't know the truth yet. And when she did…

Tell her. Tell her who you are.

Wise words. Pity he couldn't bring himself to follow his own advice. He'd been hiding his true identity from her for too long. She'd be devastated when she learned how much he'd lied about. Yet, it was only a matter of a week before the media found out he was wife hunting and he went from obscure scientist to international news item. She would know soon enough. And hopefully when that happened she would appreciate that they'd kept their relationship quiet.

As to why he'd maintained the masquerade these last ten years…

Her impulsive, freewheeling nature would have caused her to let the truth slip, and he didn't want his colleagues treating him different. Plus, acting the part of an unassuming scientist let him forget that he wasn't in control of his future.

Fate had dealt him a royal flush. As second in line to the throne, he had some leeway when it came to his responsibilities to Sherdana. But even though he'd never be king didn't mean he was completely free to pursue his dream of privatizing space travel. Gabriel's decision to marry Lady Olivia Darcy despite her inability to have children had only accelerated Nic's inevitable return to the country of his birth. The destruction of the rocket ship he and Glen had been building meant he had no reason to linger in California.

Except for Brooke.

She believed herself in love with a man who didn't exist. Duty. Honor. Integrity. Principles he'd been raised to embrace. Principles that had been sadly lacking the moment he'd pulled Brooke into his arms and kissed her that first time.

If only he'd confessed his true identity to her long ago instead of indulging his need to know if she was interested in Nic the man or Nicolas, Prince of Sherdena. Wanting her to see him as something more than a crown went against logic when he couldn't offer her a future.

"My brothers and I own it," he said, wishing so many things could be different.

Brooke's very stillness suggested the calm before the storm. "I see."

That was it? No explosion? No ranting? "What do you see?"

"That we have a lot to talk about."
Excerpts. © Reprinted by permission. All rights reserved.


Book Info:
An heir to the throne gets an heir of his own…
Chasing the man who broke her heart halfway around the world to tell him she's pregnant is the hardest thing Brooke Davis has ever had to do. But when she catches up with him, he's got a surprise for her, too: he's been hiding his royal roots. Nic Alessandro is a prince, and Brooke's an unsuitable match—but their attraction is hotter than ever!
What will happen when royal duty and desire collide? Maybe Nic will have to take Brooke home to Sherdana and find out…
Meet the Author: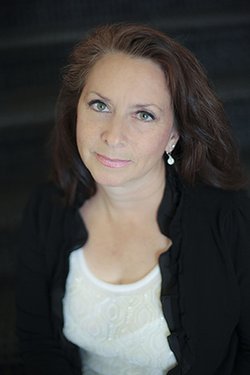 Cat Schield lives in Minnesota with her daughter and 2 Burmese cats and a Doberman. Winner of the Romance Writers of America 2010 Golden Heart® for series contemporary romance, when she's not writing sexy, romantic stories for Harlequin Desire, she can be found sailing with friends on the St. Croix River or more exotic locales like the Caribbean and Europe. Contact her at www.catschield.net.
Website | Facebook | Twitter |