Today it is my pleasure to spotlight the release of

A SCOUNDREL BY MOONLIGHT

 by Anna Campbell

Anything can happen in the moonlight . . .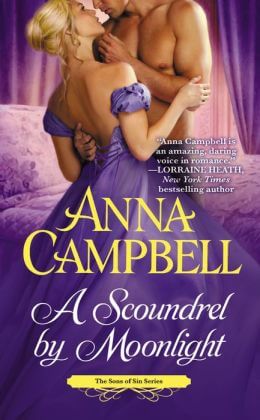 Justice. That's all Nell Trim wants-for her sister and for the countless other young women the Marquess of Leath has ruined with his wildly seductive ways. Now she has a bold plan to take him down . . . as long as she can resist the scoundrel's temptations herself.

From the moment Nell meets James Fairbrother, the air positively sizzles. Yet for all his size and power, there's something amazingly tender in his touch. Could he really be such a depraved rogue? The only way to find out is to beat the devil at his own game . . . one tempting kiss at a time.

Read an excerpt from A Scoundrel by Moonlight:
She licked her lips, setting his blood to flame. He needed to get out of this kitchen before he abandoned his honor. Her hands twined nervously at her waist, another characteristic gesture. "When are you going to dismiss me?"
He scowled, cranky with her, the world, himself. Heaven had created her to lie in his arms. Why did this world make that perfect outcome impossible? "What bloody rot is this?"
The tense line of her shoulders eased until she stood more naturally. How interesting that she was more comfortable with his bad temper than his questions. More than ever, he was convinced that she hid something.
"I can't bear this waiting, my lord. It's cruel. I know you want me gone. I heard you talking to your mother last week. When you caught me—"
"When I caught you red-handed in my bedroom," he said silkily, perversely beginning to enjoy himself. He'd had no idea that she'd been on such tenterhooks.
She nodded. "It's a good excuse to get rid of me."
"I have no intention of telling my mother that I kissed her companion. I told you that what happened was my fault."
"You also told me that gentlemen didn't chase the servants," she retorted.
"Miss Trim…" Although in his heart, he called her Eleanor. "That night reflects badly on both of us. Perhaps we should close the door on it."
She regarded him uncertainly. "You don't want me to leave?"
Hell, no.
He bit back the quick reaction and spoke with as much avuncular reassurance as he could muster. By the look on her face, that wasn't much. "My mother is in better spirits these days."
"That's because you're home."
He frowned. "Not completely."
"That night you thought I was stealing."
A few days ago, he'd pushed for her banishment. Now he must have gone mad, because the thought of her departure made him want to punch the wall. "Nothing's missing."
"I could have been deciding what to take."
"Was that what you were doing?"
"No."
He waited, wondering if she'd confess her reasons for invading his apartments. But she remained silent. And watchful. Always watchful.
"I will discover your secrets, you know," he said evenly.
She started, then stood tall in the lamplight. "Your imagination runs away with you, my lord."
A faint smile curved his lips. "I don't think so." He collected the bowl and the cloth. "My instincts never fail, Miss Trim, and they scream that you're not what you seem."
"Then why keep me here?" she asked, puzzled rather than pert.
He shrugged and met her eyes, feeling as though he drowned in autumn gold. "Heaven knows, Eleanor, heaven knows."
Excerpt. © Reprinted by permission. All rights reserved.
Giveaway:
2 Print copies of A SCOUNDREL BY MOONLIGHT by Anna Campbell
To enter Giveaway: Please complete the Rafflecopter form and 

Leave a comment for the author with your thoughts on the book…
Meet the Author: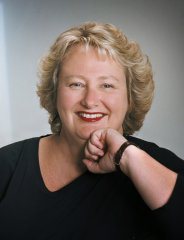 Always a voracious reader, Anna Campbell decided when she was a child that she wanted to be a writer. Once she discovered the wonderful world of romance novels, she knew exactly what she wanted to write. Anna has won numerous awards for her historical romances, including the RT Book Reviews Reviewers' Choice, the Booksellers' Best, the Golden Quill (three times), the Heart of Excellence, the Aspen Gold (twice), and the Australian Romance Readers Association's most popular historical romance (five times). Her books have twice been nominated for Romance Writers of America's prestigious RITA Award and three times for Romance Writers of Australia's Romantic Book of the Year.
When she's not writing passionate, intense stories featuring gorgeous Regency heroes and the women who are their destiny, Anna loves to travel, especially in the United Kingdom, and listen to all kinds of music. She lives near the sea on the east coast of Australia, where she's losing her battle with an overgrown subtropical garden.
You can learn more at:
AnnaCampbell.info
Twitter @AnnaCampbelloz
Facebook.com/AnnaCampbellFans

Buy Links:
Amazon: http://amzn.to/1GegUiJ
B&N: http://bit.ly/1qu1sc4
iTunes: http://apple.co/1bfDn48
Kobo: http://bit.ly/1IBxJob
BAM!: http://bit.ly/1yLEDH6
Goodreads: http://bit.ly/1PaBZPs