Today it is my pleasure to Welcome author
Sarah M. Anderson
to HJ!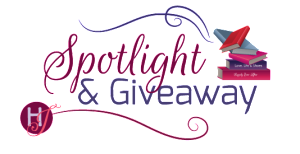 Hi Sarah and welcome to HJ! We're so excited to chat with you about your new release, A Surprise for the Sheikh!

Happy spring, everyone!

Please summarize the book a la Twitter style for the readers here: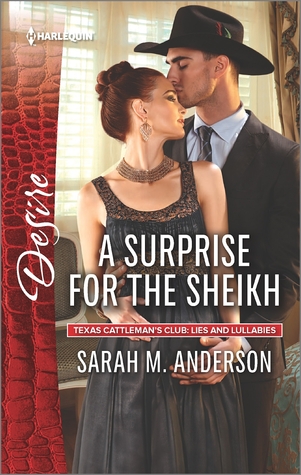 This book actually got it's start on Twitter. I was joking around with Maisey Yates and trying to combine the ideas of her Presents with my Desire Cowboys and we came up with what seemed like a funny idea at the time–the Sheikh and the Cowgirl! Ha Ha!
Three weeks later…
So, a la Twitter,
The Sheikh and the Cowgirl!

Please share the opening lines of this book:
This was really happening.
Ben's hot body pressed Violet against the back of the elevator. Something hard and long bumped against her hip, and she giggled. Oh, yeah—this was so happening.
She was really doing this.
Please share a few Fun facts about this book…
Well, as I said, this book got it's start on Twitter–my cowgirls and Maisey's sheikhs, together at last!
This is my third Texas Cattleman's Club story. I love these stories!
This is my first Sheikh story.
This is the very first Desire I've written that opens with a sex scene (please see above five lines!). Usually the characters have to get to know each other and sex happens halfway through the book. Not this time!!! A one night stand becomes something much more!
When Violet gets dressed up for dinner, she's wearing one of my favorite outfits. I'm such a tomboy at heart so that part of Violet was very familiar to me and I decided to put her in one of my few dresses–if I was comfortable in it, she'd be comfortable, too. When I got the edits back, the editor included a comment that said, "I can totally see you wearing this dress, Sarah!" so I had to tell him he was spot-on! Here's the dress:
She was getting ahead of herself. Dinner first. And that meant she needed to put on clothes.

She finally settled on one of her few dresses—the fanciest dress she'd owned, until she'd bought the black one on a whim. It was an olive-green cotton dress with tiny pink flowers printed on it, and it had a pink satin bow at the scoop neck. It was just a little bit girlie but also, due to the darker color, not so girlie. Plus, it was a forgiving cut and it still fit. She paired it with her jean jacket and her nice pair of brown boots, the ones with the pointed toe. She twisted her hair up and pinned it into place, but she decided against dangly earrings. This wasn't a date. This was a…negotiation, really.

That's my outfit!! 🙂
What first attracts your Hero to the Heroine and vice versa?
Sheer, raw attraction. Violet's looking for a night out and Rafe isn't expecting anything–but when they see each other in a bar in the hotel where Rafe is staying, it's ON. It's only later that they find out who each other really is–and that's when things get even messier. Violet is attracted to Rafe because he doesn't treat her as a little sister or 'one of the guys' like everyone else does and Rafe just can't help himself around Violet!

Using just 5 words, how would you describe Hero and Heroine's love affair?
Steamy, tempestuous, whirlwind, vengeful and possessive. WHEW!!

The First Kiss…
"Kiss me," Ben said in that sinfully delicious accent of his as he flexed his hips against hers. She didn't know where he was from, but his accent made her think of the burning heat of summer sun—because boy, did it warm her up.

Violet ran her hands through his thick black hair and lifted his face away from where he'd been sucking on her neck.

He touched his forehead to hers. "Kiss me, my mysterious, my beautiful V." Then—incredibly—he hesitated just long enough to make it clear he was waiting for her decision.

Power surged through her. This was exactly why she was riding in an elevator in the Holloway Inn up to a man's room—a man who did not know she was Violet McCallum, who did not know she was Mac McCallum's baby sister.

Her entire life, she was Violet. Violet, who had to be protected from the big bad world. Violet, the lost little girl whose parents died and left her all alone. Violet, who still lived at home and still had her big brother watching over her every move to make sure she didn't get hurt again.

Well, to hell with that. Tonight, she was V. She was mysterious, she was beautiful, and this man—this sinfully handsome man with an accent like liquid sunshine—wanted her to kiss him.

She was not Violet. Not tonight.

So she kissed him, long and hard, their tongues tangling in her mouth, then in his. She did more than kiss him—she raked her fingers through his hair and held him against her. She made it clear—this was what she wanted. He was what she wanted.

She hadn't come to this hotel bar a town away from Royal, Texas, with the intent of going to bed with a stranger. She hadn't planned on a one-night stand. She'd wanted to get dressed up, to feel pretty—maybe to flirt. She'd wanted to be someone else, just for the night.
Without revealing too much, what is your favorite scene in the book?
I like the scene were Rafe starts to fit in Violet's world. She's a true cowgirl, roping cattle and branding calves, and she doesn't expect Rafe to be able to deal with that. But when a cow breaks loose, Rafe gives chase and shows he can ride. Who doesn't love a sexy man on horseback? Violet is sure as heck impressed!
"Rafe," Violet called. "To your left—we've got a straggler!"

Rafe twisted in his saddle and saw a cow leaving the group as it was herded north. The animal was moving at a good pace and the distance between it and the rest of the cows was quickly growing.

"What should I do?" he called back. He did not miss the way several of the cowboys laughed under their breath at him.

Embarrassment burned at his ears but he kept his attention on Violet. "Try to get in front of the cow," she called back. "I'll be right there."

Rafe touched his heels to the horse's side. He may not know the best way to retrieve a wayward cow, but he would be damned if he allowed this beast to outrun him on horseback.

Two Bit leaped into a flat-out run. Rafe held the reins awkwardly in one hand, but the horse responded to his heels wonderfully. Rafe gave the animal his head and trusted his footing.
Behind him, he heard a loud whoop but he did not know if it was Violet or one of the men who had laughed at him.

Rafe smiled as he leaned over Two Bit's neck. The wind ripped his hat from his head, but he didn't give it a moment's thought.

Oh, how he loved to ride. His father had kept a stable of prizewinning Arabian horses and expected his children to ride and ride well. Anything less than expert horsemanship would have brought shame upon the bin Saleed house.

Rafe's daily rides were the time of his greatest joys, for then, he was free.

Just as he felt free now. The wind ripped at his clothes as he urged Two Bit to go faster. They shot past the stray cow and then, using only his knees, Rafe got Two Bit turned back. The horse stopped and spun, startling the cow to such a degree that the animal froze.

They all stood there, Rafe and Two Bit and the cow, as if none of them were sure what to do next. He had done as Violet had told him—he had gotten ahead of the cow and the animal had stopped. But now what?

Out of nowhere, a looped rope sailed through the air and landed around the neck of the cow. "Gotcha," Violet said, trotting up.

"You roped that cow in one shot? I am impressed," Rafe said, watching as Violet tied the other end of the rope around the horn of her Western saddle and began to pull the stubborn cow back to the herd.

She shot him a smile. "Get up, Bossy," she snapped at the cow, who reluctantly began to move.

When the cow was safely back with its brethren and she had removed her rope, one of the other cowboys rode up to Rafe and said, "Oowee, man—that was some fancy riding! Didn't expect that from a city slicker—no offense."

He looked at the man with a bemused smile. "None taken. I normally ride Arabians, but this is quite a mount." He leaned forward and patted the horse's neck as he glanced at Violet. "I believe Two Bit is worth far more than twenty-five cents."
If your book was optioned for a movie, what scene would be absolutely crucial to include?
The big finish is great! Violet's brother almost shoots Rafe–the car door doesn't survive the event–and Violet faints. Which is mortally embarrassing. But then Rafe does some world-class groveling and I just love him.
"Violet," she heard a silky voice say. For some reason, it made her think of sunshine and honey, warm and sweet. "Are you well? Please open your eyes," the voice pleaded. "Please be well."

"Here," another voice said. This one was gruff and tight. It was her brother, Mac.

"Ah," said the liquid sunshine voice. Rafe. Rafe was here. Oh, thank God.

Then something wet splashed on her face and she startled. Her eyes flew open and she saw the night sky and Rafe's face close to hers and Mac's hovering behind him. "What happened?"

"Someone scared the hell out of me," Mac said. He sounded mad but she could see the worry lines on his face. "And I pulled the trigger."

"I fear the car will never be the same," Rafe said. He managed a small grin at her.

"You're not dead? I'm not dead?"

"No one is dead," he assured her. "You, however, fainted."

"Dammit." This was embarrassing.

"Yeah," Mac replied. "She's shooting her mouth off again. She's fine. Help me get her up."

"I have her," Rafe said. He pulled Violet into his arms and cradled her against his chest. Then, as if she weighed nothing at all, he stood. "If you could be so kind as to find the paper I dropped…"

"Sure. What is it?"

"The deed to the Wild Aces." He said it casually as he carried her into the house.

"What?" she gasped.

"The Wild Aces. It is yours." He sat down on the couch but he did not let her go. Instead—in the middle of the living room, in full view of her brother and anyone else who might wander through—he pulled her onto his lap. "Whatever you choose, I will accept. But the land—and the water—it is yours."

She blinked up at him. "Are you serious? You're just going to give me the Aces? You spent three million dollars on it!"

"I would pay twice that if that was what it took to give you a beautiful home where you can raise our child. I want you to give him or her the kind of life that you have had, surrounded by family and love."

"I don't understand." It came out confused and weak and she didn't want to be weak in front of him. She tried to shove herself off his lap, but his arms closed around her and there was no escaping him.

"I am sorry," he said. "I beg your forgiveness, Violet." He gave her an oddly crooked smile. "If my father could see me begging a woman for forgiveness…"
Readers should read this book …
That's kind of an open-ended statement. Readers should read this book…when they want to see a take-no-prisoners sheikh be brought low by love?
They should read this book outside? A hot tub might be good. 🙂
They should read this book after the kids go to bed? Really, the options are limitless!
What are you currently working on? What other releases do you have planned for 2016?
I'm just about to start on the 3rd Beaumont Bastards book, which will be out in Feb. 2017, maybe? 2016 is going to be an even crazier year than normal for me–which is saying a lot. This month is A Surprise for the Sheikh. May is One Rodeo Season, June has two releases–Crushing on the Cowboy and To Rope a Rancher. Then there's a break and the next one is Sept., Claimed by the Cowboy, a Dynasties book. Oct. is His Illegitimate Heir and Dec. is Rich Rancher for Christmas. Both of those two are Beaumont Bastards books. Oh, and there'll be a Christmas Novella out in the last two months, too. More details on those later!
July is going to be busy and special for me for another reason, though–just last week, I found out that The Nanny Plan was a finalist for the RITA award from the Romance Writers of America–which is the Oscar of the romance industry. I'm in great company in the Short Contemporary category and I can't wait until the national conference in July to find out who wins the shiny gold statues!!
Thanks for blogging at HJ!
Giveaway:

In celebration of my RITA nomination, I'm giving away one print with bonus goodies (US ONLY) and one ebook (INTERNATIONAL; Epub) of The Nanny Plan!
To enter Giveaway: Please complete the Rafflecopter form and Post a comment to this Q:

Violet getting pregnant from a one-night stand is quite a surprise! And I'm still in shock about the surprise RITA nomination. I've entered for years now but never really expected to get The Call. What's one of your biggest surprises?
Excerpt from A Surprise for the Sheikh:
"I take it this was not in your plans?"

"No," she said, giving him a weak smile over her shoulder while she touched the necklace.

"Nor was any of this in my plans. But I think perhaps…" He sighed and let his hands rest against the gentle curve of her stomach again. Within grew his child. No, this was not in his plans at all. "Perhaps this was what was supposed to happen."

"Really?" She didn't bother to conceal her doubt. "You think destiny's been waiting for us to have a one-night stand, huh?"

He grinned against her neck. "Do you know that, at one point, your brother and I had made plans for me to accompany him home on break? We would have met then."

She twisted in his arms, her brow wrinkled. "I would have been, what—fifteen? Sixteen?"

"And I only twenty. Do not mistake me. I would not have made any untoward attempts on you then. I can be very patient. Of that you have no idea. I can wait years for something I want."
Odd, that. He had waited years for revenge on Mac. But what if, instead, he had merely been biding his time for this moment with Violet?

But then, what if he had come home with Mac and Violet had caught his eye twelve years ago? His father would have no sooner allowed a young Rafe to give his heart to a common American girl than he would have allowed Rafe to degrade the bin Saleed name by donning shiny pants and joining a singing group. And if Hassad bin Saleed had discovered that Rafe harbored tender feelings for Violet then, he would have had Rafe married off to the daughter of a political ally within the month and Rafe would never have had the chance to follow his own heart.

But Mac's betrayal had come first.

"I was a different person then," she said, her voice low. "My parents were still alive and I was just a kid, really."

"As was I." She dropped her gaze. He still had her in his arms, but he felt the distance between them. "What is it?"

"Rafe, what happened between you and Mac?"

He supposed that he should appreciate the fact that Violet had phrased it as a question and not an accusation. "It does not signify," he said, his jaw tight. The effort of keeping his voice light was more taxing than he might have anticipated. "What happened was a lifetime ago. I was, as you said, a different person then. It has no bearing on us at this moment."

"But…"

Rafe did the only reasonable thing he could, given the situation. He kissed Violet, hard. She stood stiffly in his arms for a moment but then relaxed into him.

"It does not signify," he repeated, tucking her against his chest. "I am not here for your brother. I am here for you. I am here for our child. Our family."

Odder still that as he said it, it did not feel like a lie.

It felt very much like the truth.

He was surprised to see her eyes fill with unshed tears. "Are you unwell?" he asked hurriedly.

"I'm fine," she said, giving him a watery smile and dabbing at her eyes with the cuff of her sleeve. "It's just the hormones. Okay. Whoo." She exhaled heavily and put on a brighter smile for him. "There."

He was not entirely convinced. "I can still have a private doctor here inside of twenty-four hours."
She waved this suggestion away. "I'm fine," she repeated. "It's just that you have no idea how refreshing it is to know that you don't care about going through my brother."

Ah, yes. His scheme. The one that now hinged on convincing this woman that she wanted to spend the rest of her life with him so that she would turn her back on Mac. He wanted to be impressed that it was going so smoothly, but as she blotted at another stray tear, that was not the emotion that welled in his chest.

"In my country, it is customary to ask permission of a woman's father before you court her," he told her. "Or, if her father is not available, her oldest living male relative."

Violet held her breath. "Oh? You're not going to do that now, are you? I haven't even told Mac about my pregnancy or anything."

"No," he assured her, wrapping his arms around her again and pulling her against his chest. "You forget something."

"What's that?"

"We are not in my country."
Excerpts. © Reprinted by permission. All rights reserved.

Book Info:
One night with a sheikh leads to a secret baby surprise!
Billionaire sheikh Rafiq "Rafe" bin Saleed has come to Royal, Texas, to buy the town—and get even with his former best friend. But Rafe's plans are pushed aside for one amazing night with a stranger—and then nearly derailed when he discovers the identity of his mystery woman. For not only is Violet McCallum his enemy's cherished little sister, she's now pregnant with Rafe's child! Rafe knows he has the upper hand; all he has to do is walk away. But there's something about Violet that won't let him leave without her…
Book Links:


Meet the Author: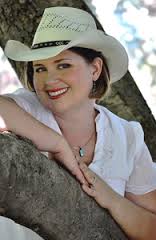 Sarah M. Anderson is an award-winning author of modern-day Cowboys-and-Indian stories. Combining snarky humor with shirtless cowboys on horseback, Sarah also strives to raise awareness of the realities of life on Lakota Indian reservations. She uses proper Lakota translations when her characters speak their native language. Sarah writes for both Harlequin Desire and Samhain, in addition to self-publishing. A Man of Privilege won Desire Book of the Year 2012 from RT's Editor's Picks. The Nanny Plan was nominated for a RITA for Best Short Contemporary 2015.
Sarah lives in Illinois with her husband, son, and rescue mutts. When not reading stories to her son around or writing, she attempts to read, knit, and complete home improvement projects on her historical 1895 Queen Anne house.
Website | Facebook | Twitter |