Today, HJ is pleased to share with you

Alissa Johnson's

new release: 

A Talent for Trickery!
The Lady is a Thief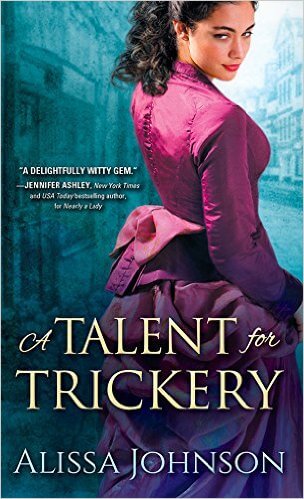 Years ago, Owen Renderwell earned acclaim-and a title-for the dashing rescue of a kidnapped duchess. But only a select few knew that Scotland Yard's most famous detective was working alongside London's most infamous thief…and his criminally brilliant daughter, Charlotte Walker.

Lottie was like no other woman in Victorian England. She challenged him. She dazzled him. She questioned everything he believed and everything he was, and he has never wanted anyone more. And then he lost her.

Now a private detective on the trail of a murderer, Owen has stormed back into Lottie's life. She knows that no matter what they may pretend, he will always be a man of the law and she a criminal. Yet whenever he's near, Owen has a way of making things complicated…and long for a future that can never be theirs.

Enjoy an exclusive excerpt from A Talent for Trickery: 
Owen drew his fingers away but couldn't force his gaze to follow suit.
Lottie was blushing a little, a fact that charmed and fascinated him. The scent of her teased his nose. Tart, he thought, wondering how she managed it. It wasn't merely lemon juice in the laundry. He didn't smell it anywhere else in the house, and there was an earthy quality to it, lending an unexpected warmth.
"Is it perfume?"
She glanced up from her book but didn't quite meet his gaze. "Sorry?"
"The tart. Is it perfume?"
"Oh. No. Soap. It was a gift from Esther." Her lips curved in affection. "She has a fondness for surprising people with presents and a talent for picking just the thing."
"Where did she find it?"
"Kithan, two villages over. It's quite dear, I'm afraid. I shan't have it much longer."
"I'll buy you more." A barrel of it.
She gave him a quizzical look. "Why would you?"
Because it was sweet and sharp. It was Lottie. But he didn't say that. Instead, he leaned in closer, breathed her in. "What's in it?"
"I don't know." Her gaze traveled to his mouth, snapped away, then traveled back again, almost reluctantly. "I never asked."
He considered that, and her. "Don't," he decided. "Don't ask. I like the mystery of it."
That, too, was Lottie. Mysterious, enigmatic, secret. He'd never been able to resist the lure of a secret.
She smiled at his comment and he leaned closer still, even as he called himself a fool. This was not why he had sought to make things right between them. He had counted it as a possibility, even entertained the notion of that possibility blossoming into solid probability, but it was not the reason.
He'd only wanted…
He couldn't remember. For the life of him, he could not remember what his intent had been yesterday, or earlier today, or even five minutes ago.
He could think only of what he wanted now.
She was beautiful. She was smiling at him. That wonderful secretive smile that wrapped around and drew him in as thoroughly as her intoxicating scent.
And he wanted her. Right now.
"I should wait," he heard himself murmur as he slipped his hand around her neck and brought her, unresisting and flushed with surprise, closer. "We should wait. I was going to wait."
He didn't wait. His mouth settled over hers almost before the last word was out.
He tried to tell himself that it was just a test, just a little experiment to see if reality held up to imagination. God knew, he had spent an exceptional amount of time imagining how Lottie would taste, how she would feel in his arms. It was only natural a man would take the opportunity to satisfy a curiosity that had hounded him for years.
But he wasn't fooling himself. It wasn't simple inquisitiveness that drove him. It was desire—but in its infancy yet, a low burn rather than a raging inferno. He could keep it there. For both their sakes, he could keep that fire banked.
Not every kiss was the prelude to something more; not every moment of passion need burn out of control. A kiss could be simple and carefree. It could be fun. He would like that for her, for both of them.
Mindful of the flame, of his intentions, he kept the kiss light and easy, brushing his lips over hers with care. He found the sweetness he'd imagined on her lips and in the soft mingling of their breath. And he discovered the hint of tart beneath, tempting him to take a deeper taste. But he held back. Even as she sighed, a whisper of air against his mouth, and brought her hand to his face, he held back.
It was only a test, he reminded himself. It was only a sampling. Later he could think of more. Later, when he knew what to expect, how to prepare himself for that first intoxicating taste of her, that first feel of her lips moving under his with a mesmerizing blend of hesitancy and confidence. It wouldn't shock him then when she responded to his touch—not with a bid to take charge as he'd anticipated, but with a soft yielding that threatened his own control.
He would be prepared for the way she shivered when he pressed kisses along her jawline and the way she melted when he lingered at the corner of her mouth. He would know that the feel of her small hands coming to rest against his chest caused the flame of desire to burn brighter and that when she moaned, soft and sweet in the back of her throat, his good intentions would start to evaporate in the heat of that fire.
He realized he was gripping the back of her gown too hard and forced himself to edge the kiss back into safer territory. He nipped at her bottom lip gently and swallowed her soft gasp of surprise.
Fun. The kiss could be fun and light and playful, he thought…until she nipped back. Which he ought to have expected, really. Lottie might yield to temptation, but she wasn't one to back down from a challenge.
Excerpt. ©Alissa Johnson. Posted by arrangement with the publisher. All rights reserved.


Giveaway:

Print copy of A Talent for Trickery (The Thief-Takers Series Book 1) by Alissa Johnson
To enter Giveaway: Please complete the Rafflecopter form and post a comment to this Q:

What did you think of the excerpt spotlighted here? Leave a comment with your thoughts on the book…
Meet the Author: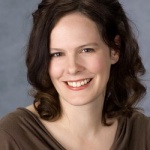 Alissa Johnson is a RITA-nominated author of historical romance. She grew up on Air Force bases and attended St. Olaf College in Minnesota. She currently resides in the Arkansan Ozarks where she spends her free time keeping her Aussie dog busy, visiting with family, and dabbling in archery.
Social Networking Links
Website: http://www.alissajohnson.com/
Facebook: https://www.facebook.com/alissa.johnson.313
Twitter: https://twitter.com/alissajohnson2
Goodreads: https://www.goodreads.com/author/show/1983627.Alissa_Johnson