Please join me in welcoming Entangled Edge author

Gina Gordon

to HJ
Gina Gordon on writing A Taste of Trouble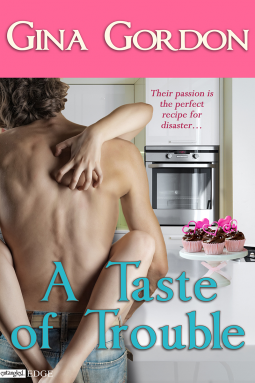 It was my own personal preferences that inspired the hero and heroine from A Taste of Trouble. You know that saying…"Right what you know"? Well, in writing my very first novel, I definitely followed that advice. Cupcakes, working in a bar, meeting "the one" in said bar—these things, I know.
Liv was the fictional representation of my own situation at the time. In writing this book, I was following my dream. So, I created a heroine who had her own journey to take and a dream to make come true. And as if achieving your dream wasn't sweet enough, I added in some cupcakes!
As for Jake, he is the epitome of what I find irresistible in a man.  Tall, dark and handsome. Goal oriented. Cocky on the outside, sweetheart on the inside.  The perfect hero to spend the lonely days and nights with as I stared into my laptop.
All in all, this book is the closest to my heart. Although this isn't my first published work, it's the very first idea I ever put to paper. It represents the accomplishment of my own dream.
Thank you for stopping by and sharing it with me.
Giveaway:
2 copies of A Taste of Trouble
To enter giveaway: Please complete the Rafflecopter form and post a comment telling us
what you thought of the excerpt provided here….
 Excerpt
© 2013 Gina Gordon
Chapter One
Liv Crawford sifted through boxes and bags, taking a mental inventory of what items needed to be saved. She sat on a crate in the middle of the storefront, the dust from the neglected space tickling the inside of her nose. Old containers and ribbon filled the box to her left. Bowls, baking pans, and rusty utensils filled the one to her right. As for saving anything, it looked like a trip to the dump was in serious order.

The bakery was filthy. It was stale. But it was hers.

The baking world certainly had changed in the last two decades—for the better. The yellowed and musty wholesale catalogs and baking magazines she'd sorted and piled high in front of her reflected that change. She reached for another bag of magazines, and specs of dust caught in her throat. She coughed, whipping her black hair across her face.

She'd been sneezing from the minute she stepped into the run-down building, black gunk and dust coating everything from the glass showcase to the counter top and old cash register. The walls were yellowing and in desperate need of some paint. But what Liv hated the most was the horrid orange curtain that separated the storefront from the kitchen. Despite its pathetic state, Liv couldn't stop the smile from spreading across her face.

The happy jingle of the bell hanging on the door forced her attention to the front of the store as Austin Reid barreled in waving a newspaper.

Her best friend took two quick steps inside before he noticed the debris blocking his way and almost toppled over the boxes. He cursed. "You're a celebrity. You're on the front page of the Living section," he shouted.

Liv giggled.

He hadn't bothered to style his blond hair today, his cowlick in the front very apparent, and the slight growth of stubble on his face was an indication of only one thing—he hadn't been home yet from the night before.

Austin trudged toward her, sidestepping the dirty items. Liv knew she'd never hear the end of it if he damaged his expensive shoes.

He looked around, hugging the newspaper close to his chest. The look of exhilaration he'd flashed not ten seconds before slowly turned into a frown. "This place is—"

"Perfect?"

Austin's frown deepened as he took in his surroundings. A slight smirk curved at the side of his lips. "I was going to say a dump, but that, too."

"Give me that." Liv jumped off the crate and grabbed at the newspaper.

Last November, she'd been assigned Katie Harper's wedding as an employee of Sweet Creations bakery. They'd immediately hit it off, but Liv had no idea Katie was a writer for a local newspaper. She was even more surprised when Katie's brief interview turned out to be a feature.

She held out the pages for both of them to read. "Am I really on the front page?" Please let it be yes.

"Yes, ma'am, and I especially like this part…" Austin cleared his throat and read, "Liv Crawford, soon-to-be cupcake entrepreneur, is the next big thing in pastry arts. Toronto, watch out for this rising star."

Her stomach rolled. The tiny balls of excitement that'd been simmering inside ever since she'd walked through the front door holding her freshly signed lease burst like fireworks.

It had taken five long years of saving and planning—formulating her business plan, applying for licenses, securing the location, getting pre-approved for the bank loan, setting up the insurance—but she was finally ready to venture out on her own and open a bakery. All without the encouragement she was assured working for her mentor, Nancy Arbour.

Yet Liv knew her time had finally come. In just a few weeks she would grab the baking industry by the piping bag and introduce the city of Toronto to Cupcake!—her new bakery.

Austin's finger tickled under her chin. "This place is too dirty to leave your mouth hanging open like that."

She snapped her mouth shut as pride filled her, inflating her chest, inflating her head. Was it too soon to think that this type of publicity was exactly what she needed to put her business on the map?

Liv met his stare, and without another word, they grabbed onto each other and jumped up and down, squealing. Or, Austin tried to squeal, but with the baritone of his voice it came out more like a grunt.

A perky voice sounded from behind the curtain. "What's all the racket out there?"

Nancy Arbour glided to the front of the store as if on a conveyor belt. Her tall frame was draped in a business suit, as it always was, even when she'd agreed to help her former employee sort through a mess of a kitchen. She kept her ebony hair chin length, and even through all the sweet-smelling treats they'd baked together, Liv could always pinpoint her strawberry shampoo.

Austin quickly released his grip and took a step back. Everyone who came in contact with Nancy fell under her spell, and Austin was no exception. He fixed his hair and smoothed down his shirt as if being scrutinized by the school principal. Nancy did give off that schoolmarm vibe, except instead of whacking you with a wooden spoon, she'd use it to feed you icing.

Holding tight her notebook to her chest, Nancy beamed. "Oh, hello, Austin. Lovely to see you again."

"Hi, Nancy. I'm surprised to see you here."

"Nancy's helping me make a list of things that need to be fixed so I can pass the city inspection." However, with the arrival of Austin and the newspaper, the inspection list was the last thing on her mind. "Nancy, you have to see this."

Liv approached the counter and placed the newspaper in Nancy's hands. If there were anyone in this world Liv could count on to be excited about this opportunity, it would be Nancy.

With only a quick perusal, her eyes widened, and Liv was positive her knuckles turned white. Nancy placed the paper on the counter, and just like that, her eyes sparkled with their typical warmth. Liv glanced at Austin, who still smiled from ear to ear, wondering if she'd imagined the whole thing.

"This deserves a celebration," Nancy said.

"I'll second that." Austin wrapped his arms around Liv's shoulders and squeezed.

"I think I should scoot to Sweet Creations and bring back some treats so we can toast the newest bakery owner and her much deserved success."

"Can we toast with cookies?' Austin asked. "You know those shell looking cookies dipped in chocolate?"

"Of course, Austin." Nancy clapped her hands. "But before we celebrate, let's talk about this bakery." She picked up her notebook from the counter and flipped through the first few pages. "I did a check of the kitchen, and you're going to need new ovens, new electrical fixtures, and a new mixer. That one back there looks like it has been through two world wars."

All Liv heard was money, money, and more money. She groaned and Austin returned, linking his arm in hers as Nancy continued.

"I've done a rough tally of how much you'll need to replace the equipment, but you're going to have to get an electrician in here as soon as possible."

Liv had more than enough savings. She'd even applied for a small business loan three months ago as a safety cushion. She knew she wouldn't need it, but it was always a good idea to be prepared. "Thank you, Nancy."

Nancy had gone through the entire bakery from top to bottom, looking for possible inspection violations. Liv hoped Nancy knew how much she appreciated her. Saying thank you just didn't seem good enough.

"That's not all, my dear." Nancy held up her notebook. "I have three pages of things you need to fix before an inspector would even consider letting you open for business." She passed over her notebook. Austin peered over her shoulder to check out the list for himself.

Liv knew she had her work cut out for her. But her confidence waned with every breath she took as she flipped through the pages. She only hoped she'd be able to satisfy this list in a few weeks, when she anticipated opening the doors to the public.

"This business is not going to be like the front page of the newspaper every day, Olivia." Nancy's expression matched her words of warning. "The odds are against you. In order to succeed, you're going to have to be better and more cunning than the rest." She flipped her hair behind her ear and puffed up the ends. "I just hope you have it in you."

Did she have it in her? Liv's insides shook. This was really happening. This bakery was hers, all hers.

"There's no question that our girl is more cunning than the rest," Austin said. Both Nancy and Liv turned in his direction. "This city better watch out, because the new cupcake queen has just been crowned."

Liv smiled. She had the best friends in the world.

"I want to check a couple more things in the back before I leave," Nancy said. She scurried away in a fluster behind the curtain.

Although Nancy had built a solid business, Liv would do it differently. Nancy's shop screamed tradition. Liv understood the value of tried and true classics, but she was constantly thinking up new and creative ideas. Her shop would be modern and whimsical, and she would create something for her customers built out of their wildest dreams.

"You are so lucky to have her," Austin said. "I wish I had a Nancy."

"You're right, Ozzie," Liv said, Austin's nickname rolling so easily off her tongue. It had been given to him in University, and had stuck for the last ten years. "I never would've gotten here without her." Guilt swallowed her thoughts. She'd been Nancy's right hand, her go-to worker. With Liv's talent, Nancy was able to book two to three events a weekend. After everything Nancy had done for her—

"Stop right there. I know what's going on in that brain of yours." Austin sidled closer. "It's time for you to fly on your own. Nancy is one hundred percent behind your decision to open your own business. She wouldn't be in that kitchen otherwise."

Liv nodded. Working for Nancy the last six years gave her all the experience she needed to go out on her own. She owed the woman the world. Opening and successfully running her own bakery would be her final thank you. After all, Liv's success was a direct reflection of Nancy's talent.

Liv glanced at the newspaper sitting on the counter. This was a day of celebration, but then she remembered that list in Nancy's notebook. "You think I can do this, right, Ozzie? That was a pretty big list."

His face softened. "I know you can do it. And so does Patti." Patricia McLean was the third member of their posse. "It's only a matter of time before you hit it big." She could always count on Austin to tell her the truth. Sugar-coating words just wasn't a part of his personality. Still, he was her biggest cheerleader. He'd probably wear the uniform if she asked.

Liv slid her hand across the laminate counter, sweeping away the gray dust that was like a second skin. Excitement rumbled in her belly. During her childhood, sweets were used to mark every occasion in her household. Good grades. Boy trouble. Birthdays and holidays. Her mom always tried to make everything special. And to her, nothing was special without something sweet. Unfortunately, the baking gene must have skipped a generation, because her mom was the queen of boxed Betty Crocker cakes.

Once Liv was old enough to use the stove, she started to experiment. It never ceased to amaze her how so few ingredients could make something so delicious. Baking was like magic, and it didn't take long for her to realize she wanted to make magic every day.

Cupcakes eventually became her favorite because there were so many variations. They could be designed to fit any occasion. They were personalized, and if done masterfully, could be works of art. A freshly baked cupcake was her canvas, and a piping bag, her brush.

Austin surveyed the room, a concerned look on his face. "Did you speak with the landlord? Is this building even safe?"

"He said the building may be old, but he's kept it in working condition. Totally safe." Besides, it wasn't Liv's responsibility to maintain the building. She only needed to worry about the inside of the store.

"If you say so." Austin gave her a disbelieving frown.

Just picturing what this store would look like once she was finished invigorated her, sending all of the doubt away.

She paced the tiny room. In a few weeks, the walls would be covered in blush-pink paint, soft fabric sofas and stools would be available for seating, and her signature white boxes with pink ribbon would be ready for filling.

And Liv couldn't be more in the mood to get started. "Ready to get to work?"

"By 'work' I hope you mean paperwork, because these hands were made to caress the skin of hard male bodies—not to be submerged in skin-damaging cleaners."

Liv giggled. "Don't be such a priss." She jumped up on the counter, not afraid to get a little dirty.

"I'm really proud of you." Austin grinned. "This is your time. I will kick your butt when you get anxious and pick your butt up when you get discouraged."

"I can always count on you to take care of my butt."

"Somebody has to."

Liv groaned. "Please tell me we are not getting on the boyfriend topic. Not today." Boyfriends were not the most pressing item on her to-do list. They never had been.

"Then when? You're going to have to let someone get close to you sometime, Olivia." She hated when Austin called her Olivia. He only did it to get under her skin.

"I got here without a man, and I can continue without one."

Liv didn't need a man for a happily ever after. They didn't exist in real life, anyway. Her own family life was the perfect example. Her grandparents, even though they were still married, had never slept in the same bed. And her mother, she had sacrificed everything for a man who ended up leaving them and was never heard from again.

Her father—although he didn't deserve the title—was the first and last man to disappoint her. Growing up, witnessing the sadness in her mother's eyes, was enough to teach Liv no man was worth sacrificing her own happiness, her own plans.

"Besides, that's what I have you for." Liv swiveled around until her legs fell on the opposite side of the counter, and slid to the floor. She grabbed the file folders she'd stored underneath the counter as Austin approached, resting his hands on the dust. She leaned forward and placed her forehead against his. "You're my token penis."

"And what a great penis it is."

They both chuckled.

"Let's get to work." She headed to the back room. "It's time to fix the world, one cupcake at a time."

She turned, but just before she stepped behind the curtain, Austin said, "Liv, just answer me one thing."

She quietly groaned, hoping that Austin wasn't going to resurrect the man topic.

"Is there anything a cupcake can't fix?"

Liv wasn't a religious person, not even a spiritual person, but without a doubt, she believed in the ability of the cupcake to always turn a frown upside down.

A smile spread wide across her face. "Not a chance."

…

Later that evening, Liv dimmed the overhead lights of McLean's Bar and Grill. It was her second to last shift as a bartender, and her feelings were bittersweet. Bartending had been the means to which she'd been able to save up and follow her dream. But she could live out the rest of her life with happiness without ever seeing a chicken wing or drunken idiot again.

She watched from her perch behind the bar, taking in the dark wood furniture and forest green walls. Worn tables and chairs lined the restaurant floor and neon beer signs hung on the wall. Two waitresses scurried up and down the aisles delivering food and drinks to the familiar crowd that called McLean's their home away from home. She knew exactly how they felt. For the last ten years, McLean's had been her second home, too. She bent down to adjust the volume of the satellite radio—her favorite classic rock wasn't loud enough for her liking.

"What's up, lady?" Austin knocked on the bar behind her.

Liv jumped. "Jesus, Ozzie. When did you get here?"

"Same time I did." Patti popped up from the other side of the bar. "Hi, Liv."

Liv was glad for the arrival of her friends. The night had been slow, her usual customers not so entertaining.

With his ass barely situated on the stool, Austin pointed to the counter behind Liv. She smiled and brought him the Tupperware container that housed that morning's experiment. In the spirit of the fast-approaching St. Patrick's Day celebrations, Liv baked a double chocolate cupcake with white butter cream icing that looked just like a pint of Guinness. She had even etched out tiny harps and clovers on top of the icing.

"Don't mind if I do." Austin wiggled his fingers above the cupcakes, making sure to only touch the one he wanted. Although, knowing his eating habits, he'd have no problem going along with the  "you touch it, you bought it" method.

She held out the container to Patti, who declined with a slight shake of her head, her mousy brown ponytail shaking.

"Don't let my dad see those," Patti warned. "He told me the other day his customers are getting fat and it's not because of the beer."

Liv laughed and shrugged off her comment. "He's probably the one with the expanding waistline. He's my best customer."

The McLeans had taken Liv in as a surrogate daughter when she'd met Patti in her first year of University. They gave her a job and a place to call home since her own family lived two hours away.

The wave of a hand at the opposite end of the bar caught Liv's attention. The group of unfamiliar men that had showed up at the beginning of her shift was in need of a refill. "I'll be right back."

Liv approached the group. "Drinks, boys?"

"Can we have a pitcher of Heineken this time?" The vocal one of the group looked up from the papers he was reviewing. He had a warm smile and shiny brown hair, but he wore his dress shirt and tie like armor.

The blonde of the group was partial to sweater vests. The other dark-haired man looked like he had just stepped out of AP magazine—he had that rocker grunge look perfected. All three of them were attractive. Not usually her type—but still attractive. But just like every other male who walked through the doors of this bar, they were ordinary.

"You got it."

While concentrating on pouring the draft, the hair on Liv's arms and neck stood at attention when the cold March air filtered in from the open door. A new customer walked up the steps toward her. As he walked by, her stomach tightened and her breath became heavy.

The man was eye candy at its finest. Intense green eyes? Check. Black power suit? Check. Broad shoulders, strong jaw, hair styled to look messy? Check, check, and check. Without a doubt, he was the most gorgeous man she had ever seen.

"Jake!" Vocal Guy yelled from his seat at the bar.

And his name was Jake.

It was the sound of the beer pouring onto the floor that brought Liv back to earth. She cursed and quickly pushed back the tap.

She needed to get her head in the game. He was just a man. One hot, sexy, hunk of a man.

She approached the group and placed the pitcher on the bar, avoiding eye contact, and spun around to grab four glasses from the shelf. She stupidly glanced into the mirror that spread across the back of the bar and locked eyes with the stranger.

The intense heat from Jake's stare burned its way down her back, only to settle in the pit of her stomach, a brush fire of desire smoldering in her belly. Heat licked through her body at the thought of his strong hands caressing up and down her arm, across the swell of her breasts, down to the moist juncture between—

The bang of the washroom door made her jump and brought her out of her trance. What the hell?

She shook her head to stop the lustful images, but failed. Liv struggled with the glasses but one got away from her, shattering into a thousand pieces on the floor. Her cheeks burned as the heat that had taken over her body turned from desire to embarrassment.

She shifted her weight from one foot to the other, the sound of the glass crunching under her. With a quick breath, she bent to clean up the mess—and retreated from nervousness.

"Is the glass okay? It took a pretty good beating." Jake's smooth, mellow drone surrounded her, covering her skin with gooseflesh.

"I'm fine." She stood and threw the bigger pieces into the garbage, realizing that he'd asked about the glass and not her. "We have others. I'll…get you another one." Damn! She couldn't even form a coherent thought and her words came out in a stutter.

"No need. I'll take a bottle of Budweiser." His cheeks were rosy from being out in the cold. He had a crooked nose and a tiny scar near his hairline on the right side. And his eyelashes—they were the longest eyelashes she'd ever seen on a man.

"Not a problem. I'll—"

"It's okay, really." He raised his hand to frame his mouth, as if wanting to tell her a secret. He licked his bottom lip before he spoke. "I don't really like draft."

Why did he have to draw attention to his lips? Liv imagined them kissing every inch of her body.

She needed to get a grip. Where was the cool, confident Liv? She'd been so wrapped up with her bakery that she'd neglected any type of participation in certain bedroom activities. This was just a typical reaction to a sexual dry spell.

She grabbed a Bud from the fridge, then placed a coaster on the bar, followed by the bottle, twisting it until the label faced her. Despite being flustered by this man, her serving ritual hadn't disappeared. She glanced up. Jake was giving her a curious stare.

"We're going to take this down to the pool table." Dress shirt guy interrupted before Jake had the chance to comment. He stared between them. "Are you still able to serve us?"

"Of course." It might be better that way. Then maybe she wouldn't be so distracted with Jake sitting right in front of her.

The men grabbed their coats and drinks and walked around the bar to the lower level. Jake was the last to walk away, but before he did, his eyes settled on her. His stare left a trail of heat that started from her toes and made its way to her cheeks. When their eyes met, she struggled for air, and quickly turned away.

"Why are you so flushed?" Austin was just finishing off the last few crumbs of a cupcake. The Tupperware container now sat on the bar instead of the counter behind her.

"I'm not flushed." The bang of the bathroom door made Liv jump, and Patti's slim figure made its way back to the bar.

"Yes you are…and jumpy," Austin said.

Patti took her seat, her eyes darting from Liv to Austin, then back to Liv. "Why is she so flushed?"

Austin's laugh was drowned out by a group of customers who'd walked in the back door. They forgot to use inside voices as they scoped out a table on the restaurant floor.

"I'm not flushed," Liv yelled over the crowd.

"All right." Patti lifted her hands in surrender and leaned back on her stool. "Don't get your panties in a twist." She might have thought her conveniently timed sip of beer hid her smirk but it was visible in her brown eyes.

"I think Liv's panties are being affected by that delicious man over there." Austin shoved the last of his cupcake into his mouth.

"He may be delicious, but he has no effect on my panties." Liv cursed under her breath. Her response was a little too quick, a little too animated. And as for her panties, she'd gladly hand them over if it meant further interaction with Jake. But Austin didn't need to know that.

"So you know exactly who I'm referring to." Austin was too pleased with himself and too smart for his own good.

She couldn't be that obvious…could she?

The small printer behind them screeched out an order. She poured two drafts and placed them on the service counter, then returned to her friends, where she poured two well drinks.

"Who are we talking about?" Patti played with a napkin, folding it into a triangle.

"Bud Man." Austin gestured to the object of Liv's inappropriate—however, exciting—distraction.

Patti lifted her eyebrow. "Bud Man?"

"The sexy beast drinking the bottle of Budweiser." Austin pointed to the pool table. Liv tensed. She refused to look over, but she only hoped Jake wasn't watching her friends gawk and point. She'd embarrassed herself enough.

"Holy Marc Jacobs, look at him take a swig." Austin fidgeted in his seat. "I need to readjust my pants!"

Liv joined her friends in their game of staring and locked eyes with the sexy stranger. Immediately, his eyes penetrated right through her nervous facade.

She backed away, in the hopes of diffusing her desire, and dropped off her drinks to Meg, one of the waitresses. When Liv turned to Patti and Austin, they were huddled together, whispering between sips of beer. "Can we please stop ogling the customers?"

But she understood quite well their fascination. There was some strange pull that made her want to park herself in front of the man. She would be content to sit there all night admiring his broad shoulders, his straight, white teeth, that smile, and his eyes—eyes that stared right through her. In the short time he had been in the bar, Jake had stolen her concentration and lit a fire deep within. He had her primed and ready to surrender. But Liv would not surrender. Ever.

"Liv, you need to take that man home with you." Jake obviously had Austin's stamp of approval.

"Seriously? You both have active love lives. Do you really have to live vicariously through mine?"

"Hell yes!" Austin was always in for sex talk.

Patti, on the other hand, was more reserved. Or as Austin liked to call her—a prude. Liv knew she could count on Patti to deflect the conversation. "Brett and I are over the whole honeymoon period. I could use a little excitement."

Traitor.

"Bakery? Dream come true?" Liv reminded her friends of her priorities.

"We're not saying you have to marry him. Just have some fun." Patti suggesting Liv "have some fun" could only be a direct result of Patti's relationship with Brett Daniels. He used to be their sexy next-door neighbor, but now he was Brett, her tatted-up, live-in artist, and the man who loved her best friend.

"He looks like he'd be a lot of fun." Patti sighed and leaned on the bar, placing her fist under her chin. Liv was positive a shimmer of drool sat at the crease of Patti's mouth.

"Not to mention," Austin said. "That man looks like he knows his way around a woman's body."

Liv followed Austin's gaze to Jake. Luckily he was too preoccupied with taking a shot to notice their stare fest. "I like sex just as much as the next girl, but really, it's just sex." Liv turned to rip the tiny slip of paper from the printer and read the drink order.

"Just sex?" Austin threw his hands in the air. "You must be doing it wrong."

"I think I know how to do it."

"Honey, don't you get that spark?" Austin placed his hand on his chest. "That feeling? When you know just by a look or a simple touch that you just have to have that person? That when you do, it will be a mind blowing, religious experience?"

Never. Not until today. As soon as Bud Man walked through the door. She scoffed and grabbed a few bottles of beer from the fridge and pulled another chit from the printer.

"Religious experience? Please."

"If you question me, you haven't had it."

Austin was right. She'd never had a religious sexual experience.

"Liv?" A customer called her name from the corner of the bar.

She held up a finger, letting him know she'd only be a minute.

"You're getting busy. We'll get out of your hair." Austin slipped on his coat. "Let's go, Pats. I'll give you a ride." He kissed his fingers and pressed them to Liv's cheek. "See ya, honey."

"Don't work too hard." Patti danced her way to the door, her small hand waving behind her. "Make sure to stop and enjoy the scenery."

Liv smiled. She was pretty sure that by "scenery," Patti meant Jake.

With Austin and Patti now gone, she concentrated on her customers. She looked around at the familiar faces, but ultimately, the faces around here were strangers. She had no connections beyond her close circle of friends and family. Suddenly, she felt alone.

Instead of curling up against Jake's yummy body tonight, she would be curled up with her business plan. Or a book. The trials and tribulations of a romance heroine were an enjoyable distraction, but never failed to remind her of what real life could never give her—a happy ending.

But maybe Austin was right. Jake could be a good time. Just a one-time attraction. What harm would it do for her to have one last fling before her business consumed her? Just the thought of everything she had on her plate made her entire body tense.

Jake grinned from the pool table, and just like that, her stress gave way to desire. The tension in her chest softened, then settled a little lower. Who knew a smile could tug at the zipper of her jeans? With barely a word, this man had her fantasizing about bending over the glass washer, letting him take her any way he wanted.

Maybe a romp in the sack was just what she needed. But not just any romp, one with Jake.