Today it is my pleasure to welcome Romance Author

Andrea Laurence

to HJ!
Andrea Welcome, Tell us about 5 things readers should know about you?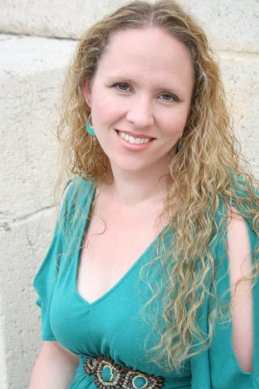 1. I have a really dry, sarcastic sense of humor. I think it leaks into my characters. 2. I think the crew from Monty Python & Mel Brooks are the funniest people ever. 3. I have five pets. Five! Three dogs and two cats. I am always picking fur off my sweaters. 4. I have an insane sweet tooth. 5. I'm pretty crafty. When I have free time (ha!) I like to scrapbook, bake and decorate cakes and carve cool pumpkins.
What would you say are the defining characteristic of your Novels?
My novels will always have quirky, relatable characters and a fresh take on your favorite story tropes.
Do you find writing love scenes giggle-worthy or cringe-worthy?
Love scenes are hard. There honestly one of the hardest scenes for me to write because so much hinges on them. They have to be fresh and sexy. They have to be meaningful to the plot and the characters. There's so much emotion and passion and conflict wrapped up in a love scene. It's not just a tab A into slot B scenario. It's a lot of pressure, really. They typically only make me giggle or cringe if I have to read them out loud.
Which hero, among your books has given you the biggest run for your money?
Nathan Reed, the hero of my February 2014 Desire – BACK IN HER HUSBAND'S BED – gave me a lot of grief. He's sexy and powerful, but also sensitive and stubborn. He wants to ruin Annie because he can't admit to himself that he loves her and wants her back. He did a lot of jumping around – he wants her, he hates her, he wants to punish her, he wants to ravish her. He's jealous of any man that touches her, yet can't stand the sight of her. He is one of my favorites, yet the one I most wanted to smack some sense into.
What are you currently reading?
I'm currently reading Sugar Cookie Murder by Joanne Fluke. I try to read different genres when I'm writing and cozy mysteries are always fun.
If you had to summarize A Very Exclusive Engagement for the readers here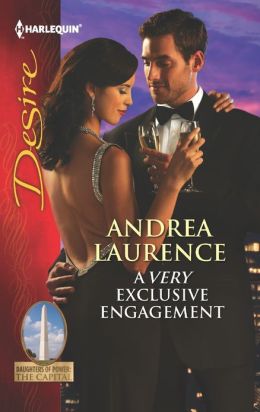 A Very Exclusive Engagement is the story of two people who don't like each other but are incredibly attracted to one another, that come together in a scheme to save what's important to them and end up falling in love.
Please tell us about the characters in your book.
The hero is Liam Crowe. He's the new owner of the failing ANS news network. He's always wanted to own a company like this, it's his dream, and he's determined to make it successful. He won't let anyone, including his meddlesome aunt, ruin it for him. The heroine is Francesca Orr. She's a half Italian, half Irish spitfire. She's superstitious, curses in Italian, and cares so much for other people that she lets herself get talked into things she normally wouldn't do.
What scene did you have most fun writing? why?
There were two really great scenes, but I can't share one because it ruins the ending. All I can say is 'wedding cake.' So I'll tell you about the elevator scene. This book was part of a continuity, so the basic plot I was given involved some amore very early on in the story. In an elevator. The how and the what and the why was all up to me. It was really fun to take two characters who are fighting like cats and dogs and trap them in a small, hot space together. You know things will happen. 🙂
Who would who cast in the role of hero and heroine if your book was optioned for a movie?
Liam is definitely Henry Cavill and Francesca is Penelope Cruz. If you go to my Pinterest board for the book, you'll see my inspirational shots for both of them.
What are you currently working on? What other releases so you have planned for 2013?
I just turned in my May 2014 Babies & Billionaires for Desire. It's not titled yet. I'll be starting the 3rd Secrets of Eden book next. My October 2013 release will be the 2nd Secrets of Eden book – A BEAUTY UNCOVERED. Readers have told me just how excited they are for Brody's book and so am I. It was a great story to write and I hope it lives up to everyone's expectations.
Where can readers get in touch with you?
www.andrealaurence.com. On the contact page is my email – author (at) andrealaurence (dot) com and my mailing address. There's also links to my Facebook Fan Page – https://www.facebook.com/AuthorAndreaLaurence, my Twitter account – @Andrea_Laurence, my Pinterest Page – http://pinterest.com/aclaurence/, and the link to sign up for my newsletter.
Giveaway:
A signed copy of A Very Exclusive Engagement
To enter Giveaway: Please complete the Rafflecopter form and post a comment to this Q:
In my book, Francesca is incredibly superstitious and it gets her in a lot of trouble sometimes. When I was doing research for the book I found so many different ones. It was mind-boggling. Nearly anything could be good or bad luck depending on your culture and how you interpret it. So I have to ask – are you superstitious? Share some of your favorites or if you're not inclined to believe in that stuff, what the strangest superstition you've ever heard is. I'd love to learn about some more.
An excerpt
"Sweet mercy, it's hot!" Liam exclaimed, standing up. He felt as if he was being smothered by his crisp, starched dress shirt. He unfastened the buttons down the front and whipped it off with a sigh of relief. "I'm sorry if this makes you uncomfortable, but I've got to do it."
Francesca was sitting quietly in the corner and barely acknowledged him, although he did catch her opening her eyes slightly to catch a glimpse of him without his shirt on. She looked away a moment later, but it was enough to let him know she was curious. That was in­teresting.
He'd gotten a different insight into his feisty execu­tive vice president of Community Outreach in the past two hours. He had a better understanding of her and what was important to her. Hopefully once they got out of this elevator they could work together without the animosity. And maybe they could be a little more than friendly. Once she had stopped yelling, he liked her. More than he probably should, considering that she worked for him.
"Francesca, take off some of your clothes. I know you're dying over there."
She shook her head adamantly, although he could see the beads of sweat running down her chest and into the valley between her breasts. "No, I'm fine."
"The hell you are. You're just as miserable as I am. That tank you're wearing looks like it will cover up enough to protect your honor. The skirt looks terribly clingy. Take it off. Really. I'm about ten minutes from losing these pants, so you might as well give up on any modesty left between us."
Francesca looked up at him with wide eyes. "Your pants?" she said, swallowing hard. Her gaze drifted down his bare chest to his belt and then lower.
"Yes. It's gotta be ninety-five degrees and climbing in this oven they call an elevator. You don't have to look at me, but I've got to do it. You might as well do it, too."
With a sigh of resignation, Francesca got up from the floor and started fussing with the latch on the back of her skirt. "I can't get the clasp. It snags sometimes."
"Let me help," Liam offered. She turned her back to him and he crouched down behind her to get a better look at the clasp in the dim red light. This close to her, he could smell the scent of her warm skin mixed with the soft fragrance of roses. It wasn't overpowering—more like strolling through a rose garden on a summer day. He inhaled it into his lungs and held it there for a moment. It was intoxicating.
He grasped the two sides of the clasp, ignoring the buzz of awareness that shot through his fingertips as he brushed her bare skin beneath it. With a couple of firm twists and pulls, it came apart. He gripped the zipper tab and pulled it down a few inches, revealing the back of the red satin panties she wore.
"Got it," he said with clenched teeth, standing back up and moving away before he did something stupid like touch her any more than was necessary. It was one thing to sit in the elevator in his underwear. It was an­other thing entirely to do it when he had a raging erec­tion. That would be a little hard to disguise.
"Thank you," she said softly, her eyes warily watch­ing him as she returned to her corner of the elevator.
As she started to shimmy the skirt down her hips, Liam turned away, although it took every ounce of power he had to do so. She was everything he liked in a woman. Feisty. Exotic. Voluptuous. And underneath it all, a caring soul. She wasn't one of those rich women that got involved in charity work because they had noth­ing better to do with their time. She really cared. And he appreciated that, even if it would cost him a few head­aches in the future.
"Grazie, signore," she said with a sigh. "That does feel better."
Out of the corner of his eye, he saw her settle back down on the floor. "Is it safe?" he asked.
"As safe as it's going to get. Thank you for asking."
Liam looked over at her. She had tugged down her camisole to cover most everything to the tops of her thighs, although now a hint of her red bra was peeking out from the top. There was only so much fabric to go around, and with her luscious curves, keeping them all covered would be a challenge.
"You might as well just take those pants off now."
Liam chuckled and shook his head. Not after thinking about her satin-covered breasts. He didn't even have to touch her to make that an impossibility. "That's prob­ably not the best idea at the moment."
Her brow wrinkled in confusion. "Why—" she started, then stopped. "Oh."
Things are about to get even hotter in the elevator, so pick up your copy to find out what happens next. J