Today it is my pleasure to Welcome author
Katie Meyer
to HJ!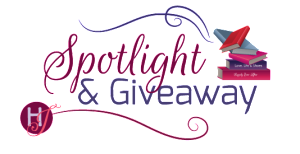 Hi Katie and welcome to HJ! We're so excited to chat with you about your new release, A Wedding Worth Waiting For!

I'm so excited to be back at Harlequin Junkie, this time with a new series!

Please summarize the book for the readers here: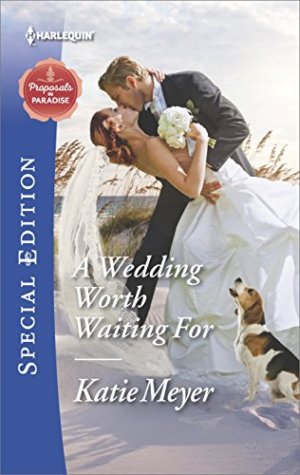 A Wedding Worth Waiting For is a book for all the introverts out there, and those who battle feelings of never quite being good enough. Samantha (Sam) Finley is a Florida Fish and Wildlife officer, who graduated at the top of her class. But her professional and academic achievements haven't been enough to impress her father, or to ease her own self doubt. When she is forced to step outside her comfort zone she runs finds herself partnering up with the town's most eligible bachelor in a relationship of convenience. Except there is nothing convenient about the feelings she is developing for Dylan Turner, especially as she realizes that there is a lot more to him than his surfer looks and playful attitude suggest. With his help she battles her demons while also investigating a dangerous poacher and working to protect the land she loves, and the only place she really wants to call home.

What's your favorite line(s) from the book?:
All she had to do was keep moving. Across the lawn to her car, then to her apartment, and then on with her life. Just one impossible step after the other.
When you sat down to start this book, what was the biggest challenge you faced? What were you most excited about?
I had a lot to research for this book. Although I worked at a summer camp run by a similar organization years ago, I really didn't know much about the day to day duties of a Fish and Wildlife officer. I was lucky enough to have a great friend who is a wildlife biologist with the state who hooked me up, both with names of people to talk to and the names of some books that would help in my research. Without her help and suggestions I would have been lost. As for excitement, I was really looking forward to having a book with Dylan Turner in it. He showed up in a previous series, in Do You Take This Daddy as a minor character, and I was thrilled to be able to give him his own story. Who wouldn't want to hang out with a guy that looks like he stepped out of a surf magazine, but has an MBA from Harvard – oh, and he loves animals too!
Please tell us a little about the characters in your book. As you wrote your protagonist was there anything about them that surprised you?
Well, as I said above, Dylan Turner is outwardly a low key, carefree guy who would rather be surfing than pretty much anything. But that's just the surface – go below that and you find an intelligent, educated, hard working man who turned down lucrative positions to manage a non profit wildlife rehab center. He's also incredibly dedicated to his family, who we meet in this book.
Sam(antha) Finley is an introvert – shy and a bit hesitant in social situations but incredibly good at her job. In uniform she holds her own, be it on the firing range or in the field. But navigating personal relationships? That's another story. Thankfully she finds her strength and her own worth by the end of the book, but those self doubts, that social awkwardness, is something I (and a lot of readers I think) really relate to.
I think the most surprising thing for me was Sam's spunky attitude. She may be socially hesitant at first, but once she finds her footing she doesn't hesitate to speak her mind.
What have you learned about your own writing process/you as an author while writing this book?
I've learned not to panic. Or at least, to panic a bit less..that's probably more accurate! That if I don't know what is going to happen, to give myself some space to think about it. Either take a shower, listen to some music, maybe even a nap. Just clear my head and let some ideas come. Also, I've learned that although I'm very much a plotter, it's okay to let the story head in a direction you didn't predict. Or to start typing even if you don't know all the answers yet.

The First kiss…
Dylan had only intended an innocent peck, something to cement their status in the minds of the public. He'd half expected Sam to push him away, or to roll her eyes in frustration. Instead, she'd deepened the kiss, teasing him with her tongue. But it had been her whimper that had broken him, and he'd taken her mouth the way he'd wanted to since their very first meeting in the woods. Never had a kiss felt so right, or his body reacted so quickly. Shifting his weight, he braced himself over her, changing the angle to better explore the sweetness of her mouth. Urging him on, she gripped his shoulders, pulling him more fully against her.
Did any scene have you crying or laughing (or blushing) while writing it?
I did giggle writing this scene. Dylan may be a big, tough guy but he's totally outmaneuvered in this scene.
"You're going to adopt him."
"No, I'm not. You can't just trick me into coming here with some false emergency, then inform me I've adopted a dog." Even in Paradise, things didn't work that way.
"You've said a million times that you want to get a dog. And this one needs a home."
"I meant a puppy, not a senior citizen. And something big, like a golden retriever that I could take jogging on the beach. Toby's going to have to find another sucker."
"So you're just going to turn him away?" He tried to ignore the disappointment in Sam's voice, but it was no good. He had two options here—one choice would have him looking like a hero in her eyes, the other like a cad.
Sinking down into a crouch, he called the dog over. "Hey, Toby, what do you think? Do you want to come live with me?"
A quick thump of the tail and a wet dog kiss sealed the deal. He was going home heavy one geriatric beagle.
If your book was optioned for a movie, what scene would you use for the audition of the main characters?
I'd want a scene where the characters show both their strengths and their vulnerabilities. This scene, where Sam is confronting not only her true feelings for Dylan, but also finding her own strength, would be perfect.
"I'm serious, Sam. Why are you bleeding? You said you'd be safe, that you could take care of yourself, and you show up on my doorstep in the middle of the night looking like someone tried to take your head off. What the hell is going on?"
Passion flamed to anger in the space of a heartbeat. "What's going on is that I drove over here ready to tell you I love you, that I want to be with you, to make love to you. But because I scraped myself on a branch in the woods, I guess we're going to fight instead." She buttoned her shirt, her fingers fumbling as her heart raced.
Dylan startled, then reached for her. "Damn it, Sam, I don't want to fight."
"Neither do I." She finished the last button and squared her shoulders. "But if you can't handle my job, if you can't handle who I am, then this isn't going to work. I know that I made you wait while I figured things out, and I know you were patient with me. So I'll give you the same courtesy. Take some time, Dylan. Figure out if this is something you really want, because I'm not going to change.
Readers should read this book….
if they love true to life characters that take the less traveled path on the way to happily ever after.

What are you currently working on? Do you have any are up-coming releases?
I just finished writing the second book in this series, titled "The Groom's Little Girls". It's about a widow and single parent to twin girls, and his relationship with tough as nails lawyer Dani Post, who has made appearances in a few other Paradise novels. The book explores some serious issues, including sexual harassment in the workplace, PTSD, and the difficulties of single parenting while also finding the joy and fun in everyday life.
Thanks for blogging at HJ!
Giveaway:

A signed copy of A Wedding Worth Waiting For. International
To enter Giveaway: Please complete the Rafflecopter form and 

Leave a comment with your thoughts on the book…
Excerpt from A Wedding Worth Waiting For:
"Sam, say something. Tell me you'll give us a chance."
She shook her head, her mind reeling with everything he'd said. He was in love with her? How was that possible? He'd seen her flaws, how messed up she was. She couldn't trust, couldn't love, not the way he wanted her to. And just because she was afraid of getting hurt, although, yeah, she was pretty much terrified of that. But even worse was the idea of hurting him. She had to make him see that. He needed to understand that she wasn't good for him, not now, not ever.
"It's not about giving anyone a chance, Dylan. It's about doing the right thing, and acting like a grown-up, not a love-struck teenager. This is real life, not some fairy tale."
"Don't you think I know that? My love for you is real, and so are your feelings, even if you won't admit you have them."
"A relationship with me is a recipe for disaster."
Excerpts. © Reprinted by permission. All rights reserved.

Book Info:
ENGAGING THE OFFICER
As an officer devoted to protecting animals, Samantha Finley saves the innocent. Her weak spot? Opening herself up to people in her hometown of Paradise. Enter Dylan Turner, director of a local animal rescue. Something about him makes her trust in happily-ever-afters, but Sam knows there's no sense in trusting a guy who looks, walks and talks like a heartbreaker…
Dylan agrees eagerly when Sam proposes to a relationship of convenience so she can reenter Paradise society. But the more he falls for her, the more Dylan knows he must tame the wild woman he's come to adore—for good! If he has his way, their next date will be at the altar…
Meet the Author: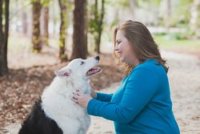 Katie Meyer is a Florida native with a firm belief in happy endings. A former Veterinary Technician and dog trainer, she now spends her days homeschooling her children, writing, and snuggling with her pets. Her guilty pleasures include good chocolate, Downton Abbey, and cheap champagne. Preferably all at once. She looks to her parents' whirlwind romance and her own happy marriage for her romantic inspiration.
Website | Facebook | Twitter |