Today it is my pleasure to Welcome author
Claudia Shelton
to HJ!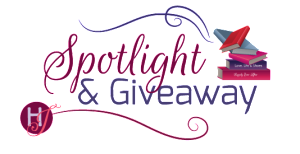 Hi Claudia and welcome to HJ! We're so excited to chat with you about your new release, A Week At Most!

Hi, Everyone – I'm so excited to be here!

Please summarize the book for the readers here: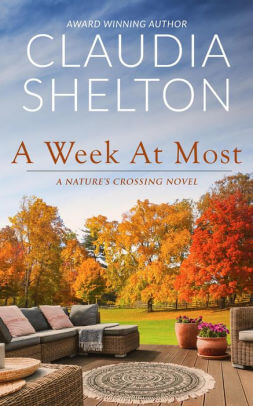 It's never too late to find a different path in life. To welcome a second chance. Or, just to relax, have fun and open yourself up to love. In this book, A Week at Most, that applies to a thirty-eight year old unemployed newscaster, a CIA agent looking to change careers, and a small town hoping for some new faces and new ideas! Of course, Mark and Ashley, have a few of their own ideas they'd love to pursue, also. Welcome to Nature's Crossing, we'd love to show you around…

Please share your favorite line(s) or quote from this book:
"If it's not okay, I'll leave," he said.
Afraid he would go, she slid her hand over his, then back to her lap. He stayed.
"Shhhh." The lady behind them tapped him on the shoulder with her program. "I'm sure it's okay, or she'd have already told you otherwise."
Please share a few Fun facts about this book…
This was the first book I wrote, but not the first to be published. In fact this was completed years ago, so a lot of rework, updates, etc., have gone into turning this book and series into a reality.
The working title of this book was Freedom & Magnolias.
Don't Stop Believin' by Journey is a perfect song for Ashley and definitely on my Song List.
The town, Nature's Crossing, is a character unto itself!
What first attracts your Hero to the Heroine and vice versa?
Ashley and Mark were introduced years ago, but never took things a step further. Now, they've been thrown together in a small Missouri town, and they both agree…"life happened" …the last time. He loves the way she stand up for herself. And she can't seem to get him out of her dreams. Maybe this time will be different!
Did any scene have you blushing, crying or laughing while writing it? And Why?
Parking a spot away from a black BMW SUV, she flipped the visor down, opened the mirror, and wiped away any sign of smudged mascara beneath her eyes. A quick swipe of lipstick and a finger-comb of her hair completed her arrival. If this was the wrong place, she could at least get directions. If this was the right place, she wanted to look halfway presentable. Nothing like a good first impression.
She checked the photo Dot had texted her, then opened the driver's side door and stepped out. Immediately, her feet sank in a puddle of muddy water. A cold stream of wetness oozed into her loafers, surrounded her toes, and drenched her designer socks. The hem of her jeans glided on top of the puddle like a skater on slick ice, soaking the liquid upward.
"Well, that sucks." She stepped out of the puddle, shaking each foot as if that would get rid of the mess and make everything better. Not happening.
She slammed the SUV door closed and trudged to the front door of the grocery, never sure if the next step would be solid or maybe a drop off to oblivion. At least the holes weren't as deep as the city potholes she'd encountered last winter.
One dimmer-than-dim light lit the concrete pad in front of the entrance. A quaint doormat of orange and brown leaves, plus a prickly wipe-mud-here porcupine smiled up from the left. Happiness whirred to life, along with contentment and calm. Even with all the mud and yuck and potholes, she still hoped this was the right place.
A soft ding sounded when Ashley pushed open the front door. Unsure if the lights were out or they used low-wattage bulbs, she ventured cautiously. "Hello? Anyone here?"
"Come on in." From the shadows, a lady with long hair called out. "Storm zapped the lights right near the end. They should be back on any second. The generator kicked in, so we've got a little power. That's why it's so dim in here."
Tentative, Ashley moved forward until something jumped on her shoulder. She spun with surprise. The squish and bunch of wet socks in her shoes threw her off balance, and her ankle turned. With all stability lost, she grabbed in the dimness at what appeared to be one of the store's shelves. It gave way. Amid the sound of crashing cans, she fell to the floor as every light in the place popped on brighter than bright.
A man in a dark leather jacket with his back to her spun around, shoving one hand in his pocket as he held the other at arm's length in front of him like a shield. Quickly, his intense stare zeroed in on her. A second later, he blew out a cheek-puffing sigh and raised his hands in a what-happened gesture.
She could only imagine how she looked sprawled on the floor.
Readers should read this book….
A Week at Most is the first book in my new contemporary mainstream romance series, Nature's Crossing. It's released to 5-star reviews and people are loving the cover. Why not be one of the first to experience not only the small town of Nature's Crossing, but follow Mark and Ashley from fall to winter as they discover themselves and their mid-life second chance. You're never too old to have fun!
What are you currently working on? What other releases do you have in the works?
I'm currently reworking TIME TO GROW, the second book in the Nature's Crossing series, which is a contemporary mainstream romance releasing Spring 2021. And I'm completing a couple of romantic suspense manuscripts, so we'll see where they eventually land.

Thanks for blogging at HJ!
Giveaway:

Two digital copies of TIME TO GROW, Book 2 in the Nature's Crossing series (releasing Spring 2021). Plus one digital copy of RISK OF A LIFETIME, the first book I ever published.
To enter Giveaway: Please complete the Rafflecopter form and Post a comment to this Q:

Have you ever driven thru or visited a small town that seemed to be welcoming you to stay? What did you like best? Least?
Excerpt from A Week At Most:
Gently, he drew her into the circle of his arms. Before she realized she'd relaxed, her head rested against his chest and the warmth of his body. The kiss they'd briefly shared at the market had only made her want more. Something she'd avoided during the past three years. But something about his kiss, and the way he'd touched her cheek, had her insides feeling again even before this morning's compromising position on the patio.
His cheek eased against her hair, and they swayed with the melody. Eventually, his hand found hers, and she moved her arm to rest on his shoulder. She continued to follow his lead as they danced among the scattered patio furniture, moving as one until the song ended.
Neither of them drew apart. She was apprehensive, and her pulse relayed her nervousness when his lips brushed across her forehead, soft and inviting. She flinched with uncertainty. Why? She knew how to kiss. How to caress. How to whisper and lean and hold. Question was, could she yield?
Mark's gentle embrace stayed solid. "Did someone hurt you, Ashley?"
"I think I'd better…"
Tender, his lips skimmed her temple, her cheek. He loosened his hold and tipped her chin up, seeming to lose himself in her face. "I'd never hurt you if you were mine. I'd never let anyone else hurt you, either."
"I really need to…"
Another melody encircled them, and he pressed his fingers lightly to her lips. "Shhh."
She regrouped in his arms, moved once again with the music. Her hand returned to his shoulder a moment before her fingers slowly caressed the back of his neck. The two of them slowly stopped moving, and she gazed into the warmth of his weathered face as his fingers tangled through her hair. Captured in their hold, she surrendered. Light as a butterfly's breeze, his kisses inched down her cheek toward her lips. She leaned in to capture the sensation, her heart ached for what might be.
"Ummmmm…" Her response was unintended.
"Do you know how beautiful you are?"
His lips brushed hers, and she leaned toward him. His lips caressed, and hers separated. His lips parted, and her resistance faltered. Before she could think about stopping, they were embraced in a timeless hold. Latching them into the heat of the other, each one grasped to hold on to this moment. And their kiss tingled all the way to her core. Made her ache for the man holding her as if he'd never let her go.
She eased lips away from his kiss, and he let her rest her cheek against his chest. Breathless. Unsure. Frightened at the rush of a feeling she'd pushed aside, she stayed exactly where she was.
"I'm sorry, but I…" Anchored against someone she wasn't ready to accept, or ready to release, she needed to explain. "I just can't do this. I barely even know you. We're not even friends. And to answer your question from before. Yes, I've been hurt. Never physically. But when someone you thought loved you betrays that trust…it hurts. Hurts more than you can imagine."
"Then we'll take things slow. If we're meant to be, everything will happen in its own time." For an instant, she felt the resting of his cheek against her hair. "You have my promise, I'll never push you. Never."
Excerpt. © Reprinted by permission. All rights reserved.


Book Info:
Welcome to Nature's Crossing, a small Missouri town needing more than a face lift to survive. Got a moment? We'd be happy to show you around…
Big-city newscaster Ashley Lanovan never dreamed she'd be divorced and unemployed at barely thirty-eight years old. Needing time to plan her future, she agrees to housesit for friends in Nature's Crossing. After setting new life goals, and adjusting to small-town culture shock, she realizes that her priorities have been misplaced for the past ten years. Now her efforts to revive the struggling town, have gone a long way to restoring her confidence in people. But when it comes to Mark Garmund, the man she can't shake from her thoughts—that requires trust on a whole different level.
Recently, Nature's Crossing seems like more than just a place special agent Mark Garmund wants to visit friends every so often. After years working for the CIA, he's ready for a change, and the Park Services has offered him a job. Now, he's got his eye on ten acres with towering pines, a park-like setting and one sprawling house he could call home. Meeting newcomer Ashley Lanovan has triggered emotions he'd rather not face, and a few he would sure like to pursue. But he has more secrets than the world will ever know, and evidently, more enemies than he'd ever imagined.
Book Links: Amazon | B&N | iTunes | kobo | Google |


Meet the Author:
Award winning author Claudia Shelton has already proven herself a contender in romantic suspense books that cross over into the mystery-suspense-thriller genre. Whether sexy protector agents or small-town family settings, her fast-paced stories keep the reader guessing all the way to the end.
Now, with the release of the first book in her new Nature's Crossing series, she's entering the contemporary mainstream romance genre (a crossover between contemporary romance and women's fiction). The ongoing small-town saga is nestled in south-central Missouri, somewhere between Lake of the Ozarks, Table Rock Lake and Mark Twain National Forest.
Claudia is a two-time finalist in the Daphne du Maurier (unpublished) Award for Excellence in mystery and suspense. Her debut book release, Risk of a Lifetime, was voted one of Ebooks Galore's top reads for 2014. She is the author of the Shades of Leverage romantic suspense series, also.
On a personal note, Claudia considers herself a music lover and water person, plus she enjoys anything to do with nature. In fact, the Nature's Crossing series allows her to bring all of those things closer. Her main priority, though, is spending time with family, friends and her two sweet, conniving rescue dogs, Gidget and Daisy.
Website | Facebook | Twitter | Instagram | GoodReads |