Today it is my pleasure to Welcome author
JC Harroway
to HJ!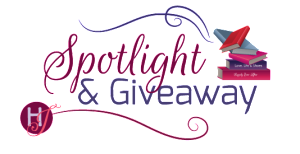 Hi JC Harroway and welcome to HJ! We're so excited to chat with you about your new release, A Week To Be Wild!

Hi romance lovers!

Please summarize the book for the readers here: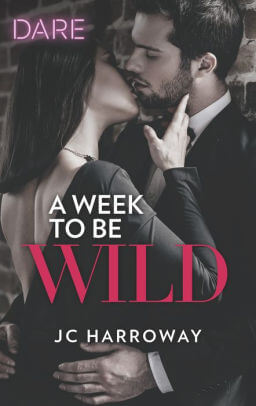 A Week To Be Wild is one of four launch titles for Harlequin's ne, sexiest line ever, DARE. I'm so excited to share this story with readers as this line is fabulous!
The story, set in London, follows British IT billionaire, Alex Lancaster and New York marketing expert, Libby Noble, who meet at a business conference. But their meeting is far from dull! Sparks fly when Alex attempts to persuade Libby to work for a charity he's getting off the ground. It's personal to him, so when savvy business woman, Libby, concedes to spend a week, discovering Alex's vision for the charity, things get a little wild, in and out of the bedroom. Libby's stuck in the past too, a workaholic who shies away from intimacy, especially with a man as reckless as Alex. The only way she can control the searing chemistry between them, is for Libby to take the driver's seat. And Alex is man enough to hand over the steering wheel.

Please share the opening lines of this book:
OLIVIA NOBLE WALKED behind the elderly professor, passing through the chrome-and-glass doors etched with the name of the swanky restaurant on the thirty-first floor of The Shard, London's tallest building. Her belly, jittery enough from the long, hair-raising elevator ride, flipped at the panoramic views dotted with the city's iconic landmarks. As a native New Yorker she accepted gravity-defying skyscrapers as part of life, but she avoided ones of this magnitude wherever possible.
Please share a few Fun facts about this book…
The Shard, the setting for this opening scene, is right next door to the London offices of Mills and Boon, but I didn't know this when I wrote chose this location!
Charities like Alex's AbleActive really exist, helping teens and young adults access the recreational opportunities their communities have to offer.
The Thames Valley in Oxfordshire, the location of Alex's boutique winery, provies ideal grapevine soil and is one of the warmest, driest areas in the UK.
Please tell us a little about the characters in your book. As you wrote your protagonist was there anything about them that surprised you?
I had Libby's conflict and her defining painful wound set, but what surprised me about her character was the way she controlled her attraction to Alex by her sexy game of quid pro quo. I wasn't expecting that and have no idea where it came from, but it makes sense that if Alex insisted on pushing Libby out of her comfort zone, she was alway going to exact payback…
If your book was optioned for a movie, what scene would you use for the audition of the main characters and why?
I think i'd use this scene :
Alex took her hand and pushed open a fire door, escorting her onto the roof.
Her feet stalled.
No rooftop restaurant with views of the Thames.
No murderer's lair.
Just a helicopter.
Gripping her waist, he ushered her frozen with shock form towards the sleek white death trap.
She dug her heels into the concrete, skidding them to a standstill. 'I'm not going in that.'
His brow dipped, puzzlement cloaking his amused eyes. 'Of course you are. It's only a thirty-minute ride.' He cocked a brow, his mouth twisted in challenge. 'You'll love it.'
In two strides he'd opened the door, was holding out his arm, enticing her inside a form of transportation she'd never experienced and never wanted to.
The wind whipped loosened strands of hair across her face, blinding her. Her stomach fell, settling somewhere behind her wobbling knees. The height of this building alone was enough to drain her adrenal glands. Just like at The Shard yesterday, being inside this skyscraper was enough of a trial for her, let alone standing on top of it with the elements determined to send her plummeting to the ground.
He strode back to her side, face contrite and[…]
I think this scene would test the actors range. It's the first time Alex gets a hint of Libby's wound, her past. He's trying to impress her and then he switches when he sees her reaction. It's intimate in an emotional sense, as both characters are getting to know each other, while trying to manage their insane physical connection.
What do you want people to take away from reading this book?
A new or growing love for romance!
With A Week To Be Wild, I hope I've delivered the DARE series promise-Sexy, Passionate, Bold. It's a love story set within an intense sexual relationship, but the characters have real life stuff going on in addition. It's their demons, their past regrets keeping them apart and they have to grow in order to be together.
What are you currently working on? What other releases do you have planned for 2017?
A Week To Be Wild is the first book of three, I've written for DARE, all to be released in the first half of 2018. So readers can look out for Her Dirty Little Secret and One Night Only, coming soon.
I'm currently writing a second DARE series, The Faulkner Brothers. And having lots of fun writing these passionate stories of modern love.

Thanks for blogging at HJ!
Giveaway:

A signed copy of A Week To Be Wild. Open internationally.
To enter Giveaway: Please complete the Rafflecopter form and Post a comment to this Q:

What's the wildest adventure you've ever been on?
Excerpt from A Week To Be Wild:
She pulled out her phone, firing a text to Alex. She barely knew him outside the physical intimacies they'd shared and their brief working relationship. But the defeated slump to his shoulders as he'd walked away earlier had stirred something in her. Feelings she'd thought long-ago abolished. Dangerous feelings that teetered too close to the edge of caring.

Hope your mother is okay. Thanks for the ride today. I can see why Able-Active clients will love it.

She opened her laptop, picking up on the work she'd begun last night and continued that morning when sleep had had no use for her.
On the surface, the marketing strategy for Able-Active presented little challenge for Libby. Secure corporate sponsorship, launch a national campaign to publicise the charity to a clearly targeted audience and streamline the charity's website and social media presence with an online sign-up form.
But Alex's passion for the work had spilled over, infecting her. It meant so much to him on a personal level. She wanted to do the best job she could. Make it the success he hoped for.
Her phone buzzed. Alex.

Thank you. She's fine. I'm sorry I had to[…]
Excerpt. © Reprinted by permission. All rights reserved.


Book Info:
A daring game of temptation. She'll play his game — but only by her rules!
Alex Lancaster is an adrenaline junkie. He's also a sexy British billionaire who should come with his own warning signs. When Libby insists she is done with men who live on the edge, Alex coaxes her out of her comfort zone — professionally and very, very personally. Libby's taking a high-stakes gamble, but the pay-off could win her everything…
Book Links: Amazon | B&N | iTunes | kobo | BAM |


Meet the Author: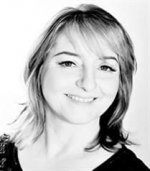 Lifelong romance addict JC Harroway lives in New Zealand. Writing her very real obsession with happy endings and the endorphin rush they create. You can follow her at jcharroway.com, facebook.com/jcharroway, instagram.com/jcharroway, and twitter.com/jcharroway
Website | Facebook | Twitter | Instagram | GoodReads |