Today it is my pleasure to Welcome author
Maria Vale
to HJ!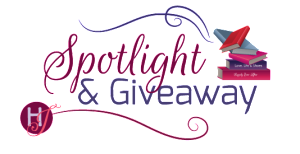 Hi Maria and welcome to HJ! We're so excited to chat with you about your new release, A Wolf Apart!
Please summarize the book for the readers here: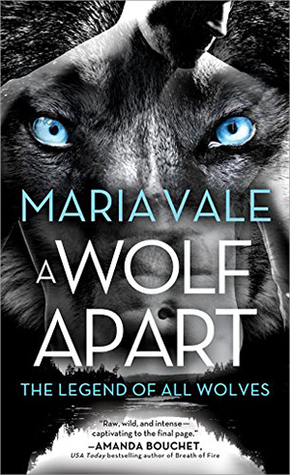 The Legend of All Wolves focuses on The Great North Pack. These are not men trying to subdue their inner beast, but rather wolves who use their human form to protect their true and sacred wild.
The first volume, The Last Wolf, focused on the pack's home territories in the Adirondacks and on Silver, the runt who was struggling to make a life for herself at the bottom of the hierarchy.
Elijah Sorensson, the hero of A Wolf Apart, is her opposite. The Alpha of his age group, he lives not in Homelands, but in New York City. He is an Offlander, a lawyer tasked with serving the Pack's interests in the human arena. After many years, he has a master manipulator of the human hierarchy, but the once-firm lines between his human act and his wild self are blurring and something inside is dying.
Then he meets Thea Villalobos, a human who has learned the price of pretending. A woman who sees beyond the man of the world to the passionate, heartbroken wolf.
But some secrets are not his to share.

Please share the opening lines of this book:
In the opening scene, I am trying to portray Elijah as a man who is thoughtless, alienated and running on empty.
"I've done it so often, I don't have to think about it anymore. My hands hardly seem to belong to me as they unfasten my cuff links. A quick twist to the left, then to the right. One after the other, they plink into the silver Tiffany tray beside the sink."
Please share a few Fun facts about this book…
Before I knew anything else about the heroine, I knew her name, Thea Villalobos, Goddess of the City of Wolves.
The poem at the beginning of the book, usually called Wulf and Eadwacer, comes from the 10th century Book of Exeter. Its meaning has been argued over for centuries, but with relatively few changes (a word or two, some judicious trimming), I found that it fit Elijah like one of his bespoke suits.
I wanted Elijah to be sort of despicable at first. To show how corrupted he'd become by the human world in which status derives not from strength and leadership and self-sacrifice, but from the visible trappings of success. I based his relentless awareness of labels on Patrick Bateman from American Psycho.
If your book was optioned for a movie, what scene would you use for the audition of the main characters and why?
I would probably choose a subtle scene as a test of an actor's skill.
Like when Elijah visits Thea's isolated cabin. It is outfitted for a single person and is a reflection of the kind of woman she is: strong, self-sufficient and self-aware.
He has finally come to realize that his usual scripted seductions won't work with her. So he tries to just talk. It's all small stuff, no big revelations, but he still finds himself stripped bare, raw and exposed.
There's a narrow shelf above the window at my eye level. Arrayed across it are a handful of things, none of them "As Seen on TV." An elaborate corkscrew of woody bracket. An almost baroquely gnarled branch. The perfectly intact skin of what looks to be a rat snake. Several small cardboard boxes that read 20 CRTG. 7.62 MM LONG RANGE 118 in sun-bleached lettering.
And a gleaming white skull that I recognize instantly.
I freeze.
"You can hold it if you want," she says, standing on her toes, her fingers feeling carefully along the shelf. "It's not going to bite. Not now, anyway."
Stepping closer to help, I get too close, so that when Thea turns around, her hand accidentally brushes a mother-of-pearl button, which grazes the top placket of my shirt, which touches the bottom placket, which touches my skin. She hands the skull to me.
Dust motes shimmering in sunlight float down around her.
"I found it," she says, stepping away. She rubs the back of her hand. "A marten skull, I think? Anyway, it's beautiful."
I gently follow the arabesque of its jaw with my finger. The fine crested ridge.
"Have you ever seen them hunt?" I finally choke out.
"A marten?"
"Fisher. It's a fisher. They… It's like gravity doesn't apply. If they're hunting, they'll just jump off a rock and"—my arm traces a spiral in front of me—"swim. Like an otter, except there's no water, only air."
Carefully, I put the skull back on its shelf. I was forty-two moons old when Nils put my fisher on a shelf of First Kills next to all those bunnies and squirrels. I didn't pay much attention to it after, because there were all those skulls, and some of them were ancient, and like the Gemyndstow, they were a reminder of the persistence of the Pack. I didn't realize how fragile that world was until I was older. Until Nils was gone and John was gone and the Great Hall was gone and the shelf was gone and that fisher was gone.
Now. Now I know how fragile it is.
"I miss it so much." I stand back, looking at this other skull arrayed on this other shelf. "I miss it all."
Thea holds me with her ironwood eyes, her head cocked to the side.
I think I may actually have spoken.
Excerpt. © Reprinted by permission. All rights reserved.

What do you want people to take away from reading this book?
We all wear disguises. We just have to remember to take them off from time to time or they stick.
What are you currently working on? What other releases do you have planned?
I'm finishing up edits on Forever Wolves which is what I'm calling Vol 3 and working on another project, a very sweet love story between death and a waitress.

Thanks for blogging at HJ!
Giveaway:

Print copy of A Wolf Apart (The Legend of All Wolves) by Maria Vale
To enter Giveaway: Please complete the Rafflecopter form and Post a comment to this Q:

When we're kids, we often try on different roles. One for camp, one for middle school, one for college. As adults, there are fewer opportunities to make those changes. Have you ever pretended to be something you weren't? And did you ever feel trapped by that other persona? How did you escape it?
Book Info:
Can a human truly make room in her heart for the Wild?
Thea Villalobos has long since given up trying to be what others expect of her. So in Elijah Sorensson she can see through the man of the world to a man who is passionate to the point of heartbreak. But something inside him is dying…
Elijah Sorensson has all kinds of outward success: bespoke suits, designer New York City apartment, women clamoring for his attention. Except Elijah despises the human life he's forced to endure. He's Alpha of his generation of the Great North Pack, and the wolf inside him will no longer be restrained…
She sizes me up quickly with eyes the color of ironwood and just as unyielding.
"Thea Villalobos," she says, and it takes me a moment to get my breath back.
Thea Villalobos. Goddess of the City of Wolves.
Book Links: Amazon | B&N | iTunes | Kobo |


Meet the Author: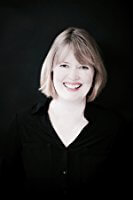 Maria Vale is a journalist who has worked for Publishers Weekly, Glamour magazine, Redbook, and the Philadelphia Inquirer. She is a logophile and a bibliovore and a worrier about the world. Trained as a medievalist, she tries to shoehorn the language of Beowulf into things that don't really need it. She currently lives in New York with her husband, two sons and a long line of dead plants. No one will let her have a pet.