Today it is my pleasure to Welcome author
Angel Smits
to HJ!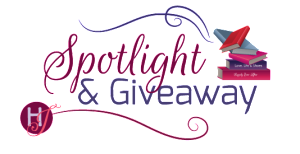 Hi Angel and welcome to HJ! We're so excited to chat with you about your new release, Addie Gets Her Man!

Hello!

Please summarize the book for the readers here: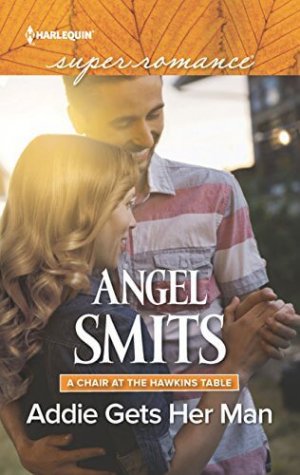 Addie is the oldest of the Hawkins clan, the daughter who took care of everyone after their father's death in her teens–even her mom sometimes. Now, it's her turn. As the principal of a local middle school, she's not really supposed the fraternize with the parents, but Marcus Skylar and his son, Ryan need her too much. Together they face the pain of loss they've both experienced and learn–together how to love again.

Please share the opening lines of this book:
Addie Hawkins stood next to her car, letting the remaining heat of the day wash over her. The Someday Cafe's parking lot was nearly full, and from here, she could see the lobby was overflowing. Standing room only.
Please share a few Fun facts about this book…
The idea for the Chair at the Hawkins Table series was based on a true story. A friend of mine and her siblings really did each take a chair from the dining room to remember their mother by.
Addie was the first character I came up with–and ended up being the final book of the series.
The cookies Addie makes are real! I made the recipe up just for this story, and now everyone wants to eat them. They are very yummy!
Please tell us a little about the characters in your book. As you wrote your protagonist was there anything about them that surprised you?
I was actually quite surprised to learn how bad Addie was at taking care of herself. She really does need Marcus to be her partner in that. He loves taking care of her. For two people who really didn't start out to find love–they were both hiding from it–they found a really good one!
If your book was optioned for a movie, what scene would you use for the audition of the main characters and why?
When I was writing the original story, I had Marcus and his son buy the house where she'd grown up. It was home to her, but after her mother died, they sold it. When she gets sick, and needs a place to recover, waking up in her childhood room–though it's different now–really gave the two of them a chance to see how much they had both changed and grown over time.
"This tie when Addie opened here eyes, she was convinced she'd lost her mind. Thec urve of the window frame. The pale mauve on the walls. the way the morning light reflected off the wood floor. It was all intimately familiar.
She was in her old bedroom. Except –that wasn't possible. That room was gone. There weren't any dolls scattered on the floor, no clothes prompting Mom to yell for them to be picked up, no unmade beds. Just the single bed frame, a dresser, a chair and–she glanced over at the wall–a family photo. Marcus, Ryan, and a woman. A petite, blond woman with a smile for them both.
It had to be Marcus's wife, Carolyn."

When Marcus walks in a few moments later, their reaction to each other is the set up for them getting together. He loves her mother's house as much as she did–only differently.
What do you want people to take away from reading this book?
Family is the heart of us all, and the heart of my books. I tend to give my characters a tough time, because we all have our challenges in life. But family is so often the ones who are there to help ease our struggles–even though they are also the cause of some of them. We need our families, and they need us. It's something I hope to remind people of.
What are you currently working on? What other releases do you have planned for 2017?
I do! I'm working on a new project for Harlequin that will be with another line, now that Super Romance is no more. I hope to have more definitive news soon. Also, I'm working on a project with several other authors called The Dogwood Series. It's about the mythical town of Dogwood, Colorado where the best things in life are rescued. Sanctuary rescues dogs from all over the country and finds them their forever homes, and the people of Dogwood find their forever loves as well–sometimes with the help of the match making dog, Match. I have an anthology story coming out later in June, and a novel in November. Lots keeping me busy!

Thanks for blogging at HJ!
Giveaway:

I'm giving a way a free print copy of all 6 books in the A CHAIR AT THE HAWKINS TABLE series, as well as Addie's Cookie Recipe and book related goodies. Anyone in the US who comments on this blog will go into the random drawing.
To enter Giveaway: Please complete the Rafflecopter form and Post a comment to this Q:

Do you have any long standing family traditions that help bring your family together? Or some you'd like to start? Please share so we can all enjoy and maybe begin new ones of our own.
Excerpt from Addie Gets Her Man:
"I don't understand." The tall, dark-haired man paced in front of Addie's desk. "Ryan has never been a problem. He's never gotten into trouble."
Addie watched Marcus Skylar shove his fingers through his thick hair again.
"He's never gotten into a fight."
Addie made herself focus. "From what he's told me, he has been through a lot." Her heart still ached for the boy. "He's had a lot to adjust to."
"I guess." Marcus suddenly sat on one of the chairs facing her. "It's been one hell of a year," he whispered. "I'm not making excuses."
"I think we need to give Ryan a break." She leaned forward, trying to look like she was in charge here. She knew what she was doing, but this man set her on edge and she didn't know why. "Have you considered counseling?"
She expected him to get angry. Half-expected the man who was very near the edge himself to rise up and rail at her. Instead, he silently looked at her, then leaned forward, putting his elbows on his knees, and stared at the carpeting. "I have. And we did. For a bit."
He wasn't like anyone she'd ever met. Nothing like her brothers, who would have already blasted her about psychobabble and being able to take care of themselves. She waited while he sat there, staring, seeing something he wasn't sharing with her.
"Mr. Skylar, our school has a no-tolerance policy. I have to give Ryan, both boys actually, a week's detention for fighting.
Marcus sat silent for a long moment. When he finally looked up at her again, his gaze was clear. "I understand. He'll be there." He waited a moment before shooting to his feet. "Guess, I'll…" His voice faded, and he turned toward the door. Now he looked more like she expected. "Sorry to have taken up so much of your time."
Pausing in the doorway, he curled his fingers around the knob until his knuckles showed white against his tanned skin. "Have a good afternoon, Ms. Hawkins." He pulled the door open and, through the opening, she saw Ryan look up at his dad. "Come on, Ry," she heard him say. "Let's get you home and cleaned up."
She stared after him. He wasn't angry. He wasn't yelling at his son, like so many other fathers would be doing. He actually looked…she tried to find the right description…beaten?
What battle was he waging? Against his son? Against himself, and his own grief? He'd lost his wife the same time Ryan had lost his mother. "Mr. Skylar?" She hurried around the desk, stopping in the open doorway just as he turned to look at her.
"Yes?"
"Is…" What was she thinking? What was she even doing? "Is there anything I can do to help? You…or…" She looked at Ryan. "You, Ryan?"
"Thank you." Marcus straightened his already impressive shoulders. "But we'll be fine. Come on, Ryan."
With his hand on Ryan's shoulder, he headed out the door, and she heard their footsteps echo down the empty hall. It was a lonely, nearly painful sound. She'd have to keep an eye on them. On Ryan, she reminded herself. She was a principal. The father was not her concern, unless his actions affected the boy.
Then all bets were off.

Marcus didn't let go of Ryan's shoulder until they reached the car. The boy was silent as he threw his backpack in the rear and slammed his backside into the passenger seat. He pouted, crossing his thin arms over his equally thin chest. Only once he was settled behind the wheel did Marcus speak.
"You want to explain what happened?"
He didn't yell at Ryan, though he wanted to. His own father would have already blistered his ears with accusations and curses, but Marcus knew how it felt to be the boy who'd made a mistake he couldn't take back.
"No."
"Well, here's the deal." Marcus started the car and steered out of the parking lot. "You can either tell me what happened, and I'll figure out what your punishment will be from that. Or you can remain silent, and I'll go with what the principal and the other boy say."
"That's not fair."
"Fair?" Marcus clenched his jaw. He would not lose his patience. "That's not the issue, son. The issue is whether you're going to be the one in control, or if you're going to let someone else have that honor."
The silence in the car was thick with the hot afternoon air and a teenage boy's simmering anger. "I didn't start it," he finally said, quietly staring out the side window.
"I didn't think you did. Tell me what happened." He tried to use the voice that had worked so well for Carolyn in coaxing their son into opening up. Times like this he really missed her. Missed the mother she'd become the day they'd adopted Ryan.
"We were having a discussion in lit class." Silence grew.
Lit class? What book was he reading in that class? Marcus shook his head. It didn't matter. Ryan did.
"Nick said—" Ryan's voice cracked. "Nick said my real mom didn't like me and that's why she gave me away." His broken voice faded to a whisper before he finished.
Excerpt. © Reprinted by permission. All rights reserved.
Book Info:
The one thing she's been missing in life?
The last time Addie Hawkins loved a man, it ended tragically. Years later she's doing fine, even managing to ignore the hole in her heart—mostly. But things start to unravel when widower Marcus Skylar and his teenage son, Ryan, move into her old childhood home.
Being around them forces Addie to face past decisions while also bringing her a sense of healing she never thought possible. Yet even if Addie is ready to give love another chance, can she convince Marcus that family is worth the risk of letting go of his pain and opening his heart again?
Book Links:  Amazon | B&N  | kobo |


Meet the Author:
Angel Smits shares a big yellow house, complete with gingerbread and a porch swing, in Colorado with her family and Maggie, their border collie mix. Winning the Romance Writers of America's Golden Heart Award was the highlight of her writing career, until her first Harlequin book hit the shelves. Her social work background inspires her characters, while improv writing allows her to torture them. IT's a rough job, but someone's got to do it.
Website | Facebook | Twitter | Instagram | GoodReads |