Today it is my pleasure to welcome back romance author Kate Meader to HJ!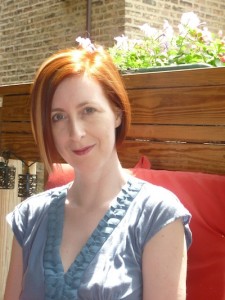 Kate Meader writes contemporary romance that serves up delicious food, sexy heroes, and heroines with a dash of sass. Originally from Ireland, she now makes her home in Chicago, a city made for food, romance, and laughter – and where she met her own sexy hero. When not writing about men who cook and the women who drool over them, she works in an academic library. Visit her website at katemeader.com and follow her on Twitter @kittymeader
Tell us about your new book.
ALL FIRED UP is Book 2 in the Hot in the Kitchen series, but it works just fine as a standalone novel. The series is about an Italian-American family who owns a Chicago restaurant and the sexy, sizzling chefs who love them. In ALL FIRED UP we meet Cara DeLuca, who is usually a model of self-control until she meets Shane Doyle in Las Vegas and after a few too many adult beverages, gets hitched to him. Cara is in recovery from an eating disorder and has always had a hard time connecting with her food-obsessed family, so meeting and marrying a pastry chef while under the influence is the very definition of catastrophe. Add to that long-buried secrets, meddling family members, delicious culinary creations, and hot love scenes, and you've got a recipe for a sexy romance.
Which of your characters has been the most fun to write so far?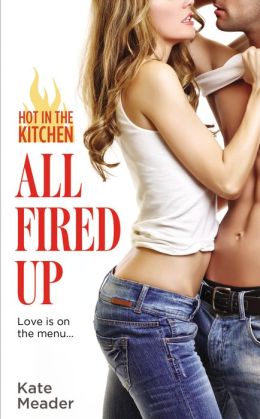 While I have a soft spot for my first hero, Jack Kilroy, the celebrity chef in FEEL THE HEAT, Book 1 of the Hot in the Kitchen series, I think my favorite is Shane Doyle, hero of ALL FIRED UP. Like me, he's Irish and he has completely embraced the American Dream, all the way down to his love of country songs, his weathered cowboy boots, and his awesome moves during the line-dancing class he drags Cara to. Behind his blarney charm lies a man with a tortured past, and watching how he uses what he's learned to handle a skittish Cara with such care, made me fall one hundred per cent in love with him on every edit and re-read.
The DeLucas are all about food and family. What were your family dinners like growing up?
I'm tempted to plead the Fifth on this one because growing up, my family dinners were not so great. (Hint: Mom's not such a great cook.) It was mostly of the meat and two veg kind with spag bol (spaghetti Bolognese) on Saturdays for variety. While there are lots of great Irish cooks and we have great raw ingredients—have you tried Irish cheese or butter?—our house went by the motto: boil it until you can boil it no more. I was a late developer when it came to cooking my own meals, but now I can safely say, there is no over boiling at Chez Meader.
Cara struggles with some major body and food issues—what do you hope readers can learn from her story?
Cara has struggled all her life with anorexia and she's made a considerable effort in the year before the book starts to focus on loving herself and her family once she realized that the war on appetite might one day kill her. She feels that her devotion to her body as a project turned her into a selfish person, and now she's back in Chicago after years away, trying to atone for not being there for her family when her mom got sick with cancer. All of her decisions are filtered through this self-perception of herself as being a poor daughter, crappy sister, and all-round bad Italian. Learning to let go of the pain and guilt about her behavior, all of which is tied up with her attitudes to food and self—that's her journey. And while a man who makes his living in the kitchen might seem all wrong for her, she'll come to a realization that food isn't the problem, but her self-esteem is. There's no magic cure for her body and food issues, but I hope readers will learn that every woman is worthy of a great love and of finding that one person who gets her—and all her weirdness ☺
When it comes to food, are you the adventurous type or do you prefer to stick to classic recipes?
I'm more adventurous in restaurants than I am in my own kitchen where the classics are more likely to be on display (French, Italian, uh, salads). Next year, my husband and I are planning a trip to Asia, so I expect we'll need to get adventurous real quick!
How do you come up with all the delicious recipes in your books?
I beg, borrow, and steal! By no stretch of the imagination would I consider myself a great cook. I'm not so good with the crafting from scratch, so I usually find recipes I like and adapt them to my own delicious purposes.
Besides those sexy accents, what's one characteristic that you like to give all your heroes?
Jack's a Brit, Shane's got the Irish brogue, and Tad, hero of HOT AND BOTHERED, Book 3 of the Hot in the Kitchen series is my first American hero. But he tosses off the sexy Italian endearments to drive his girl wild. I'm a big fan of my heroes going all out to win their women. I love the hero in pursuit, and so far most of my heroes are unafraid to do all the running. They're not pushy, but once they've got their heroine in their sights, she'd better watch out!
Cara and Shane prove that the old saying "What happens in Vegas, stays in Vegas" isn't always true. Are there any Vegas secrets of yours we should know about?
I've been to Vegas twice and both times, I came home with a husband! The same husband. And I had actually brought him with me from Chicago, so in other words, I have no secrets to reveal. Because my husband came with me to Vegas. *sigh*
What scene did you have the most fun writing?
I have to choose? Well, there's the line-dancing scene where Shane is rocking it in Stetson and boots and poor Cara has two left feet. Or the scene where Shane does a whiskey tasting with a pair of predatory female restaurant patrons and the term "release the serpent" is thrown around liberally. Or the one where Shane teaches Cara how to cook eggs and begins to get a hint of why she's not like any girl he's dated (or married). But I have to say my out and out favorite is Shane's reaction when Cara confesses her deep, dark secret. How he handles it is so sweetly emotional and sexy, it makes me teary just thinking about it! Oh, Shane, how I love you. You can prop your cowboy boots on my coffee table any time.
What's ahead for you and the Hot in the Kitchen series?
There's one more story left to be told in the Hot in the Kitchen series and that's HOT AND BOTHERED. This one is about Tad DeLuca, cousin to Lili (FEEL THE HEAT) and Cara (ALL FIRED UP), whose soul mate is Jules Kilroy, sister of Jack (FEEL THE HEAT). Jules makes her first appearance in FEEL THE HEAT and by the time HOT AND BOTHERED rolls around, she and Tad are the best of friends, but they want so much more! It starts off when she decides it's time to get back onto the dating scene…and Tad's not pleased. No, he is not.
GIVEAWAY:

A print ARC of FEEL THE HEAT and a digital copy of ALL FIRED UP.
To enter giveaway: Please complete the Rafflecopter form and post a comment to this Q:

When it comes to food, are you the adventurous type or do you prefer to stick to classic dishes? What is the most adventurous food you have eaten?
Excerpt:
"We need to talk."
She opened her mouth. Closed it immediately. Surely, she wasn't going to protest a civil conversation about their situation? The situation.
"I Googled it." She moved behind her desk, sat in one of those fancy ergonomic chairs and flipped open her laptop. It had a pink cover that matched her sweats and the post-it note on his door this morning, the one that had told him to move his damn bike out of her damn space before she took a damn baseball bat to it. Except it wasn't that nice.
"We can get an annulment. Just fill out a form and it can be done and dusted in about three weeks." She sounded pleased with herself, downright smug in fact. That frosted him a bit.
He stood and moved to her side of the desk, leaning against the edge. "So not a divorce, then?"
"We can get an annulment because we didn't…well, it wouldn't have mattered if we did." She hesitated, and he could see the gears going round as she rethought her position.
"What if we did?" he asked, tamping down on the glee in his voice.
"What if we did what?"
"What if we did sleep together? What if we had sex?"
The way he said it could be construed as past sex or the promise of it. The promise of can't-walk-for-a-week good times between a man and a woman. "That wouldn't make a difference?"
"But we didn't." Her brow creased in puzzlement and horror descended to her mouth. "But we didn't," she repeated, less sure now.
He couldn't keep it up but every inch of him—every hardening inch—wished it was true. "Nah, we didn't."
"Shane!" She socked him in the side, and broke into that laugh that he'd fallen in love with the minute she'd graced him with it in the third bar of the crawl. It had taken him that long to get it but it had been worth every bad joke, every cheesy pun, every flash of the dimple Aunt Jo said would be a woman's downfall. The old girl had neglected to mention it would be his downfall as well.
The laughter faded, and she turned serious again. "It wouldn't matter if we had… well, you know. People make these mistakes all the time, so they have procedures in place."
"Procedures to clean up idiotic mistakes?"
There was that crease between her brows again. She didn't like that she'd made a mistake and lost control of a situation. That was so not Cara.
"Right." But her expression didn't match the word's surety. "I'll take care of the papers, then?" she prompted with a couple of quick nods. The swallow in her throat was so pronounced it made the slender column of her neck expand. It made him feel like prodding her some more. See how far he could take it.
"What if I don't sign?"
She shot up out of her seat, her lemon fall of hair swishing vehemently behind her head. He got a whiff of herbal shampoo and sunshine. "Why would you do that?"
"Just tell me what would happen, LT."
The nickname slipped from his lips without thinking as if his brain had been waiting for her to get into a sexy hissy fit. That night he had abbreviated Lemon Tart for expediency's sake and found that it suited her bossy, military-style hauteur. Lemon Tart, the Lieutenant, LT.
She wasn't so haughty or self-possessed now. Her hands flailed, at complete odds with cool Cara. The more riled she got, the more his attraction to her burned.
"Well, if one party doesn't sign, it'll still happen. It just takes longer. Six to eight weeks."
If one party doesn't sign. So cold. So clinical. He nodded, thinking about how he wanted to phrase the next sentence. The silence drew heavily between them and he worked it for a few seconds because shit, he was starting to enjoy himself now.
"Paddy, you're not seriously thinking of not signing those papers. I mean, what would be gained from that?"
"A marriage, Cara. The marriage you wanted." He hauled a deep breath because he had a feeling he was going to need it. "After all, this was your brilliant idea."