Today, HJ is pleased to share with you

Kristen Proby's

new release: 

All the Way

In New York Times bestselling author Kristen Proby's brand new Romancing Manhattan series, three brothers get more than they bargain for as they practice law, balance life, and navigate love in and around New York City.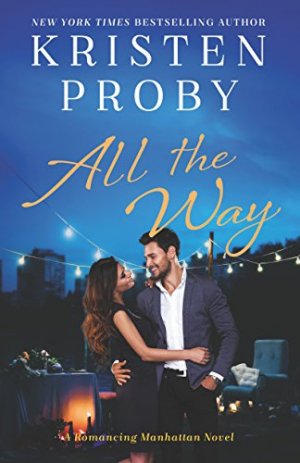 Finn Cavanaugh is known for being a force to be reckoned with in the courtroom. He owns a successful law firm with his brother and brother-in-law in Manhattan. On the rare occasion that he has down time, he spends it at his home in Martha's Vineyard.

But when Finn's troubled niece goes to stay with him for the summer in Martha's Vineyard, he's reluctant to take time off from work. That is, until he meets his beautiful new neighbor, London.

London Watson is a Tony Award winning actress on Broadway. When tragedy strikes her family, leaving her alone and injured, she flees Manhattan for Martha's Vineyard. Hoping she can figure out how to pick up the pieces of her life, London is convinced that she'll never be able to return to the stage. But when she meets the charming young girl next door and her sexy uncle, they soon lure London out of her shell as she finally begins to heal from the wounds of her past.

But when London feels confident enough to return to the spotlight, she's dealt another devastating blow. Will the newfound love between London and Finn be enough to conquer all? Or will it be over before it has a chance to grow…?
Enjoy an exclusive excerpt from All the Way 
I hold my hand out for London's and smile when she reaches for me and follows me through the kitchen to a room that's tucked behind it.
"I didn't know this was back here," she says. "You have a playroom."
I cross my arms over my chest and watch as London wanders through the room, running her fingers over the pool table, the Ping-Pong table, checking everything out.
"You want to play pool?" she asks.
"I was thinking pinball," I reply, and walk to the vintage machine in the corner of the room. "I can pull a stool up for you if you like."
"I'm feeling pretty good," she says. "And I have to warn you; I'm very, very good at pinball."
"Is that right?" I push the button behind the machine that launches the ball without having to put quarters in. "Should I be scared?"
"Maybe," she says as I stand aside so she can go first. She pulls back the lever and lets go, propelling the ball in the machine, and for the next few minutes, doesn't miss a trick. Her reflexes are on point, her tongue bitten between her teeth as she plays, and when she does lose the ball, she pouts.
Adorably.
"Your turn," she says, and steps aside. I take my place, set the ball in motion, and just when it reaches the paddle at the bottom, London pulls my hand off the button so I can't hit it.
"Oh, that's too bad."
"Are you kidding me?"
"I must have slipped," she says with a shrug, and pushes me out of the way so she can play again. Her tongue is pursed between her teeth again, her blue eyes following the ball intently, and I can't take my eyes off her.
Her body is simply amazing. Slightly curvy, but toned and so responsive to me that it's intoxicating. Her long dark hair begs for my fingers. And I'm always finding something new, like the small scar behind her knee.
I think I'll bite her there later.
"Damn it," she says when she loses her ball. "Your turn."
"No slips of the hand this time," I warn her with narrowed eyes, and step up to take my turn. I'm about thirty seconds in when she plants her foot behind my knee, making my leg give out and I lose the ball. "Seriously?"
"Are you okay?" she asks with wide eyes. "It looked like your knee buckled or something."
"Yeah, because you pushed it."
"I wouldn't do that."
I lean in and kiss her. "You're a dirty cheater."
"Me?"
"You're the only other one here."
"I don't know what you're talking about, but if it makes you feel better, you can take another turn." I laugh and step back, hands in the air. "No, you take another turn, hotshot. I'll be right back."
"I'll be a while," she says with a sassy grin, and turns her back to me so she can go to work on some pinball.
I shake my head and walk to the kitchen. I pull the crème brûlée my mom prepared earlier today out of the fridge and sprinkle sugar on top, fire up the blowtorch, and melt it down to a hard, golden brown. Placing the dishes on a tray, I make two decaf coffees, adding a little sugar and cream, add them to the tray, and after grabbing spoons and napkins, I carry it all into the playroom to find London bouncing and yelling at the machine.
"Take that!" she says, her voice fierce. "I've got you now."
"This isn't the pinball Olympics," I remind her, and set the tray on the table beside her. "You're not in the running for a medal or anything."
"I might be a little competitive," she replies, and then sighs when the ball slips by her. "Damn it."
"Take a break." I show her the dessert and hold a chair out for her. "Join me for something sweet."
"You feed me all the time," she says as she cracks into her dessert. "I haven't eaten this good in years."
"It's just crème brûlée and coffee."
"And it's delicious." She takes another bite and then a sip of her coffee. "I should probably go home after this."
"Why?"
She stops and meets my gaze, her spoon in her mouth. "Because I live there?"
"Do you have something pressing to do?"
"No."
"Is it locked up?"
"Of course."
"I want you to stay." I offer her a bite on my spoon and she takes it. "I'd like to get naked with you again. Hold you while you sleep."
I take a bite.
"I'd like to be with you tonight."
"You're not sick of me already?"
I take a moment to answer because I don't want to sound too eager. "No. I don't see a time in my near future that I'll be sick of you."
"Well, then I'll stay."
She takes a bite as if she's just told me that she'd like another cup of coffee. As if it's not a big deal at all.
Maybe it's not a big deal for her, but it's not small for me. I don't sleep over with women. I don't invite them into my home for meals and games and sex.
I don't do this, yet I can't stay away from London.
"Thank you."
She finishes her crème brûlée and then smiles at me. "You're welcome. Now, if I beat you at pinball, you have to stay naked for the rest of the evening."
"What if I win?"
"Don't be ridiculous, you're not going to win." I laugh as I join her at the machine. "If you're going to keep cheating, I'm not making this bet."
"I don't cheat," she insists. "And you might want to go to the doctor to get your equilibrium checked out because you almost fell."
"Or, you know, you almost pushed me down."
"I have no idea what you're talking about."
Excerpt. ©Kristen Proby. Posted by arrangement with the publisher. All rights reserved.


Giveaway:

Print copy of ALL THE WAY by Kristen Proby
To enter Giveaway: Please complete the Rafflecopter form and post a comment to this Q:

What did you think of the excerpt spotlighted here? Leave a comment with your thoughts on the book…
Meet the Author:
New York Times and USA Today bestselling author Kristen Proby is the author of the With Me In Seattle, the Boudreaux, and Love Under the Big Sky series. Kristen lives in Montana, where she enjoys coffee, chocolate, and sunshine. And naps.
Author Website: https://www.kristenprobyauthor.com/
Author Twitter: https://twitter.com/Handbagjunkie

Buy Link: https://www.harpercollins.com/9780062674920/all-the-way/