Today it is my pleasure to Welcome author
Katee Robert
to HJ!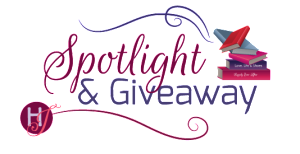 Hi Katee and welcome to HJ! We're so excited to chat with you about your new release, An Indecent Proposal!

Thank you so much for having me!

Please summarize the book for the readers here: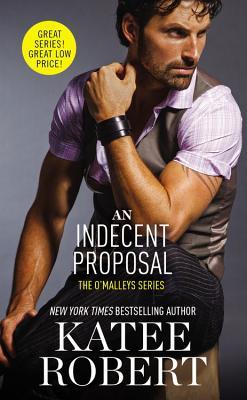 This is the third book in the O'Malley series, and it follows Cillian O'Malley as he fights his way back from rock bottom, and finds a woman who makes him willing to risk it all.

Please share the opening lines of this book:
"Need another drink?" The words were clear despite the general ruckus of the bar, the voice like whiskey on the rocks. If Cillian O'Malley put a little imagination into it, he could almost taste her tone.
Please share a few Fun facts about this book…
I had to do a diagram with Cillian's tattoos in order to keep them straight… and now I kind of want tattoos like his!
This book really cemented my love of Dmitri Romanov, even though he's a very bad man.
I wrote this book while roughly a million months pregnant, and I accidentally sent the first draft to my editor instead of the polished version. Talk about embarrassing!
If your book was optioned for a movie, what scene would you use for the audition of the main characters and why?
It would be their first kiss…
"Why do you care so much?"
"Oh my God, just take it back." She should drop the cash and head for home. Or, hell, at least take a few steps away so that she wasn't in danger of brushing against him if she took a deep breath.
But she couldn't force her hand to unclench or her feet to create any distance between them. She cleared her throat, trying to get her thoughts back on track. "I didn't ask for your charity."
"Yeah, I got it. You win. I'm an asshole."
"I didn't say that."
"Not in so many words, no." His gaze raked her body much the same way it had back at the bar, making every alarm in her head go off. Spending any more time in this man's presence was dangerous, though she couldn't say for sure what she was most afraid of. She lifted her chin in challenge, demanding…She wasn't sure what she was demanding. Her gaze dropped to his mouth, and she licked her lips. What am I doing? Walk away. Walk away right now.
No. Not yet.
He murmured, "If the shoe fits…"
And then he gripped her jaw and kissed her.
What do you want people to take away from reading this book?
That you can always fight your way back from hitting rock bottom.
What are you currently working on? What other releases do you have planned for 2016?
I'm currently working on Aiden's book (O'Malley #5). In October, I have A FOOL FOR YOU releasing, which is the final book in the Foolproof Love series.

Thanks for blogging at HJ!
Giveaway:

$15 gift card to either Amazon or B&N
To enter Giveaway: Please complete the Rafflecopter form and Post a comment to this Q:

What's your favorite kind of bad boy?
Excerpt from An Indecent Proposal:
"You shouldn't be moving." Olivia, his unexpected avenging angel, hovered nearly close enough to touch, but made no move to help him other than checking over her shoulder, presumably to make sure the Halloran men hadn't changed their minds and come back for round two.
"I'm fine." Mostly fine. The alley was spinning a little in a way that sure as hell wasn't natural. He touched the back of his head and winced when his hand came away bloody. "Shit."
She sat back on her heels, the shotgun carefully pointed at the ground away from him. "Let's get you into the bar."
The order surprised him. She obviously didn't like him that much, sex aside, but if she was the type of woman to charge into an alley to defend a man she barely knew, it stood to reason she'd want to make sure he didn't lie back down and die in that same alley.
His pride reared up and took control of his mouth. "I'm okay." It was only a few blocks back to the house. He should be able to make it there and convince one of the men to patch him up without telling anyone how bad he must look right now. They did this sort of thing all the time.
"You're bleeding from your head and weaving even though you're sitting down. You're not okay." She hesitated. "Look, I didn't actually call the cops, and if those guys come back, it'll mean trouble for both of us."
That got him moving. It was one thing to put himself in danger. It was entirely another thing to bring her into it. She was an innocent bystander, and even in his line of business, innocent bystanders weren't something to just mow down. Devlin was as innocent as they come, and that didn't save him.
Fuck off.
He used the brick wall to struggle to his feet, and nearly toppled over when the asphalt beneath him tilted. Olivia was there, sliding beneath his arm and keeping him upright. Cillian took a deep breath and got a face full of lavender and vanilla. How the hell did she manage to smell so good after working a full shift in a pub? He took a step, having to lean on her more than he wanted to. "Maybe I'm not completely okay."
"No, really?" She guided him inside, pausing to set the shotgun aside and lock the door behind her. "You don't have the sense God gave a toddler."
He wouldn't know. He didn't exactly spend a lot of time around kids since he'd stopped being one himself. He tried to picture a toddler and came up with a grubby little Tasmanian Devil. "I think you just insulted me."
"Only a little." She pulled out a chair. "Sit. I'll grab a rag and see if we can clean you up."
"Why are you doing this?"
She'd already turned away, but her shoulders tensed at his question. "Because if you bleed all over Benji's floor, he'll never let you through the door again."
That wasn't what he meant, and she had to know it, but she was already gone, disappearing into the back. He braced his elbows on the table and did his damnedest not to let the nausea that made his stomach lurch have control. She was right. The big bar owner would be pissed as hell if he showed up tomorrow to bloodstains on the wood floor. But there was more to it than that.
He waited until she reappeared with a few washcloths in her hand to say, "You didn't have to help me."
"I know." She set the cloths on the table. "This isn't going to be pleasant." She gingerly touched his head, sifting her fingers through his hair as she searched for the wound. He could have helped her find it immediately, but the feeling of her touching him—even in such shitty circumstances—felt too good to cut short.
I'm a fucking creep. Enjoying her running her fingers through my hair when I'm bleeding and bruised all to hell. Classy.
She found the spot his head had met brick wall and felt around. "It's a little gapey, so it might need stitches, but I should be able to get the bleeding stopped at least. Hold still."
Easier said than done. But he kind of liked her taking care of him, so he obeyed while she folded up a washcloth and pressed it carefully against his wound. It hurt like a bitch, but Cillian managed to keep his curse internal. Barely.
"You don't have to stay. I'll call someone." Though who, he didn't know. Both his father and Aiden would rip him a new one for letting those Halloran idiots get the drop on him—and then turn around and start plotting revenge. He wasn't interested in aggravating the issue. Things were already tense enough between the almost-war and then Carrigan defecting to their side. He wasn't going to be the one to light the match that made the whole thing explode. I am going to have to give Carrigan a heads-up, though. She needs to know James is losing his hold on some of his men.
"You know, for someone who was trying to get into my pants a few hours ago, you're sure ready to see the back of me."
"It's a seriously superior backside."
Excerpt. © Reprinted by permission. All rights reserved.

Book Info:
Greed. Ambition. Violence. Those are the "values" Olivia Rashidi learned from her Russian mob family-and the values she must leave behind for the sake of her daughter. When she meets Cillian O'Malley, she recognizes the red flag of his family name . . . yet she still can't stop herself from seeing the smoldering, tortured man. To save her family, Olivia sets out to discover Cillian's own secrets, but the real revelation is how fast-and how hard-she's falling for him.
Plagued by a violent past, Cillian is more vulnerable than anyone realizes. Anyone except Olivia, whose beauty, compassion, and pride have him at "hello," even if she's more inclined to say good-bye to an O'Malley. While his proposal of sex with no strings seems simple, what he feels for her isn't, especially after he learns that she belongs to a rival crime family. Cillian knows that there is no escape from the life, but Olivia may be worth trying-and dying-for . . .
Book Links:


Meet the Author: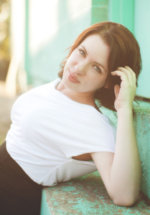 New York Times and USA TODAY bestselling author Katee Robert learned to tell her stories at her grandpa's knee. She found romance novels at age twelve and they changed her life. When not writing sexy contemporary and romantic suspense, she spends her time playing imaginary games with her children, driving her husband batty with what-if questions, and planning for the inevitable zombie apocalypse.
Website | Facebook | Twitter |