Today it is my pleasure to welcome author

Beth Ciotta

to HJ!
Hi Beth, Welcome to HJ
Thank you for having me!
What would you say are the defining characteristic of your novels?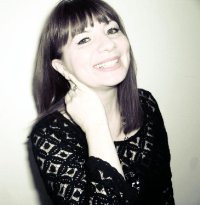 Multi-layered heroes and heroines. Quirky secondary characters. Interweaving plotlines. Humor and a sense of adventure. Sexy and/or tender romance. Heart.
5 best things about being a writer?
– Creating magic
– Touching and/or inspiring a reader
– Dress down day is every day
– Attending conferences and mingling face to face with readers and fellow writers
– Never having to retire from doing what you love
If you were a heroine in a book, your character would be – The girl next door, the damsel in distress, Kick-butt take charge heroine or the aloof ice queen and why?
In the real world—the girl next door. In my fantasy world—the damsel in distress. Sorry. Can't help myself. To me there's something incredibly exhilarating and romantic about being rescued from a dicey or dire situation by a brave, noble, alpha knight-like guy. That's not to say that I wouldn't try fending for myself, but the rescue thing? Sexy.
Let's talk about your newest release Anything But Love
If you had to summarize ANYTHING BUT LOVE for the readers here…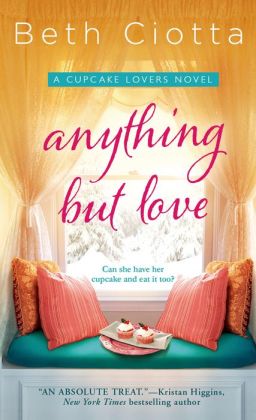 ANYTHING BUT LOVE is a story about two people from the opposite side of the tracks, drawn together by a basic mutual attraction and tested by a life changing complication.
Please tell us about the characters in your book
There are several characters in this book and many are highlighted given the nature of this friends and family story. However, Luke Monroe and Reagan Deveraux take the lead.
Luke is the town Romeo—a good-hearted, down-to-earth charmer who runs a popular local pub. He's fiercely loyal to family and friends and, aside from a learning disability that he keeps hidden, leads a carefree life.
Rae is the neglected daughter of a Hollywood celebrity, a supremely smart and kind woman who just came into a large inheritance. It's her chance to live the life she always dreamed of, only a past and recent entanglement with Luke complicates matters beyond her imagining.
What scene did you have the most fun writing? Why?
Any scene involving the Cupcake Lovers is always fun to write. As a result of a personal slump, Luke recently joined the Cupcake Lovers in a bid for company and distraction. Only that's not going so well. During one particular meeting he gets the distinct impression that he's about to get kicked out of the club. The ladies swear they wouldn't do that, especially given his . . . depression.
"You're off your game," Chloe said with a sympathetic smile.
"And so close to Valentine's Day," Helen said. "Doubly depressing."
"Have you thought about Ellie Tate?" Judy asked.
"You know," Daisy said. "Bert Hawkins's granddaughter. She recently moved back to town, fresh out of college. Doubt she's ready for anything serious. "
"Young. Unfocused. Right up your alley," Casey said.
Heart pounding, Luke gawked. Oh, hell, no. This same crew has been trying to match Sam up with a soulmate for weeks. Luke had caught a glimpse of that hell and wanted no part of it. "Can we get back to my status in the club, please?"
Rocky took pity on him. Sort of. "We're not kicking you out, Luke. Just . . . "
"Don't make any more cupcakes," Daisy said.
What scene was the hardest to write? Why?
Hmm. This is tough. Where Luke and Rae are concerned there's a major "spoiler" element that I don't want to give up so I'll have to pass on sharing the scene that proved the hardest to write. Instead I'll share a scene between Luke and his cousin Sam. This scene was difficult to write because the emotions behind it had been building for months (and two books). Also it features two good men, cousins who were once close and are now at war because they want the same thing—Rae.
"I'm guessing this has to do with Rae," Sam said, making the first play.
"I haven't been entirely forthright," Luke said while stuffing his gloved hands in his pockets. "All I can say is, it wasn't intentional. I didn't pursue Rae. I didn't charm or seduce her. Hell, I didn't even flirt. That first kiss, it went down like I said. Purely innocent. Then, because I was worried about her, I hired Jayce to track her."
"You flew to Bel Air," Sam surmised.
"I saw red when I found out who she was and how she'd betrayed us. There was a confrontation and an incident. I didn't think I'd see her again. I sure as hell didn't think there was anything between us."
"But there is."
"There is." Luke rocked back on his heels, hunched his shoulders against the biting wind and wondered if hell was going to freeze over before Sam reacted to the news.
The man just stared.
Most people crumbled under Sam's famous death glare. But Luke was too primed. Too pissed. It wasn't his fault that Rae had fallen for him and not Sam. He wasn't a homewrecker. They'd never been a goddamned couple. "Are you gonna slug me?" Because Luke was suddenly itching to slug back.
"No. I'll just wait."
"For what?"
"For you to screw up."
A haymaker would have hurt less. Luke had always looked up to Sam and before this thing with Rae, he'd been as tight with the man as any of his other cousins. And that was damned tight. The censure stung, but it also torqued Luke's pride. "What if I don't screw up, Sam? What if I make a commitment to Rae and follow through?"
"You don't know jack shit about commitment, Luke."
"What? Because I've never been engaged or married?"
"Hell, you've never even been monogamous."
"You weren't exactly a boy scout before you met Paula."
"Are you saying you feel for Rae what I felt for my wife?"
"I'm saying we're involved. Back off, Sam."
Who would you cast in the role of your characters if your book was optioned for a movie?
I would be over the moon if that happened and I actually have two specific actors in mind. My dream romantic leads for ANYTHING BUT LOVE would be…
Ryan Reynolds as Luke Monroe
Michelle Williams as Reagan Deveraux
What are you currently working on? What other releases do you have planned for 2013 into 2014?
Presently I'm writing the fourth novel in my smalltown contemporary series, The Cupcake Lovers. IN THE MOOD FOR LOVE releases July 2014.
As far as the rest of 2013 goes, ANYTHING BUT LOVE (Cupcake Lover Novel #3) releases 10/1, followed by a Cupcake Lover holiday e-novella—SOME KIND OF WONDERFUL—on 10/22. I also wrote a holiday novella that will be included in a Christmas anthology along with stories by Heather Graham, Deborah LeBlanc, and Kathleen Pickering. THE KEEPERS: A CHRISTMAS IN SALEM releases 11/5. Also coming this winter, re-edited reissues of my historical wild west trilogy—LASSO THE MOON, ROMANCING THE WEST, and FALL OF ROME.
2014 is still in the planning stages. Definite releases include two more installments in my steampunk series—The Glorious Victorious Darcys—as well as IN THE MOOD FOR LOVE, the fourth Cupcake Lover novel.
Where can readers get in touch with you?
My website: www.bethciotta.com
Or Facebook: https://www.facebook.com/BethCiottaBooks
Or Twitter: https://twitter.com/BethCiotta
Thank you for stopping by HJ!
Loved the questions. Thank you again for the feature!
Giveaway:

2 print copies of ANYTHING BUT LOVE
To enter Giveaway: Please complete the Rafflecopter form and post a comment to this Q:

Speaking of questions, here's one for the readers. Are you drawn to books set in small towns? If so, why?
Author Info:
Storytelling comes naturally to award-winning author Beth Ciotta. Dubbed "fun and sexy" by Publisher's Weekly, Beth specializes in writing Romantic Comedy with a Twist of Suspense and is published in contemporary, historical, and paranormal romantic fiction. "I can't think of anything more fulfilling than writing stories where everyone (except the villain, of course) gets a happy ending!"
Beth lives in NJ with her husband, two zany dogs, and a crazy cat. A retired professional performer, Beth now pours her artistic passion into her writing. To learn more about her colorful life, visit her website at www.bethciotta.com