Today it is my pleasure to welcome back Harlequin Presents and USA Today bestselling author

Maisey Yates

to HJ!
Hi Sara! Thanks for having me back to Harlequin Junkie! I love it here.

I have a new book out, At His Majesty's Request, the second book in my Call of Duty series. (And it's an RT Top Pick! My very first one!)

This book continues the theme from A Royal World Apart, and my free online read The Prince and the PA: What's more important, love or duty?

Stavros was such a great hero to work with. He's bound up in a duty he's inherited from his brother. Because he's seen what happens when people don't do what they're supposed to, the idea of doing right, and acting for the greater good, is extremely important to Stavros.

He knows what he has to do. He lives to serve his country, and the next logical step is finding a woman fit to be queen. A woman with no scandal in her background, who can represent Kyonos well, and who is capable of bearing an heir.

To find this woman, he enlists matchmaker Jessica Carter.

Jessica bust into my mind, and onto the page with so much personality. A smart mouthed, self-made millionaire who loves vintage clothing and Angry Birds. I also knew early on that she was divorced. And it was, in part, that divorce that spurred her to create her matchmaking company. To find ways of figuring out what might make a marriage last, where her own had failed.

But this meant that I had to explore the reasons for Jessica's failed marriage.

*Ye Olde Spoilers ahead*

The thing is, Jessica can't have children. There is no magic fix for this. Jessica has endometriosis and in order to deal with the pain and try to combat the condition, she chose to have a partial hysterectomy.

This marked the end of what had been a relationship fraying slowly as her husband realized she wouldn't be able to fulfill his expectations, and as she realized she was falling short in his eyes. As she realized he found her lacking because of her inability to conceive.

And of course, when she starts to fall for Stavros, these old hurts come back with a vengeance. Since her divorce she's made a new life for herself, and she's found a lot of success, but she can't be his queen. And it comes back to the fertility issue. Once again, she's made to feel less than a whole woman on her own.

Jessica's journey is not one that ends in her conceiving a child. As she says herself in the book: You can't bake a bun when you have no oven to put it in. Jessica's journey is about being accepted as the woman she is, with what she brings to the table. Jessica's journey is about feeling whole, not lacking simple because she can't give birth to a child.

It was very important to me, that dealing with this issue, which is so sensitive and also so much a part of reality for so many people, that I honored it. That I didn't take any easy roads with it, and that I was respectful.

I understand that some readers have found her happy ending difficult. Because in some people's minds, she still doesn't 'have it all.'

But in my eyes, she does. She is a complete woman, worthy of receiving love. Her value has nothing to do with whether or not she can have children. Her happiness, whether she and Stavros adopt (which, I believe they will) or they don't, is complete.

Because she finds acceptance of herself, and a man who loves her. A man who wants nothing from her but for her to be the woman she is. A man who is willing to give up the throne for her if he had to. A man who would sacrifice duty, something that has meant more to him than anything else, to be with her.

I feel really passionately (as you can see!) about Jessica and her journey to happily ever after.

Because no matter our circumstances, I hope it's something we can all have. The feeling that we're valuable, not because of what we do, but because of who we are. That we deserve love. And that even if our happiness isn't brought about by what we envisioned, it can still be complete.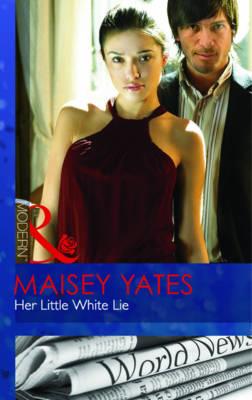 International Giveaway: Maisey will be giving away a copy of her brand new UK release'Her Little White Lie' 
To Enter giveaway: Please complete the Raffle form and post a comment to this Q: So what do you think about a 'difficult' happily ever after? Is it marred by not having the complete package? Or are you okay with something a little different?