At the Duke's Wedding

 An original Regency romance anthology by

Katharine Ashe, Caroline Linden, Miranda Neville & Maya Rodale
Behind the Scenes with The Lady Authors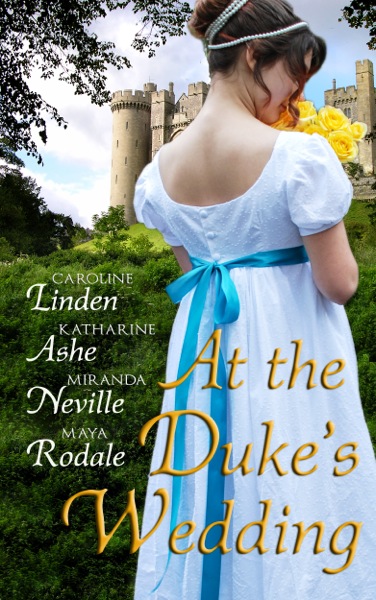 One of the many glorious things about being a romance writer is meeting other writers and forming friendships. We're a wonderful bunch of women. (No false modesty here!) Each year at the RWA National Conference, Avon gives a terrific party for its authors. Several years ago the four of us bonded over champagne and hors d'oeuvres and last year we joined up for a promotional project. Once Upon a Ballroom was a little set of short stories, each set in a ballroom, that we gave away for free along with excerpts from our books. We had so much fun doing it we decided to try something more ambitious.
With a projected June publication date, our minds turned to weddings. Caroline and Maya had long discussed an anthology of novellas set at the wedding of a Regency duke; Katharine and Miranda loved the idea.
Emails flew (2000 and counting, so far) and our plans took shape. Each of us had an idea for a story: Maya's centered around the lost ducal wedding ring; Miranda wanted to do a take on the classic Cyrano de Bergerac (the inspiration for the movie Roxanne); Caroline took on the duke himself, and his distressing last-minute discovery that he was marrying the wrong woman; Katharine surprised us all (and herself) by announcing that her heroine was dropping in via Time Travel from the 21st century. But how were we going to fit the stories together in the two week timeframe of the wedding party?
Obviously there was no way we could manage such a gargantuan task without meeting in person in New York City, where we drank champagne, dined in fine restaurants and somehow succeeded in coming up with a Plan that miraculously (given the champagne) made sense.
We created a master document in which we entered descriptions of our characters and a timeline of events as they unfolded. More emails in which our heroes and heroines became real people. "Hey, Maya and Caroline. Are your guys free to play cards on the evening of Day 10?" "Who's in the garden on the morning of Day 5." "Can we move the ball so that my heroine isn't busy the night before?" It was crazy but somehow it all worked.
Once the novellas were drafted, we started inserting each others characters into the different stories, as well as secondary characters we had brainstormed, notably Lady Sophronia, a terrifying old lady with dyed hair who always has a ribald comment, and Hippolyta, the world's greatest carriage. (If you don't think a moving vehicle is a character, read the book and see.)
 Giveaway: 1. A complete Print set of Caroline Linden's Bow Street Agent trilogy (A View to A Kiss, For Your Arms Only, and You Only Love Twice); 2. Print copy of Miranda Neville's The Importance of Being Wicked + the prequel novella The Second Seduction of a Lady; 3. A digital download of Maya Rodales's Seducing Mr. Knightly. 
To enter Giveaway: Please complete the Rafflecopter form below and post a comment to this:
The four of us definitely want to do this again. What setting would you like to see for an anthology? Why? We'll consider anything, including contemporary ideas!


SHORT BLURB
As society gathers at Kingstag Castle for the wedding of the year, matrimony is in the air. But who will be the bride? With swoonworthy lords, witty ladies, eccentric relatives, a gaggle of free-spirited girls, not to mention the world's best high perch phaeton, it's a recipe for mayhem — and romance. Award winning, best-selling authors Katharine Ashe, Caroline Linden, Miranda Neville and Maya Rodale serve up delectable Regency fun and a sexy contemporary twist in this anthology of original novellas. Four authors, four couples, four deliciously romantic surprises. When it comes to love, anything can happen…
More details can be found on the anthology website http://www.atthedukeswedding.com
Four Short Excerpts
That Rogue Jack by Maya Rodale
On the servants' staircase, before dinner
"Good evening, Miss Black, Jack said, sweeping into a deep bow.
The lady remained unmoved.
Given the solitude of the servants' stairs and the dim lighting, many women would have thrust their bosom up against him, twined his hair through their fingers, and murmured all sorts of invitations. He was a bit taken aback and more than a bit intrigued when she did no such thing. Speaking of bosoms…
"I have no wish to bother you, Lord Willoughby. The duchess has charged me with obtaining the wedding ring from you, which I've been trying to do ever since you arrived yesterday."
"Is that so?" Jack supposed he had caught her looking at him as if she wanted to speak to him desperately. But then someone had asked him a question or the footman poured more wine, and he had found his attentions engaged elsewhere.
"If you just hand it over, I shall cease plaguing you about it."
"The ring…" he echoed.
His damned brainbox hadn't registered a word she'd said because he had noticed that her breasts were exactly at his eye level. Her very fine, full, and pert breasts. Most of his memories of her were from their days as children. There was nothing childish about her now.
"Lord Willoughby!"
"Yes," he said, snapping to attention. He took a step up so he might avoid gazing upon her breasts. For his own good. But then his eyes settled upon her lips, which had parted at his forward step. Nothing childish about her mouth, either.
And it was dark. They were alone. And he was the sort of man who enjoyed a damn good kiss. Especially when the woman was a challenge and her mouth was plump, pink perfection.
P.S. I Love You by Miranda Neville
Christian swiveled to discover a young woman peering at him from behind a vase of flowers. A very beautiful young woman. "I beg your pardon?"
"If you're going to quote Shakespeare as your authority on marriage, I don't think it's fair to use Othello. I present a different point of view. You insulted that poor young lady, you know."
"By quoting poetry?"
"No, by suggesting she sew a sampler. Only schoolgirls do that. She is undoubtedly out."
"I don't pretend to comprehend the subtleties of female education. Or the female mind."
"That explains why you are standing alone and scowling instead of mingling with the company." Quite a bold piece, she was, and apparently unalarmed by his repellant appearance and demeanor.
"I don't see you doing much mingling yourself, hiding behind those flowers. Are you shy or merely avoiding someone?"
Why was he bandying words with this girl? He never bandied, especially not with women, even pretty ones. She was smiling at him, a big, generous smile. Perhaps she hadn't noticed the scar. He turned to squarely present the ruined left side of his face so there could be no mistake. His reward was a discernible flinch.
"I'm not avoiding anyone except my mother," she said, recovering quickly from the horrible sight.
"A good decision. I always avoid mine."
"Not that I'm not fond of her, but I have a particular reason at the moment. I'm also looking for someone. Do you know Lieutenant Newnham?"
It couldn't be. It must be.
"Are you Miss Lacy, by any chance, Miss Rosanne Lacy?"
Frank was an idiot. Her eyes weren't dark at all. They were a smoky blue with darker circles about the center. And he, Christian, had been unwittingly right. A man could drown in them.
When I Met My Duchess by Caroline Linden
"Shall we proceed inside?" Gareth paused, remembering something. "But did you not say your eldest daughter would also be accompanying you?"
A moment of silence passed over the group. Sir William and Lady Grey exchanged a glance. Miss Grey wet her lips. "Yes. My sister did come. She wanted a moment to repair her appearance, I believe."
"Ah." Gareth nodded, and turned toward the carriage again, wishing the sister would hurry up and get down so they could step inside before the rain came and soaked them all. How long did she need to repair herself, anyway? Miss Grey managed to look as neat and elegant as any lady in town.
"I'm coming," said a voice from the carriage. "Just a moment!" She appeared in the door of the carriage, her face hidden by a dark red bonnet. She gathered up her vibrant yellow skirt in one hand and reached out to take the hand of the footman waiting to assist her. "So sorry to keep everyone waiting," she said a bit breathlessly as she jumped down and faced them all.
She looked like her sister, but different. Where Helen Grey's face was tranquil and composed, this woman's face was lively and expressive. Her eyes sparkled and danced. Her features were sharper than Helen's and her figure was fuller, almost lush. And as she tipped up her pointed chin and looked at Gareth with openly interested brown eyes, lightning struck.
How Angela Got Her Rogue Back by Katharine Ashe
"My lord?" The words sounded funny. She'd never spoken with an actual nobleman before. Or an actor pretending to be a nobleman.
He stood with his back to the boathouse. He looked over his shoulder and Angela's heart turned over. Just like in the comic book.
"I need help," she managed to say.
She half expected him to refuse, but he came toward her.
"Do the garments–"
"They're great." She stepped out of hiding behind the doorframe. "It's just that I…"
His attention dropped to her hands pressing the stays against her ribs, then shifted up to her breasts. They were entirely concealed by the shift, but his gaze made her feel like he could see right though cloth, like Superman.
"I can't fasten the stays on my own," she croaked. A dark flush rose in his chiseled cheeks. Standing in the thin chemise and unfastened corset, beneath his gaze she felt…sexy.
Sexy?
She hadn't felt sexy in…ever.
It felt good. It felt really good. She didn't even care if he was an actor.
She turned her back to him and looked over her shoulder like he had in the comic book. Like he had in the comic book when he'd told her to come back.
About The Authors:
Award-winning Katharine Ashe writes lushly intense historical romance with a touch of adventure. She is the author of How To Be a Proper Lady, one of Amazon's Ten Best Romances of 2012, and eight other acclaimed novels set in nineteenth-century Britain. Readers can visit her website and discover how parts of her time-traveling heroine's story are in fact autobiographical (though she refuses to admit precisely which). Visit her online at http://www.katharineashe.com
Caroline Linden was born a reader, not a writer. She earned a math degree from Harvard University and wrote computer software before turning to writing fiction. Ten years, eleven books, two Red Sox championships, and one dog later, she has never been happier with her decision. Her books have won the NEC Reader's Choice Beanpot Award, the Daphne du Maurier Award, and RWA's RITA. Since she never won any prizes in math, she takes this as a sign that her decision was also a smart one. Visit her online at http://www.carolinelinden.com.
Miranda Neville grew up in England, loving the books of Georgette Heyer and other Regency romances. She now lives in Vermont with her daughter and an immensely talented cat who made a book trailer for her last novel. Her historical romances published by Avon include the popular Burgundy Club series, about Regency book collectors, and the current Wild Quartet. P.S. I Love You was inspired by Cyrano de Bergerac and her very talented fellow authors. For more information about Miranda and her books, and a link to the fabulous feline book trailer, visit her website http://www.mirandaneville.com
Maya Rodale began reading romance novels in college at her mother's insistence. She is now the author of numerous smart and sassy historical romance novels. A champion of the romance genre and it's readers, she is also the author of the non-fiction book Dangerous Books For Girls: The Bad Reputation Of Romance Novels, Explained and a co-founder of Lady Jane's Salon, a national reading series devoted to romantic fiction. Maya lives in New York City with her darling dog and a rogue of her own. Visit her on the web at http://www.mayarodale.com.