Today it is my pleasure to welcome author

Robin Kaye

to HJ! 
I am a big fan of Robin's Domestic Gods Gone Wild series, if you haven't read them as yet, you most definitely need to add them to your TBR 🙂
Robin welcome, for all of my readers who may not be familiar with your work, could you tell us a bit about yourself and your books?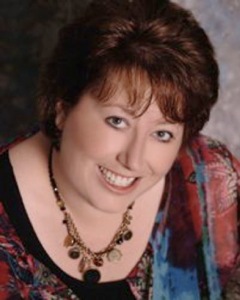 I write humorous contemporary romances and I adore doing it.
I'm a stay-at-home mom with three teenagers—the eldest of which is in his freshman year at Boise State University, which is a long way from our home in Maryland. My girls are in tenth and eleventh grade and keep me running.
I began writing when my family and I moved east from Boise in 2000. I had three kids under the age of seven—the youngest was very sickly, and I didn't know a soul so I wrote out of sheer boredom. I fell in love with it, and began writing my first book toward publication in early 2005—that was Romeo, Romeo. It won the Golden Heart, a national award through Romance Writer's of America in 2007, and one of the final judges bought it.
I've been very lucky and have been under contract ever since. I've written eight novels and one novella, one of which is in production, and I'm currently writing two more.
Tell us about your writing process. What comes first, characters or story?
For me, the characters always come first. I don't know how it happens. They pop into my head fully formed. I wish I knew how to control it, sometimes I feel as if the characters tell me what to write. I know, it sounds insane, but that's what happens more often than I'd like to admit.
I just finished the second book in my Bad Boys of Red Hook series, YOUR THE ONE, and toward the end of the novel, we meet the hero's brother, Slater. I had the scene planned, and everything was going well until Slater opened his mouth and went from a charming, gorgeous Dr. Jekyll to Mr. Jackass in the blink of an eye.
I was working at Starbucks with my critique partner and I stopped writing, all the blood drained from my face, I looked at her, and said, "What just happened?"
Slater changed the entire outline I had for his book—the synopsis I'm writing now, and it forced me to come up with an entirely new plot. It's not necessarily a bad thing, but it sure kills my production.
If you had to pick one book you read in 2012 that made an impression what would it be and why?
I'm trying to think back to what I've read. 2012 was a nightmare year for me reading-wise. I wrote three novels and one novella in eleven months, so there was precious little time to read. I loved Laurie Kellogg's book—THE MEMORY OF YOU. Laurie is one of my Golden Heart sisters, and THE MEMORY OF YOU is one of the several books with which she finaled. It takes place after the Vietnam War and her hero was one of the last POW's released. It's an amazing book.
Some of my earliest memories are sitting at my grandmother's kitchen table in Brooklyn, eating lunch while we listened to the radio for the names of soldiers who were missing or killed to be read. My Nanny would write their names down, and after lunch, I'd take my nap and she would say the rosary, praying for 'our boys.' Laurie brought me right back to that time. It is a beautiful story, one I'll never forget.
If you were stranded on an island…
I'd bring my husband, my computer, and my kindle. He's the kind of guy who can build a resort with a stick of gum and a paper clip. He'd have a generator built and working in no time, a beautiful hut with hot and cold running water built in a week or two max, and a satellite link not to long after that.
What else are you working on? What can we expect from you in the future?
Right now doing the copy edits for YOU'RE THE ONE: BAD BOYS OF RED HOOK, which will be released in June 2013.
I'm writing the third book in my Domestic Gods Gone Wild series—A LITTLE ON THE WILD SIDE. It's Trapper Kincaid's book and so far, it's going great—so well in fact, it makes me a little nervous. Every week my critique partners and I read our work aloud and the only feedback I've been getting is, "It's great. Hurry up and write more!"
I'm also writing the synopsis for Slater's book, the third book in my Bad Boys of Red Hook series.
Let's talk about your new release Back to You: Bad Boys of Red Hook, What sparked the idea for the book ?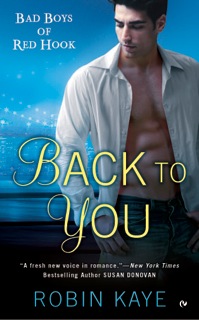 I've been thinking of this series since 2008. When I was writing for the fun of it, I wrote a modern-day telling of Pride and Prejudice with a twist of Persuasion—okay, well the first three chapters were a retelling, then I realized I wanted to write my own story, so I went totally off the Jane Austen Grid.
My hero had an incredible yacht—one I had to describe. I did what all authors do; I went shopping for a yacht on line. I found one I adored, emailed the designer, Kevin Dibley, and asked if I could use his boat in my book.
Kevin emailed me right back and said, "Well, that's not one I've heard before." He graciously allowed me to use The Knight Commander's name, and even offered to help me with the sailing scenes. Since it had been almost twenty years since I had sailed on a yacht, I was relieved and thrilled.
Kevin and I became fast email friends, and we've kept in touch ever since. I was fascinated by his work, and when I needed a great occupation for a hero, I picked his—then the rest of the story came into focus. It also helped that I could email Kevin and say, "Hi, I need a hundred footer, what have you got?" and a day later I'd have the plans to my dream yacht in my email box. He was also a lifesaver, the perfect resource, and fabulous friend when I emailed him and said, "What problem at the boat builder would make you jump on the first plane out of JFK and fly all the way to Auckland to solve?"
My hero, Storm Decker had always been into boats. He had a rough childhood, lived close to the docks in Red Hook, Brooklyn, and saw boats and ships as a means of escape. When he was just twelve, he stole one…
If you had to sum up 'Back to You' what would you say?
All of my books are about finding a family, a home, and love. The definition of family might not be straight out of the dictionary, but that's what all my characters are looking for—a place to call home, people to love, and the feeling of truly belonging.
If you had to pick your favorite scene from 'Back to You'…
It's hard to choose just one. But the scenes I'm most proud of are with Storm (our hero) and his ten-year-old foster sister, Nicki. The two learn so much from each other about life and love and trust. It's by seeing how similar he and Nicki are that Storm is able to make peace with his past.
I love the scene where Storm teaches Nicki to drive. It's hysterical. Nicki is a kid who is not allowed to sit in the front seat of a car, and Storm's giving her a driving lesson in the parking lot of an abandoned warehouse. Since he and his friends stole their first car when he was about her age, he didn't think teaching her how to drive was at all odd. It wasn't as if he taught her how to hotwire the darn thing. Bree just about lost it when she found out.
Who would you have play Storm and Breanna in the movie version of your book? And why?
I'm the worst person in the world to answer that question. I don't have time to watch TV—other than the news while I'm cooking dinner—and I rarely go to the movies. I'm addicted to NCIS and How I Met Your Mother—but I only watch TV when I'm sick and I've been healthy since mid-December of 2011 (knock wood). I've missed the last two seasons of NCIS and thanks to an entire family with strep throat from before Thanksgiving to almost Christmas in 2011, I'm up to season seven of How I Met Your Mother.
I see Bree and Storm in my head—and they look like no actors I know. Storm is tall, back Irish with a runner's build, and he has these great blue eyes, and a chiseled jaw line. Since you asked, I just spent twenty minutes looking through hot actors and I saw Chris Pine—he'd do if you colored his hair black. I've never seen anything he's been in, but physically, he'd would do Storm justice.
Bree is a redhead, about 5'9" and has one hell of an attitude and a short temper. Maybe Kathryn Heigl? Why? Because she's the only actress of the few I can think of, who would fit the bill and I don't have time to do another search. LOL
Robin Thanks for stopping by!
To Enter Giveaway: Please complete the Rafflecopter form below and Post a comment: 
Obviously, I have a thing for bad boys. I dated every bad boy I could get my hands on, but married a Boy Scout. How about you? Have you ever dated a bad boy, or married one? Inquiring minds want to know.
Tell us about it, and you'll be entered in a drawing for one of

two copies of BACK TO YOU: BAD BOYS OF RED HOOK.

I

can't wait to hear all your stories!
An excerpt from 'Back to You'
CHAPTER ONE
"I think you killed him."
Ten-year-old Nicoletta said it with such immutable calmness, Breanna Collins wondered if this wasn't the first time a strange man had entered Nicki's room at three in the morning and been taken down by a woman wielding a cast-iron frying pan.
Bree's heart traded punches with her sternum, winding her more than a ten-mile run uphill. She sure as hell hoped Nicki's assessment of the intruder was right. Better a dead burglar than a live one.
The dim glow of a streetlight outlined the shadowy figure lying facedown on the carpeted floor between Bree and Nicki. Dropping the skillet, Bree skirted the body before grabbing Nicki's arm, pulling her off the bed, and shoving her toward the door.
The man groaned, and, like something out of a horror flick, a vise-like grip closed around Bree's ankle. She landed hard, kicking and screaming. She reached for the frying pan, only to be flipped like a tortilla on a hot griddle, and covered with one extra-large serving of man.
"Get off me!"
He held her hands on either side of her head as his breath washed her ear. "I'm not going to hurt you."
"Yeah? Well, I'm going to hurt you."
"You already have."
Light flooded the room, causing temporary blindness. When Bree's vision cleared and she saw he wasn't an intruder, she wanted to crawl under the pink princess canopy bed and hide. Instead, she dove right into the turbulent, ocean blue eyes of an enraged Storm Decker—the past occupant of Nicki's room. Storm Decker—a man Bree had known since before she started wearing sexy underwear. Storm Decker—a man who epitomized the reason women bought the lacy, uncomfortable stuff in the first place.
"Breezy, a frying pan? That was the best you could do?"
Bree hated that nickname—maybe because Storm was the only one who dared to use it. It didn't help matters that the sound of it rolling off his tongue had always been enough to make her breath catch. She struggled, trying to slide from beneath him, but succeeded only in pressing her body against his. His heat scorched Bree through her Mr. Bubble boxers and matching tank top. She couldn't believe Storm would be a witness to the remnants of insanity caused by a wild shopping spree at the Walmart in Secaucus. Women built like her shouldn't wear tank tops—not even to bed.
Storm didn't move a muscle, keeping her pinned beneath him. He didn't behave like a gentleman should and get off her, help her up, and make sure she was all right—not that she was surprised. Storm Decker was a bad boy, and he had the rap sheet to prove it.
He had the nerve to shoot her his guaranteed-good-time grin, the one that made any woman in the vicinity want to remove the sexy underwear she'd purchased with him in mind. "If I were out to hurt you, you'd be in a real tight spot right about now."
"No, she wouldn't."
Storm's attention snapped to Nicki standing in the doorway, holding the phone in one hand and the frying pan in the other.
"You'd be out cold again, and the cops would be on their way. Now, do you want to get off her, or am I gonna have to use this?" She waved the frying pan and did her best to look menacing.
Nicki was too cute to manage that, but Bree gave her points for trying.
Storm turned back to Bree, their noses almost touching. "Who's the kid?"
"Storm, this is Nicki. Nicki, meet Storm Decker, Pete's son." She tried not to think about Storm's proximity and concentrated on the pained and confused look on his face. He wasn't the only one confused. "What are you doing here?"
Storm rolled off her. She thought she'd be able to breathe better without two hundred pounds of man crushing her, but she was wrong. No, the breathlessness was still there. Crap. She was twenty-eight and a far cry from that seventeen-year-old caught in Storm Decker's wake.
"Logan couldn't get away from the vineyard—something about harvest season. He got ahold of me and told me Pop was sick. Since Logan was unable to make it, I was elected. I've been traveling for"—Storm glanced at his watch—"twenty-three hours, and this is the welcome I get? No wonder I haven't been home in years—"
"Eleven years." Bree sat and hugged her knees to her chest.
"So you did miss me."
"Yeah, like a rash."
"I might not have seen you, but I've been home a few times. The last time was five or six years ago. You were probably away at school."
Bree rose and brushed herself off, just to have something to do with her hands. "You must have left quite an impression. Funny, no one mentioned it to me." She took the phone and the pan from Nicki. "It's late, sweetie. Go back to bed."
"Aw, Bree."
Dropping a kiss on Nicki's forehead, Bree cut her off. "I'll see you in the morning."
Storm rose to his feet. He'd looked a lot smaller when he was out cold. He picked up his duffel bag with a grunt, one hand held against his head over what must have been one hell of a lump.
Bree waited for Nicki to climb into bed and curl around a big teddy bear before pulling up the light cotton blanket and brushing a hand over her hair. "I'll be in the next room if you need me."
"Okay."
Bree followed Storm out, doused the light, and closed the door behind her. Without looking at him, she headed straight to the kitchen, grabbed a bag of frozen peas, and tossed them at him. "Are you okay? Do I need to take you to the emergency room to have your head examined?"
He sat on a bar stool and winced when he placed the bag against his head. "I'm fine."
She looked him over—his pupils were equally dilated. "Any nausea?"
"Why, Breezy, if I didn't know any better, I'd think you cared." The side of his mouth quirked up.
"I don't. I just don't want to be charged with murder. Now answer the question."
"No, I'm fine." His phone rang, sounding like a foghorn. Pulling it off his hip, he checked the caller. "I'm sorry, I have to take this."
"Fine." Bree started out of the kitchen, but he wrapped his fingers around her wrist and held on. The tingle shot straight to her breasts. She didn't dare look down.
"Storm Decker." He listened for a moment, and a smile spread across his face as her cheeks ignited. His black hair was cut short, much shorter than she remembered. It only served to accentuate the chiseled features of his face, while his strong, square jaw covered with dark stubble added to his dangerous look. Blue eyes watched her and changed color with his mood. When he'd been on top of her, it had been like looking into an angry sea, and now his eyes were the color of a summer sky—deep blue and full of promise. When he smiled, his perfect teeth gleamed white against his tan skin. His voice was as soothing and buttery as a bottle of Macallan's fifty-five-year-old single malt scotch. At $17,500 a bottle, she'd bet a case of it that the person on the other end of the line was female.
"Hi, Sandy."
Bingo. Bree twisted her wrist and pulled away, breaking his grip.
"How are things at home? Any problems today?" Storm's gaze lingered on Bree's chest before moving to his pricey watch. She wondered if they sold cheap knockoffs on the street corners in Auckland. She doubted it. It looked more expensive than the run-of-the-mill Rolex. They probably charged extra for the dive watch to withstand the pressure of the ocean's depths or the corner office. Then again, maybe his watch had been a prize for winning the Sydney to Hobart Yacht Race. So okay, she'd Googled him and found a picture of Storm and his team holding the Rolex Cup. It was just her luck the photo hadn't done him justice.
"Tell Laurel I'll be back in plenty of time to go to the yacht club dinner. This should only take a week, two tops."
Bree did a quick boob check while she wiped the already-clean kitchen counter and tried to look as if she weren't listening to every word of his conversation. Unfortunately, the girls were standing at attention. Still, it didn't keep her from wanting to smack him upside the head with the damn frying pan again on general principle. A one- or two-week visit was no help. She had called Logan because she needed someone responsible to stay for the next couple of months at least. Storm's plan seemed to be to blow in, stay just long enough to assuage his guilty conscience, then leave for the next eleven years or until Pete's funeral, whichever came first. It was disappointing, but not unexpected. He probably had Peter Pan tattooed on his incredible ass.
Storm snapped his phone shut. "I guess I should thank you for the great homecoming. Now, do you want to tell me just what the hell is going on and who that kid is in my old bedroom?"
"Who are you to walk in here and start demanding answers? You ignored Pete for years, and now . . ." Storm was . . . God, he was here. Her energy level bottomed out, and she leaned against the counter for support. "Why couldn't Logan have come? And if he had to send someone, why couldn't he have called Slater?" After all, Slater was safe. "Slater's in Seattle. And last I checked, Seattle is a hell of a lot closer to Brooklyn than New Zealand, if you're still in New Zealand." With the Storm Chaser, one never knew.
"I get that you're not happy I'm here. Deal with it, Breezy, because like it or not, I'm all you've got."
"Lucky me. When it comes to helping someone other than yourself, you were always as useless as an inflatable dartboard."
Storm's head snapped back, and his chin followed, as if Oscar De La Hoya had hit him with a right cross. "People change."
She'd won this round. She'd pinned him against the ropes with the two-ton weight of her gaze, willing him to explain his disappearance years ago, but his eyes told no tales. "Pete collapsed at the Crow's Nest. Heart attack. They did bypass surgery, and he's not handling it well." She threw the sponge into the sink and wiped her hands on a towel. "I have a hard enough time managing the restaurant and Nicki single-handedly. I can't take care of Pete too. I need help. I'm surprised Logan called you, but I'm even more surprised you came."
"Why wouldn't I have come? Just because I moved away doesn't mean I'm not close to Pop."
"Oh yeah, I heard you friended him on Facebook. I'm sure that means so much to him." Bree took a deep breath and released it slowly. "He's at Methodist Hospital, and with any luck, he'll be out in a few days. He needs to heal, and I don't know how much he'll be able to do once he's back on his feet."
Storm stood and in two steps was around the breakfast bar. "Breezy? Is Nicki yours?"
"Mine?" She stepped back. "Why would you think that?"
"Why wouldn't I?"
Bree ran her hand through her hair and tucked it behind her ear. "No. Nicki is Pete's."
"Pop's? Since when?"
"It's been a few months now." If Pete hadn't told him about Nicki, it wasn't her place to do it. "Look, I'm tired. I'm going back to bed. Help yourself to whatever you want. There's beer and leftover pizza in the fridge. The guest towels are in the linen closet. I'm in Logan's old room. You can stay in Pete's room tonight—the sheets are clean. Good night, Storm." She brushed by him on her way out of the small kitchen.
"Good night, Breezy."
Bree felt his eyes on her the whole way back to her room. She closed the door and thought about locking it—not sure whether it would be to keep him out or keep her in. Climbing into bed, she fought the searing memory of the last time she'd seen Storm Decker. He'd been running out that same door and leaving her behind.