Today it is my pleasure to Welcome author
Roxanne St. Claire
to HJ!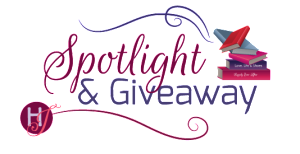 Hi Rocki and welcome to HJ! We're so excited to chat with you about your new release, Barefoot at Moonrise!
Hello again, Harlequin Junkies! I am so happy to be here! Thanks for always giving me such a warm welcome!

Please summarize the book a la Twitter style for the readers here: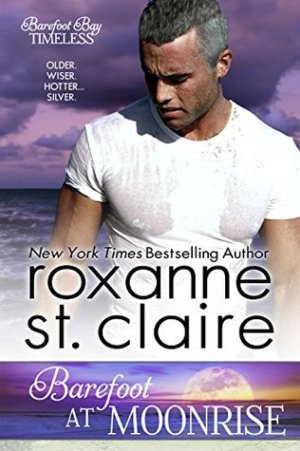 Barefoot at Moonrise is the second book in the Barefoot Bay Timeless series…proving that love is ageless and older men are hot! #silverfox #secondchance

Please share the opening lines of this book:
Ken Cavanaugh charged into burning buildings on a routine basis. He faced life-threatening emergencies, unforeseen crises, and potential disasters almost every day with titanium nerves and steady hands. He led a crew of fearless, tough, muscle-bound mavericks who turned to him for wisdom, guidance, life-or-death decisions, and changes in their shift schedule. And, icing on his résumé cake, Captain Cav was the fan favorite to lead the fire station tours because women and children loved him.
So why the hell did his feet feel like he was wearing iron boots? Why did his pulse thump as though he was seconds from stroking out? All he had to do was walk across a banquet hall in the middle of a high school reunion and talk to a woman, but he couldn't bring himself to do it.
Please share a few Fun facts about this book…
This is my first firefighter hero in almost 50 books! (What took me so long?)
I got the idea for the heroine's job from my HGTV obsession. (She's a house flipper.)
Research assistance came from another writer who was a firefighter and a complete stranger who walked into my yoga class. (She's also a firefighter!)
There's a dog in this book! Her name is Sally, and she's a terrier mix with a weight problem…totally and completely based on my darling Pepper, who is also sensitive about her girth.
I wasn't completely sure about the ending until I actually put the words on the page. Yes, I knew it would be happy, but I could go one of two ways with something and I had to make a choice. I think reader's will be happy.
What first attracts your Hero to the Heroine and vice versa?
I like a hero who has a little bit of a struggle. Sure, there's nothing like a cocky guy who oozes control and confidence, but my heart is really with the guy who's fighting an inner demon. I had that in spades with Ken Cavanaugh! From page one, he had a battle with his feelings — for the heroine and about their past. With the heroine, I am drawn to women who have a sense of humor and are resilient, but aren't too proud to lean on someone when they need it. Again, Beth checked all those boxes for me as a writer.

Using just 5 words, how would you describe Hero and Heroine's love affair?
Combustible, genuine, complicated, unexpected, and lasting.
The First Kiss…
This is a reunion romance (literally – they "re" meet at their 25th high school reunion) so this couple's first kiss happened when they were 18 and 15. But here's the first kiss that happens the night of their reunion…
"See what I mean, though? If we'd stayed together, we could have waited until I came back after the Navy and…" He dragged that finger back up her arm, settling on the sweet skin of her throat. "We could have lost our virginity together."
"If only we could turn back time."
If only. "We could pretend."
"How?" she barely whispered the word.
"Like this." He lowered his face and placed his mouth on hers. Instantly, years disappeared. Bad memories faded and good feelings rose to the surface. It was old times, back in Barefoot Bay, kissing under a sweet, silent moon.
Ken honestly couldn't remember a kiss that felt better.
Without revealing too much, what is your favorite scene in the book?
My favorite scene would *definitely* reveal too much….but here's one I really enjoyed writing because it takes place in the fire station…
"Captain Cav."
Ken looked up from the training manual he was studying in his office. On the floor, sideways with her little legs crossed and suspended in the air over her huge belly, Sally merely opened her brown eyes, showing the same distaste for the interruption that Ken felt. "Jenkins, was I not clear?"
"Totally, Captain. You're preparing a training class, and the only interruption should come from the dispatcher with an alarm or me with another cup of coffee, less milk this time."
"Much less. Nice to know you're listening." He stared at the young lieutenant, raising his eyebrows expectantly. "I don't hear the alarm or see any coffee."
"I forgot the coffee, and my guess is you want this interruption—"
"I don't want any interruption." He picked up a pen and looked back at the manual.
"—'cause we're all kind of hoping this puts an end to your dry spell."
"My…" Slowly, he set the pen back down and stared at the other man. "What the hell makes you think I'm having a dry spell?"
"Your mood, which is bordering on foul and sliding right into beastly. Has been for weeks. Maybe months. There's already a pool on how long it's been since you got laid."
Seven weeks was how freaking long. "Is that why you came in here, Jenkins? To drag me into Pookie's latest betting cesspool?"
"No, sir. That's a private pool. She suggested we keep it under the table."
Oh, for shit's sake, did everything have to be a wager around here? He had work to do. "Then what's the interruption?"
"Her name is…" Jenkins looked down at a card in his hand. "Bethany Endicott."
"What?" Ken blinked at the man, feeling a twist in his gut that probably showed on his face. After damn near two months of radio silence, she shows up at the fire station?
"Well, the card says Bethany—"
"I heard you." He practically knocked over his chair standing up, making Jenkins raise his brows. "What the hell is she doing here?" he mumbled.
"Well, right now, Irish is showing her around the bay."
He didn't even want to think about that conversation. He turned away and scanned his desk, looking for something, like…composure.
Beth was here?
"All right, all right," he said, as much to himself as to Jenkins. "I'll see her." He absently reached for his collar, the sudden thought that she'd seen him naked but never in uniform throwing him a little off-balance.
"I knew you would," Jenkins said, leaning against the doorjamb, his knowing smirk firmly in place. "She's hot."
"Shut up."
He straightened at the command. "You want me to bring her back, Captain?"
"So you can tell her about my dry spell?"
Jenkins grinned. "Ten bucks says Irish did that already."
"Shit." Ken took another breath. "I'll get her as soon as I…" Collect myself. "Just give me a minute."
Jenkins got the message and left, closing the door behind him.
Alone but still visible to anyone passing by through the glass wall that enclosed his office, Ken turned to slowly close the manual on his desk and let the fact that Beth was here hit him fully in the heart.
He took a breath, letting the emotions he'd felt for the woman over the past weeks surface. Longing, frustration, anger, and an epic set of blue balls had all devolved into a low-grade level of pissed off at life in general. Also known as the dry spell the entire station was wagering on.
If your book was optioned for a movie, what scene would be absolutely crucial to include?
Again, spoilers would abound! I'll go for their "first" goodbye…
Beth stepped back, dragging the comforter along for coverage and, well, comfort. "I have a ton to do today, so I think the best thing is to let me get out before any of the reunion partiers wake up."
"Seriously?" Ken choked the word. "So that's it? This is over?"
"Well, we can kiss good-bye and have especially fond memories about that night of the high school reunion." And if it was, then she could escape without even discussing the third reason they couldn't be together. The one she couldn't believe he didn't think of first.
"No exchange of phone numbers so I can at least pester you with funny texts and the occasional drunk dial?"
"It's not a good idea." She dropped the bedding and turned to go to the bathroom, getting exactly five steps before he caught up with her.
"Just a damn minute, Bethany." He turned her around, and when she dropped her gaze from the intensity of his, it landed on a fully naked man who stole her balance. "You can't have kids. Fine. But I'm asking for a date, not a family."
"But, Ken, I—"
"And you like your independence, which, as you may or may not recall, I stated was a huge turn-on for me."
Then it was time for him to dismiss reason number three, which he couldn't.
"But my name is still Endicott."
He stared at her, silent, as she expected.
"I might not work for my dad, but I'm always going to be his daughter." She swallowed against the emotion that swelled her throat. "And while I believe you are truly sorry for the things you said to me twenty-five years ago, you will always blame him for your father's death. And if you date me, you'll see him eventually. He's very much part of my life."
He didn't argue. He just bore her through with a long look that made her think it was his own soul he was examining, not hers. Time ticked and the room was silent but for the squawk of a gull on the beach and the soft splash of water on sand.
Finally, he exhaled slowly. "Yes," he whispered. "I do still blame him."
She knew it. "So why are we even having this conversation?" she asked. "Nothing's changed in twenty-five years, Ken. We are crazy about each other. In another world or another time, we'd date and probably struggle with a few things, but fundamentally, we'd be great together." Her voice cracked with a sob, but she didn't care. "But I can't change who I am, and you can't change who you hate."
He opened his mouth to argue, then shut it again. "When you're dressed and ready to go, I'll walk you to your car."
That was when she knew it was truly over and done with between them. Her head knew it was the right thing to do, but she wasn't sure her heart would ever understand.
Readers should read this book …
With a box of tissues handy. I didn't mean to write one that elicited a few tears (well, maybe I did) because these Timeless books are definitely lighter and brighter than the romantic suspense trilogy I just finished in Barefoot Bay. But there is angst, there is drama, and there are plenty of feels. You've been warned.

What are you currently working on? What other releases do you have planned for 2016?
I'm finishing book three in the Timeless series, Barefoot at Midnight. Lawson Monroe is a bad boy chef who has to learn the art of compromise with a sexy, sassy yoga instructor named Libby Chesterfield. They both stake a claim on the same piece of property and one of them is going to lose…unless they win at love.

Thanks for blogging at HJ!
Giveaway:

A Barefoot Bay Backpack with signed copies of the first two books in the Timeless series! (US Only)
To enter Giveaway: Please complete the Rafflecopter form and Post a comment to this Q:

Is there one guy (or gal) from your high school days who you'd just LOVE to see at a reunion? Why?
Excerpt from Barefoot at Moonrise:
Beth stepped to the open drapes of the cabana farthest from the resort, squinting inside to spy a chaise lounge the size of a queen-size bed, with half a dozen pillows. She felt a little like Goldilocks, but couldn't resist the inviting resting place, which offered comfort, solitude, and a view of that breathtaking moon overhead casting a silver spell on the waves of Barefoot Bay.
As she exhaled, she tried to rid herself of everything stressful or unsettling, distracting or unbalancing.
Like…Ken Cavanaugh.
Oh, he'd been the talk of plenty of women who'd come early to help plan the reunion. How could he not be? Single, sexy, and silver enough to look like he lived life to the fullest.
She closed her eyes and drifted back years and years.
I could love you, Beth. I could love you forever. But I can never be in the same room as your father and not want to kill him. He's the devil, don't you see? So, this is it.
She'd never forgotten his last words. This is it.
This is it? She remembered how much she wanted to scream the question back in his face, but she'd been drenched by a downpour and crushed by his fury. Instead, she'd stared at him, watched him walk away through the rain, while she was left…shattered.
And here they were, twenty-five years later.
Leaning back on the pillows, she crossed her legs, locking her hands behind her head to think about him. His boyishly cute features had morphed into handsome lines, strong bones, and shoulders that never—
"Knock, knock."
She sucked in soft breath and popped up, blinking at the sight of…those very shoulders.
"Ken?" His name came out a little breathless.
"Am I interrupting your escape from a reunion from hell?"
Her heart rate tripled. "Not at all," she said. "I just needed some air."
"Want some company?"
And then it felt like her heart actually stopped for a moment, along with time. Pressing her hand to her chest, she considered all the possible, polite ways to say no.
"Yes." It was all that would come out.
He took a step inside, nearly as tall as the heavy yellow drape that hung over them and all around. Forget the air. The minute he was in the cabana, it all seemed to be gone. Space was tight. And suddenly the tropical air smelled spicy and masculine.
She inched up, but he held out his hand. "Stay there. You look comfortable."
Very slowly, she eased back on the cushions, aware of every cell tingling.
He sat on the edge of the chaise at the bottom, not far from her feet. "I've been wanting a chance to talk to you all week."
She managed a steady breath. "Yeah?"
"So I followed you."
"That's…a little stalkery," she said on a surprisingly nervous laugh.
"Not really." He lightly tapped her toes, the split second of contact searing her skin as effectively as his admission. "I was hoping that you left your shoes and a trail in the sand on purpose."
She hadn't…or maybe she had. Maybe that was her subconscious calling card and invitation to him. Deep in her heart, she wanted this moment more than anything, even though she knew she shouldn't.
"So you tracked me like the Eagle Scout you once were," she said.
He laughed, sounding pleased she remembered. "And now I'm a firefighter, which some might say is the grown-up version of an Eagle Scout."
"You are grown up," she said on a soft sigh.
He ruffled his hair. "The white stuff started showing up in my late thirties. I blame the stressful job," he said. "I should probably do something about it."
"Something like change the color? Are you out of your mind? It's…" Gorgeous. Sexy. Hot as hell. "Nice," she managed.
He jutted his chin in acknowledgment of the compliment, letting his gaze drift over her like he couldn't control where his eyes wanted to go. "You grew up pretty good, too, Beth."
The way he said it, with a little longing and lust, sent a blast of heat through her. "Oh, I…have hit the big 4-0." She tried to keep it light, but nothing she was feeling was…light. Her limbs were suddenly heavy, and each breath was a battle. Ken had done that to her as a teenager every time he leaned in for a kiss. She could only imagine what he could do to a forty-year-old woman who hadn't had a date in years.
She'd always wanted Ken in the most primal way. At fifteen, it made her uncomfortable and scared and curious…and she'd said no every time their make-out sessions got too heated. But now…kissing him would still make her uncomfortable, but in the best possible way.
He placed his hand on the other side of her crossed ankles and leaned over her. The position was casual, comfortable, and made her whole lower half clutch from the mere proximity of him. "You sure have been tough to nail down this week."
"I've been a little distracted, sorry. I tried to give that planning committee my all, but I had some work stuff I was dealing with." It wasn't a lie, but she certainly hadn't been swamped this past week. She realized early on that it would be best if she avoided Ken.
He inched closer and let the hint of a smile pull at his lips. "Is that your excuse for missing the all-important arranging of the floral centerpieces that you so kindly signed us up for?"
She'd signed them up in a moment of weakness and hope, before she'd heard rumors about what he wanted in his life. "I had something…unexpected come up."
"Ah, I see. The house-flipping business?" he prodded.
So he'd been asking about her, too. Or maybe he looked her up before the reunion even started. Or looked up her father, a possibility that made her stomach drop with bad memories.
"Yes," she said vaguely. "That's my business."
"Like those people on HGTV?" he asked.
"Only it takes more than a half hour to renovate a house."
He nodded, both of them falling silent for a second, giving the other one a chance to talk. Finally, he said, "Do you work for, uh, your dad's company?"
Yep. Her father. Ken still hated him and blamed him, of course.
"I don't work for my dad," she said. "I own my own company and run my own business."
She could have sworn his shoulders relaxed a little. They needed to avoid that topic. "So, how's your life, Ken?" she asked. "Are you…married?" She knew he was divorced, but didn't want to make it that obvious she'd talked about him with other people that week.
"Single," he said. "Though I was married for a while. It didn't work out." He put a casual hand on her ankle, then lifted it as if he realized he shouldn't have. "I heard you're divorced, too."
But he didn't seem to mind her knowing that he'd been asking about her. "Yeah, I am. No kids, though."
"No kids for me, either." There was just enough sadness in his voice to tell her that the rumors she'd overheard about Ken wanting a family were probably true. Still, she had to be sure.
"Sounds like you wanted them."
"I do," he said. Present tense, she noted with another painful swallow. "I'd love to have kids," he added, unwittingly hammering the nail into her heart a little harder. "What about you?"
She'd have loved to have kids, too. But that ship had sailed…and sunk. "No, none for me."
He angled over her a little bit. "Really?" he said. "I would have thought you…well. I guess I imagined you'd want to have kids."
She had. Desperately. "Well, I don't, and I'm forty years old."
"So? You could adopt." Damn it, he sounded hopeful. She shifted, then started to push up.
"Don't leave," he said, holding out his hand to stop her. "I've wanted to talk to you all week. It's the whole reason I volunteered for that stupid planning committee."
It was? "Why?"
"I wanted…" He placed his hand on her bare foot. "I have…something important to say to you." He caressed her skin, as if talking involved…touching.
She tried to swallow, but failed. During those few seconds, neither spoke. In only moonlight, she could see his dark eyes and thick lashes, and an unreadable emotion.
She braced herself for the worst. The accusations. The lawsuit that never happened. The blame. The family hate. "Okay," she whispered, ready for whatever may come.
"Okay," he repeated, as if getting his thoughts—and nerve—together. "I know it's twenty-five years late, but, man, I…acted like a complete jerk. I said stuff I shouldn't have. I blamed you for things that weren't your fault. And I…I threw away a damn great girlfriend." His voice cracked a little, and he looked as if he might want to avert his eyes, but refused to. "I want to apologize, Beth. I want to say that…I'm sorry. I'm really sorry."
She let out a long, slow breath she hadn't realized she'd been holding for…well, for two and a half decades.
Her heart folded as she reached over and touched the empty space beside her. "Lie down next to me, Kenny. I'd love to put that dark past behind us."
Excerpts. © Reprinted by permission. All rights reserved.

Book Info:
As a firefighter, Captain Ken Cavanaugh knows his way around dangerous situations–but he'd rather run into a burning building than help plan his 25th high school reunion in Barefoot Bay. Unfortunately, it's his best chance of finally putting things right with Beth Endicott two and a half decades after they ended so badly. But the instant they see each other again, the years blow away like ashes in the heat of their combustible chemistry. For one single night, they let their incendiary passion consume them…but in the morning, they're still left with the smoldering wreckage of a relationship that ended in tragedy.
Raised under the thumb of a rich and controlling man, Beth has spent her adult years craving freedom. Now that she's finally managed to carve out an independent life, is she ready to risk her heart on the first man she ever loved–a man who blames her family for his father's death? With so much painful history between them, Beth can't see a way to have a future with Ken. But one stunning surprise will turn everything they ever believed upside down, and send them straight into each other's arms.
Ken is willing to put everything on the line for the family he's always wanted, but Beth knows the past that ruined them could flare into heartache again. It will take all her newfound courage to prove she would walk through fire for this second chance with the love of her life.
Book Links:


Meet the Author: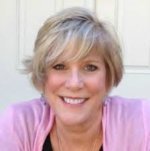 Published since 2003, Roxanne St. Claire is a New York Times and USA Today bestselling author of more than forty romance and suspense novels. She has written several popular series, including Barefoot Bay, the Guardian Angelinos, and the Bullet Catchers.
In addition to being an eight-time nominee and one-time winner of the prestigious RITA™ Award for the best in romance writing, Roxanne's novels have won the National Reader's Choice Award for best romantic suspense four times, as well as the Maggie, the Daphne du Maurier Award, the HOLT Medallion, Booksellers Best, Book Buyers Best, the Award of Excellence, and many others.
She lives in Florida with her husband, and still attempts to run the lives of her teenage daughter and 20-something son. She loves dogs, books, chocolate, and wine, but not always in that order.
Website | Facebook | Twitter |