Today it is my pleasure to welcome author

Kimberly Frost

to HJ!

Hi Kimberly, Welcome to HJ
Thank you so much! It's great to be here. ☺
What would you say are the defining characteristics of your novels?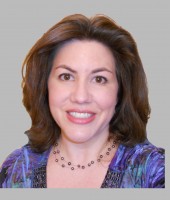 They are high energy. The main character is almost always on the move. She fights, falls in love, unravels mysteries, and deals with the quirky inhabitants of her small town. The novels are also comedic and of course, paranormal. All sorts of supernatural phenomena come into play in the series.
5 best things about being a writer?
Connecting with readers is the absolute best thing about being an author. Other things that I love about being a writer… starting a new book, seeing a new book cover, when the characters do something unexpected, and when the story makes me laugh or cry.
If you were a heroine in a book, your character would be – The girl next door, the damsel in distress, Kick-butt take charge heroine or the aloof ice queen and why?
I'd probably be a mix of all of them, depending on the circumstance, but more kick-butt-take-charge heroine than the others. I'm a problem solver and leader in my non-writing career, so if there was a crisis, I'd jump in and try to fix things.
Let's talk about this fantastic new cover for: BARELY BEWITCHED
If you had to summarize the book for the readers here…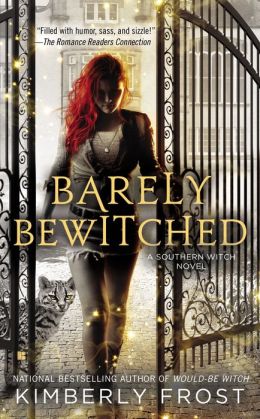 Messing with magic can spell disaster!
Welcome to Duvall, Texas, where Tammy Jo Trask has just unleashed an accidental Armageddon.
Tammy Jo's misfiring magic has attracted the unwanted attention of WAM, the World Association of Magic. Now, a wand-wielding wizard and a menacing fire warlock have come to Duvall to train her for a dangerous mandatory challenge. But is there more to their arrival than they claim?
When a curse leads to a toxic spill of pixie dust, the town comes unglued and the doors between the human and faery worlds begin to open. To rescue the town and to face the impossible magical test, Tammy needs the help of incredibly handsome Bryn Lyons, but WAM has declared him totally off-limits. To avoid deadly consequences, Tammy probably ought to follow the rules this time…
On the other hand, rebellion is an old Texas tradition.
Please tell us about the characters in your book.
Tammy Jo Trask is a twenty-three-year-old woman from a small town in Texas. She comes from a long line of witches, but initially the family magic seems to have skipped over her. When her dormant powers are awakened, her magic is powerful but dysfunctional. And Tammy's development as a supernatural heroine is the main focus of the Southern Witch series.
Bryn Lyons is a gorgeous wizard. He was originally from Ireland, but went to Yale for college and law school. He settled in Duvall because of its magical tor and is part of a secret rebellion. He and Tammy Jo are definitely a case of opposites attracting.
Zach Sutton is Tammy Jo's first love, and he can't seem to let her go even though they have a volatile on-again-off-again relationship. He's a sheriff's deputy who initially doesn't realize that magic is real, but he and the entire town get a taste of the supernatural during the Southern Witch series.
Mercutio is an ocelot who comes down the river on a raft and becomes Tammy Jo's constant companion and friend. Despite the fact that he never has a line of dialogue, he's one of the most popular characters in the series. His loyalty and fight-to-the-death attitude are hard to resist.
How does this new cover represent the book? Do you think it's a better fit?
I love the new covers! There's a real energy to them that I think fits perfectly. The Barely Bewitched cover shows Tammy Jo coming through Bryn's gates. She's got her cowboy boots, her magic, and Mercutio! One of my favorite parts of Barely Bewitched is Tammy Jo's reaction to a spell that turns her almost pure fae. The cover is directly from that part of the story.
What scene did you have the most fun writing? Why?
I've loved writing so many scenes! When I'm really in the zone and the story seems to write itself, there is nothing better.
I especially loved a scene where Tammy Jo is under the influence of a spell and she's not herself. Bryn has trapped her and their conflict just sizzles for me…
I walked to the edge of the circle, so that Bryn and I faced each other. I put my hands up. If there'd been no magical barrier, I could have touched his chest.
"Let me out now, and I might still forgive you," I whispered.
"No."
I leaned my mouth to the edge, puckered my lips, and closed my eyes. If he kissed me, it would break the circle and set me free. Moments passed while I waited. I felt him eyeing me like I was a raspberry truffle.
His voice was low and smooth. "So burns the god, consuming in desire. And feeding in his breast, a fruitless fire."
My eyes popped open. "Huh?"
He stared at my mouth and licked his lips. "From Ovid. It means I'm very tempted to kiss you, but I can't." He took a step back.
"Coward."
"So it seems," he said with a slight smile. "Stay out of trouble."
What scene was the hardest to write? Why? 
There's a scene late in the book where I had to rewrite Bryn's dialogue several times. He's speaking from the heart and he's good with words, so I struggled to get it exactly right. Since it's from very late in the book, I won't include the snip here. Too much of a spoiler!
Who would you cast in the role of your characters if your book was optioned for a movie?
For Bryn, I'd love Henry Cavill, though he's gotten so buff for Superman, he's not quite the physical type. Bryn has a swimmer's build.
For Zach, I'd pick Kellan Lutz.
Tammy Jo is impossible for me to cast. I like Isla Fisher a lot, but Tammy's only twenty-three, so a younger actress might be needed.
It's all best left in the hands of a casting director!
What are you currently working on? What releases do you have planned for 2014?
March 2014 – Halfway Hexed (Southern Witch #3) re-release
April 2014 – Magical Misfire (electronic novella) release
May 2014 – Slightly Spellbound (Southern Witch novel #4) release
Right now, I'm putting the finishing touches on the 2014 new releases and beginning work on the 5th Southern Witch novel, which will be released in 2015.
Where can readers get in touch with you?
They can visit my website at http://frostfiction.com
And readers who visit my website should click the Extras tab and download "Magic Ingredient" which is a free Southern Witch short that takes place before the series starts.
Thank you for stopping by HJ!
It was a pleasure to be here! Happy Holidays ☺
GIVEAWAY:

2 print copies of BARELY BEWITCHED
To enter Giveaway: Please complete the Rafflecopter form and post a comment to this Q:

In BARELY BEWITCHED, Tammy Jo finds out things about herself and her parents that she never suspected. From your own life (or a novel), what's the most surprising thing ever revealed about your (or a character's) family history?
– An excerpt from BARELY BEWITCHED:
The knocking got louder. "I'm coming!" I called, hurrying to the front door, hoping to find Zach.
I pulled the door open and did find a man leaning against the brick door frame, but he wasn't anybody I'd ever met or been married to. I looked over his preppy turtleneck, dark trousers, and gleaming smile. He wasn't very tall, only about five-six, but he was clean-cut and pretty enough to be in a boy band. I'd bet some women wouldn't find it hard to fall for him right off.
"Hey there. Can I help you?" I asked.
"You have that backward," he said in a yummy English accent.
Don't even think about getting another crush!
"I'm here to help you. Jordan Perth," he said with another flash of his wide smile. He pulled a folded envelope from his pocket and handed it to me.
There was an impressive-looking black wax seal on it that had partially cracked off. The seal seemed to be some kind of a crest.
My eyes darted to his face and then back to the envelope.
"A hand delivery, huh?" I mumbled. "I hope my mailman, George, doesn't hear about this. He's mad enough about e-mail taking all his business." I ripped open the envelope and pulled out the letter.
Dear Ms. Trask:
Having been found guilty at your hearing, you are expected to immediately comply with all Conclave directives. Details of the remuneration you must pay will follow in a separate letter. The matter of your training and placement within the hierarchy of magic must begin forthwith. Mr. Jordan Perth, the bearer of this letter, will assist you in your preparation for the Initial Challenge, which shall occur on November 1. Should you fail to comply with completion of the Initial Challenge, you will be considered in breach of Amendment 247, Article 6 of the Association's Constitution and will be subject to incarceration or extermination.
As a result of Mr. Bryn Lyons's involvement in your illegal use of magic, you are barred from any contact with him. Though Mr. Lyons has appealed the decision, until the matter is settled, you are expected to comply with the original verdict.
Sincerely,
Basil Glenn
Chief Secretary, Department of Justice—World Association of Magic
Senior Advisor to the Conclave
"What the Sam Houston? I wasn't told about any hearing."
"You weren't? Bryn Lyons said you had waived your right to be present."
"Oh." I cocked my head and frowned. "Well I did tell him he could speak on my behalf to the what-do-you-call-it, the Conclave, but I didn't know it was like a trial. I would have gone and explained myself."
"Unfortunately, it's a bit late for that now."
"But did Bryn explain the special circumstances? That I had to put a zombie back in the ground after someone, against my will I might add, stole some blood and hair from me to do magic? And that I had to find a family heirloom to prevent the destruction of the soul of a very elegant former witch?"
"I didn't attend the hearing, so I'm not aware of what explanations were presented," he said.
Bryn's a lawyer and he'd gotten me out of trouble in the human court system last week, so I'd just assumed he would do the same in the magical one. But now I realized that Bryn might not have told them all the details about how my locket had gotten stolen. When I thought it over, it seemed pretty dumb of me to have sent him to tell my side of the story.
"Well, listen, I can't pay any fines. I'm flat broke. Actually, I'm unemployed." I bit my bottom lip thoughtfully.
"Plus, this Initial Challenge thing sounds time-consuming, and if I can't get my old job back, I have to go job-hunting."
"Your nonmagical occupation is subordinate to your magical obligations. In the Initial Challenge, you'll face a difficult task that—"
"Hold on. I'm not a witch. I'm just a pastry chef. I had to use magic before on account of an emergency, but I don't want to join any magical world association or whatever, though I'm real honored to be asked. So you can just go back and tell them, I'm going to stay a private citizen. And reassure them that I won't use magic again. I promise."
He smiled. "That isn't quite how things work. If you don't participate in the challenge by the allotted time, you'll face the consequences. Imprisonment or death."