Today it is my pleasure to Welcome author
Jenna Sutton
to HJ!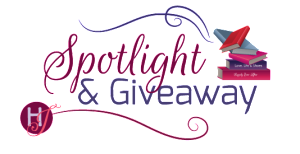 Hi Jenna and welcome to HJ! We're so excited to chat with you about your new release, BARRELED OVER

!


Hi there! Thank you for having me. I'm so excited to visit HJ again!

Please summarize the book for the readers here: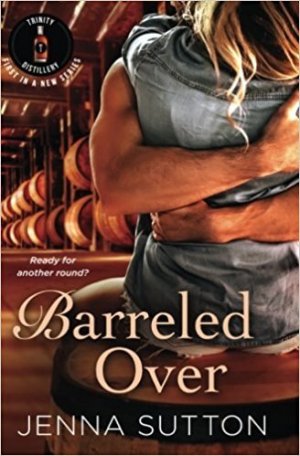 Country star Ava Grace Landy signs on as the spokesperson for Trinity Distillery, hoping to expand her male fan base. But that's not the only reason—she also hopes to get to know the company's founder and CEO better. She's had a thing for Jonah Beck since she met him a couple of years ago. Beck is willing to do anything to protect his award-winning bourbon distillery from his tainted past, even hire one of the world's most famous musicians. He's thrilled that Ava Grace takes the spotlight off him, but he's less thrilled about the heat that flares between them. When she makes it clear that she wants more—of Beck, not his bourbon—he can't resist her. Unfortunately, it doesn't take long for them to realize that his secrets and her fame don't mix. Being together will destroy Beck's life and jeopardize Ava Grace's career.

What's your favorite line(s) from the book?:
I should probably mention that Barreled Over is my favorite of all my books, which means it's hard for me to choose a favorite line(s). But here goes…
Something was stuck under Ava Grace's skin—something other than a tall, dark, and handsome asshole. She thought it was a splinter from the bourbon barrel, but she couldn't tell for sure since she couldn't see the back of her thigh.
Gripping the handheld mirror, she bent over in front of the full-length mirror on the back of her bedroom door and tried to get a better look. All she could see was raw, abraded skin in the shape of the barrel's rim.
Beck's version of a rim job, a naughty voice inside her whispered.
When you sat down to start this book, what was the biggest challenge you faced? What were you most excited about?
Ava Grace was a secondary character in all three of the full-length novels in my Riley O'Brien & Co. series. She had a starring role in the first book, All the Right Places, as the best friend of the heroine. Over the course of the series, she became a fan favorite, and readers were eager to read her story. I was determined to give her a great hero and an amazing love story. But one of the challenges with Ava Grace is that she's such a strong heroine, she tends to take over every scene. My goal was to create an equally strong hero who complemented and completed her, and I think I succeeded with Beck.
Please tell us a little about the characters in your book. As you wrote your protagonist was there anything about them that surprised you?
I was surprised at the resilience of both Ava Grace and Beck. Both of them have gone through a lot, and they carry scars from their pasts. I didn't realize it at first, but they have a lot in common, particularly related to their childhoods. This bond isn't immediately evident because they deal with their baggage very differently. Ava Grace is cynical, yet somehow manages to be optimistic and hopeful, while Beck is guarded and wary of being hurt. It takes a lot of patience and love to break through his barriers.
What have you learned about your own writing process/you as an author while writing this book?
I learned that I'm just as resilient as my characters. I have the ability to get back up after being knocked down a few times. I also learned that I love, love, love bourbon. I spent several weeks in Kentucky touring distilleries and learning as much as I could about bourbon. All the distilleries give out free samples, by the way, so I highly recommend visiting. I toured the nation's oldest bourbon distillery, went on a handful of "behind-the-scenes" tours that showed the distilling process from grain selection to bottling, and talked with experts about the science behind bourbon. I was lucky enough to spend a few hours with Steve and Paul Beam, two brothers who are seventh-generation bourbon distillers who launched their own craft distillery. I even toured a cooperage, which is where barrels are built and burned. The stories of family bourbon dynasties and bootlegging enthralled me, and I fell in love with everything bourbon, particularly brioche French toast with bourbon butter syrup. I hope that passion comes across in Barreled Over.

The First kiss…
Is something that Beck fantasizes about, but never thinks will happen. He's oh-so-wrong…
She stepped closer, and his eyes found a tiny smudge of chocolate at the corner of her mouth. He couldn't seem to tear his gaze from it.
Her lips moved, and he heard her voice. His brain had stopped working, though, so he couldn't comprehend her words. Suddenly, their bodies were touching, and their mouths were pressed together.
Had he kissed her? Or had she kissed him?
He froze, his eyes open and his hands clenched by his sides. Now he knew—her lips were even softer than they looked. They also were a little sticky from the marshmallow.
Her eyelids fluttered shut, her long lashes feathering over her cheeks. Her chest moved in a long, deep inhalation, and then she opened her mouth over his.
All the blood drained from his head, rushing straight toward his cock, and his vision blurred. Closing his eyes, he dug his fingers into her hips to steady himself. As her lips moved over his in a soft, slow caress, he opened his mouth too.
Underneath the dark chocolate and peppermint marshmallow from her s'more, he got his first taste of her. And now he knew—she tasted even better than she smelled. She was so fucking delicious every other woman he'd kissed was flavorless in comparison.
Did any scene have you crying or laughing (or blushing) while writing it?
Barreled Over is spiced with a bunch of wonderful secondary characters. One of those characters is Ellis Oglesby, Trinity's master distiller. Ellis is modeled after my husband's grandfather, who was the most popular guy in his retirement community. All the single ladies gave him a lot of pie.
In this scene, Beck and Ellis are chatting about Ava Grace:
"I saw her on TV the other day," Ellis said. "A woman like that improves blood flow to a man's most important organ."
Although Beck knew exactly which organ Ellis meant, he replied, "You could use some extra blood flow to the brain."
Ellis chuckled, his voice raspy from decades of pipe smoking. "That's not a man's most important organ, boy. I'm talkin' about the power sprayer, the hot rod, the jackhammer, the broadsword—"
"Ellis," Beck groaned, "shut up."
Ellis's booming laugh bounced off the high ceiling. "Did I tell you I went out with that sweet thang I met at the farmers' market?"
Everywhere Ellis went, he attracted women. He picked them up at gas stations, grocery stores, in the park, standing in line at the bank … just about anywhere. Despite his puny stature, sun-weathered countenance, and sparse gray hair, women of all ages seemed to find him irresistible. It baffled the hell out of Beck since Ellis reminded him of a scrawny rooster.
"No, you didn't tell me," Beck answered before rushing to add, "and I really don't want you to. Please don't."
Ellis ignored his plea. "Mmm, mmm, mmm." He smacked his lips. "Her tits were so—"
"Jesus Christ." Beck shook his head, both awed and disgusted by Ellis's active sex life. "You're such a poonhound." He pointed his forefinger at the horny old goat. "Are you aware there's been a spike in syphilis, chlamydia, and HIV among seniors? I hope to hell you're using a rubber when you screw these women."
"You don't need to worry about me. I've been pumpin' for nearly sixty years, and I haven't caught anything yet." Ellis patted the front pocket of his worn pants. "I always carry protection. Don't you?"
If your book was optioned for a movie, what scene would you use for the audition of the main characters?
Hmm. I think I'd pick one of the scenes leading up to sexy times. Beck and Ava Grace have very potent chemistry, and it's evident in every scene. This one shows that they have fun with each other too.
"I came up with a new bourbon recipe." She picked up a wooden spoon and stirred the savory mixture. "Braised short ribs with espresso-bourbon sauce."
He groaned. "If you keep testing your new recipes on me, I'm going to have to go for a run every night too."
Beck ran every morning, fair or foggy weather. She'd gone with him a few times, and he'd kicked her butt, both with his punishing pace and the distance he covered.
He also played basketball a few times a month with the guys. And he got his hands dirty at work, hefting sacks of grain and rolling barrels. He had an amazing body to show for all that physical activity—tall, strong, and muscular.
"You don't have to run morning, noon, and night to stay in shape, handsome."
She returned the spoon to the dog-shaped holder on the counter. She'd found it in a little boutique on Fillmore Street, and she'd just had to have it. As she replaced the lid on the Dutch oven and closed the oven door, Beck grabbed a bottle of beer from the refrigerator and twisted off the cap.
"Did you know sex burns more calories than running?" she asked.
"No, I didn't know that," he replied before taking a big swallow of beer.
"Instead of hitting the pavement more often, you can hit this," she suggested, lightly slapping her rear.
He choked, and beer spewed out his mouth. Clapping his hand over it, he fell into a coughing fit. She hastily tore a paper towel off the roll and handed it to him, laughing the whole time.
When he'd finally stopped gurgling and gasping and was able to catch his breath, he tipped his beer bottle toward her bottom half. "I'm already hitting that pretty often. Usually twice a day. Should I hit it more frequently?"
"If you feel the need"—she waited a beat before completing the sentence—"to burn some calories."
He smiled slowly. "I had a big lunch. Probably thousands of calories."
After depositing his beer bottle on the counter next to the oven, he turned toward her. Gripping her waist in both hands, he easily lifted her onto the island. She spread her legs, and he stepped between them.
"I feel the need to burn all those calories."
"You do?" she asked as he reached for the hem of her T-shirt.
"Yeah. Right now."
Readers should read this book….
If they want to escape from reality for a few hours with characters they'll love. If they want to laugh. If they want to cry. If they want to be turned on. If they want to learn something new.

What are you currently working on? What are your up-coming releases?
I'm working on more Trinity Distillery novels. I'm intoxicated (pun intended) with this series! It is so much fun to write! The next installment is a novella titled Tipsy-Turvy. It's the story of Ava Grace's bodyguard, Kyle, and her writing partner, Mercy. It'll be out in a couple of months, followed by two full-length books. For those of you who've asked, Beck's business partners, Ren and Gabe, will definitely get their HEA this year in Bottled Up and Chased Down, respectively. (Don't you love these titles? I think they're so clever!)

Thanks for blogging at HJ!
Giveaway: 1 winner – an autographed copy of BARRELED OVER and a $25 Amazon giftcard
5 winners – a flask keychain (Open to US residents only)
To enter Giveaway: Please complete the Rafflecopter form and Post a comment to this Q: Nice question: What's your preferred alcoholic beverage and/or mixed drink?
Naughty question: Ava Grace and Beck get busy on top of a bourbon barrel. What's the most adventurous place you've had sex?
Excerpt from BARRELED OVER:
Beck's marshmallow had turned a nice golden brown, so he pulled it from the fire pit and carefully removed it from the skewer. Hot to the touch, the melted marshmallow oozed over his fingers as he placed it on the chocolate and graham cracker stack.
"What kind of s'more are you making?" Ava Grace asked.
As he pressed a graham cracker on top of the marshmallow, he thought about ignoring her question. He didn't want to be drawn into conversation with her. It was bad enough he had to sit next to her and pretend not to notice the lacy waistband of her pastel pink panties when she leaned forward to toast her marshmallow.
Good manners eventually prevailed. "I'm a traditionalist. Plain graham crackers, milk chocolate, and vanilla marshmallow." He sucked the marshmallow from his fingers before asking, "What about you?"
"I'm a non-traditionalist," she answered with a smile, rotating her skewer over the fire pit. "Chocolate graham crackers, dark chocolate, and peppermint marshmallow."
"That's adventurous," he gibed.
She glanced at him, the flames of the fire bringing out the gold in her eyes. "Under the right circumstances, I can be very adventurous."
"Hmm," he replied noncommittally while his cock demanded to know two things: what were the right circumstances, and how adventurous was very adventurous?
He looked toward the fire pit, and when he noticed her marshmallow was getting a little too done, he tapped her forearm. "Your marshmallow's burning."
She immediately pulled it from the flames and began to ease it from the skewer. She hissed when gooey marshmallow got all over her hand.
"Dang, that's hot," she murmured, raising her fingers to her mouth.
As she licked the pink stickiness from them, blood rushed to his groin, his cock throbbing with every beat of his heart. He mentally reminded himself to avoid situations that involved Ava Grace and sticky or creamy foods.
In fact, he needed to avoid all situations that involved Ava Grace. Period.
He couldn't think straight with her around. Earlier this evening, he'd almost kissed her, and a crazy, stupid part of him—his dick—wished he hadn't pulled back. His dick wanted to know if she tasted as good as she smelled … if her petal-pink lips were as soft as they looked.
Trying not to think about her mouth and all the adventurous things she could do with it, he took a big bite of his s'more. As he chewed, he tried to recall the last time he'd eaten one. Probably back in high school, before everything turned to shit.
"You seem to be an expert marshmallow toaster," Ava Grace noted, a teasing lilt in her husky voice. "How'd you gain that experience?"
"I went camping a lot when I was little, and we always toasted marshmallows over the fire."
The memory made him a little sad. Even after all these years, he still missed his dad. Nothing could fill that void.
"So you learned by example," she said as she built her s'more.
"I guess you could say that." He leaned back in the Adirondack chair and propped his ankle on his knee. "Did you go camping when you were a kid?"
"No. I've never been camping. But I'd like to go someday. Sleeping under the stars sounds so romantic." She flashed a teasing smile at him. "Maybe you can take me."
Strangely, the thought of taking Ava Grace camping sounded like fun. He had no doubt she'd have plenty to say about the outing, and she'd deliver those observations in that sexy, wry tone that both amused and aroused him.
And after the sun went down, he'd build a blazing fire and stretch out under the stars. He'd pull her on top of him and watch her as she rode him, her head thrown back, her eyes shut, and her thick hair streaming behind her.
Excerpts. © Reprinted by permission. All rights reserved.

Book Info:
Ready for another round?
Ava Grace Landy's music career is humming along until a shakeup at her label jeopardizes her recording contract and curses her with the world's worst boss. Determined to satisfy him, she partners with Trinity Distillery to access a larger male audience. To her surprise, she's the one who's satisfied—by none other than Jonah Beck, the gorgeous, yet gruff man behind the bourbon.
No doubt about it, bourbon runs in Beck's blood. But it's audacious Ava Grace who makes it run hot. When she signs on as the spokesperson for his craft distillery, he doesn't plan on hoisting her onto an oak barrel and rocking the rickhouse. Though he's convinced their lives don't mix—like a terrible cocktail—he can't keep his hands off the alluring country star.
Ava Grace and Beck try to keep their intoxicating relationship private, but the glare of her fame is too bright, revealing secrets they both want to remain hidden. With a spotlight shining on his tumultuous past, their future is at risk. Now they must decide if being together is worth sacrificing the career she loves and the company he's poured his heart and soul into.
Book Links: Amazon | B&N | iTunes | kobo | BAM |


Meet the Author: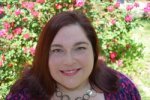 Jenna Sutton is a former award-winning journalist who traded fact for fiction when she began writing novels. Surprisingly, the research she conducted for her articles provided a lot of inspiration for her books. She's the author of the Riley O'Brien & Co. romances and the new Trinity Distillery series. Although Jenna calls Texas home, more often than not, she's somewhere else. Her love's job takes him all over the country, and she tags along, just like a groupie follows her favorite band.
Website | Facebook | Twitter |