Today it is my pleasure to Welcome author
Debbie Herbert
to HJ!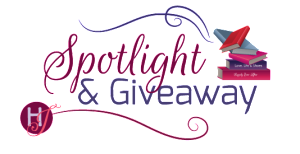 Hi Debbie Herbert and welcome to HJ! We're so excited to chat with you about your new release, Bayou Shadow Hunter!

Hello everyone!

Tell us about the book with this fun little challenge using the title of the book:
BAYOU SHADOW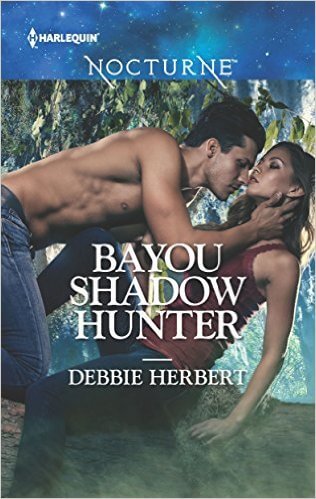 H is for a Hot Hero and a Hoodoo Heroine
U is for Unique
N is for Native American lore
T is for Tombi, who will steal your heart
E is for an Eerie Bayou setting
R is for Romance
What's your favorite line(s) from the book?:
Thunder Moon comin' tonight, your life is fixin' to change.
Please tell us a little about the characters in your book. What first attracts your Hero to the Heroine and vice versa?
The hero, Tombi, is mystified and intrigued by the beautiful woman who is wandering around the bayou in the night. So much so he wonders if she has bewitched him.
She is drawn to his protective nature when he helps her find her home after being lost in the bayou.
When you sat down to start this book, what was the biggest challenge you faced? What were you most excited about?
They are one and the same. The biggest challenge and what most excited me was expanding upon Choctaw legends of evil shadow spirits that roamed the southern bayou.
What, in your mind, makes this book stand out?
The melding of southern culture and hoodoo with Native American lore. And a heroine who hears auras.
The First Kiss…
Soft, moist heat brushed his left jaw. Startled, his gaze returned to Annie.
"Thank you for bringing me home." Her voice was breathless, and her hair was tousled and wild. She stretched up on tiptoes and planted another quick, chaste kiss on his cheek. "I have to go now."
Annie ran through the moon-silvered field, and he followed her slight figure until she entered the cottage. Bemused, he lifted a hand and traced his chin and jaw where her lips had momentarily caressed his skin. The memory of those quick kisses left him feeling anything but chaste. Why had she kissed him?
The light in the cottage blinked out, but Tombi lingered, reluctant to resume his hunt. For a small interlude, Annie had pricked through his armor, had touched something deep inside.
Bewitched him.
If your book was optioned for a movie, what scene would you use for the audition of the main characters and why?
A domestic scene simmering with sexual undertones and distrust. The main characters would need to display that balance of attraction tempered by initial mistrust.
"Interesting place."
Annie spun around like a ballerina en pointe. "I didn't hear you come in," she sputtered. "Sneaking up on me?"
"No. It's just my way. The way of most hunters. I came to see if I could help."
Annie leaned against the counter and folded her arms. "I think you wanted to keep an eye on me." She waved a hand around the kitchen. "Go on and look. We're fresh out of arsenic and eye of newt."
Tombi squinted at the jars of dried spices and roots lining the countertops, the basket of pink mojo bags she'd assembled earlier that morning and the bunches of dried herbs hanging above on the ceiling. "Unusual, but nothing overtly suspicious, like a box of rat poison."
Was he serious? Annie frowned. "Now, look here, you can't just—"
Tombi opened the pantry door, and she drew away from the counter, spine stiffening. "Who said you could go poking about everywhere?" she demanded.
"You said I could look around." He stepped in the pantry and ran a finger over the shelves. "Ah, now it's getting interesting. Graveyard dirt, coffin nails, and—" he picked up a sealed jar and turned "—swamp juice?" His nose crinkled at the puke-green cloudiness. "Looks like it could kill someone. Bacterial infection would be a gruesome death."
"Put it back, and mind your own business."
He returned it to the shelf, and Annie poured steaming tea into two mugs. She lifted the silver ball that held the loose ingredients in the teapot and waggled it. "We're drinking from the same pot. Just so you know."
Tombi sank into one of the cane-backed kitchen chairs, and Annie sat across from him at the table. He filled the room with his strong presence, overpowered what was once her peaceful sanctuary. Made it disturbing.
Exciting.
Even the air she breathed reeked of masculinity and testosterone—forceful and heady.
Annie slid the ceramic bowl filled with packets of sugar to the middle of the table. "You'll want to sweeten up that brew. It's a bit bitter. If you'd rather use honey, we have some."
"This will do."
She couldn't meet his eyes, instead staring at his lean, muscled forearms and large hands as he ripped open a sugar packet and stirred his tea. What would it be like to have his hands touching her all over? A warm flush blossomed on her cheeks, and she gripped her mug with both hands to steady the turmoil Tombi awoke in her body.
Stop it. He can't be trusted. So far, he had brought nothing but empty promises and disaster.
If your hero had a sexy-times play list, what song(s) would have to be on it?
I'm Too Sexy for My Shirt
What do you want people to take away from reading this book?
That love, like magic, casts its own spell of enchantment.
What are you currently working on? What other releases do you have planned for 2016?
I am working on the third book of this Bayou Magic series. The second book of the series, Bayou Shadow Protector, is scheduled to be released in September 2016.
I am also working on a novella, Charmed by the Salem Witch, which is the third work in my New Adult Paranormal series, Appalachian Magic.

Thanks for blogging at HJ!
Giveaway:

Three digital copies of Bayou Shadow Hunter.
To enter Giveaway: Please complete the Rafflecopter form and Post a comment to this Q:

Have you read many books featuring Native Americans or their culture? How about books featuring hoodoo?
Excerpt from Bayou Shadow Hunter:
"We need to talk." Tombi motioned, and she followed him into his tent. The darkness was utter under the canopy. She sat down on a pallet made of blankets. A low, throbbing drumbeat suffused the tight space between their bodies.
She wanted to sink into that sound, to lie down and fold into the steady, pulsating notes. Feel its vibration stroke her naked skin.
"The tent will muffle our voices a bit. I'm laying down a few rules before we start."
The baritone filled the cramped space with its power. Too bad his words tempered the sexy effect of his music.
"I won't cause trouble," she whispered, curtailing the teenaged desire to roll her eyes. "I'll stick close and keep quiet."
"Good." He leaned over, and she felt the hot skin of an arm and the side of his waist brush against her chest and face. Her breath quickened. His scent, his aura, drew her to him, and she was helpless to fight the pull. Being near him was sexually hypnotic. How easy it would be to reach out and pull him closer. Feel the weight of his body on top of her own. Despite the sadness of the evening and her chaotic thoughts, she was drawn to his music, as if her were the pied piper of the bayou.
The tent was intimate. She didn't want to hunt, she wanted to stay here, with Tombi. Safe and protected and exploring the pleasure of his body.
Crazy.
Wrong time, and possibly the wrong man.
But as if her arms weren't controlled by her brain, Annie reached around his back and drew him to her.
His back muscles tightened beneath her touch, and he drew in a ragged breath. Tombi stilled, as if warring with his sexual desire and his duty in the world outside the tent.
Annie wanted him desperately, just for a few minutes, a little slice of time. She saw how much he gave to the others, how they looked up to him. She saw how he defended his sister. In spite of Tallulah's nastiness, he made allowances for her grief. Didn't he deserve a few minutes of happiness for himself?
Didn't she?
Who knew what dangers the night and the hunt might bring?
In the hushed darkness, their breathing forged wisps of desire that swirled in the confined area.
Tombi groaned, as if admitting defeat, and his weight slammed into her, sending them both down, bodies pressed hard against the earth. His lips and tongue were on her, in her, warm and electric.
He moaned again—no, wait, that was her this time. Her body was in a fever of longing. Annie couldn't remember the last time—if ever—she had been so desperate with desire. Need curled and twisted her gut.
"You're so damn sexy," Tombi ground out.
Passion flamed hotter in her veins, along with triumph and humble gratitude that she, misfit Annie Mathews, could affect him so much. She arched against him, and his mouth tracked kisses down her neck and past the hollow at the base of her throat. He pushed up her T-shirt and unhooked her bra. One of his hands glided to her breasts and palmed her rounded flesh. His mouth lowered and covered a nipple, his tongue flicking the bud, sending unbearable need to her core. Tombi's full manhood ground against her, hard and insistent.
"Tombi? Tombi? You there?"
The insistent whisper outside the tent flap exploded on their private ecstasy.
"Damn it," Tombi muttered. In a heartbeat, he pulled away and ran a hand through his long hair.
Annie watched him scramble out the tent and hugged her arms to her waist, missing his heat and touch. Quickly, she hooked her bra and pulled down her shirt. She felt disoriented. Seconds ago her mind and body had been united and focused on physical release. Now her thoughts were chaos.
Low murmurs sounded nearby. Was there some kind of trouble? Annie silently crawled to the tent's front and poked her head out the slotted opening. Tombi and Hanan were several feet away, and they immediately turned as one to stare at her.
Not much, if anything, would get past these men. They could probably pick up a frog's croak from a hundred yards out. She ducked her head back inside, as if she'd been caught eavesdropping.
Tombi crawled in the tent and sat as far from her as he could in the small space.
The passion party was definitely over.
"So here are the simple rules," he said, as if nothing had happened between them. "Stay within arm's reach of me and avoid talking unless it's an emergency. I'll be searching for will-o'-the-wisps, and when I come within range, I'll shoot it with a slingshot. We aim for the glowing heart in the middle. If we hit it dead-on, the wisp will release the spirit and lose its power."
"And the trapped spirit will be freed?"
"Exactly." He hesitated. "I've been searching for one wisp in particular."
"Bo," she guessed. "You want to help your friend."
He nodded. "If you hear Bo again or sense he's near, point me in the right direction. Other sounds to beware of are snake rattles or music from the wisps. You might hear them before me. If you do, tap my arm."
She cringed at the thought of snakes. "Seems like the wisps would be easy targets with the way they glow and the music they make."
"But nature's provided them with speed and the ability to momentarily lose their light. Makes it hard to zero in on them."
"And what has nature granted you? What does it mean when you say you can control your energy?"
His eyes shifted to the opening, as if impatient to be on the move. "The quick and dirty version is this—we can create a field around our bodies that makes it hard for Nalusa and his wisps to see, smell or hear us in the dark."
He reached behind her, pulled out a camouflage duffel bag and slung it over his right shoulder.
So that's what he'd been looking for earlier when he'd leaned across her body. And she'd grabbed at him like an out-of-control hormonal teenager. Annie winced inwardly. But she consoled herself, knowing that he had obviously enjoyed their kiss.
"Let's go."
His command cut through her musings. She followed him out, and they walked across the open field. Annie took care to stay close and stay silent.
It was like another world at night. Although it was still hot, the humidity was at a bearable level, and she became even more hyperaware of sound and smell—the gentle lap of the Gulf water, the crickets, the unnerving screech of an owl. The breeze smelled of pine and moss and sea salt that invigorated. It was the smell of childhood summers and freedom.
Excerpts. © Reprinted by permission. All rights reserved.
Book Info:
HOT, SULTRY, DEADLY… THESE ARE THE SECRETS THAT LURK IN THE BAYOU.
Bent on revenge, Native American Shadow Hunter Tombi Silver could turn to only one woman, the "witch" Annie Matthews, for help. Her ability to hear auras had allowed her to discover Tombi's friend mystically trapped by forces that could destroy them all. The accompanying message of a traitor in their midst meant Tombi could trust no one. Dare he bring Annie along on his quest to fight shadow spirits? Putting his faith in someone outside his tribe, especially one who pulled at his tightly controlled desires, could prove just as dangerous as his mission…
Book Links:

Meet the Author: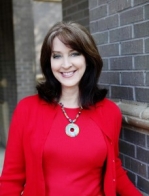 Debbie Herbert writes paranormal romance novels reflecting her belief that love, like magic, casts its own spell of enchantment. She is traditionally published through Harlequin, as well as Indie published. Married and living in Alabama, she roots for the Crimson Tide football team (Roll Tide!). Debbie enjoys recumbent bicycling with her husband. She has two grown sons and the oldest has autism. Characters with autism frequently land in her works, even when she doesn't plan on it!
Website | Facebook | Twitter |