Today it is my pleasure to welcome New York Times bestselling authors

Christina & Lauren

to HJ!

Christina and Lauren, a writing duo that has been swooning over romance novels for as long as they can remember, are the authors of Beautiful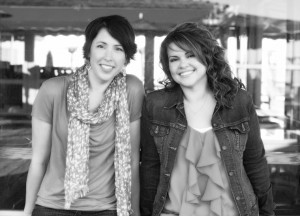 Stranger and Beautiful Bastard from Gallery Books. Separated by the pesky state of Nevada, these co-author besties speak several times a day, agree that Ruby Pumps is the best nail polish color ever, and would, if given the choice, spend all day staring at the ocean from the San Clemente pier. You can find them online at ChristinaLaurenBooks.com or at @seeCwrite and @lolashoes on Twitter.
One beautiful bastard of a groom. The most beautiful bitch of a bride. A panty-ripping office hook-up turned true love everlasting.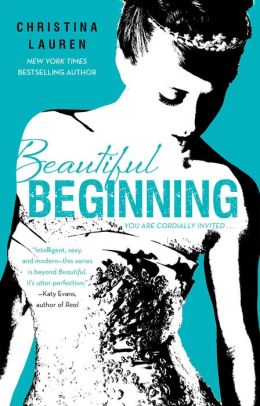 This feels particularly bittersweet since BEAUTIFUL BEGINNING is the last in the series (. . . or is it?) But returning to Chloe and Bennett for one last wild romp was both wonderful and terrifying. See, we always love writing these two. They're almost like cartoon characters in the things they say and do, and there isn't any limit to how ridiculous we can make them behave. At the same time, though, this was the last part of their story, and so we wanted to make it perfect.
Also, we'd written five books in under a year and started to feel like we were running out of words, plain and simple.
So what did we do? We went back to the beginning . . . so to speak. We re-read BASTARD, we re-read BITCH. We re-read BOMBSHELL. And we knew that what we loved most about these two hooligans was their fire.
But once again, after writing it and sitting down to put this post together, there are too many fun moments to pick our favorites, and some of the ones we love the most we want to save for when you read it all at once! So here are three out of maybe fifty of our favorite fiery moments between Chloe & Bennett from BEAUTIFUL BEGINNING:
The Ultimatum (Chapter 1):
"You want sex, you do it on my terms. Tonight's the night, Mills. Actually," he said, giving me a self-satisfied smile, "tonight is the last night I fuck you while you still have that name."
Now this I couldn't let slide. "We haven't exactly agreed on anything in the name department, Ryan. I'm still gunning for Chloe Myan and Bennett Rills."
"Tell me when you're ready to get it, Chlo." He held my gaze for several silent beats and then leand down close enough that all I had to do was lean forward an inch to kiss him. I started to, but he pulled just out of reach. "When you say 'Please Bennett, I need it,' I'm going to fuck you so hard you won't be able to sit down for days without remembering it."
The Bitch at Her Best (Chapter 2):
"What the fuck do you think you're doing?" he growled.
"Could you be more specific? I'm having a drink, I'm out with some friends, I'm—"
Both of his hands came up, roughly pinning me by my shoulders to the wall. I let out a tight moan, and his eyes narrowed further. "The shoes, Chloe. Explain the fucking shoes."
"They're special to me," I said, slowly blinking down to his mouth. I licked my lips as I stared at his, and he leaned in closer, instinctively. "Something old, something new. I wore these once when we were here together. Do you remember?"
Our Beautiful Bastard (Chapter 5):
He blinked away, pulling his phone back out of his pocket. "A simple 'yes' or 'no' would have sufficed."
"How does a 'fuck off' sound?"
Turning his head to me, he said very quietly, "It sounds like you might be playing with fire, Miss M
Giveaway: 2 print copies of BEAUTIFUL BEGINNING
To enter Giveaway: Please complete the Rafflecopter for and post a comment:

What did you think of the snippets above? Tell us why you would like to win a copy of this book. 
Book Info
One beautiful bastard of a groom. The most beautiful bitch of a bride. A panty-ripping office hook-up turned true love everlasting.
Wedding bells can't chime soon enough for Chloe Mills and Bennett Ryan. Chloe, exasperated and stressed by all the last-minute to-dos, is on the verge of saying "I do" to eloping. For his part, Bennett's so worried about being distracted by Chloe's body that he makes a no-sex-until-the-wedding-night rule that only seems to be making things worse by continually backfiring on him. As their crazy families descend for the big day- only a few of them actually trying to be helpful- the fiery lovers are about to test whether the couple that argues together can keep it together long enough to exchange rings, and not just heated words.