Today it is my pleasure to spotlight

Beautiful Bitch

, the first of three novellas from the New York Times bestselling author Christina Lauren.
A COMBATIVE RELATIONSHIP. A RED-HOT ATTRACTION. AND NO TIME TO BE ALONE.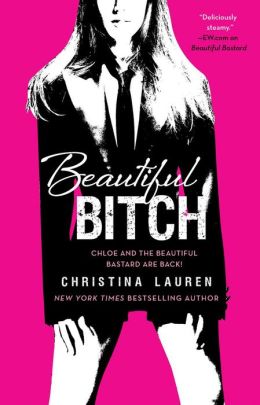 Picking up where Beautiful Bastard left off, Chloe Mills and Bennett Ryan continue their fiery love-hate relationship in BEAUTIFUL BITCH (Gallery Books; July 9, 2013, Trade Paperback; $9.99), the first of three novellas from the New York Times bestselling author Christina Lauren.
Chloe and Bennett are just as hot for each other, even as their love-hate relationship has developed into more of a love-frustration relationship.
While they still tear each other's clothes off whenever they are near one another, finding that time to be alone together is harder than ever.
No longer Bennett's assistant, Chloe has a career of her own, and the Beautiful Bastard himself is always away on business trips, setting up a new Ryan Media HQ in New York.
Giveaway: 2 print copies of BEAUTIFUL BITCH
To enter Giveaway: Please complete the Rafflecopter form and post a comment to this Q: 
Have you read the Beautiful Bastard? What was your Fav. part? What did you make of Bennett?
An Excerpt:
Once we were on the sidewalk, I stared down at her: at her

eyes, and lips, and her neck, which was still a little red from

the biting kisses I'd placed there only minutes before. The

way she reached up and rubbed her finger over what appeared

to be a small hickey pushed an electric reminder from

my brain to my cock: this reunion is nice but it's time to get

her home and fuck her into the mattress.

I wasn't sure we were on the same page about that,

though.

Outside in the daylight, she looked like she was about to

fall over. Of course she was. Knowing Chloe, she'd probably

been preparing and fine-tuning her presentation for the last

seventy-two hours straight, no sleep. But I hadn't seen her in

so long—could I keep it together long enough to just let her

go home to rest? If she needed to nap, I could just hang out

and wait for her to wake up, right? I could lie down near her,

reassure myself that she was really here and we were really

doing this and just . . . what? Touch her hair?

Holy shit. Had I always been this creepy?

Chloe hitched her computer bag up over her shoulder,

and the movement pulled me out of my thoughts. But when

I blinked back into focus, I saw that she was staring off into

the distance, toward the river.

"You okay?" I asked, ducking to meet her eyes.

She nodded, startling a little as if she'd been caught. "I'm

fine, just overwhelmed."

"A little shell-shocked?"

Her exhausted smile pulled at something tender beneath

my ribs, but the way she licked her lips before speaking

tugged inside me a bit lower. "I was so sad thinking I wasn't

going to see you today. And this morning, I spent the entire

walk between your building and here thinking how weird it

was that I was going to be doing this without you, or Elliott,

or anyone from Ryan Media. And then you came here, and of

course you pissed me off, but you also made me laugh . . ."

She tilted her head, studied my face. "The presentation was

exactly what I wanted it to be, and then the job offers . . . and

you. You told me you love me. You're here."

She reached out to press her palm flat to my chest. I knew

she could feel my heart slamming against my sternum. "My

adrenaline is slowing and now I'm just . . ." She moved her

hand away from me and waved it in front of her before it

seemed to deflate at her side. "I'm not sure how tonight is

going to work."

How tonight was going to work? I could tell her exactly how

it would work. We'd talk until it was dark, and then fuck until

the sun came up. I reached for her, slipping my arm around

her shoulder. Christ, she felt good.

"Let me worry about all of that. I'll drive you home."

This time she shook her head, pulling more fully back into

the moment. "It's okay if you have to go back to work, we

can—"

Scowling, I growled, "Don't be ridiculous. It's almost four.

I'm not going back to work. My car is here and you're getting

in it."

Her smile turned sharp at the corners. "Bossy Bennett

emerges. Now I'm definitely not going with you."

"Chloe, I'm not kidding. I'm not letting you out of my sight

until Christmas."

She squinted up at the late afternoon June sun. "Christmas?

That sounds a little gimp-in-the-basement for my

tastes."

"If you're not into that, this relationship might not work

after all," I teased.

She laughed, but didn't answer. Instead, those deep brown

eyes stared up at me, unblinking and hard to read.

I felt so out of practice with this, and struggled to hide my

frustration.

Placing my hands on her hips, I bent to press a small kiss

to the center of her mouth. Fuck, I needed more. "Let's go.

No basements. Just us."

"Bennett—"

I cut her off with another kiss, paradoxically relaxed by

this tiny disagreement. "My car. Now."

"You sure you don't want to hear what I have to say?"

"Absolutely positive. You can talk all you want once I have

my face firmly planted between your legs."

Chloe nodded and followed when I took her hand and gently

pulled her toward the parking deck, but she was smiling

mysteriously all the while.
ABOUT THE AUTHOR: Christina and Lauren, a writing duo who have been swooning over romance novels for as long as they can remember, are the authors of Beautiful Bastard and Beautiful Stranger from Gallery Books. Separated by the pesky state of Nevada, these co-author besties speak several times a day, agree that Ruby Pumps is the best nail polish color ever, and would, if given the choice, spend all day staring at the ocean from the San Clemente
pier. You can find them online at ChristinaLaurenBooks.com or at @seeCwrite & @lolashoes on Twitter.
ABOUT THE BOOK: 
BEAUTIFUL BITCH 
By Christina Lauren
Pub date: July 9, 2013 • ISBN: 9781476754147
Paperback Price: $9.99 • eBook Price: $4.99 • Gallery Books