Please join me in welcoming USA Today and Harlequin Presents author

Kate Hewitt

to HJ!
Thanks for having me back at Harlequin Junkie! Beneath The Veil of Paradise is the first book in the Bryant Brothers Trilogy, and you can read a free online prequel serial at harlequin.com, The Playboy Prince.

I'm just finishing my 26th book now, and I can honestly say after so many books, some are easy to write, some are hard, and some are nearly impossible. And I never know which it's going to be when I start writing!

Fortunately for me, Beneath The Veil of Paradise was the easiest book I've ever written, and more than that, it was fun. I loved the dynamic between the hero, Chase Bryant, who is light and teasing and refuses to take anything seriously, and the heroine, Millie Lang, who is uptight and work-focused and perhaps a little bit prissy. Together they work—Chase loosens Millie up and Millie makes Chase see the more serious side of himself.

Of course, the book isn't all lightness and humor. Chase and Millie are both dealing with some very serious issues in their past. Both of them have experienced tragedy in their lives; they have just responded to it in very different ways. When they agree to a holiday fling, they're not expecting to have those tragedies revealed and their pain and vulnerabilities exposed. But the holiday fling turns into something a lot more intense than either of them bargained for, and instead of just back and forth banter and some great passion, they find themselves sharing their hearts—which is a very scary thing to do!

I love peeling back the layers of character to get to the root of their fears and the hopes in their hearts. I love when the exciting zing of great chemistry turns into something deeper and soul-satisfying. And I love writing about it!

Thanks for having me here and happy reading,

Kate
Giveaway: Kate will be giving away giving away two copies of Beneath The Veil of Paradise
 to two lucky winners who answer the question below. 
To Enter giveaway: Please complete the Rafflecopter form and post a comment to this Question:
What part of a book do you enjoy the most: a flirty beginning when the hero and heroine are attracted to each other, the middle part where they start to fall in love, or the end, when it all looks like it's going to fall apart and then miraculously, wonderfully comes together again?
Here is an excerpt from the beginning of Beneath The Veil of Paradise to whet your appetite.
Excerpt: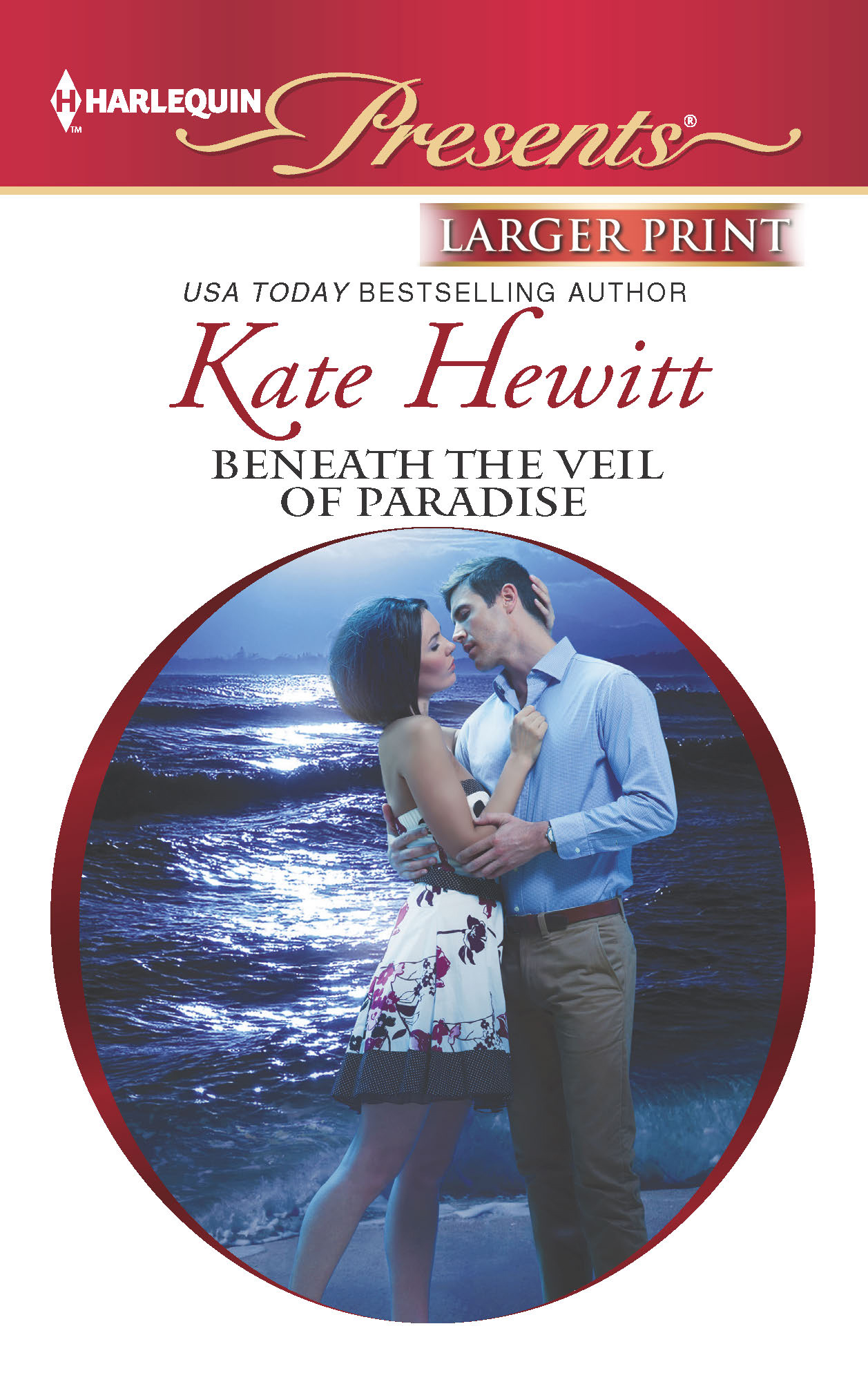 She stared at him for a moment, held his gaze long enough so he could see the warm brown of her eyes. Yes, warm. Like dark honey, or rum, and the only warm thing about her. So far.
'Threatened is the wrong word,' she finally said, and from the starkness of her tone he knew she was speaking in total truth. 'You do make me uncomfortable, though.'
'Do I?'
She gave him a thin-lipped smile. 'I don't think anyone likes being told that it's obvious she eats a bowl of cereal by the sink for dinner.'
Ouch. Put like that, he realized it was insulting. 'I wouldn't say obvious.' Although he sort of would.
'Only because you're so perceptive, I suppose,' she shot back, and he grinned.
'So shall we go somewhere more private so you can continue to be uncomfortable?'
'What an appealing proposition.'
'It appeals to me,' he said, truthfully, and she gave a little shake of her head.
'Honestly? What do you see in me?' She sounded curious, but also that dreaded vulnerable. She really didn't know the answer, and hell if he did either.
'What do you see in me?' he asked back.
She chewed her lip, her eyes shadowing once more. 'You made me laugh for the first time in—a long time.'
He had the strange feeling she'd been about to give him a specific number. Since when? 'That's a lot of pressure.'
Her eyes widened, flaring with warmth again. 'Why?'
'Because of course now I have to make you laugh again.'
And for a second he thought he might get a laugh right then and there, and something rose in his chest, a balloon of hope and happiness that made absolutely no sense. Still he felt it, rising him high and dizzily higher even though he didn't move. He grinned. Again, simply because he couldn't help it.
She shook her head. 'I'm not that easy.'
'This conversation just took a very interesting turn.'
'I meant laughing,' she protested, and then she did laugh, one ridiculously unladylike hiccup of joy that had her clapping her hand over her mouth.
'There it is,' Chase said softly. He felt a deep and strangely primal satisfaction, the kind he usually only felt when he'd nailed an architectural design. He'd made her laugh. Twice.