Today it is my pleasure to Welcome author
Jenni Fletcher
to HJ!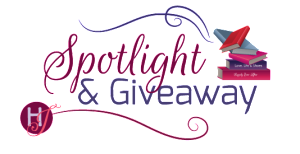 Hi Jenni and welcome to HJ! We're so excited to chat with you about your new release, Besieged and Betrothed!

Thanks so much for having me. It's lovely to be back.

Please summarize the book for the readers here: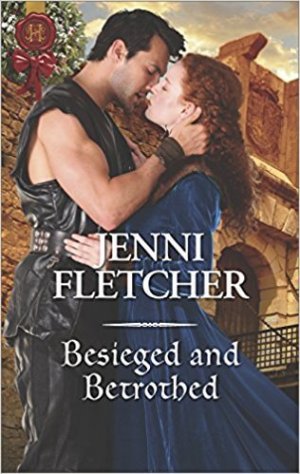 My story is set in twelfth century England in the midst of the civil war between Matilda and Stephen. Essentially my heroine's on one side and my hero's on the other (he's the one doing the besieging). Eventually my fiercely independent heroine Juliana has to make a choice – either to surrender her castle or to make the hero Lothar think that she is. Once both inside the castle, however, they find their loyalties aren't as clear-cut as they'd thought – and she's hiding a dangerous secret with consequences that only he can protect her from.

Please share the opening lines of this book:
One arrow. Lothar narrowed his eyes, estimating the distance between him and the woman on the castle ramparts. The wind was in his favour and she was facing in the other direction, wouldn't hear the rush of the arrow until it was too late. It was an easy shot, an easy target. One arrow to end a four-month-long siege. If he gave the order.
Please share a few Fun facts about this book…
I was working on this book last Christmas and ate a lot of champagne truffles (we got some amazing hampers!) whilst writing in front of a cosy fireplace and listening to Einaudi. It was basically inspired by chocolate, champagne and piano music. I'm hoping to repeat the experience this year because it was so lovely.

Please tell us a little about the characters in your book. As you wrote your protagonist was there anything about them that surprised you?
My editor on this book said that Juliana reminded her of Merida from Brave, but I see her as an early feminist. I wanted the siege to be a reflection of her lack of choices as a woman – an entrapment that she's determined to break out of. Lothar, on the other hand, is my favourite hero so far (I know I always say that!) Dark and brooding and essentially a kind of Medieval enforcer, he's also confident enough to serve a woman (Empress Matilda) without seeing it as a threat to his masculinity. They didn't particularly surprise me, but I liked them both more and more.

If your book was optioned for a movie, what scene would you use for the audition of the main characters and why?
Juliana and Lothar are drawn together against their wills so I'd need actors to show real simmering chemistry in this scene from the start of the book. He's pretending to seduce her and she's invited him into the castle under the pretence of being seduced (but has actually drugged him in order to take him prisoner)
She [felt] alarmingly out of her depth all of a sudden. She'd been braced for another argument, ready for him to call her an unnatural female, but he was acting as if he still wanted her, as if he found the idea of a woman in command appealing. Not that she felt very commanding at that moment. 'I followed you here when you asked me to, didn't I?' 'Yes, but…' 'So, now that I'm here, why don't you tell me what you want from me?' 'What I want?' He stopped a hair's breadth away from her, his voice soft as a caress. 'As I told you, my lady, I'm just a soldier. I'm only here to serve.' She heard a strangled sound emerge from her own throat, though words themselves seemed beyond her. She had no idea what he meant by serve her, though if the tone of his voice were anything to go by, it wasn't something that a lady ought to be doing… Why wasn't the poppy working yet? She'd given him enough to fell an ordinary-sized man twice over! How could he still be standing? He coiled a strand of damp hair around his fingers, using it to tug her face gently upwards. 'Or you could just show me what you want?' She dropped her gaze to hide her confusion, though unfortunately that only brought it level with his mouth. Show him what? Whatever it was, she'd probably only have to play along for a few minutes at most, but what did he expect her to do?
What do you want people to take away from reading this book?
Aside from the romance, I'd like people to say they've learnt a bit about the Anarchy, the almost 20-year period of civil war between Matilda and Stephen in the twelfth century. It's a fascinating period because it was the first time since the Anglo-Saxon era when a woman was heir to the English throne. In many ways, it was a pivotal moment in women's history and yet Matilda often gets dismissed as simply the mother of a more important man (King Henry II).

What are you currently working on? What other releases do you have planned for 2017?
I've just finished a Roman book set in 197AD on Hadrian's Wall that I'm really excited about, but my next release is a Victorian story (the second in my Whitby series), Captain Amberton's Inherited Bride, out in March. I'm also about to start work on another spin-off to that!

Thanks for blogging at HJ!
Giveaway:

I'm giving away a signed paperback copy of Besieged and Betrothed – Giveaway is open internationally.
To enter Giveaway: Please complete the Rafflecopter form and Post a comment to this Q:

Just let me know who would play your ideal romantic hero in a film? My answer changes daily, but today I'd say Luke Evans.
Excerpt from Besieged and Betrothed:
In this excerpt from early on in the story (I don't want to give too much away!) Juliana, having successfully drugged Lothar, has brought him up to the top of the gatehouse as a prisoner – 'You know, if you're going to hang me over the edge then you might need some help.' He broke the silence at last. 'I'm not.' She said the words in a flat, defeated-sounding voice, standing in the exact same spot where he'd first seen her the day before, though this time she looked desolate, her shoulders slumped so low that he was half-tempted to countermand his orders after all. Glancing down at his feet, he realised he was standing in the same space where her archer had been, as if he were the one protecting her now. He shook his head, trying to rid himself of such an unsettling idea. Clearly the poppy was still affecting him, reawakening that strange worried feeling that had made him follow her into the castle in the first place, and he had no time for feelings. She was close to surrender, he could sense it. A few brutal truths ought to do it. If he could bring himself to say them… He took a cautious step closer, poised for any sudden movements, half-afraid that she was about to jump over the edge. He wouldn't be able to catch her with his hands tied behind his back, but he could knock her sideways and pinion her beneath him if he had to. He'd tumble over the ramparts with her rather than let her surrender that way. 'You're outnumbered, my lady, and your defences won't hold for more than twelve hours.' 'I know.' She turned her head, looking vaguely surprised to find him standing so close. 'But I made a promise.' 'To Stephen?' 'Yes.' 'The man who killed your father?' She pursed her lips. 'You don't understand.' 'No, but I do understand war. Once a battle starts, it's hard to stop. I can't vouch for Sir Guian's men and I can't change the rules of combat either. If you surrender after the assault begins, they'll have the right to do whatever they want with your home and your belongings. Your women, too.' 'There aren't any women.' 'None?' He frowned. 'What about your maids?' 'I sent them away for their own safety.' She gestured vaguely towards the river. 'There's a village on the other side. The water protects them better than our walls can.' 'You're telling me that you're the only woman here?' He closed his eyes briefly. 'Sweet mercy! Surrender. Now.' 'A commander shouldn't surrender just to save themselves, isn't that what you said?' She jutted her chin out, though the flash of fear in her eyes gave her away. 'Tell me something about my father.' 'What?' He blinked at the abrupt change of subject. 'I need to know if I can trust you. You said that you were friends. Tell me something that proves it.' 'You want me to prove that I'm trustworthy? I'm not the one who drugged your wine, my lady. Trust works both ways.' 'I know, but…please.' She gave him a pleading look and he rolled his eyes in frustration. What next? First she tricked him, then she took him prisoner and now she wanted him to prove himself? Never mind the fact that they were running out of time! Next she'd be asking him to console her…
Excerpt. © Reprinted by permission. All rights reserved.

Book Info:
Ruthless warrior Lothar the Frank has laid siege to Castle Haword, but there's a fiery redhead in his way – and she's not backing down! More tomboy than trembling maiden, Lady Juliana Danville would rather die than lose the castle. Caught on opposite sides of a war, a marriage bargain is brokered to bring peace. But is blissful married life possible when Juliana has a dangerous secret hidden within the castle walls…?
Book Links: Amazon | BN  | iTunes | Kobo


Meet the Author: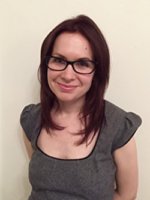 Jenni Fletcher was born on the north coast of Scotland and now lives in Yorkshire in the north of England, where she writes Medieval and Victorian romance novels. She studied English at Cambridge and Hull Universities before doing a PhD on Edwardian literature. After realising that she was better at writing than teaching, she worked in a number of administrative jobs whilst trying to finish her first book, which was rejected. Thinking there must have been some mistake, she then wrote another, which was fortunately accepted by Harlequin. When not writing, obsessing or cleaning up after her children, she likes mountain biking, hiking and watching period dramas (her husband joins her for two of those). She has no knowledge of sport or crime fiction, but can talk with authority on Minecraft, Star Trek and the Lord of the Rings. She also reads a lot of Mary Balogh novels… Website | Facebook | Twitter | Instagram | GoodReads |