Today it is my pleasure to Welcome New York Times bestselling author 
Katee Robert
to HJ!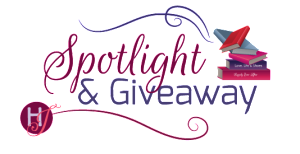 Hi Katee and welcome to HJ! We're so excited to chat with you about your new release, Betting on Fate!
Thank you so much for having me!
Please summarize the book a la Twitter style for the readers here: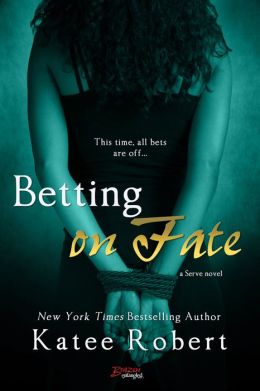 When two competing consultants go head to head for an account , things get heated–and a bet will leave one of them playing submissive to the other for seven days!
Please share the opening line of this book:
Penelope Carson smiled at the man across the desk. She'd nailed her presentation, and John actually looked really excited about the plans she had for the Falcon Bar. She all but had this deal signed.
Please share a few Random facts about this book…
This book contains the first menage scene in a Brazen EVER (but hopefully not the last!). This is also the fourth book in the Serve mini-series (and the second by me), which centers around NYC's premier BDSM club.
Please tell us a little about the characters in your book. As you wrote your protagonist was there anything about them that surprised you?
My hero, Will, is the identical twin to the hero of my first Serve book, and he was one of the most challenging heroes I've written. He's got such a thick barrier around himself, and cracking that was difficult at times.
My heroine, Penelope, was a complete surprise. I had an idea of what she'd be like, but once she actually got on the page, she ended up being much…MORE. She's very dominant outside the bedroom (and occasionally IN the bedroom) so playing with the contrast of her being Will's submissive was a lot of fun.
What kind of research did you do for this book?
Because of the BDSM aspect of the book, I did a lot of reading on various topics related to that. This book is nowhere near as hardcore as others out there, but it was still important to me to create a very authentic feel to that part of their relationship.
The First kiss…
*I am having sex with Will Reaver.*

Before she could truly start to panic, he moved, pulling nearly all the way out of her and then thrusting home again. A low moan escaped before she could stop it, and he gave her a kiss that she felt right down to her clit.
Was there a scene in this book that was harder to write than others?
The menage scene was definitely a difficult one on multiple levels. Because the book is a Brazen (and I wanted to keep the scene!) I worked really hard to present it in a specific way. Not to mention throwing another body into the mix complicates things!
As if sensing her thoughts, his forehead rested against hers just like it had after he'd kissed her downstairs. "Your body is mine, pet. Mine. And I'll do with it what I please—and that includes sharing it with who I see fit. Do you understand?"

Instead of scaring her, his words comforted her. It didn't matter what this mystery man did to her, because he was an extension of Will's control. This wasn't another man's hands on her, which felt a hundred different kinds of wrong, but her man's. She took a shaking breath and nodded. "Yes, Sir."
If your book was optioned for a movie, what scene would be absolutely crucial to include and why? 
The scene where Penelope and Will negotiate their "relationship." It's a vital part of any BDSM interaction, whether it's a single scene or an entire relationship.The Dominant and the submissive have a very frank and truthful conversation about what the submissive's hard limits are (and their safe word). It's so important, because it's the difference between two consenting adults, and an interaction that could be incredibly dangerous without a way to put a stop to it.
Will continued to watch her as if staring past her skin and into her soul. It was everything she could do not to shift under his gaze. "I will lay out my terms. If you're agreeable, my collar goes around your neck and we begin."

"You won the bet. You don't have to rub it in my face."

"I might have, but that doesn't mean I'm treating this any differently than I would a normal contract."
What do you want people to take away from reading this book?
That everyone has hidden depths. And if they need a cold shower afterwards, I'd be okay with that, too!
What are you currently working on? What other releases so you have planned for 2015?
I'm currently working on a book for Grand Central Publishing called The Marriage Contract. It's dark and gritty and sexy as all get out!
2015 is jam packed for me. We'll see the completion of my portion of the Serve series, the completion of the Out of Uniform series, and I'll be starting a brand new series with Grand Central. Lots and lots of releases! 🙂
Thanks for blogging at HJ!
Giveaway:

A $15 gift certificate to either Amazon or B&N
To enter Giveaway: Please complete the Rafflecopter form and Post a comment to this Q:

Enemies to lovers are on of my favorite types of books. What's your favorite type?
Excerpt
"What's your point? Everyone has a type." She liked the softer feel of the women, the sweet edge of their submission.

"So they do." Heat flared in his eyes, the break in his icy expression so unexpected that she forgot how to breathe. Will was painfully attractive as the Ice King. With something like desire burning through those blue eyes? She shifted, her skin suddenly too tight.

He was devastating.

"If for any reason you think I'm asking for something unreasonable"—his tone told her how unlikely he found that—"you will use your safe word and I will respect it."

Something in her chest relaxed a little even as her desire ramped up. The safe word was sacred among people in this lifestyle, but there was something about him saying as much in that calm, confident tone of his that set her at ease. She had an out—an out he would respect. If things got too heavy, or if she stopped being able to swim and started to actually drown, there was a life raft within arm's reach. "I'm sure I'll find plenty unreasonable. It is you we're talking about."

He ignored that. "While I don't find High Protocol necessary the majority of the time, I do expect you to address me correctly." His blue eyes drilled into her. "Say, 'Yes, Sir.'"

She'd known this was coming. The bet had said the loser played collared submissive, and a sub with a collar didn't get the option of obeying only during a scene. As her Dom, he could issue a command in the middle of the day and she'd be expected to drop everything and do as he told her. This was exactly the reason she'd been so keen to avoid a relationship. She didn't have the time or patience for someone who could potentially distract her. *It's just a week, Pen. Seven measly days. You can last that long*. She put a little chirp into her voice, making the words just this side of disrespectful. "Yes, Sir."

"We'll have to work on your cheekiness." He traced a finger down her sternum, stopping just short of the curve of her breasts. "Now, let's begin."
Book Info:
This time, all bets are off…
Penelope Carson loves to steal clients from Will Reaver. Yet something in her business nemesis's icy blue eyes makes Penelope…nervous. It certainly doesn't help that the man is the living embodiment of a Norse god. A controlled, powerful Norse god. Which she really should have remembered before she made a bet with him—because losing means becoming Will's personal submissive for a week.
There's nothing Will would like more than to have Penelope kneeling before him in complicit submission, her fiery dark eyes inviting him in. Challenging him. But their bet takes Will and Penelope deeper than either of them have ever been. Where control is an illusion, and boundaries are pushed aside. And where hearts become the stakes in a game that neither Dominant nor submissive can win…
Book Links:
Meet the Author: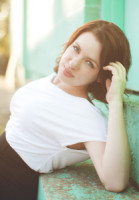 New York Times and USA TODAY bestselling author Katee Robert learned to tell her stories at her grandpa's knee. She found romance novels at age twelve and it changed her life. When not writing sexy contemporary and speculative fiction romance novels, she spends her time playing imaginary games with her wee ones, driving her husband batty with what-if questions, and planning for the inevitable zombie apocalypse.
Website | Facebook | Twitter |