Today it is my pleasure to Welcome author
Katherine Garbera
to HJ!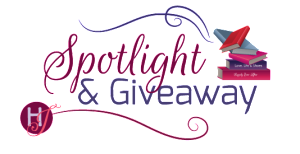 Hi Katherine and welcome to HJ! We're so excited to chat with you about your new release, Billionaire's Baby Bind!

Hello! I'm so happy to be here.

Tell us about the book with this fun little challenge using the title of the book: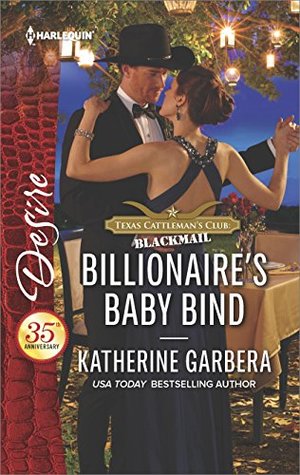 Will Brady comes to Royal, Texas to help catch the computer hacker who's doing his best to cause scandal and ruin everyone's lives. Will doesn't count on a sexy, cowgirl Amberley Holbrook helping the billionaire out of his baby bind. 😉
What's your favorite line(s) from the book?:
I love this part because it's so true!
"Well, Siri hates me. Whatever I say she changes it to something crazy. I mean, it's not like I'm not speaking English," she said.

"Siri can't hate you, she's a computer program," Will said.

"Well, she does. One time I texted my cousin Eve and told her where to meet me and do you know what that phone sent her?"

"What?" he asked.

"'Meet me where we once flew the summer wind,'" Amberley said.

He burst out laughing. "You do have a bit of an accent."

"No crap," she said. "But that is crazy."
Please tell us a little about the characters in your book. What first attracts your Hero to the Heroine and vice versa?
Will is attracted to Amberley because she's so different from the women he's known back in Seattle. A big part of that is the fact that most of the women he knows back there are treating him like the walking wounded since his wife died in childbirth but another part of the attraction is her honesty.
Amberley is attracted to Will because he doesn't treat her like one of the guys. To be fair she can handle herself on the ranch and around horses and she's not one to back down but he sees beyond the tomboy to the woman underneath.
When you sat down to start this book, what was the biggest challenge you faced? What were you most excited about?
I loved the idea of writing a hero who is a computer expert. I'm married to a techie-computer-geek so that really excited me. But actually writing about hacking isn't that exciting. Amberley was a bit of a challenge because despite my love of horses and the fantasy I've always held that I could be a really great horsewoman if my parents had relented and gotten myself sisters and I second horse after we moved, the reality is I'm sort of afraid of horses and well, falling off horses so I'm not too good with them. And Amberley is really good on horses which was fun to write.
What, in your mind, makes this book stand out?
There are a couple of things the first is that it is part of the Texas Cattleman's Club series. I think it's far to say authors and readers love coming back to Royal Texas and writing about the town and those sexy cattlemen. 🙂 The thing that makes my contribution to the series stand out is the fact that the honesty between Amberley and Will. They are both a little bit broken but find their way to happiness by falling in love and by making those broken bits okay.
The First Kiss…
"Sorry. I guess I'm getting tired. What did you say?"

He shook his head and shifted around, setting Faye on the blanket next to him. The little girl curled onto her side and cooed contentedly as she drifted to sleep.

"I didn't say anything. I was only watching you, regretting that I didn't kiss you when we were on our ride," he said.

Kiss her.

"Uh…"

Great. He'd rendered her speechless.

No. He hadn't. She wouldn't let him.

"I thought we both decided that was a bad idea."

"I like bad ideas," he said, leaning in closer. He wasn't touching her at all, but he'd tipped his head and she knew he was going to kiss her.

She licked her lips, tilted her head to the side and met him halfway. His lips were firm but soft and he tasted…good. There was something right in the way he tasted as his tongue brushed over hers. She closed her eyes and forgot about everything except this moment.
If your book was optioned for a movie, what scene would you use for the audition of the main characters and why?
This scene where Will is trying to get his tech to work and Amberley is making up stories about the constellations. **little true life fact, my hubby always is trying to impress me with stuff his phone can do and sometimes it doesn't work the first time, so I borrowed that for this scene. 🙂
"The night sky was clear, filled with stars and the waning moon. Amberley tipped her head back, feeling the emotions of the week fall away. The baby in her arms was sweet and soft. She had been cooing and pointing to things as they walked and Amberley fought against the pain in her heart she'd thought she'd finally gotten over.

She loved babies. Loved their smiles and their laughter. The way that they communicated if you just took the time to listen to them.

Her dad had told her that she shouldn't give up on a family, but the hysterectomy she'd had at eighteen had pretty much put paid to that. She couldn't have a baby of her own. So she tended to spoil any kiddos she met.

"You're awfully quiet over there," she said, realizing that Will hadn't said much in the last few minutes. She'd suggested they lie in the bed of her pickup truck and watch the night sky. Will had agreed but only, he'd said, until Faye got sleepy.

"Just trying to get this app to work," he said.

"He'd mentioned having an app that could show meteor and comet activity in the night sky and was trying to get it to work. Amberley had spread a blanket she kept for picnics on the bed of the truck and she and Faye had been playing together while he tried.

"If it doesn't work we can just make up stories," she said.

"Like what?" he asked.

"That star over there is Lucky."

"As in it brings luck?" he asked."

"No, its name is Lucky. Sometimes the star falls to earth and takes on the persona of a rock superstar during the day, and at dusk it's drawn back up into the night sky, where she stays steady and true so that little cowgirls and cowboys who are out late on the range can find their way home," Amberley said.

She'd been a huge Britney Spears fan when she'd been about ten and her dad had made up that story about one of the pop star's songs.

"Okay, let me give it a try," Will said. He shifted his shoulders and leaned back against the cab of her truck. Faye crawled over to him and he lifted her onto his lap. The baby shifted around and settled with her back against his chest.

They were so cute together, Amberley thought. She ached for little Faye because even though she had her daddy's love and attention, Amberley knew that one day Faye was going to need her momma. She just felt close to them because she saw herself in the two of them.

"See that constellation?" he asked, pointing to Sirius.

"Yes."

"That's Lobo and he is really good at catching the people who skunk around in the shadows. Every night he looks down on the earth for clues and then during the day he turns into computer code and helps track down the bad guys."

She smiled. "Like you."
If your hero had a sexy-times play list, what song(s) would have to be on it?
Eric Church Like A Wrecking Ball
Niall Horn Slow Hands
Childish Gambino Redbone
Kings of Leon Sex on Fire
What do you want people to take away from reading this book?
I would like people to take away that life doesn't go according to a plan. That you hit bumps along the way but that's just the way the journey is sometimes and if you have the right person by your side the bumps don't matter.
What are you currently working on? What other releases do you have planned for 2017?
My releases for the remainder of 2017 include: Dance With The Devil, Gods of War #1, Christmas At The Candied Apple Cafe and The Devil You Know, Gods of War #2.

Thanks for blogging at HJ!
Giveaway:

I'm giving away an e-book copies of my first Harlequin Desire THE BACHELOR NEXT DOOR and my latest release BILLIONAIRE'S BABY BIND. 🙂
To enter Giveaway: Please complete the Rafflecopter form and Post a comment to this Q:

It's my 20th anniversary as a published author, my first book came out from Harlequin (Silhouette) Desire in October 1997. How do you celebrate anniversaries? I like to open a bottle of prosecco and have a toast!
Excerpt from Billionaire's Baby Bind:
"Damn, you look good," he said.

"Ditto," she said with a wink. "Why do we have a limo?"

"In case things get heated in the car again," he said.

"I assumed when you said you were spending the night that you meant at my place," she said.

"I did," he said. "I just really wanted to shower you with luxury and a limo seemed the right choice. Are you ready to go?"

She nodded. She didn't bother locking her door since the only way on or off the ranch was through the main drive. Will put his hand on the small of her back as they walked to the car. The driver was waiting by the door and he held it open for her. She wasn't sure how to get into the car and still look ladylike.

"Well, you can dress the girl up but that's about it," she said. "How the heck am I supposed to get into the car?"

"You sit down, ma'am, then swing your legs inside," the driver said.

"Thanks," she said. She wasn't embarrassed at having to ask. The truth was if she didn't know how to do something, unless she asked about it, she was never going to learn. She sat down and looked up at Will as she swung her legs into the car and then she scooted over on the seat and he just smiled at her and then climbed in the way she would have.

"Next time we rent one of these I'm going to insist you wear a kilt so you have to do the same crazy maneuver I had to do," she said.

"Deal," he said.

The driver closed the door and she realized the back of the limo was very intimate. The lighting was low and Will put his arm along the back of the seat and drew her into the curve of his body.

"Thank you for coming out with me tonight," he said.

"Thanks for asking me out. You are spoiling me."

"Figured I had to make up for it since you already know I'm spoiled," he said with a grin that was both cocky and sweet.

"I was just being a bit jealous because I'm one of five and we always had to share everything. You haven't ever really acted spoiled around me," she said.

"Thanks," he said sardonically. The car started moving.

"Where are we going?"

"It's a surprise," he said, taking a silk blindfold from his pocket. "In fact, I'm going to have to insist you put this on."

"Uh, I'm not into any of that kinky Fifty Shades stuff," she said. She'd read the books, and while it had been exciting on the page, it wasn't really her thing.

"Understood. This is just to preserve the surprise I have in store for you."

"Okay," she said, turning to allow him to put the blindfold on her.

As soon as he did it, she felt more vulnerable than she would have expected. She reached out to touch him, her hand falling to his thigh. She felt the brush of his breath against her neck and then the warmth of his lips against her skin. She turned her head and felt the line of his jaw against her lips and followed it until their lips met.

"Will let her set the pace, which she liked. But then he sucked her lip into his mouth as he rubbed his thumb over the pulse beating at the spot where her neck met her collarbone. She closed her eyes.

The scent of his aftershave and the heat of his body surrounded her.

The limo stopped and Will stopped kissing her.

Damn. He had distracted her. She hadn't been paying attention to anything. Not even how long they'd been in the car.

She reached up to take off the blindfold. "Leave it," he said.

"Will."

"It's part of the surprise," he said. "Trust me?"

Trust him.

"She wasn't sure…which was a complete lie. She did trust him or she wouldn't be here. Or maybe it didn't matter if she trusted him or not. She wanted to be here and she was going to do whatever he asked.

Except for the kinky stuff…maybe.

She nodded.

"Good. Now scoot this way," he said, drawing her across the seat. She felt a blast of cold air as the door of the limo was opened and then Will kept his hand on hers, drawing her forward until she was on the edge of the seat.

"Swing your legs around," he said.

She did.

The ground beneath her sandals felt like dirt, not pavement.

"Where are we?"

"He didn't answer her question. Instead he lifted her into his arms. "Please come back for us in two hours."

"Yes, sir," the driver said, and Amberley wrapped her arms around Will's shoulders, listening to the sound of the limo driving away.

Then Will started walking and the breeze blew around them a bit chilly until she felt a blast of heat, but they hadn't gone inside. He set her on her feet and took off the blindfold and she saw that they were on a wooden platform with those large infrared heating things positioned around a table. There were twinkle lights strung over the top of the table set for two and covered chafing dishes on a buffet next to it.

The ranch land spread out as far as the eye could see. The sky had started to darken and as she glanced up she saw her angel star.

"Surprised?"

More than he would ever know. It was as if he'd glimpsed into her soul and saw every romantic notion she'd ever had and then amped it up to provide this evening for her. Which meant her heart was in for a whole heap of trouble.
Excerpts. © Reprinted by permission. All rights reserved.


Book Info:
This billionaire dad is pure temptation…from USA TODAY bestselling author Katherine Garbera
No way is cowgirl Amberley Holbrook falling for a billionaire city slicker like Will Brady. He's only in Texas temporarily and he's a single father to a baby girl—two reasons she should stay away. If only the widower wasn't so…irresistible.
In town to investigate trouble at the Texas Cattleman's Club, Will soon finds himself examining his attraction to the feisty beauty, too. Sure, Amberley might be the perfect distraction, but is Will ready for more?
Book Links:

Meet the Author: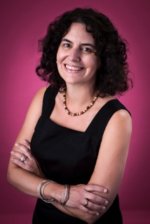 USA Today bestselling author Katherine Garbera is a two-time Maggie winner who has written more than 90 books since making her first sale to Harlequin (Silhouette) Desire. Katherine is known for her sexy heroes, feisty heroines and sensual stories. A Florida native who grew up to travel the globe, Katherine now makes her home in the Midlands of the UK with her family and a very spoiled miniature dachshund.
Website | Facebook | Twitter |