Today, HJ is pleased to share with you J.R. Ward new release:

Blood Vow

#1 New York Times bestselling author J. R. Ward returns with an all-new tale of paranormal passion in the world of the Black Dagger Brotherhood.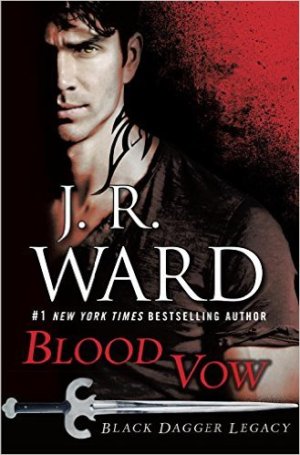 The Black Dagger Brotherhood continues to train the best of the best to join them in the deadly battle against the Lessening Society. Among the new recruits, Axe proves to be a cunning and vicious fighter—and also a loner isolated because of personal tragedy. When an aristocratic female needs a bodyguard, Axe takes the job, though he's unprepared for the animal attraction that flares between him and the one he is sworn to protect.

For Elise, who lost her first cousin to a grisly murder, Axe's dangerous appeal is enticing—and possibly a distraction from her grief. But as they delve deeper into her cousin's death, and their physical connection grows into so much more, Axe fears that the secrets he keeps and his tortured conscience will tear them apart.

Rhage, the Brother with the biggest heart, knows all about self-punishing, and he wants to help Axe reach his full potential. But when an unexpected arrival threatens Rhage and Mary's new family, he finds himself back in the trenches again, fighting against a destiny that will destroy all he holds most dear.

As Axe's past becomes known, and fate seems to be turning against Rhage, both males must reach deep—and pray that love, rather than anger, will be their lantern in the darkness.

Enjoy an excerpt from Blood Vow:
State University of New York, Caldwell Campus
…
"I'm just tired," Troy said.
Yanking herself out of introspection, she looked at the man. Her
first thought was that he was hiding something. Her second was that she had to know what it was.
"Is there anything I can help with?"
He shook his head. "No, the problem's on my side."
As he tried to smile, she caught the scent of something in the air. Something . . .
"I think you better go." He leaned down for the duffel bag he'd brought the exams in and started shuffling stacks of papers into it. "The roads will be getting bad because of the snow."
"Troy. Can you please talk to me?"
He got up, tucking his loose shirt into his khaki slacks. "It's all good. And I guess I won't see you until after New Year's."
Elise frowned. "I thought you wanted me to do the syllabus plan¬ning with you for Psych four-oh-one, two twenty-eight, and the semi¬nar on Bipolar Two? I have tomorrow night free—"
"I don't think that's a good idea, Elise."
What the heck was that scent—
Oh. Wow.
With a flush, she realized what it was. Especially as his eyes shifted away from her: He was aroused. Because of her.
He was seriously, sexually aroused. And he was not happy about it.
"Troy."
Her professor put his hand up. "Look, it's nothing you've done. It's not you, honest."
As he didn't go any further than that, she found herself wishing he would just come out with it all. Not because she was necessarily at¬tracted to him, but she hated anything that was hidden. She had had more than enough of that from her family's perennial stiff-upper-lip way of handling life's inevitable unpleasantnesses.
Besides, it wasn't as if she wasn't attracted to him. He was appealing in an unthreatening kind of way. Smart, funny, and a heartthrob to his
female students for sure. God knew she'd seen plenty of the humans he taught stare at him like he was a god.
And maybe she had thought about what it would be like with him. The touching. The kissing. The . . . other things.
She had no male prospects currently and that was not going to change anytime soon. Especially given the fact that she was fouled in the eyes of the glymera.
Not that anyone knew that, as the male she had lain with that one time had been killed in raids.
"I am of age," she heard herself say.
His eyes flipped to hers. "What?"
"I am not young. Too young, I mean. For what's on your mind."
Troy's gaze flared as if that was the last thing he'd expected her to say. And then he looked at her lips.
"Elise." He scrubbed his palm down over his face. "Oh, God . . ."
"What? And no, I'm not going to pretend I don't know what we're talking about here."
"There are rules. Between professors and students."
"You're not teaching any classes of mine."
"You're my T.A."
"I make my own decisions, no one else does."
At least that was true here, in the slice of life she had in the human world. And she would be damned if some rule in a society that was not her own was going to keep her from doing what she wanted. She got way too much of that in her species.
Troy laughed in a harsh rush. "I can't believe we're having this con¬
versation. I mean, I've had it in my head with you a thousand times. I just never thought it would actually happen."
"Well, I don't care what people think." And that much was true. When it came to humans. "And I'm not afraid."
"I can't say the same. I mean, I've never done this before. I know it's a cliché, the whole teacher/student thing. But I've never crossed this line. I thought I was, you know, stronger than this. You're different, though, and because you are . . . you're making me act differently."
There was a curious helplessness to him as he stared at her, as if he had struggled and lost a fight.
Now she looked at his lips.
As she did, his scent flared again and she saw his chest rise—
Excerpted from Blood Vow by J.R. Ward Copyright © 2016 by J.R. Ward. Excerpted by permission of Ballantine Books, an imprint of Random House, a division of Penguin Random House LLC. All rights reserved. No part of this excerpt may be reproduced or reprinted without permission in writing from the publisher.
Giveaway:

Print copy of BLOOD VOW (Black Dagger Legacy) by J. R. Ward (US)
To enter Giveaway: Please complete the Rafflecopter form and post a comment to this Q:

What did you think of the excerpt spotlighted here? Leave a comment with your thoughts on the book…
Meet the Author: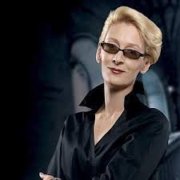 J. R. Ward is the author of more than thirty previous novels, including those in her #1 NYT bestselling Black Dagger Brotherhood series. She lives in the South with her family, and is hard at work on the next Black Dagger Brotherhood book, The Chosen (On Sale April, 4, 2017).
Connect with J.R. Ward:
Facebook: J.R.WardAuthor • Twitter: @JRWard1 • Website: jrward.com