Today it is my pleasure to welcome New York Times bestselling author

Larissa Ione

to HJ!.
Larissa Ione's bestselling Demonica series has captivated fans with its sensual blend of dark passion and demonic fury. Now she takes you to another intoxicating world—where a dangerous clan of wild vampires rules the night . . .
Hi Larissa Welcome to HJ
What would you say are the defining characteristics of your novels?
Ooh, great question! I'd say that all of my novels are very dark and gritty, but they're also full of humor. Usually dark, sarcastic humor.
If you were a heroine in a book, your character would be – The girl next door, the damsel in distress, Kick-butt take charge heroine or the aloof ice queen and why?
If I were the heroine I'd WANT to be, I'd be kick-butt, ruthless, and take charge, for sure. But as the person I really am…well, I like to think I'd be strong, but I'd also be a big softie when it comes to animals and small children. And I don't put up with rudeness and stupidity. Just like in real life. *g*
If you had to summarize Bound by Night for the readers here…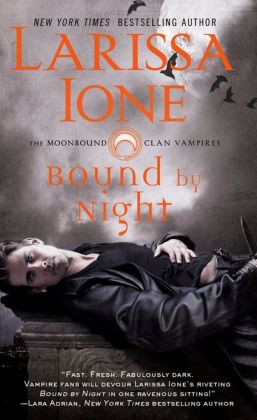 In a world where humans' sheer numbers have forced the lucky vampires into the shadows and the unlucky ones into slavery, vampires are starting to fight back. But with vampire clans at war with themselves, it's not going to be easy. Can a single human female turn things around?
Please tell us about the characters in your book.
Riker is a turned vampire whose mate died while in the service of the most powerful human family in the world. Nicole is a member of that powerful family, and she hates vampires more than anything. Both have reasons for hating each other, but they'll have to get past their prejudices to work together…or die trying.
Who would you cast in the role of your characters if your book was optioned for a movie?
Honestly, I don't know. I never picture my characters as anyone famous, so I can't see anyone in their roles. The exception is Riker…the cover model for Bound By Night, Colby Lefebvre, has really become Riker for me, so I'd definitely cast him for the role. You can see (and hear!) him on my Facebook page www.facebook.com/OfficialLarissaIone) I'd leave the rest up to the Hollywood types!
 Thank you for stopping by HJ!
Giveaway: 2 Print Copies of Bound By Night and 1 tote bag with swag

To enter Giveaway: Please complete the Rafflecopter form and leave a comment:

What draws you to a PNR? Do you have a preference …Vampires, Demons, Shifters etc? 
Excerpt:
"Stop," Nicole whispered in Riker's ear. "Please, stop."
Her voice quivered, and shame formed a knot in his belly. He'd never worried about his victims before, but then, he usually brought down his prey quickly, taking pride in a swift, silent kill few of his kind could match. It was a special forces skill leftover from his military days and amplified by vampire speed, strength, and super-tuned senses.
His prey rarely had time to know the sour taste of fright. When they did, it was because he'd wanted them to.
This was different. Nicole had been in a prolonged state of fear and would be until they got Neriya back. She might be the CEO of the most reprehensible company on the planet, and she might be complicit in crimes against his people, but he'd never been the type of male who reveled in a female's fear.
Even if it was deserved.
Riker shoved away with deliberate, measured composure, as if backing off was entirely his idea. Nicole's wide peridot eyes kicked him right in the gut, but he steeled himself, summoning his inner hardass.
He didn't have to reach very far for it.
"There. You're healed. No thanks necessary." He licked his lips, savoring the last rich, silky drop of her blood. Unlike most of the humans he fed on, she tasted of health and a hint of fine wine. He wanted more. "Don't try that again. You die when I say you die. Help us, and you'll avoid that fate."
"You're going to be hanged and staked for this." Her fingers fluttered up to her throat, scarred by some sort of heinous injury, to trace the thin crimson line that had been bleeding a moment ago.
"Aren't you a ray of sunshine." He breathed deep, measuring her fear level by scent. She was afraid, but not as much as he'd expected. "What happened to your throat?"
The sour note of fear spiked. "Why do you want to know?"
The ring on her right hand glinted with little crimson sparkles as she covered her neck with her palm. Her scars forgotten, he snared her hand, bringing it — and the ruby ring decorating one of her fingers — so close he caught a metallic whiff of gold.
"Let me go." Nicole struggled against his hold, but he squeezed her wrist as tight as his lungs felt. He could barely breathe, barely speak.
"Where did you get that ring?"
"It's mine."
His blood, already vibrating with the heat of unwanted arousal, began to boil with anger. "Where did you get it?"
A glint of pure, unadulterated hatred sparked in her eyes. "From. Your. Mate." She hurled the words at him like weapons, and like an expert marksman, she hit every one of his vulnerable spots with sniper precision.
With a snarl, he wrapped his fingers around the throat he'd just healed. "Did you take it from her while she was alive, or did you loot it off her corpse?" Rage made his voice warble, which only made him angrier. "Did you even wait for her body to get cold before you stripped her of everything she loved?"
"How dare you," Nicole spat. "How can you talk about love, when you're the one who killed her?"
About the book:
A WOMAN OUT FOR BLOOD
Nicole Martin was only eight years old when the vampire slaves rose up in rebellion and killed her family. Now she devotes her life to finding a vaccine against vampirism, hoping to wipe out her memories—along with every bloodsucker on the planet. But there's one thing she cannot destroy: her searing, undeniable attraction for the one man she should hate and fear the most . . .
A VAMPIRE OUT FOR REVENGE
A member of the renegade vampire MoonBound Clan, Riker is haunted by demons of his own. When he recognizes Nicole and remembers how her family enslaved his loved ones, his heart burns for vengeance. But when he kidnaps Nicole and holds her in a secret lair, his mortal enemy becomes his soul obsession, his greatest temptation, and, perhaps, his only salvation—a hot-blooded lover who could heal him with her touch . . . or bury him forever. –