Today it is my pleasure to Welcome New York Times bestselling author
Katie Reus
to HJ!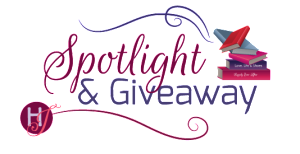 Hi Katie and welcome to HJ! We're so excited to chat with you about your new release, Bound to Danger!
Thanks so much for having me here today!
Please summarize the book a la Twitter style for the readers here: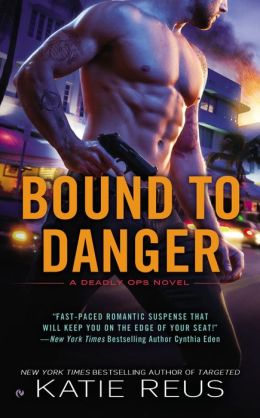 I always suck at these questions because I can't narrow anything down (I'd rather write a 100K novel than a back cover copy) but…
Maria Cervantes overhears a deadly terrorist plot that will rock Miami to its core. Before she can alert authorities she's almost killed in a massive explosion that robs her of her recent memories. As the sole survivor of the attack, she's now a person of interest to the NSA—and especially to Agent Cade O'Reilly. Because Maria is the one woman Cade has never been able to forget. Now he's sticking by her, whether she likes it or not. Because the memories locked inside her mind could hold vital clues to the next attack. Because terrorists want her dead—and because he never wants to let her go again.
Please share the opening lines of this book:
Cade O'Reilly ran full force through the triple-canopy jungle, the unbearable summer heat and giant mosquitoes barely a blip on his radar as he dodged low-hanging vines and branches. With his M-4 carbine slung over his back and grenades and claymore mines strapped to his jungle BDUs, he was armed to the teeth. He hadn't planned on needing the extra firepower, but as a United States Marine, he was always prepared for an apocalypse-type situation.
Please tell us a little about the characters in your book. As you wrote your protagonist was there anything about them that surprised you?
In my original outline for Bound to Danger my two characters didn't have a history together, which meant they pretty much had no conflict. The more I tried to make the story fit the way I thought it should go, the worse my outline grew. So I wrote a couple chapters 'free style' without plotting and they surprised me by letting me know that oh yeah, they had a complex history and a lot of stuff to figure out in addition to you know, trying to stay alive and save the city from another terrorist attack. 😉
What was the inspiration for Deadly Ops Series? How are the books in the Deadly Ops Series linked?
Targeted, the first book in the series was actually never meant to be part of a series. In fact, the original version I wrote was for Harlequin Intrigue (SO many years ago). I (through my agent) got a nice rejection from them basically stating that it was too complex for their line. And… she was right. I sat on Targeted for a while because I had so many irons in the fire, including launching my Moon Shifter series, and at the time, RS wasn't selling as well. Fast-forward a couple years I pulled it out in between projects and realized I could inject so much more into the story since I wasn't trying to keep it to a 55-60K word count. After I realized this book was still just as kick ass as when I first wrote it (there were a few updates I had to make), I just did what came naturally because I have a thing for series books. From there, Deadly Ops was born and I just wrote the first story the way I wanted, not trying to fit a specific line.
The First kiss…
… is technically not shown! Maria and Cade shared their first kiss 8 years before the story starts. Maria was in college and impulsively kissed him after a night out on the town—and he didn't stop her right away.
What kind of research was involved in the making of this series? What did you learn in the process of writing it? Were there any times you felt like you had to clear your Google history?
I clear my Google history all the time, but it really doesn't matter because our network providers have a history of all our searches (something I learned in my research, lol). Since my NSA group of agents is pure fiction most of my research centered around weapons, different biological terrorism (you'll see in book 3), and certain law enforcement procedure. Some things though, are pure guesswork because of the fictional nature of my series. But when it comes to weapons, or military/law enforcement stuff I'm pretty intense about getting things right.
What, in your mind, distinguishes this series from other books out there in the same genre?
Ha, okay, I'm not sure if this is the 'right' answer but for me, I think an author's voice distinguishes him/her from other books more than anything. Example; I can pick up a Linda Howard book or a Nalini Singh book and *know* who the author is because of her voice without seeing their name on the jacket. I was actually listening to a LH book on audio with my mom years ago (on a road trip) and immediately knew who the author was because of her narrative style. I think my author voice distinguishes me more than anything. But, talking this series specifically, while a lot of the NSA stuff is pure fiction, anything military related in the series, I'm pretty hardcore about researching. And the stakes in these books are really high. If the men and women in Deadly Ops don't do their job then thousands or hundreds of thousands of people will die. It's really high-octane suspense and I'm not afraid to pull my punches. That said, I think this is a fabulous genre and that I'm in some pretty amazing company.
What would you say the biggest difference is for you between writing this series and your shifter series? (Besides the obvious lol!)
Lol! The research is a little more intense because it's set in the real world. There's an element of suspense in all my books, including my Moon Shifter series, but I'd say in the Deadly Ops world, the balance between romance and action/suspense is more even, whereas in my shifter world, there's a slightly higher level of romance.
What are you currently working on? What other releases so you have planned for 2014?
I'm currently working on Chasing Danger, a novella in the Deadly Ops world. It will release before book 3 (which is currently with my editor). For those who read Targeted, Sophie's friend Hannah is getting a story! Other releases planned: in September the next book in my Red Stone Security series is releasing, in October/November I'm hoping to have the next book in my Serafina: Sin City series out and by Christmas readers should expect the third book in my Darkness series. I've received a ridiculously awesome amount of emails about Taste of Darkness (book 2 in the Darkness series) so anyone curious, Keelin's story is next. I've got a busy Fall planned!
Thanks for blogging at HJ!
Giveaway:

2 Print copies of BOUND TO DANGER
To enter Giveaway: Please complete the Rafflecopter form and Post a comment to this Q:

Who is your all-time favorite book boyfriend? I can't narrow it down to one so I'm going to give two: Z from the BDB series and John Medina from Linda Howard's All the Queen's Men.
Excerpt
Maria was glad she was sitting down as Cade's words slammed through her, because the blood drained from her face, leaving her dizzy. She didn't know what to make of what he'd just said. Or what the hell she was supposed to do about some dead terrorist wanting to kill her. What did it mean? She'd been so convinced she didn't know anything, but that nagging feeling in the pit of her stomach was growing out of control. Now it was even worse.
"So what happens now? I can't tell you what I don't know. I wasn't lying when I said I don't remember the explosion or even being at the party. I wish I did, though, believe me. Wait a minute, if the man who was in my room is a known terrorist, then it stands to reason his partner or partners would be in Miami, right? He can't be working alone, and if some guy was sent to kill me or whatever—"
Half smiling, he stepped farther into the room, his posture slightly relaxing. "My guys are already looking into all his known associates, how he got into the country and what he's been doing since he got here."
None of which Cade would tell her, she was sure. "Oh." She still wasn't certain what that meant for her.
As if he read her mind, he said, "From this moment on, I'm more or less your shadow. I know it's less than ideal especially with everything you're dealing with. For that, I'm sorry. You can either fight me and I can tail you twenty-four-seven or you can suck it up and deal with me until we figure out why that terrorist wanted you dead. Because believe me, after reading his file, I have no doubt in my mind you would be if you'd stuck around the hospital. You're a hell of a lot better off having me as your shadow right now." There was a dark note in his tone she couldn't read.
It was impossible to believe that someone wanted her dead. But a couple of days ago she would have said it was impossible that someone could get away with such a horrific act of terror in her city, or that her mother would have died in a terrorist attack. When her brother had died in Afghanistan, it was one of the hardest things she'd ever had to deal with. But their family had always known that his death was a possibility. Someone didn't go to a war zone without that knowledge. The way her mom was killed was too surreal.
And Cade was right. There was no solid reason for a terrorist to be hiding out in her hospital room other than malicious intent. "If you're my shadow, what does that mean? I have a lot of things to take care of, including dealing with my mom's funeral." Her throat tightened at the thought, but at least she didn't break down into tears again.
"Consider yourself in my protective custody. I'll basically be your chauffer and bodyguard." There he went again with that tone she couldn't read. Everything about him was hard to read. He barely moved when he spoke, keeping his body rigid and under control.
The man in front of her would never be anyone's chauffer, and something told her he would consider bodyguard duty more like babysitting. But the surprisingly subtle look he raked over her told her he didn't exactly view being her shadow as a chore. She could tell he liked what he saw, even though he was trying not to show it. For just a brief moment, his green eyes filled with something that looked a lot like desire.
For her.
It was hard to be sure, but she'd been on the receiving end of an appreciative male look enough times to recognize it. Maria was surprised she could feel anything other than grief, but a ribbon of awareness curled through her before his gaze completely shuttered, blocking her out again.
Just as he'd cut her out of his life eight years ago.

Bound to Danger Excerpt
Copyright © 2014 Katie Reus
Book Info:
At a benefit dinner, community activist Maria Cervantes overhears two men plotting a terrorist attack that could rock Miami to its core. But before she can alert authorities, she's almost killed in a massive explosion—and wakes up in a hospital with no memory of what happened. As the sole survivor of the attack, she is now a person of interest to the NSA—and especially to Agent Cade O'Reilly. Because Maria is the one woman Cade has never been able to forget.
Years ago, they were closer than either was willing to admit—until Cade disappeared when Maria needed him most. Now he's sticking by her, whether she likes it or not. Because the memories locked inside her mind could hold vital clues to the next attack. Because terrorists want her dead—and because he never wants to let her go again.
Author Bio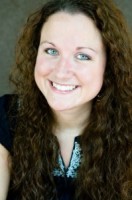 Katie Reus is the New York Times and USA Today bestselling author of the Red Stone Security series, the Moon Shifter series and the Deadly Ops series. She fell in love with romance at a young age thanks to books she pilfered from her mom's stash. Years later she loves reading romance almost as much as she loves writing it. However, she didn't always know she wanted to be a writer. After changing majors many times, she finally graduated with a degree in psychology. Not long after that she discovered a new love. Writing. She now spends her days writing dark paranormal romance and sexy romantic suspense.
For more information on Katie… Sign up for Katie's newsletter: http://eepurl.com/jEABv
Website | Facebook | Twitter |