Today it is my pleasure to Welcome author
Amanda Bouchet
to HJ!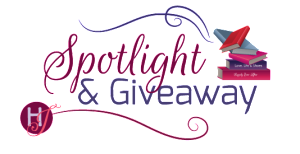 Hi Amanda and welcome to HJ! We're so excited to chat with you about your new release, Breath of Fire!
What is your favorite scene from Breath of Fire and why?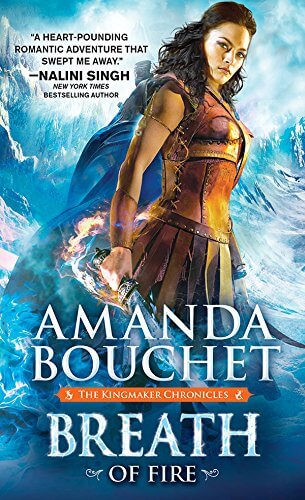 One of my favorite scenes from Breath of Fire is right at the beginning when Griffin finds out Cat's true identity and the magnitude of the secrets she's been keeping from him. In fact, she hasn't just been keeping secrets, she's been carefully spinning lies to keep him in the dark, and Griffin uncovers her deception from an outside source, which enrages him even more.

This is the emotional cliffhanger that might have come at the end of A Promise of Fire if, as a reader, I didn't despise (with a fiery passion!) cliffhangers so much myself. Instead, it comes in the first chapter of Breath of Fire, and it's not an easy scene—for the characters or the reader. The first few chapters in this second installment of The Kingmaker Chronicles are about the romance, and this scene is the catalyst for getting Cat and Griffin to where they need to be in their relationship in order for the rest of the story to unfold.
Here's a brief excerpt:
Griffin's stare turns blistering. Then his bellow rattles the windows, and what's left of his usual iron self-control deserts him faster than I can blink. He picks up a chair and hurls it across the room. It cracks against the wall with a menacing thud, one leg snapping off completely. A bowl follows, a basin, and then a pitcher filled with water. I watch in dumbstruck anguish as things splinter, shatter. His face is terrifying to look at. Every inch of his body is coiled taut in anger. He picks up another heavy chair and pounds it into kindling. When there's nothing left to destroy, he overturns the table with a vile curse and then kicks the underside so hard the wood cracks. The solid piece of furniture screeches across the floor, and I wince.
He swings back to me, looming large and dark and breathing hard. "Flippancy." His eyes rake over me. "Why am I not surprised?"
Something wilts inside of me under the searing heat of Griffin's wrath, seeing in the towering man before me the warlord I know is capable of explosive violence. Despite all the times I've provoked him, he's never once looked at me this way before—like he could hurt me.
Usually I laugh, or at least pretend to, in the path of danger or in the face of unmitigated rage. Not this time. I manage to lift my chin, though. "The truth is out. I don't know what you want me to say. You got me?"
"You got me?" he thunders, stalking forward. "You got me!"
I clamp my mouth shut and hold my ground. I'm indefensible. I'm a lot of things, but a hypocrite isn't one of them.
Reading this, you can only think uh-oh, our characters are not in a good place right now. And you would be right, because lies stink, and throwing a violent fit might stink even worse.

By the end of A Promise of Fire, Cat and Griffin have both placed the other on a sort of pedestal, whether they realize it or not. Griffin knows that Cat is keeping secrets, but he's too blinded by his love and need for her to figure them out, or to even realize how important they might be. Cat has built Griffin up in her mind to be so capable and steadfast that he'll hold her together whenever she can't handle her temper or her emotions or the pressures of her life. They're in love. They're also unrealistic in their expectations.

This scene is about turning those expectations into reality. Griffin's awestruck, almost all-consuming love for Cat takes a major hit when he realizes she's not capable of giving him the same trust he handed over to her along with his heart, body, and soul. And Cat sees for the first time that there are things with which Griffin—her big, strong, steady warlord—cannot cope, and betrayal from a person he loves and trusts tops the list. In fact, it might be the list, and he flies into a rage proportionate to his anger and hurt and the overall violence of their world.

Cat has been deceiving him for weeks, and Griffin throws an epic alpha male fit of room-trashing magnitude. Neither of them should have done that, but then again, there wouldn't be much of a story to tell if nothing bad ever happened, and everyone always acted like they should. In reality, people make mistakes, in their relationships and in their behavior. It's often painful to get through, but that's how we learn and grow. These characters aren't perfect, and the first chapter of Breath of Fire certainly opens their eyes to the shortcomings of the other. But being imperfect is okay, when in the end, you're perfect for each other.


Thanks for blogging at HJ!
Giveaway:

Print copy of Breath of Fire (The Kingmaker Chronicles Book 2) by Amanda Bouchet
To enter Giveaway: Please complete the Rafflecopter form and Post a comment to this Q:

Thank you so much for inviting me to share on this topic today, and I'd love to hear from readers about their favorite book couples who go through intense "growing pains" in their relationships.
Book Info:
HE'S DESTINED TO DESTROY THE WORLD…
BUT NOT IF SHE CAN HELP IT
"Cat" Catalia Fisa has been running from her destiny since she could crawl. But now, her newfound loved ones are caught between the shadow of Cat's tortured past and the threat of her world-shattering future. So what's a warrior queen to do when she knows it's her fate to be the harbinger of doom? Everything in her power.
Griffin knows Cat is destined to change the world—for the better. As the realms are descending into all-out war, Cat and Griffin risk sacrificing everything they've fought for. Gods willing, they will emerge side-by-side in the heart of their future kingdom…or die trying.
Buy: http://www.amandabouchet.com/breath-of-fire.php


Meet the Author: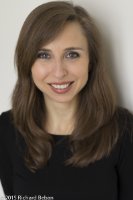 Award-winning author Amanda Bouchet grew up in New England and studied French at the undergraduate and graduate levels, first at Bowdoin College and then at Bowling Green State University. She moved to Paris, France in 2001 and has been there ever since. She met her husband while studying abroad, and the family now includes two bilingual children, who will soon be correcting her French.
Website | Facebook | Twitter |