Today it is my pleasure to Welcome New York Times bestselling author 
Cynthia Eden
to HJ!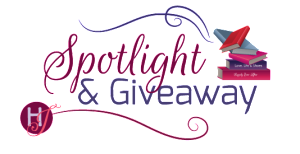 Hi Cynthia and welcome to HJ! We're so excited to chat with you about your new release, Broken

!


Thank you so much for interviewing me!!

Please summarize the book for the readers here: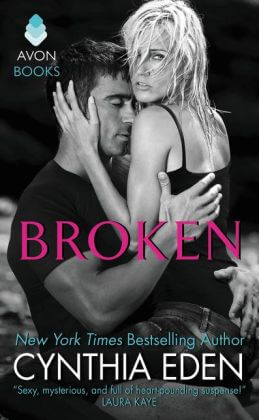 Eve Gray is a woman with no past and no future—she literally doesn't even own the clothes on her back. When she wakes in the hospital, she has no memory, so she turns to LOST (the Last Option Search Team) for help. Normally, the agents at LOST search for the missing. In Eve's case, she is the one missing—her whole life is gone. But ex-SEAL Gabe Spencer (and the man who created the LOST group) doesn't care if Eve's case is a little…unusual. From the instant he sees her, Gabe knows that he will do anything to help Eve.
Only Gabe doesn't realize that a serial killer is already tracking her…

Please share the opening lines of this book:
She could smell the ocean and hear the pounding of the surf. She could see the sky above her, so very blue and clear, but she couldn't move at all. Her body had gone numb hours ago.
Please share a few Random facts about this book…
Of course! I'll be happy to share…First up, the hero of the book, Gabe Spencer, is an ex-SEAL (so it was incredibly interesting for me to research his training!). Another interesting note…my heroine has no memory of her past—she wakes up in a hospital room and can't remember anything…the nurses are the ones who give her the name of "Eve" so that they don't just call her Jane Doe. And, my last fun fact…the story is actually set in one of my favorite places to visit—Dauphin Island (a place reputed to be haunted…and a place that was once called Massacre Island).
Please tell us a little about the characters in your book. As you wrote your protagonist was there anything about them that surprised you?
My heroine Eve is a very desperate woman. She lost her life—and she wants it back. She'll do anything to regain her memory, even put herself in the sights of a killer.
Gabe Spencer, the hero of the tale, is man with a dark past. His sister was abducted and killed, and there was no nothing he could do to help her. Driven by his grief, he created LOST, and, now, he tries to help others. But when Gabe meets Eve, everything changes for him. The walls that he'd put up…they begin to crumble. His need for her burns red hot, and he vows that he won't lose anyone else he loves to a killer, not ever again.
What, in your mind, distinguishes this book from other books out there in the same genre?
As you wrote your protagonist was there anything about them that surprised you?
They both kept surprising me! When I started, I was sure that Eve would be the one who was "Broken" (so to speak!), but as the story progressed, I saw that there were so many twisted and hollow spots in my hero's soul…and she was the one working to heal him.

The First kiss…
"Told you," Gabe managed to rasp out. "You don't apologize to me. But I'll sure as hell need to apologize to you …"
"To me? Why—"
"For this." And his control was gone. She'd pressed her lips to him, and there was no holding back. He had to taste her. His head lowered toward Eve's and his mouth took hers. Her lips parted, just as he'd wanted them to do. Soft, silken lips, and his tongue swept into her mouth. He should have made the kiss gentle. He knew that he should have been more careful—
Her tongue licked against his.
Screw careful. He pushed her back against that wall. Caged her there, and just feasted on her. Her taste wasn't sweet—it was rich and sensual. Like the chocolate he'd always snuck as a kid. And he wanted more. So much more.
If your book was optioned for a movie, what scene would you use for the audition of the main characters?
It would be the very scene in which Eve and Gabe meet. She heads to his office in Atlanta, so nervous that she's shaking…and, well, this is how it goes…
"Is someone missing?" His question was low, sympathetic.
Eve gave a small nod, then offered him her newspaper.
Frowning, he read the headline. "The Lady Killer?" Gabe shook his head. "I know they recovered some bodies after the last hurricane swept through that area, but I don't see—"
"They haven't recovered all of the bodies. S-Some are still missing." Her fingers twisted in her lap. According to the newspaper, there were seven suspected abductions and murders. But only four bodies had been found so far.
Three women were still missing.
His gaze scanned over the article. Then, after a few moments, he glanced back up at her. "You want me to find one of the missing women?"
He wasn't getting it. "O-Open the paper."
Frowning, he opened it. Pictures of the missing women were inside. Grainy pictures. Black and whites but …
"I don't need you to find a missing woman."
"That's what we do." His gaze was on the photos, not her. There was a slight southern drawl beneath his words, just a little growl of sound, barely noticeable. "We search for the missing. We—" He broke off and she saw his gaze widen. Slowly, very, very slowly, that bright blue stare came back to her face. This time she felt his stare like a physical touch on her.
Eve licked her lips and said, "I don't need you to find a missing woman … because I'm pretty sure … I think—I think I am one of the missing. I'm one of the Lady Killer's victims, only I'm not dead like they say in the paper."
If you could have given your characters one piece of advice before the opening pages of the book, what would it be and why?
LOL, I'd warn my heroine Eve…watch out for hurricanes! 😉

What are you currently working on? What other releases do you have planned for 2015?
I'm working on a draft for a new LOST book. Three LOST books will be published in 2015—BROKEN, TWISTED, and SHATTERED. I am having an incredible time exploring all of these characters!

Thanks for blogging at HJ!
Giveaway:

Digital copy of BROKEN by Cynthia Eden
To enter Giveaway: Please complete the Rafflecopter form and Post a comment to this Q:

I'm a huge fan of romantic suspense (both novels and television shows!). I'd love to know…which romantic suspense shows do your readers enjoy watching? I'll confess…I'm a huge CASTLE fan!
Excerpt from Broken:
"You're the first man I've wanted since I opened my eyes in that hospital."
He could actually feel his control splintering. Client. Cli—
"You probably don't want me. I—I might not be your type."
Now her gaze had fallen, as if in embarrassment. Had she really just asked if she was his type? She was probably every damn man's type.
"But you make me feel normal again, so I had to tell you—"
His fingers curved under her chin. "Eve …"
Her smile was a little too big. Too bright. "I don't think I can handle anything else right now, I'm …" She pulled away. Stumbled onto the sidewalk. "I just wanted to tell you how I felt," she told him again.
Then she walked into the shelter, her steps hurried. As if she were running.
From him.
He stared after her. She wanted him.
And she was so fucking beyond his reach.
Excerpts. © Reprinted by permission. All rights reserved.

Book Info:
The first novel in New York Times bestselling author Cynthia Eden's sizzling LOST series introduces the Last Option Search Team, an elite unit that must protect the only surviving victim of a serial killer.
Ex-SEAL and LOST founder Gabe Spencer is accustomed to the unusual in his job. But when knockout Eve Gray steps into his office, he's rattled. For the mysterious woman is a dead ringer for the heiress thought to be the latest prey of the serial killer who goes by the name Lady Killer.
When Eve awoke in an Atlanta hospital, her past was a blank slate. Then she recognized her own face in the newspaper and vowed to learn the truth. Determined to confront the nightmares hidden in her mind, she never expects to find a partner in Gabe.
As Gabe and Eve work together, their explosive attraction becomes irresistible. Gabe knows that his desire for Eve is growing too strong, bordering on a dangerous obsession, but nothing pulls him away from her. And when another Eve lookalike disappears, Gabe vows to protect Eve at all costs. While Eve may have forgotten the killer in her past, it's clear he hasn't forgotten her.
Buy Links:  Amazon | B & N | iTunes | Kobo


Meet the Author: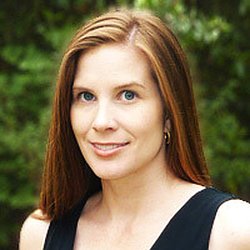 Award-winning author CYNTHIA EDEN writes dark tales of paranormal romance and romantic suspense. She is a New York Times, USA Today, Digital Book World, and IndieReader best-seller. Cynthia is also a two-time finalist for the RITA® award (she was a finalist both in the romantic suspense category and in the paranormal romance category). Since she began writing full-time in 2005, Cynthia has written over thirty novels and novellas. Cynthia lives along the Alabama Gulf Coast. She loves romance novels, horror movies, and chocolate. Her favorite hobbies include hiking in the mountains (searching for waterfalls) and spelunking.