Today it is my pleasure to Welcome author
L.P. Dover
to HJ!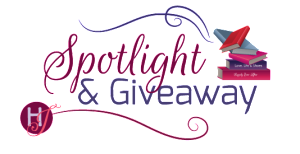 L. P. Dover returns with an edgy, emotionally gripping Second Chances novel about a beautiful widow who can't resist a chiseled NFL player.
Tell us about the book with this fun little challenge using the title of the book: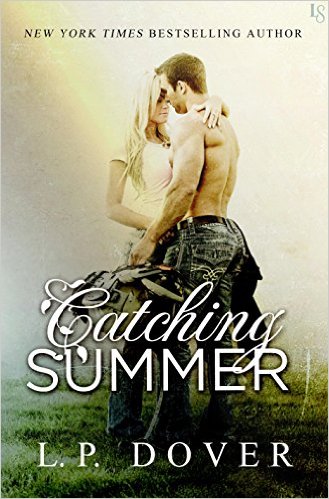 C is for captivating.
A is for action-packed.
T is for tender.
C is for charming.
H is for happily ever after.
I is for intense.
N is for never giving up.
G is for gratifying.
S is for suspenseful.
U is for undeniably sexy.
M is for mature audiences only.
M is for magnificent.
E is for exciting.
R is for refreshing.

Please share your favorite quote from the book::
"There's a part of me that wants to tell you to run far away and never look back, but then the other part wants to clutch you tight and never let go." ~ Evan Townsend
Please share a few Fun facts about this book…
The food references in the book are mine and my husband's favorites. Take for instance, Summer loves blueberry scones. You'll see her eating those on several occasions. Then there's the mention of apple fritters and an Asiago cheese bagel. I was thinking about Panera during those scenes.
I like to interconnect characters from my other series' into each other. In Catching Summer, you'll get to meet Jason Avery, but it just so happens that I have him as a side character in my Gloves Off series and a main character in my Armed & Dangerous series. I like to connect them so that my readers get a surprise. You never know which character is going to make a cameo appearance in my books.
Writing about football players has really made me enjoy the sport more. I never really knew the rules of the game until I had to study it. Now that I know what's going on, it's easier to keep up.
If your book was optioned for a movie, what scene would you use for the audition of the main characters and why?
There is a scene toward the beginning of the book that's one of my favorites. You can feel the sexual tension between Evan and Summer and how they cope with it. Summer reacts with sarcasm and you can totally hear it in her voice. I love strong females and I like that Summer doesn't relent so easily. Here's a little snippet from the scene:
Once out the door, I breathed a sigh of relief and slowed my pace. "Come on, Summer, stop acting like an idiot."
"Talking to yourself now?" Evan teased from behind.
I stopped mid-step and closed my eyes. "Do you enjoy provoking me?"
When he circled around me, I opened my eyes. "Not really, but I do love seeing you blush. I didn't realize I had that effect on you."
"You seriously are full of yourself, aren't you?" How could I be so stupid? There was no way in hell I could hide my face now. I didn't want him to know how flustered he made me.
Chuckling, he shook his head and kept his gray eyes solely on mine. "I'm really not. I was just hoping to hear your laugh again. I guess I didn't get enough of it yesterday."
"So, this is you flirting with me? What do you expect to gain from that?"
He took a step closer and smiled. "For starters, I was hoping to persuade you to come to my party after the game Saturday night."
My heart thumped wildly in my chest. I could feel the sweat pouring down my back. "Like what? A date?"
"Only if you want it to be. I just figured I'd save you the trouble of having to ward off my teammates. I can name three of the guys who are interested in you. My threats to stop their advances can only go so far."
"What if I didn't want to go to your party? I can easily just tell them I'm not interested."
He nodded and crossed his arms over his chest. "You could, but that doesn't mean shit to these guys. They'll keep hounding you until you give in. They love the chase."
"Just like you," I retorted with a smile.
"What can I say? I'm relentless when I want something."
If you could have given your characters one piece of advice before the opening pages of the book, what – would it be and why?
Be careful who you trust.
What are you currently working on? What other releases do you have planned for 2016?
Right now, I'm working on Intended for Bristol. It's the final book in my Second Chances series. As far as other releases, I have Defending Hayden, Last Chance, and Intended for Bristol. Those are the rest of my Second Chances novels that'll be published this year. I'm also planning on releasing a novel called, Viewing Room which I co-wrote with Heidi McLaughlin. It's the second installment in our Society X series about an elite sex club where all your fantasies can come true. And lastly, I have High-Sided which is the third book in my Armed & Dangerous series about undercover cops.

Thanks for blogging at HJ!
Giveaway:

Ebook: CATCHING SUMMER by L.P. Dover (gifted via Amazon)
To enter Giveaway: Please complete the Rafflecopter form and Post a comment to this Q:

Do you believe that everyone deserves a second chance at love? Why?
Book Info:
Former nurse Summer Jacobs has seen her fair share of suffering, but she never expected tragedy to hit so close to home. After watching her husband die in the MMA ring, Summer spends the next two years fighting her way through the darkness. The last thing she needs is another hardheaded athlete turning her life upside down. But that's exactly what happens when she meets a gridiron star who's as skilled at stealing hearts as he is at snagging passes.
Carolina Cougars wide receiver Evan Townsend usually has no problem winning fans, so he's intrigued when Summer shoots down his go-to plays for winning a woman's attention. Never one to back down from a challenge, Evan turns up the heat, setting off sparks that neither can deny. But as his slow seduction begins to chase away Summer's pain, he gets the feeling that someone is desperate to keep them apart. Now Evan will do anything to protect her—because he never misses a chance to make a perfect catch.
CATCHING SUMMER BUY LINKS:
Amazon —> http://amzn.to/20nrSun
B&N —> http://bit.ly/1QuvPcR
iBooks —> http://apple.co/1SeWw9R
Kobo —> http://bit.ly/1PhzrS4
Google Play —> http://bit.ly/1PYWy3H
Meet the Author: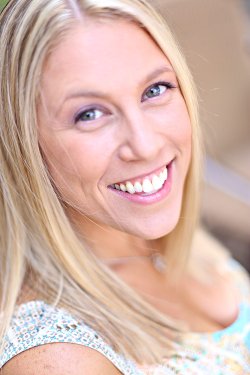 New York Times and USA Today bestselling author L. P. Dover is a southern belle living in North Carolina with her husband and two beautiful girls. Before she began her literary journey she worked in periodontics, enjoying the wonderment of dental surgeries.
She loves to write, but she also loves to play tennis, go on mountain hikes and white water rafting, and has a passion for singing. Her two youngest fans expect a concert each and every night before bedtime, usually Christmas carols.
Dover has written countless novels, including her Forever Fae series, the Second Chances series, the Gloves Off series, the Armed & Dangerous series, the Royal Shifters series, and her standalone novel Love, Lies, and Deception. Her favorite genre to read and write is romantic suspense, but if she got to choose a setting in which to live, it would be with her faeries in the Land of the Fae.
Where you can find L.P. Dover
Facebook- https://www.facebook.com/lpdover
Website- http://www.lpdover.com/
Twitter- https://twitter.com/LPDover
Goodreads- http://www.goodreads.com/author/show/6526309.L_P_Dover
Amazon- http://www.amazon.com/L.P.-Dover/e/B00AFVV8TG/ref=sr_tc_2_0?qid=1380503353&sr=8-2-ent
Pinterest – http://www.pinterest.com/LPDover/
Google +: https://plus.google.com/+LPDover/posts
Email: authorlpdover@gmail.com