Today it is my pleasure to Welcome author
Carole Mortimer
to HJ!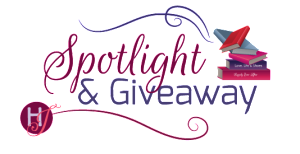 Hi Carole and welcome to HJ! We're so excited to chat with you about your new release, Challenging Gabriel (Knight Security 2)!

Hi Everyon, can you believe it's September already!

Please summarize the book for the readers here: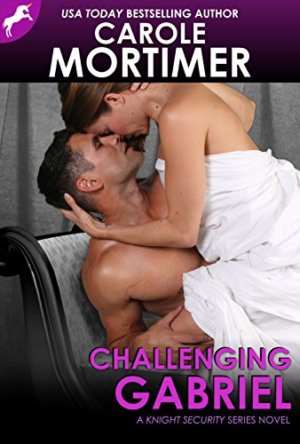 When Angel's young son is kidnapped there's only one person she can think of to help her get him back. Gabriel Knight, the man she once loved. Gabriel was a warrior eight years ago, but now he's also cold and ruthless, and he hasn't forgotten that Angel was the one who left him. Can she persuade him into helping her, or is the hurt from the past going to drive them apart once agin.

What's your favorite line(s) from the book?:
Some of Angel's anger returned at Gabriel's easy dismissal of her after almost destroying her with his kiss. "You insult me, kiss me, and now you think you can just dismiss me?" she challenged. "Well, it doesn't work like that, Gabriel. I was willing to let this go, was on the point of leaving, then you were the one who decided to kiss me as if you own me—"
"Eight years ago, I did own you, damn it!" A fire blazed in his emerald eyes.
When you sat down to start this book, what was the biggest challenge you faced? What were you most excited about?
Challenging Gabriel is the third story in the Knight Security Series, following on from Resisting Alexandre and Defying Asher, and it's always excited, and a challenge to write a book in a contuing series.
I was most excited about writing Gabriel's story. He has been a secondary charater in three of my previous book, including Savage Alpha (Alpha 8), and I have been longing to write his story. It turned out to be as emotional and exciting as I thought it would!
Please tell us a little about the characters in your book. As you wrote your protagonist was there anything about them that surprised you?
Hero – Gabriel is the eldest of the four Knight brothers. He's also the hardest and coldest, and the reason for that is explained throughout Challenging Gabriel.
Heroine – Angel was once in love with Gabriel, but circumstances ripped them apart. She's now older and wiser, but as it turns out, still very much in love with Gabriel.
Protagonist – Clive Sinclair is Angel's estranged husband, and he has no intenion of allowing Angel to take their son from him. What surprised me most about Sinclair was how truly nasty he became as the story progresses. I absolutely hated him by the end of the story!
What have you learned about your own writing process/you as an author while writing this book?
What I learned most of all is that I really do have to make notes as I go along!
I'm what you might call a pantser – I sit down and write every morning, never have the storyline, or where it's going mapped out or written down, I just write.
When you're writing a series it's really best to write some of that stuff down! Luckily I have an editor/copyeditor who loves to do that for me.

The First kiss…
"I don't think so," he murmured, his breath stirring the hair at her temple. "You not only searched for and found me here at Knight Security, but you also made an appointment to see me personally. You aren't leaving here until I know the reason why."
"It isn't important." Angel blinked to ease the sting of tears at her understatement, the absolute lie of the words she had just uttered.
The reason she had come here to ask for Gabriel's help was everything. Her sole reason for being. For getting up in the morning. For going to bed at night. For every breath she took. Everything.
But the man in front of her, this Gabriel, wasn't the same man she had known eight years ago. He was harder. Colder. In body, heart, and soul.
"Now that I've seen you again, I realize you can't help me," she said dully.
"How the fuck can you know that when you haven't told me what the problem is?"
"You can't—" Her words were cut off abruptly as Gabriel's hand curved about her chin and held her firmly in place before his mouth came crashing down on hers.
Oh God…
Angel was powerless to fight against the overwhelming need that flooded every part of her as Gabriel kept her hands pinned above her head and took full possession of her mouth. His lips savagely claimed and devoured. He kissed her long and deeply, every part of her mouth explored and laid siege to, his body hard and unyielding as he kept her pinned against the door.
Her body responded to this man, as it always had—always would? Her nipples became harder, her breathing shallow, between her thighs now a hot and liquid ache.
She gave a sob when Gabriel finally wrenched his mouth from hers. Unsure if it was a sob of need or simply relief at the ceasing of that physical onslaught.
Did any scene have you crying or laughing (or blushing) while writing it?
All of the love scenes are very sensual, intensely sexy – and yes, they all had me blushing as I wrote them.
So much so I really think you have to read them, in the context of the story, to fully appreciate that intensity of passion which has followed Angel and Gabriel from their shared past.

If your book was optioned for a movie, what scene would you use for the audition of the main characters?
I'd like to see something of when the couple first meet, to make sure the chemistry is right between them.
Whether this woman was Angel or merely a woman who looked very much like her, Gabriel felt at a complete disadvantage at being caught daydreaming in his office in the middle of the morning, when he was expecting clients. Even when he wasn't expecting clients. Jesus, Knight Security was his place of work. A serious place, where he carried out serious business. Lives depended on him keeping his shit together. Which meant he didn't allow himself to go off into fucking daydreams and getting hard-ons thinking about a woman he hadn't set eyes on in eight years.
"I'm your eleven o'clock appointment." The woman spoke evenly in that voice that was Angel's and yet somehow not. This woman's voice was cold, controlled, whereas Angel's had always been infused with life. Or screaming his name as she came.
He eyed her guardedly. "You are?"
A cool dip of her head. "I have some…business I need to discuss with you." She gave his secretary a pointed glance.
Gabriel checked the screen of his laptop. "You're Mrs. Sinclair?"
Her mouth tightened. "I am, yes."
He glanced down at her slender left hand, noting the ring finger was adorned with a thin gold wedding band. Which explained why he hadn't made the connection between her and his next appointment. If this was his Angel, then her surname had been Jones eight years ago. Angela Jones.
Angel.
His Angel.
Until she wasn't.
Readers should read this book….
I believe Gabriel is my sexiest and most intensely Alpha male hero yet! And Angel is more than a match for him.
If you're anything like me you enjoy reading a series of books, in which characters from past and future stories also make an appearance. This is also true of Challenging Gabriel. All of the Knight brothers make an appearance in Challenging Gabriel, also their sister Lily and her husband Jonas, the hero and heroine from Savage Alpha (Alpha 8)
What are you currently working on? Do you have any are up-coming releases?
I am currently writing Capturing Caleb, the 4th story in the Knight Security Series. This book is now available for pre-order, and will be released on November 30th.
October 28th – Release of Pleasured by a Duke (Regency Unlaced 7) Pre-order available
November 30th – Release of Capturing Caleb (Knight Security 3)
December 15th – Release of Seduced by a Marquis
Thanks for blogging at HJ!
Giveaway:

eBook copy, of Resisting Alexandre (Knight Security 0.5) – mobi or epub 
To enter Giveaway: Please complete the Rafflecopter form and Post a comment to this Q:

Do you enjoy reading books in a series, so that you can catch up on characters you've read about in previous books?
Excerpt from Challenging Gabriel (Knight Security 2):
A blonde brow arched over mocking gray eyes. "Are you going to need her, Gabriel?"
Fuck, this woman certainly treated him like Angel had. He had been thirty years old eight years ago, a soldier, a trained warrior, but Angel had never been in the least frightened or in awe of him. As so many others had been, and still were.
Gabriel might have tried to convince himself—hoped—this wasn't Angel, but he knew, in his heart of hearts, it was her. She might look different, act different, but the reaction of his cock didn't lie. That part of him had known Angel was somewhere near long before Gabriel's other senses had. There might have been an office wall between them, but he had no doubt her perfume must have wafted through that barrier, and the slightest hint of that perfume had transported him back eight years in time. To Angel. To the hunter and the hunted.
"Are you?" she challenged.
Fuck, he had to stop staring at her as if she were an apparition, and start behaving like Gabriel Knight, CEO of Knight Security. One of, possibly the most, prestigious security companies in the world. As Gabriel Knight, head of that company, was known to be one of the scariest bastards in that same world.
He might have a more sophisticated appearance too, in his tailored suits, and silk shirts and ties. But underneath those civilized trappings he was still the same man who would walk straight over, or through, anyone who tried to get in the way of what he wanted.
As he had once wanted Angel to the point of obsession.
"Doubtful," he drawled.
Excerpts. © Reprinted by permission. All rights reserved.
Book Info:
When Angel's son is taken there is only one man she can turn to for help. Gabriel Knight, CEO of Knight Security. Unfortunately he's also the last man she should go anywhere near, ever again. He's hard and cynical, utterly ruthless, and the last time the two of them met did not end well.
When Angel Sinclair walks back into Gabriel's life, utterly beautiful, and just as much of a threat as ever to his ordered life, his first instinct is to tell her to leave and never come back.
But no matter what happened between the two of them in the past, or how badly it ended, Gabriel isn't cold enough to turn his back on Angel when she explains her son, Daniel, has been kidnapped. She has been warned not to go to the police, and given a limited time to give the kidnapper what he wants. If she fails to follow either of those instructions she will never see Daniel again.
Can the two of them forget the hurts of the past, and work together to save the life of an innocent seven year old boy?
Meet the Author: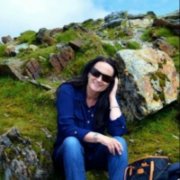 Carole Mortimer has written 220 books, in contemporary and Regency romance, and is the Recipient of the prestigious 2015 Romance Writers of America's Lifetime Achievement Award. She is an Entertainment Weekly Top 10 Romance Author—ever. 2014 Romantic Times Pioneer of Romance. Was recognized by Queen Elizabeth II in 2012, for her "outstanding service to literature".
Website | Facebook | Twitter |