Today it is my pleasure to welcome romance author

Amber Lin

to HJ!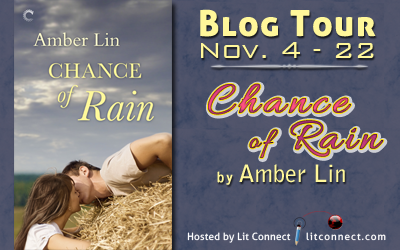 Writing With Fairytales, Writing Contemporary
One of the things I like to think about is the relationship between fiction and reality. I write contemporary romance, so they overlap a great deal. After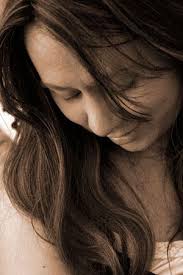 all, there is romance all around me. And yet, when we read, we're looking for something a little sharper, a little deeper, and how do you define that? There is some kind of magic in contemporary romance that competes with the adventure of a paranormal or the time travel of a historical, and how can I capture it?
My concept for Chance of Rain was actually to take something paranormal and bring it down to earth. What does a superhero look like in real life? So I made him a Navy SEAL, one who is strong and powerful and competent… and then I turned the paradigm on its head and imagined him hiding out in his barn. He's only human, and everyone has secrets. Everyone is afraid of something, even a man who has been around the world and fought through the scariest situations.
It would take a strong heroine to break through to him—and later, to support him through the rough patches of their HEA. I wanted her to be this almost invincible spirit. She is a superhero too, come to life. Except her weapons are a pin roller and an apron. Her battleground is the diner she owns.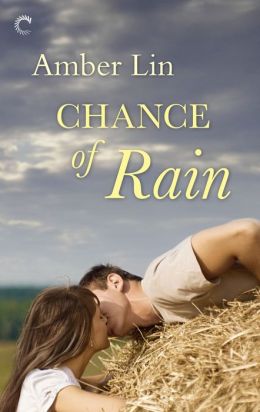 She's friendly and caring; she gives and gives, but she too is only human. We all long for something.
There is a fairy tale in every story. Even in contemporary books, it's there beneath the surface. I whispered the words aloud in Chance of Rain. Check out this excerpt to find out what it was. We're the hero's point of view during a rough moment between them…
Sawyer followed Natalie through the back door and saw her standing out away from the house, near the barn. Wind whipped her hair around her face and drew the lines of her body beneath her dress. Her stance was tall and proud, but there was something forlorn about her. He remembered watching her as she slept, the puzzling sense that she was alone in a crowd.

In his youthful frustration, he had only been able to see his father through the lens of his wants, his needs. With Natalie, it had been the same way. This is what you are to me. His father had demanded too much from him, and she too little. His father was the wrathful sea, driving him farther away from home. She was sweet Penelope, someone to long for. He had left them both, with so much to prove, so damned self-centered he had barely seen past her pretty smile.

He thought of the courage it had taken to drive to his barn and ask him out when their last real intimacy, in high school, had ended with him callously rejecting her. He thought of the strength it took to run the diner on her own. Now he wondered, Who are you away from me? What do you long for?
I fully believe in the idea that it's all been done before. There is no storyline or discovery completely new—and that's by design really. We write about the human experience, and it only makes sense if these emotions are real.
As authors, we draw threads from the past, even if that means taking an ancient epic poem and setting its aftermath in the rolling hills of central Texas. Even if it means the hero of the tale has the most to answer for and the heroine saves the day.
Thank you for having me on Harlequin Junkies! I hope you'll consider checking out Chance of Rain, and please do tweet me at @authoramberlin and let me know how it goes ☺
Giveaway: 

$10 eGC to Amazon or Barnes & Noble (winner's choice).
To enter Giveaway: Please complete the Rafflecopter form and leave a comment:

Do you believe "There is a fairy tale" in REAL life stories beneath the surface? Why?
Back Cover:
The only things Natalie Bouchard wants to change are the weekly specials in her Gram's diner. So when her high school sweetheart strolls back into Dearling, Texas, she allows herself to indulge in a little flirtation, but that's as far as it goes.
Navy SEAL Sawyer Nolan has returned to sell his father's land and get the hell out, no matter how enticing he still finds Natalie. Until a storm rolls over the Texas hills, stranding them together at the farm…and the memories of their steamy past lead to a reunion filled with hot days and long nights.
Soon Natalie's so far under Sawyer's skin he can't imagine being without her. But he has a lot of history in Dearling he'd like to leave behind, and Natalie is practically married to this town. If Sawyer wants to be more than just another person who leaves Natalie, he'll have to give his hometown—and himself—one more chance.
Chance of Rain by Amber Lin
Genre: Contemporary Romance
Tone: Playful, Emotional
Heat Level: Very, very sexy
Elements/Tags: Small town/country/farm, Navy SEAL/miltary, second chance romance, cabin romance
Publisher: Carina Press
Publishing Date: November 4
Series: N/A
Format: Digital
Words: 48K
Goodreads | Buy Links: Amazon | Barnes & Noble
Blog Tour Giveaway Details:
One lucky winner will win an award-winning cherry pie via the acclaimed Grand Traverse Pie Company (http://gtpie.com/) (US shipping only), and one lucky commenter will win a $50 eGC to Amazon.com. a Rafflecopter giveaway
Meet Author Amber Lin:
Amber Lin writes sexy romance with damaged hearts and redemptive love. Her novel Giving It Up received The Romance Reviews Top Pick, a Night Owl Review Top Pick, and was called "truly extraordinary" by RT Book Reviews. The sequel, Selling Out, follows a prostitute and a cop as modern day forbidden lovers.
"Amber's work cuts deeper than that of anybody else I can think of — her prose is beautiful, the dark emotions are darker, the sex is sexier." – Ruthie Knox, USA Today bestselling author of Along Came Trouble
Amber married her high school sweetheart, birthed a kid who's smarter than she is, and spends her nights writing down her dirty thoughts. In other words, life is good. Stop by and say hello!
Website: http://www.authoramberlin.com/
Twitter: https://twitter.com/authoramberlin
Facebook: https://www.facebook.com/authoramberlin