Today, HJ is pleased to share with you

Melissa Foster's

new release: 

Chased by Love

Chased by Love is the third stand-alone novel in the Ryder series from New York Times and USA Today bestselling contemporary romance author Melissa Foster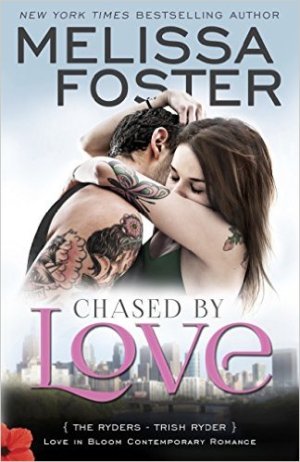 Actress Trish Ryder takes her job seriously and has no time for those who don't. When she's awarded a major role in a new movie featuring America's hottest rock star, Boone Stryker, she's beyond excited. The six-two, tattooed hunk of burning desire is known for his dedication to his craft–but when he ditches their first meeting, she begins to wonder if he's just another rocker with a great PR team.

Sex, booze, women, and music pretty much sum up Boone Stryker's private world. He's coasted through life playing by his own rules with plenty of people willing to cover his tracks, and he's not likely to change–until he meets a woman who refuses to give him the time of day, much less anything more.

Sparks fly from the first moment Trish and Boone meet–Tensions run hot and desire runs hotter when they're trapped together on a remote location with no place to hide. Will sparks ignite, or will a hurricane douse the flames?

Read an exclusive excerpt from Chased by Love: 
"Trish, it was just a kiss."
"Yes! And I am not a groupie. You sucked me right in with your amazing stage presence and the way you were looking at me." She crossed her arms and leaned back against the car. "I can't believe I kissed you!"
He shoved the keys in his pocket and walked over to her. His eyes narrowed, and his plump, very kissable lips—the lips she now knew tasted like heaven and sweet, sinful pleasure—curved into a wicked grin. He pulled her from the car and wrapped her arms around his neck, as he'd done on the dance floor, and her heart went wild. It was presumptive and arrogant and she did not want to pull away even though she should, but she fought against that stupid-girl part of her brain.
"What do you think you're doing?"
"You said you can't believe you kissed me, but that kiss wasn't the kiss of someone who didn't want to kiss me." He pressed his hands flat against her lower back, keeping their bodies flush.
She felt every inch of his hard body, and he was hard. Everywhere. She was sure he could feel the effect he was having on her because her nipples were poking into his chest and her legs were trembling. Her senses whirled and she tried and tried to force them to a halt, but it was like trying to slow wild horses.
"Don't even try to kiss me."
"Don't worry, beautiful. I'm not who you think I am."
"Stop calling me 'beautiful.' For a guy who says he doesn't know how to pretend, you're doing a damn good job of it." She pressed her lips together, but he smelled so good, and his body—God, his body. She wanted to drag him into the car and feel the weight of him on top of her as they made out like teenagers.
"You still think you've got me figured out." He shook his head, and she wanted to slap that smug smile off his face, but his eyes were confusing her with their mix of adorable puppy pleas and you-know-you-want-me arrogance.
"If you're not going to try to kiss me, then what are you doing?" And why don't you want to kiss me?
"Just giving you a chance to decide if you really did or didn't want to kiss me."
"Oh, I know I didn't." She looked away, just in case her nose grew with the lie.
He tightened his grip. "Okay. Sixty seconds."
"Huh?"
"We'll just stand here for sixty seconds. If after sixty seconds you still don't want to kiss me, we'll chalk this up to getting caught up in the moment."
"Fine!"
His hand moved over her, slow and firm, blazing a path up her back. He curled his fingers over her shoulder and gave it a gentle squeeze, holding her so tight she was sure he felt the frantic beat of her heart. His other arm circled her waist, and his fingers curled around her hip. His whiskey eyes smoldered, as dark and mysterious as the night sky.
Despite herself, all the air whooshed from her lungs and she arched against him, aching for his touch. Her lips tingled with anticipation, but somewhere in the back of her mind an image shook free of him walking with his arm around the blonde, and the groupies around his trailer. And she managed, "You have a girlfriend."
"Wrong."
"The blonde?" Guys lied. She knew that. She'd seen him with his arm around the woman, and the scene had been very cozy.
"Honor West. She's one of my best friends. Like a sister."
A sister? "Usually people don't sleep with their sisters."
"Oh, so now I've slept with Honor?" An amused smile lifted his lips. "Very judgy of you."
"I'm sure you have a hundred other women going through your revolving bedroom door, and I don't intend to be one of them."
That wiped the amusement off his face and replaced it with a look she wanted to run from. His eyes bored into her, silently sending a message of disbelief and honesty she was afraid to trust. Because guys lied.
He tightened his grip again.
A needy whimper escaped, and she clamped her mouth shut. Despite her hesitation, she wanted to kiss him so badly she could taste him, could feel his tongue sliding over hers and the press of those full, soft lips. This was crazy, standing so close to him, but she didn't want to walk away. She couldn't remember a time when she'd been as acutely aware of every point where her body touched a man, or every breath another person took. He wasn't running. He wasn't deflecting. He was fully present, and she found that so compelling it frightened her.
He reached up and touched her cheek, still holding her tight with one arm.
"What are you afraid of?"
He asked it in such a gentle, caring voice, had she not seen him speak, she wouldn't have believed it came from him. Her answer came without thought.
"You."
Excerpt. ©Melissa Foster. Posted by arrangement with the publisher. All rights reserved.


Giveaway:

Two Ebook Copies of SEIZED BY LOVE, 1st in Ryders Series
To enter Giveaway: Please complete the Rafflecopter form and post a comment to this Q:

What did you think of the excerpt spotlighted here? Leave a comment with your thoughts on the book…
Meet the Author: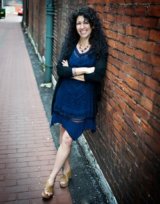 Melissa Foster is a New York Times & USA Today bestselling and award-winning author. She writes sexy and heartwarming contemporary romance, new adult romance, and women's fiction with emotionally compelling characters that stay with you long after you turn the last page. Melissa's emotional journeys are lovingly erotic, perfect beach reads, and always family oriented.

Author Links:  Website | Facebook | Twitter | Goodreads |Newsletter

Buy Links:      Amazon | B & N | Google | iTunes | Kobo