Today it is my pleasure to Welcome author
Karen Rock
to HJ!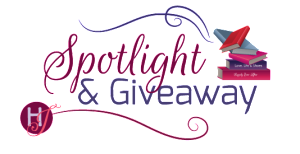 Hi Karen and welcome to HJ! We're so excited to chat with you about your new release, Christmas at Cade Ranch!

Hi, Everyone! It's a pleasure to be on Harlequin Junkie Spotlight today.

Please summarize the book for the readers here: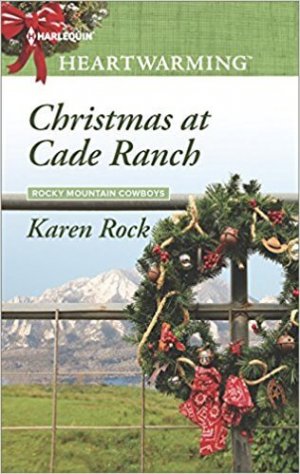 Christmas at Cade Ranch, Book One of my new series Rocky Mountain Cowboys, is a holiday romance novel out in 11/17. It involves James Cade, second oldest brother and Cade Ranch's manager. James is fiercely protective of his family and takes his responsibility of keeping them safe from outside threats seriously, especially after they lost their youngest brother, Jesse to vicious murderers. He's shocked to discover that Jesse had a child when the boy's beautiful, enigmatic mother arrives on his doorstep. He senses there's more to Sofia's story than she's telling and he's determined to uncover what she's hiding in case her secrets threaten the peace of his still grieving family. What he doesn't expect to discover are his strong feelings for a woman he regards as off-limits. Yet the magic of Christmas heals all wounds and brings this deserving couple the love and family they need.

Please share the opening lines of this book:
"IS DADDY DOWN THERE?"
Sofia Gallardo knelt beside her five-year-old son, Javi, on frozen grass, and snuggled him close. All around them, poinsettia and pine cone Christmas wreaths bedecked the surrounding gravesites.
Please share a few Fun facts about this book…
The book's heroine, Sofia Gallardo, was originally a single-mother on the run from her drug cartel family but morphed into a recovering opioid addict single mother who's on the run from her past self . (not a big change at all…lol)
The gaudy, fake Christmas tree Javi, the heroine's five-year-old son, begs the Cades to bid on at the Christmas festival (a rotating tree complete with glitter-covered balls, disco-lights and white, spray-painted branches), is modeled after the one my neighbor owned when I was Javi's age. I always wished I'd had one just like it when I was a kid!
A scene where the heroine, Sofia, sings the wrong lyrics to Drift Away, singing "Give me the Beach Boys" instead of "Give me the beat boys" is modeled after my husband and I. Early into our dating, Greg corrected me on this very song and I thought he was nuts until he played it back to me five times…lol
Joy Cade, matriarch of the Cade clan, is obsessed with matching. She calls it a lifestyle. Her character is based on a wonderful neighbor I once had who not only had to match colors, but shades, too…
The "debate" the hero and heroine have about how many packages of chocolate chips she needs for the holiday baking is pretty much a word-for-word "debate" my husband and I have had every year for the last twenty-five years. I always think, this year he'll trust me on this, but no… it's always the same question: We don't really need eight packages of chocolate chips, do we?
Please tell us a little about the characters in your book. As you wrote your protagonist was there anything about them that surprised you?
Sofia is a former drug addict, felon, high school dropout who turned her life around six years ago when she discovered she was pregnant by the man she'd met in rehab, Jesse Cade, and believed she'd marry. When he relapsed, she kicked him out, unwilling to ever have drugs around her son. Since then, she's struggled to make ends meet and has, at times, been forced to live in homeless shelters with her five-year-old son Javi. As she was raised by a strict, authoritarian father, she's a bit of a free spirit. What surprised me about Sofia is that her true strength and recovery came from being able to admit and face her struggles and weaknesses. She's a great mom who got clean for her son, but she needed to get clean for herself, too.
My hero, James Cade is authoritarian, protective and likes to be in control. The ranch's manager and second oldest brother. James is a man most comfortable in an environment that he controls. He blames himself for not having kept out the elements that tempted his younger brother, Jesse Cade, to drugs and led to his murder. Since then, he rules the ranch with a tight grip and is suspicious of strangers interfering with the peace he's restored. He's a tall, gruff, rugged cowboy with old-fashioned manners and deep loyalty to his loved ones. What surprised me about James is that beneath is strong, tough exterior beats a tender, loving loyal heart.
If your book was optioned for a movie, what scene would you use for the audition of the main characters and why?
James nodded. "Ma's right. Jesse would want us to be happy. He cared about that most of all."

Suddenly, the heaviness that'd been buckling his shoulders since Jesse's death eased. The grief, the remorse he'd been carrying all these years was his own making. Not Jesse's. He saw that now.

Jesse would want him to be happy. And nothing made him happier than Sofia.

And Javi.

"You care about others as much as Jesse did," Sofia insisted and her indignant expression, her defense of him, stirred him deeply. "You just show it differently. I used to believe you wanted to control me because you didn't think enough of me, and maybe that was true at first. Now I know it's coming from a good place. You just want to keep everyone safe."

"Protected," he murmured, touched that she alone understood him. It felt like a homecoming. "I want to be that person for you and Javi. Controlling you or anyone is wrong, but I'll always be the kind of man that looks out for others, especially my family."

"Am I part of your family?" She choked up a bit on the last word. His eyes whizzed to the ceiling and he blinked fast, thinking about her lonely, difficult life.

With every breath he took while on this earth, he'd make it all up to her.

"Yes. More than that, even."
What do you want people to take away from reading this book?
I want readers to take away from reading the book that with faith, love, hard work and support, addiction can be overcome. The path to healing is about accepting yourself and learning to feel worthy of love and happiness. My heroine, Sofia, feels ashamed of her past, yet she learns that our true strength is revealed only when we are tested. Overcoming challenges is something to be proud of, as my hero James says, when he kisses the scars left behind from Sofia's drug use. Those marks are a badge of honor, showing she's a fighter, a survivor. Since addiction is a growing epidemic in our country, with many families touched by it, I hope Sofia's journey, and the Cade family's journey, as they heal from the loss of their family member, Jesse, to addiction, is a source of inspiration and a path to healing during the holiday season.
What are you currently working on? What other releases do you have planned for 2017?
I'm currently working on Book Four in my Rocky Mountain Cowboy's series. In this book, we will finally solve the overarching mystery in the series involving a kidnapping, murder and a priceless jewel theft that started the one hundred and twenty year feud between the Cades and their ranching neighbors, the Lovelands. Also, the forbidden romance between the heads of the Cade and Loveland clans also culminates in Book Four, so it's a lot of fun to write! Releases planned for 2017 are Falling for a Cowboy (Rocky Mountain Cowboys Book 2) in January 2018, Dangerous Moves (Dallas After Dark series Book 1) in February 2018, Bad Boy Rancher (Rocky Mountain Cowboys Book 3) in April 2018, Deadly Games (Dallas After Dark Book 2) in Summer 2018, A Cowboy's Pride (Rocky Mountain Cowboys Book 4) in early Fall 2018, Wicked Nights (Dallas After Dark Book 3) in early Winter 2018.

Thanks for blogging at HJ!
Giveaway:

I'm giving away a $15 Amazon giftcard and the prequel to the Rocky Mountain Cowboys series, A Cowboy to Keep.
To enter Giveaway: Please complete the Rafflecopter form and Post a comment to this Q:

Sofia is a recovering addict and deserving of a fresh start in life. Have you ever started over or helped/supported someone starting over? What did you find helped the most?
Excerpt from Christmas at Cade Ranch:
"Honey, you'll always be an addict." Sofia cringed inside the down jacket Joy patted. "One of my biggest regrets with Jesse was how I always tried carrying on like normal, thinking if I gave him the same loving home as always, he'd come to his senses and become himself again."

Sofia startled. Wasn't that what she was trying to do with her own life? Portland would give her a chance at a normal existence without reminders of who she'd been.

"You loved him, Joy." She blinked her eyes against the stinging rush rising inside them.

"Yes. But he also needed my understanding. My unconditional love. He needed me to love and support him for who he was, not who I wanted him to be. I never accepted that side of him, and he must have felt so lonely."

"You were doing your best," Sofia murmured, thinking of herself and how lonely she'd been as an addict, a sensation she could only escape with the next hit. Would she feel lonely again when Javi grew up and moved out? Would her addiction return to fill the void without, as James put it, Javi to stay sober for?

Joy pressed the end of her scarf to each eye while her other hand kept pat-pat-patting away at any part of Sofia it could reach.

"I was being selfish, honey. Jesse had changed and I wouldn't change with him. I lied to myself and acted like his time in rehab was just him leaving home for a spell. And when he was passed out, I told myself he was sick and made him soup. When he came home, I never asked any questions. The less said, the quicker we could move on. Pretend like it didn't happen. Stuck my head right in the sand and lost my baby because of it."

Joy dropped her head in her hands and her shoulders shook.

"Oh, Joy. No. No. It's not your fault." Sofia wished for a safe spot to pull over but the road's shoulders were piling up with snow right out into the lane.

"It is my fault. I'm his mother and I failed him. There just isn't anything worse you can do in life than fail your own children."

The air in the car pressed humid and close. "Jesse wouldn't blame you, Joy."

Joy lifted her head and pressed her scarf to her damp cheeks. "He wouldn't. But that doesn't make it any less true. But now that you're here, I have a second chance to get this right."

Sofia's heart thumped. Javi had brought Joy out of her grief. Would she fall back into her depression when they left for Portland? And what about her own feelings? She hated thinking about leaving a place, a group of people that were becoming more and more dear to her…a family.

"I'm so grateful for everything you're doing for Javi." Sofia gently pressed the brake, careful not to lock up as the wind swept a wide swath of snow from one side of the road to the other.

"I wasn't talking about Javi."

Sofia flicked her a surprised sideways glance. "What?"

"You're my second chance, Sofia. I can get this right by showing you that I care and accept you for who you are. Yes. Part of that person is an addict. And that might be the part of you I care about most since it's the part that's the hardest to love and the most deserving. If I'd loved Jesse—all of Jesse—that way, maybe he wouldn't have hidden himself from me."

Sofia felt a strange numb sensation begin in her feet, steal up her legs, then into her chest and heart, stopping it momentarily.

"You love me?"

No one had ever loved her for her…all of her.

"I do. And Javi does, too. Don't ever hide any bit of yourself. Be proud of your struggles, your failures. They make you who you are, a better, stronger person."

"I don't always feel strong." Her gut clenched at the admission. She needed to believe in her own invincibility. Never wanted to think of the chinks in her armor. She ran from anyone or anything that shone too bright a light on those weaknesses.

Like James.

Yet he'd almost kissed her, and somehow, in that moment, she'd felt worthy of it.

Was she deserving of love? Acceptance?
Excerpt. © Reprinted by permission. All rights reserved.


Book Info:
The Christmas they never had.
James Cade has one priority: keep the family ranch running smoothly in the wake of his younger brother's death. With Jesse's ex, Sofia Gallardo, and her young son, Javi, stranded at Cade Ranch over Christmas, this task just got a lot harder. The longer Sofia and Javi stay, the harder it is to imagine the ranch without them. James couldn't save his brother from his inner demons, but he can give his nephew a secure future. Maybe more—if he can figure out how to trust Sofia, and stop feeling like he's betraying Jesse. Because trying to stop thinking about beautiful, determined Sofia is impossible.
Book Links:


Meet the Author: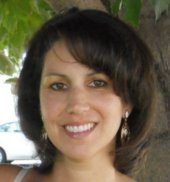 Award-winning author Karen Rock is both sweet and spicy—at least when it comes to her writing! The author of both YA and adult contemporary books writes sexy suspense novels and small-town romances for Harlequin and Kensington publishing. A strong believer in Happily-Ever-After, Karen loves creating unforgettable stories that leave her readers with a smile. When she's not writing, Karen is an avid reader who also loves cooking her grandmother's Italian recipes, baking, and having the Adirondack Park wilderness as her backyard, where she lives with her husband, daughter, dog and cat who keep her life interesting and complete. Learn more about her at http://www.karenrock.com or follow her on twitter at http://www.twitter.com/karenrock5.
Website | Facebook | Twitter | Instagram | GoodReads |