Today it is my pleasure to Welcome author
Jennifer Hayward
to HJ!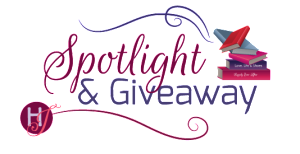 Hi Jennifer and welcome to HJ! We're so excited to chat with you about your new release, Christmas at the Tycoon's Command!

Happy holidays to you all! So happy to be here talking holiday romance with you..

Please summarize the book for the readers here: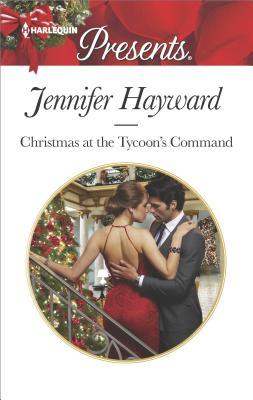 Perfumer, Chloe Russo, is dreading her first Christmas running the family business after the loss of her parents shattered her world. Working with Nico Di Fiore, her father's brilliant protégé, as she attempts to launch the perfume of the season might just be the last straw. Tasked with saving her family legacy, Nico is also the man who brutally broke her heart.
Chloe thought putting an ocean between her and Nico would cure her of her susceptability to him, but as the snowflurries fly and the heat builds, she's disconcerted to find nothing can protect her against Nico's magnetic pull. Could it just be that the one man who shattered her into pieces is the only one who can put her back together?

Please share the opening lines of this book:
She was not losing this one.
Chloe Russo fixed her gaze on the bright yellow taxi that had appeared like an apparition from heaven in the ferociously snarled First Avenue traffic, its lit number her only chance at salvation in the monsoon that had descended over Manhattan.
Shielding her eyes from the driving rain, she stepped a foot deeper into the layers of honking, snarling traffic and jammed her hand high in the air. The driver of a Bentley sounded his horn furiously as he swerved to avoid her, but Chloe, heart pounding, kept her eyes glued to the taxi driver's face, willing him to stop.
Please share a few Fun facts about this book…
I used to have a career in PR, so writing this book was particularly fun for me! I loved watching Chloe put her dazzling, multi-million-dollar launch plan into effect to conjure up the most buzzed-about Christmas campaign of the season. Real-life Hollywood was a compelling inspiration for me!
Please tell us a little about the characters in your book. As you wrote your protagonist was there anything about them that surprised you?
My heroine, Chloe's, bravery surprised me. She's grown up in the shadow of her charismatic mother, who founded a perfume empire and her beautiful sister, Mireille. She's a scientist. She's more comfortable working in the lab than she is in the limelight. But when she's forced to step into her mother's shoes, she truly comes into her own. The way she goes after what she wants was inspiring to me. And when she propositions Nico to one of the no-string-attached affairs he specializes in, poor Nico doesn't know what to do with her. I just loved to watch her bloom and take Nico apart, piece by piece.
If your book was optioned for a movie, what scene would you use for the audition of the main characters and why?
The opening scene, I think. There's such drama and emotion to it. I think it perfectly encapsulates who Nico and Chloe are and sets you up for the rollercoaster ride that ensues.
To set the stage: Nico has ordered Chloe home from Paris where she's been putting the finishing touches on her dream—her own perfume line. In the wake of her mother's death, Evolution desperately needs a Christmas hit to show the magic is still there. Chloe is desperately afraid to see Nico again, because she's scared she still has feelings for him. But the reality, in fact, is oh so much worse as she walks into her first board meeting with Nico at the helm.
A frozen feeling descended over Chloe as she stood staring up at the giant gold letters that spelled out Evolution on the front of the building. Her parents—Martino and Juliette Russo had spent two decades building Evolution into a legendary cosmetics brand. They had been the heart and soul of the company. Of her.
She hadn't been in the building since she'd lost them, buried in work in the Paris lab. The thought of going in there now without them present seemed like the final admission they were gone and she couldn't quite seem to do it.
The crowd parted like a river around her as she stood there, heart in her mouth, feet glued to the concrete. A woman in a Gucci raincoat finally jolted her out of her suspended state, crankily advising her to "move on". Her fingers clutched tight around her bag, she made her way through the glass doors, presented the security guard with her credentials and rode the elevator to the fiftieth floor where Evolution's executive offices overlooked Central Park.
A slim, blonde-haired woman with trendy glasses pounced on her as she emerged into the elegant cream marble reception area. "Clara Jones, your new PA," the blonde introduced herself, relieving Chloe of her dripping raincoat in the same breath. "You're the last to arrive. Nico is—well you know—" she said, giving Chloe a meaningful look, "he likes to start on time."
Her heart crawled into her throat. "I couldn't get a cab."
"It is awful out there."
Clara led Chloe down the hall toward the large, plush conference room with its expansive view of a wintry, lamp lit Central Park. "Nico gave me your presentation. It's ready to go."
Now if only she was. Memories deluged her as she stood surveying the crowded, warmly-lit room full of Evolution board members and directors enjoying a glass of wine and hors d'oeuvres before the meeting began. Of her father manning the seat at the head of the table that Nico now would as the Chairman of the Board. Of her mother swanning around, captivating the executives with her sparkling wit and charm.
Her stomach swam with nerves. She was a scientist. Her mother had been a self-made genius with a larger-than-life personality who'd created a multi-billion-dollar empire out of a tiny bath products company she'd founded to serve her husband's financial clientele. Chloe was far more comfortable in the lab creating beautiful things than presenting to a stiff-suited board like her mother had been. But this was her job now. A necessary evil.
Any nerves about her presentation, however, faded to the background as Nico spotted her. Clad in a sleek, dark grey, Tom Ford suit, the white shirt and silver tie he wore beneath it making the most of his dark good looks and olive skin, he was faultlessly elegant. It was when she lifted her gaze to his that she realized just how much trouble she was in.
His lips set in a flat line, jaw locked, smoky grey gaze full of thunderclouds, he was furious. Fingers of ice crept up her spine as he murmured something to the board member he was speaking with, then set his tall, impressive frame into motion, eating up the distance between them. Clara took one look at his face, muttered something about checking the AV equipment and disappeared.
Chloe heart ricocheted in a hard drumbeat against her ribs as Nico came to a halt in front of her. She tipped her head back to look up at him, refusing to reveal how much he intimidated her. With his leonine dark head, cold, slate-blue eyes and cheekbones at forty-five degrees, he couldn't quite be called handsome in the traditional sense because he was far too hard for that.
His wide, full mouth made up for that lack of softness, however—lush and almost pouty when he wanted to seduce a response out of the person in question. Which was not now.
What do you want people to take away from reading this book?
That fear is a state of mind. Chloe is afraid to engage with the world because she's never felt good enough. Not good enough to live up to her mother's brilliance nor good enough to rival her beautiful sister's extroverted sparkle. So she avoids the world, hiding away in her lab. But when she's forced to step into her mother's shoes, she has to face her fears. She learns running from her fears was easier than facing them, but when she confronts them head-on, she finds a strength and courage she never knew she had.
What are you currently working on? What other releases do you have planned for 2017?
I'm working on Lazzero's story, book two of the Powerful Di Fiore Tycoons trilogy, coming next in His Million-Dollar Marriage Proposal. I can't wait for you to read his story!

Thanks for blogging at HJ!
Giveaway:

Two signed copies of Christmas at the Tycoon's Command, open internationally.
To enter Giveaway: Please complete the Rafflecopter form and Post a comment to this Q:

My biggest fear growing up was just like Chloe's—that I would never be good enough. My lack of confidence in myself. What is a fear you've overcome?
Excerpt from Christmas at the Tycoon's Command:
Here's a snippet of that scene I mentioned, where Chloe goes for broke and pursues the thing she's always wanted most of all–Nico.
"Are you almost finished here? It's late. I can drive you home."
"No, I have more to do. I—" She jammed her teeth into her lip and stared at him.
"What?"
"You're avoiding me and you're snapping at me in meetings."
Caught utterly off guard, he kept his face impassive. "I am not avoiding you."
"You cancelled three of our meetings this week, Nico."
"I am busy running the goddamned company, in case you hadn't noticed."
She pursed her lips, long, dark lashes fanning down over her cheeks. "That's what you said to me about me hiding in Paris. I think you're doing the same with us."
She was right. Absolutely right. He had been avoiding her, because his lust was a problem. But he wasn't about to admit it.
"You're imagining it," he said blithely.
"Am I?" Her gaze remained unwavering on his. "Are you punishing me for what happened in Palm Beach?"
"Yes," he agreed, voice heavy with sarcasm, "I am punishing you, Chloe. As we make 50-million-dollar decisions together."
Her gaze dropped to her stocking-clad feet for a moment before she looked back up at him. "I can't get what happened between us that night at the pool out of my head. The way it was between us. I don't think either of us can. I think we need to address it."
His gaze narrowed. "What exactly are you suggesting?"
"I want to explore what we have. I want to know what that kind of passion feels like. No strings attached."
His jaw dropped. "You're suggesting we have an affair?"
"Yes."
His head pounded, like a grenade ready to go off. Was she really standing there, calming suggesting they have an affair? The no-strings attached type he specialized in?
She was insane.
Excerpt. © Reprinted by permission. All rights reserved.

Book Info:
Billionaire boss's festive seduction!
Shy Chloe Russo is dreading her first Christmas running the family business. Working with Nico Di Fiore is the last straw! Once, Nico's kisses promised Chloe every sensual delight, until he coldly rejected her. Now he's her very commanding, very arrogant boss!
Control is paramount to Nico—after his father's bankruptcy lost him everything, nothing will distract him from succeeding. He's always kept a tight rein on his craving for Chloe, well aware she alone has the power to disarm him. But now, unable to deny their connection, Nico is determined to reclaim control and take Chloe as his own!
Book Links:

Meet the Author: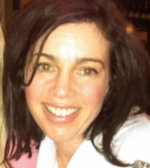 Award-winning author JENNIFER HAYWARD has been a fan of romance since filching her sister's novels to escape her teenaged angst.
Jennifer emerged on the publishing scene when she won Harlequin's So You Think You Can Write global writing competition in 2012. She is the Romantic Times Magazine Reviewer's Choice Best Harlequin Presents of 2014 winner for her book, The Magnate's Manifesto.
Jennifer's career in journalism and PR, including years of working alongside powerful, charismatic CEOs and traveling the world, has provided perfect fodder for the fast-paced, sexy stories she likes to write, always with a touch of humour.
Website | Facebook | Twitter | GoodReads |