Today it is my pleasure to welcome back New York Times and USA Today bestselling author Bella Andre to HJ! 
Bella what would you say are the defining characteristics of a Bella Andre novel?
Emotional, heartwarming, fun and sexy.
Congrats on signing a deal with Harlequin Mira…what can you tell us about it?
I'm thrilled to have signed a ground breaking deal for global English language print distribution rights to my Sullivan series. The first 8 Sullivan books will be released back to back from June 2013 to April 2014 in the US, Canada, UK and Australia. Harlequin MIRA is pulling out the stops around the world and the paperbacks are going to be absolutely beautiful…and available everywhere paperbacks are sold. I will still continue to publish the ebooks and audiobooks as I always have.
In your opinion, what ingredients are needed to make up a good love story?
One lovable heroine, one sexy hero, a really emotional connection between them…and several red-hot love scenes don't hurt either.
If you had to pick one book that made the biggest impression on you in 2012… ? Why?
I'd be lying if I didn't say the 50 Shades trilogy made a huge impact. I enjoyed the books, plus it was interesting to see the way the entire world went crazy for them.
What are you currently working on? What can we expect from you in 2013?
ALWAYS ON MY MIND, the eight Sullivan book, will be out March 5th (and is now available for pre-order at Amazon, Apple & Kobo). In the summer of 2013, I will introduce the Seattle Sullivans with Rafe Sullivan, my sexy P.I. Sullivan cousin! Plus, I have a new series with *super* sexy Alpha heroes that I'm hoping to be able to launch this year as well. And this winter, I will write a very special holiday story for Mary Sullivan.
Let's talk about your newest release 'Come A Little Bit Closer'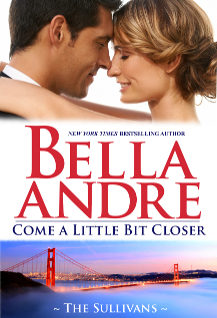 COME A LITTLE BIT CLOSER features Smith Sullivan, a movie star who falls for Valentina, the manager and sister of his latest co-star. He's had his years of sowing his oats and when he meets Valentina, he immediately knows she's the one for him. But she's not so sure…and Smith must work harder than he ever has for anything to convince her that their love can go the distance.
If you had to sum up 'Come A Little Bit Closer' for the reader here…
A movie star who's ready for love, a regular woman who's afraid that his love can't possibly be real, and the fairy tale romance that becomes real.
What was your inspiration behind this story?
The Sullivan heroes are all sexy, sweet and a little bit larger than life. In a family with a professional athlete (LET ME BE THE ONE), a firefighter (CAN'T HELP FALLING IN LOVE), and a jetsetting photographer (THE LOOK OF LOVE) I knew one of them had to be a famous actor…which led me to Smith Sullivan.
If you had to pick your favorite scene from 'Come A Little Bit Closer'…
I always fall in love with the family scenes because I love it when all my Sullivans are together. Let's just say there's a scene that features a new addition to The Sullivan family that I sniffled my way through writing.
Who would you play Smith Sullivan and Valentina Landon in the movie version of your book? And why?
Honestly, I'm more interested in hearing who everyone else thinks should play them! I'd love to know how people visualize my super-sexy Sullivan movie star and the woman who steals his heart. 🙂
Giveaway: Bella will be giving away a
$25 gift card

to the winner's e-retailer of choice.
To enter giveaway: Please complete the rafflecopter form below and post a comment:
 I'd love to know how people visualize my super-sexy Sullivan movie star and the woman who steals his heart. 🙂 so tell me who would you cast in their role. Do you have a favorite Sullivan?
An excerpt from 'Come A Little Bit Closer'
Gravity was the story Smith had been waiting his entire career to tell. It wasn't a big-budget, smash 'em up blockbuster. Nor was it a period film with impeccably researched costumes and accents. Instead, it was a pure, honest story about love and family and what really mattered.

And he was staking his entire reputation on the deceptively simple story.

If ever there was a time for focus, for pure and total concentration, it was now and through the next eight weeks of filming. He couldn't afford to let anything—or anyone—distract him from making the best movie he had in him.

Only, as he followed Valentina to his trailer, her waist, hips, and legs gorgeous in her form-fitting pencil skirt, he already knew holding that intense focus wasn't going to be easy.

Valentina Landon had attracted him from the start with her exotic looks which she downplayed into cool, businesslike reserve. He couldn't miss the slightly seductive tone to her voice, or the fact that her scent was pure, rich sensuality. If she thought she was putting anyone off with her suits, soft golden hair pulled back into a simple ponytail, and the thick-framed glasses she slid on when she was poring over contracts, she was way off base.

Didn't she know that all those carefully constructed conservative elements made a guy like him want to find out just how deep her passions ran? Especially when she was so intent on hiding them. Not, of course, that she'd even come close to letting him find out the answer to that question.

During rehearsals, she was always either with her sister or making her way out of a room the second he walked into it. He'd been impressed with her business acumen during the past weeks with regard to Tatiana's career, as well as how well she took care of her sister on a personal level. Valentina didn't hover, but at the same time, she was there whenever Tatiana needed her.

As the second-oldest brother in a family of eight siblings, Smith knew just how hard it was to watch over his brothers and sisters while also letting them spread their wings and live their lives without his constant interference. Family meant the world to him, but he craved his independence, and his work, too. It was a constant balancing act, but one he wouldn't have given up for all the peace and quiet and spare time in the world.

From the beginning of his career just after college, he'd started with whatever scraps he could get and built on from there. He knew people thought he'd been handed his acting career, that his looks had paved the road with gold bricks and Hollywood stars. In truth, those looks had made being taken seriously so difficult that after the first couple of years of countless auditions, he'd almost taken one of the dozens of underwear commercials he'd been offered. Until, finally, an older actor had given him his chance to prove that he was more than just a pretty face. Smith had grabbed that chance with both hands, and when the movie was a box office hit, other doors finally started to open.

It was one of the reasons he'd been so interested in casting Tatiana Landon. Yes, Valentina's younger sister was beautiful. No question, she was going to be a star, one way or another. But when she worked, he saw several qualities in her that he recognized and admired. Determination. Concentration. And joy.

Yes, he thought, as Valentina threw open his trailer door without waiting for him to let her inside, there was much to admire about the Landon women. Particularly the older sister he hadn't been able to get out of his head since he'd met her in that initial casting meeting two months ago.

Talk about determination and concentration. Valentina had clearly taught her sister everything she knew. And when Valentina was with Tatiana, when they were laughing together the way sisters did when they were very close, her own joy rang out loud and clear.

Smith had just stepped inside and closed the door behind him when Valentina turned and faced him down.

"My sister is not going to become one of your little playthings."

Momentarily taken aback, Smith simply echoed, "Playthings?"

Valentina didn't have the obvious, more conventional beauty of her younger sister, but to Smith that made her face even more alluring. A man had to look under the surface with Valentina, but once he did, he was paid back richly with the contours of high cheekbones, incredibly long, unpainted lashes, eyes that tilted up slightly at the corners, and a cupid's bow on full lips that couldn't help but whisper of sex and heat no matter how tightly they were pursed.

Just the way they were right this second, in fact.

"Tatiana and I have been in this business for ten years," she said in a frosty voice. "I know exactly how this world works, Mr. Sullivan."

He had to cut her off, then, if only because he hated the way she used the Mr. as yet another way to keep distance between them. Not another damn person on his set called him Mr. Sullivan. He wouldn't let her do it, either, whatever her reasons for wanting to keep her distance.

"Call me Smith. Please."

Her mouth tightened even further, her eyes flashing yet again even as she nodded and said, in a very soft voice, "Smith." Her long, slender fingers twisted in her grip as she stared back at him. "You're older. You're successful. You're extremely good look—"

She stopped just short of the full word and it was all but impossible to keep himself from smirking just a little bit. And from saying, "Thank you, Valentina. I'm glad to know you think so."

Her eyes widened at the way he spoke her name, with more than a little heat. Any woman looking for his attention would have noticed she had it weeks ago. Then again, she hadn't been looking for his attention—had stopped just short of running from it, in fact.

Valentina was the opposite of every woman he knew in Hollywood. Instead of trying to draw attention to herself, she worked to keep it away. Smith had transformed himself into so many different characters over the course of his career that he knew all it would take were a few simple changes to her hair, clothes, makeup, and the way she held her body as she stood across from him, to shift her message from back off to come closer.