Today it is my pleasure to Welcome author
Samanthe Beck
to HJ!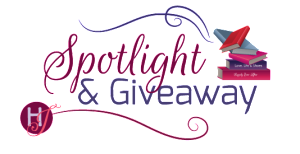 Hi Samanthe and welcome to HJ! We're so excited to chat with you about your new release, Compromised in Paradise!
Hi Junkies! Massive thanks to Sara for having me back to talk about my latest release, Compromising Her Position. If an HEA Hawaiian-style sounds like a perfect way to escape, read on!

Tell us about the book with this fun little challenge using the title of the book: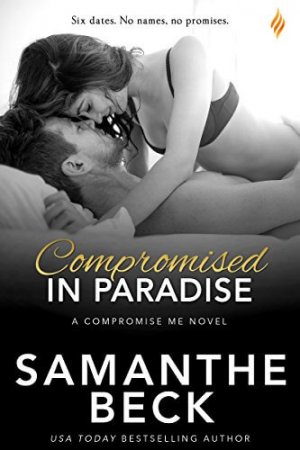 C is for: Cocky! My hero, Nick, has some cocky going on.
O is for: The big O, baby! My heroine, Arden, desperately wants one, but stress has been blocking her, big-time.
M is for: Maui. The Nick & Arden meet in a hotel bar in Maui. Hijinx ensue!
And…dang, Compromised in Paradise is a loooong-ass title. I'm calling it here, or question 1 will take up the rest of the post!

Please share the opening lines of this book:
Shoulders. Arden St. Sebastian's attention skidded to a halt on a cliff of masculine shoulders in a casual white shirt. And because the owner of those shoulders occupied a table on the other side of the hotel bar, with his back to her, she did what any straight woman with an active imagination and an under-indulged sex drive would do upon encountering such a stunning monument of male beauty. She envisioned stripping the shirt off, smoothing her hands along the rangy expanse, and then sinking her teeth into the bundle of muscle at the top of his arm.
Did I mention Arden's a little hard-up? 😉

Please share a few Fun facts about this book…
The story takes place at the fictional beach resort hotel of St. Sebastian, Maui. I haven't been to Maui in a long time, (and I really hope to rectify that soon), but I based the resort on The Four Seasons Wailea.
My heroine Arden, appears in two other books in the Compromise Me series, (Compromising Her Position and Hard Compromise), while my hero, Nick, appears in (Compromising Her Position), but the two never meet until this book. Despite the fact that they didn't know each other, and their paths never crossed, a surprising number of readers wanted to know if Arden and Nick would get together! I guess these two were meant to be!
Writing Compromised in Paradise was almost as fun as an actual vacation to Maui. Thanks to Nick and Arden, I got to take in some of my favorite island sights and activities, like watching the sunrise from the summit dormant volcano Mt. Haleakala, driving the road to Hana, and rock jumping in a rainforest!
Was there a scene in this book that was harder to write than others?
This story starts with a vacation hook-up. It's very purposeful one-night stand on both parties' parts, but Arden's stress issues get the better of her at a pivotal point and she kinda falls out of the moment…so she fakes it. She thinks she's got the world's most convincing fakie, but Nick's not fooled. Writing a funny, sexy scene when the heroine just faked an orgasm turned out to be a challenge! Did I pull it off? You be the judge!
***
Arden was so busy congratulating herself on a gold-medal performance it took a moment to realize he was utterly still and silent above her. She cracked an eye to find him staring at her, his mouth curved down at one corner.

She opened her other eye and blinked at him. The frown lingered. "Hey." She reached out and brushed his hair back from his forehead. "What's wrong?"

Assessing brown eyes narrowed. "Did you just fake it?"

***
"What? No! Of course not."

The czarina gave him a wide-eyed look he assumed she intended as guileless and tried to wiggle out from under him, but he had a good eighty pounds on her, and he wasn't going anywhere. He was fine with fake names and fake histories, but fake orgasms? No fucking way.

Finally, she huffed out a breath. "I had a screaming orgasm. Can't a guy, um…feel it?"

"Yeah, I know what a female orgasm feels like. Question is, do you?"

She blushed and dropped her gaze to somewhere around his chin, which would have given her away if basic human physiology hadn't already done it. No postorgasmic engorgement of the subpapillary venous plexus? No dilated pupils? No elevated respiration? No orgasm.

"Yes," she sighed. "I know what an orgasm feels like. And for the record, I really was close. But then"—she shrugged, not quite pulling off the casual gesture—"it disappeared. No big deal. Don't take it personally. To be honest, I don't usually come by just, you know"—she shrugged again—"intercourse."

He pinched the base of his cock and eased off her in a careful withdrawal. "While I appreciate all your honesty, Czarina"—she had the grace to blush at the unsubtle reminder of her lack of honesty—"this particular gem of truth comes a little late, don't you think?"

She sat up and swept her hair away from her face. "I don't know what you mean."

Translation? She didn't want to discuss it. Another dismissal, reinforced by the way she turned and started digging through her purse. The black curtain of hair she'd pushed back a moment ago draped forward to obscure her face from his view.

Too damn bad, because he knew the score. She hadn't picked him up at the bar because she'd wanted more of his conversational skills. Tonight wasn't about getting to know each other better. Hell, she didn't even want to know his real name. No, he'd had one job. Deliver a soul-deep, hurts-so-good, pray-for-mercy orgasm, and he'd failed on his first attempt. Now he owed her one—a debt he took seriously—so he wasn't going to be so easily dismissed. "I mean, this would have been good information to share with me before you decided to give up and bring things to a unilateral conclusion."

She sighed and held out a tissue to him. "You are taking this personally."

He accepted the tissue and dealt with the condom. Fine, maybe he was. The universe had a way of keeping everything in balance, and he was no exception. He wasn't cut out for relationships—his first serious attempt had fucked him up beyond repair—but to offset that sad reality, he excelled at sex. Orgasms on tap were pretty much what he had to offer, and he'd promised her one. His ego refused to admit defeat. But there were better ways to go about delivering on his promise than calling her out on her fakery.

She'd gone back to rummaging through her purse. Correction. Checking her phone. He moved the fall of her hair behind her shoulder and discovered her scowling at the small screen. "I'm taking it as a signal I need to ask a few questions, so this next round, when you scream my name, you're not polluting that beautiful mouth with a lie."

That got her attention. She raised her head and looked at him—a distinctly hopeful look. "Next round?"

"We said 'all night.'" He leaned in and nibbled the curve of her neck, and got a shiver and a giggle in return. Yep, definitely ticklish. She was sensitive as hell. Everywhere. And she enjoyed being kissed. Touched. Stimulated. She'd soaked up all of it like a flower soaked up sunlight. There had been nothing contrived about her responses, until the moment of truth—or deceit, in her case. His instincts told him her head had gotten in the way, not her body. The electronic mood-killer in her hand hadn't helped either. "I've got plenty of time."
Excerpt. © Reprinted by permission. All rights reserved.

What do you want people to take away from reading this book?
With Compromised in Paradise, I set out to write a fun, zero-angst, sexy-hot summer read. Envision an umbrella drink in book form and you get the picture. Stressed out Arden and naughty Nick seemed like the perfect couple to accomplish this goal—and I guarantee Compromised in Paradise will have you reaching for your spritzy-fan—but what took me by surprise was how funny these two commitment-phobes are as they get in too deep with each other. I hope you enjoy watching their island fling turn on them despite their best efforts to stick to sex, just sex, and nothing but the sex!

Thanks for blogging at HJ!
Giveaway:

$10.00 Amazon gift card
To enter Giveaway: Please complete the Rafflecopter form and Post a comment to this Q:

What's your favorite (or fantasy) destination for a sexy beach vacation?
Book Info:
Stressed out hotel heiress Arden St. Sebastian is in Maui for one thing and one thing only. Work. But when the hottie at the bar buys her a drink to end all frilly umbrella-and-glow stick drinks, she can't help but accept his unspoken invitation. When they get back to her villa, however, and the sexy moment of truth arrives, she can't…quite…get there. Again.
ER resident Nick Bancroft can handle a night of fun, anonymous sex, but he draws the line at a fake orgasm. He makes his mystery woman a deal. He'll take care of her little stress-induced orgasm problem if she'll spend the next six days exploring the island with him, no questions asked.
A week of island relaxation on the arm of the sexiest man she's ever met? Arden's game. As long as she keeps her identity secret, she's got nothing to lose…except her heart.
Each book in the Compromise Me series is a standalone story that can be enjoyed out of order.
Series Order:
Book #1 Compromising Her Position
Book #2 Hard Compromise
Book #3 Compromised in Paradise


Meet the Author: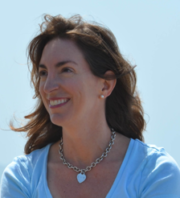 USA Today bestselling author Samanthe Beck lives in Malibu, California, with her long-suffering husband, their turbo-son, and a furry ninja named Kitty.
When not dreaming up fun, fan-your-cheeks sexy ways to get her characters to happily-ever-after, she searches for the perfect cabernet to pair with Ambien. Sam loves to hear from readers. Connect with her on social media!
Facebook: https://www.facebook.com/SamantheBeckWriter/
Twitter: @SamantheBeck1
Instagram: SamantheBeck