Today it is my pleasure to Welcome romance author
Barbara White Daille
to HJ!
What would you say are the 5 best things about being a writer?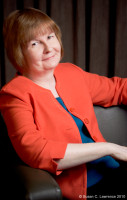 Working in sweats or pajamas.
Having easy access to chocolate.
Being able to get the stories out of my head and set them down on paper.
Bringing my characters to life, for me and for my readers.
Giving my readers a story that reels them in and keeps them hooked until the happy ending.
Let's talk about your newest release: Court Me, Cowboy
If you had to summarize Court Me, Cowboy for the readers here
Court Me, Cowboy is the story of Gabe and Marissa, two very different people who married in haste and then thought they'd made a mistake. After their honeymoon and a short time on Gabe's ranch, Marissa leaves him, but she's soon back with startling news—they've got a baby on the way.
Court Me, Cowboy is one of my earlier books, which was just issued this month for the first time as a stand-alone e-book. I'm so happy those readers who have been looking for the book for their e-readers will now be able to find it.
Please tell us about the characters in your book?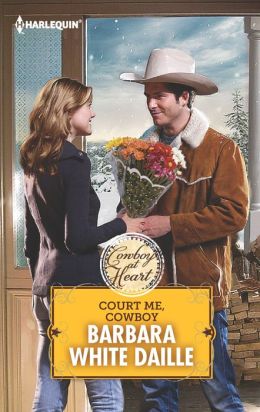 Gabe is a likeable rancher, but also a loner who keeps himself to himself. While he's friendly with everyone, past hurts make him guard his heart. He wants a child to inherit the ranch that has been in his family for generations. But Marissa has already deceived him, and he's not sure he can trust she's now telling the truth.
Marissa grew up with a mother who moved from man to man, dragging Marissa along like unwanted baggage. As a teen, she finally got up the courage to ask to live with her father, only to discover he was a rich, cold man who made it clear she could never live up to his expectations. All this has left Marissa wary of relationships, yet longing for love.
And, as in all my books, the hero and hero are involved with meddling matchmakers, interfering neighbors, and/or folks who are just plain interested in everything that goes on in town.
Was it love at first sight for your characters? If not what was the pivotal moment of change?
It absolutely was love at first sight for Gabe and Marissa, though they did wonder what the heck I'd been thinking, first bringing them together for a whirlwind relationship and then leaving them on their own in front of a Las Vegas wedding chapel! 🙂
They would probably tell you I'm not very nice for giving them glimpses of a happiness they don't believe they can ever have. But of course, they're meant for each other. They just need to work out a few issues keeping them apart. If they can…
If your characters could go back in time and change one thing what would it be? Why?
As the story opens, the one thing they would want to change is the fact that they'd ever met. They're feeling this way only because they've hurt each other so deeply, they would rather run than to try to work things out. But now there's a baby on the way, running isn't an option.
What scene did you have the most enjoy writing? Why?
It's hard to narrow this down to one scene, since I had so much fun—and felt so much heartache—while writing this book. But I do love this scene, where Gabe is determined to show Marissa off at a neighborhood Christmas party and she's just as determined not to attend:
Gabe stood in the living room doorway, leaning against the frame.
In the two days since their trip to the market. . .since their kiss, she had seen more of him than in all the days following their wedding combined.
Now, in a manner of speaking, she saw even more.
Soft lamplight made his day's growth of beard sparkle, his brown eyes shine. He had pulled his Western shirt out of the waistband of his jeans. Snaps undone, the shirtfront hung open, two panels of stark-white fabric teasing her with a glimpse of tanned skin and a sprinkling of dark hair.
"Wanted to talk to you about the party tomorrow," he said.
Her hands on the afghan stilled. She couldn't go to a party with him. No matter what agreement they had come to, she couldn't socialize with his friends and neighbors for hours, with him standing by her side.
"At Doc's," he continued. "Remember?"
She remembered, all right–their farce in front of his former schoolteacher and a storefront filled with people.
And she remembered the way that trip to town had ended. With Gabe's kiss. With him acting so. . .so "husbandly," as he had called it. He had his role down pat, all right.
"Christmas party," he added now.
Seeing a way out, she said, "We don't have any gifts."
He shrugged. "Don't need any. It's only a potluck."
"I don't have the ingredients for any of my specialties."
"So tomorrow morning, you can visit the market again."
"I don't have anything to wear."
"Jeans and a shirt." He raised his arms, indicating his attire. The shirtfront spread apart, giving her an almost full view of his chiseled chest.
She felt herself blanch. From his suggestion, that was all. "It's a Christmas party, Gabe. Jeans aren't appropriate."
He rolled his eyes. "City gals."
"Meaning what?" She frowned. This wasn't the first time he'd mentioned something about the city.
"Always wanting to dress up."
"You seemed to like it in Las Vegas."
"That was Vegas. This is Dillon, Texas, and out here, we don't need to go putting on airs."
"Putting on–" Standing, she threw down the afghan. "Are you trying to say I'm a snob?" Like her father.
"No."
"Then what? That I'm not good enough?" Second-class. Like her mother. True as the thought was, the unkindness of it made her wince. "That I won't fit in with your friends?"
"Whoa. Easy, now–"
"I might be a city mouse, Gabe, but I'm as good as any country mouse, any day."
"Mouse?" Eyes wide, he stared at her. "What the hell are you talking about?"
What scene was the hardest to write? Why?
So many of the scenes in this book were hard to write, because Gabe and Marissa are wounded by life, by the past, and by each other. Here's just one little clip from early on in the story, when Gabe first sees Marissa on his ranch again:
"Easy, now." Warren might've been talking to a skittish colt. He pulled the forgotten carton of eggs from Gabe's hands. "Got it under control here, boss. I guess you got some business needs taking care of."
"Yeah, right." He looked through the window again, gritted his teeth and set his jaw.
He had something to take care of, all right.
Throwing his ex-wife off his land.
Flexing his suddenly unsteady fingers, he strode across the kitchen to yank open the wooden back door. His heavy breath hit the cold morning air, spewing white mist in front of him like some smoke-and-fire-breathing dragon.
Feeling afire himself, he trotted across the porch and down the steps and across the wide expanse of dirt between the house and the drive, powered by three months of misery and–worse–the badly disguised pity of his men, his neighbors, his friends.
Seduced by a pretty face. Shamed by one, too, going from like to love in thirty-five seconds, with a quick detour for lust in between.
Should've stopped at the road closure sign.
Then again, should've known better than to hook up with her at all. He didn't have the kind of luck that went with loving a woman. Or having a woman love him. He'd lived with that knowledge for most of his life.
Marissa had made him forget it. For a very short time.
How did your character spend the week just before the story starts?
Gabe spent his week driving himself hard on his ranch, working with his men, and trying to forget his marriage.
Marissa spent the week trying to summon the courage to face Gabe again—and to break the news he's going to be a daddy.
What are you currently working on? What other releases so you have planned for 2013 into 2014?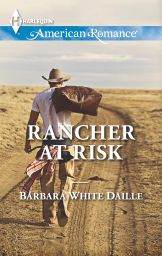 Thank you for asking!
I'm thrilled to say I'll have another Flagman's Folly book out next year. Rancher at Risk will be coming to you in January. It's the story of Ryan Molloy, a rancher who lost his family in a tragic accident and is at risk of losing his job, his reputation and, worst of all, his respect for himself. He's thrown into a close working relationship with Lianne Ward, a Deaf woman fighting to prove her ability to do her job—a fight that becomes even more desperate when Ryan is made her supervisor and doesn't hide his doubts about her competence.
Rancher at Risk is available in both paper and e-book formats. You can find additional information about the book at your favorite online retailers.
I'm currently working on a book that will be out sometime in 2014 as part of the Harlequin American Romance line's Texas Rodeo Barons continuity. This is my first time participating in a multi-author continuity, and I'm very excited about the project!
Thanks for blogging at HJ!
Giveaway:

Barbara is giving away one autographed paper copy each of: Court Me, Cowboy,  Family Matters and A Rancher's Pride
To enter Giveaway: Please complete the Rafflecopter form and Post a comment to this Q:

I'm always fascinating by the stories of how people find their true love, whether it's in a love-at-first-sight encounter or a relationship that grows and develops over time. Have you got a good story to tell of how you—or someone you know—discovered that Significant Other was The One?
Except
I especially love the scenes with the meddling matchmakers and the interfering townsfolk. Let me leave you with one of them:
"Time to act like the perfect couple. We dressed for the parts, all right." Gabe caught her left hand and lifted it to his lips. His gaze refused to let hers go, forced her to watch him as he pressed a kiss against her wedding band.
Then he turned her hand over to kiss her palm.
Her heart gave a sickening lurch.
Wrong. All wrong. Acting like her loving husband was just that for Gabe—an act—while she hadn't the performance skill to hide her reaction to his every glance, his every touch.
To her dismay, he wrapped his other arm around her, bringing their bodies close together.
"Hey, Miller," shouted one of the men in the crowd, "ain't your honeymoon finished yet?"
Looking over her shoulder, Gabe called back, "Heck, Charlie, it's just getting started."
"The mistletoe's over yonder," a woman called.
"See," he murmured in her ear, "it's working already." He took her by the elbow and moved forward.
Unless she wanted to make a scene in front of all these people she already liked and who already seemed to like her, unless she wanted to look like Mrs. Scrooge instead of Gabe's blushing bride, she had no choice but to move with him.
He stopped beneath the small green sprig dangling from the overhead light in the middle of the room. Amid laughter and loud hoots, he took her in his arms again.
She glanced up, then blurted in a whisper, "Wait. That's not mistletoe, it's holl—"
Too late. Gabe's lips had claimed hers.
As always, the chemistry sparked between them, bright and shiny as the flashing twinklers on the Christmas tree. The attraction was too strong to fight, too overwhelming to ignore. Too good to miss. So she didn't.
She accepted Gabe's lingering kiss. Matched him, move for tantalizing move.
And gave a darned good show for the cheering crowd.
Book Info:
The End…or Just the Beginning?
Gabe Miller's marriage ended so fast it had hardly begun. Which is why he couldn't quite believe his luck—or his "ex"—when she returned a few months later with the news that legally they were still husband and wife. And that the child she was carrying was his son.
Gabe feared Marissa would bolt again, making a custody battle his only option—unless he could turn back the clock and woo her the way he should have during their whirlwind romance. But even with his boy's future at stake, mending fences with a woman—especially the one he loved—wasn't something the strong, silent type found easy to do….
Author Bio
From the time she was a toddler, Barbara White Daille found herself fascinated by those things her mom called "books." Once she learned the words between the covers held the magic of storytelling, she wanted to see her words in print so she could weave that spell for others.
She hopes you will enjoy reading her stories and will find your own storytelling magic in them!
Barbara's thrilled that folks who love their e-readers can now find Court Me, Cowboy, one of her earlier books, as a stand-alone e-book.
Website | Facebook | Twitter |