Today it is my pleasure to Welcome author
Nicole Helm
to HJ!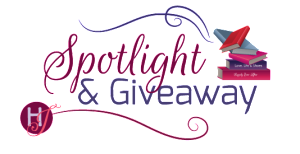 Hi Nicole Helm and welcome to HJ! We're so excited to chat with you about your new release, Cowboy SEAL Homecoming!
Please share your favorite scene from Cowboy SEAL Homecoming: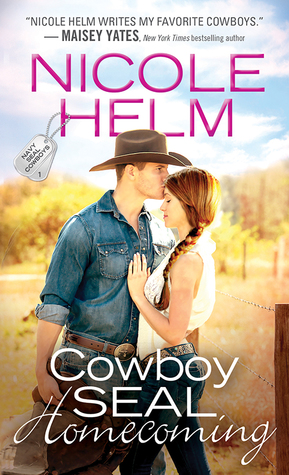 Writing Cowboy SEAL Homecoming, the first book in my Navy SEAL Cowboys series, was all about balance. Since the hero in this book, Alex, suffers from PTSD, and is having to deal with some losses in his life, it's an emotional journey. But it's also one of hope and healing, so I tried really hard to keep a balance of the emotional and heartfelt along with the light-hearted and humorous.

There are some emotional scenes in the book that really stuck with me, but my favorite scenes to write in this book were the light-hearted ones. One of my favorite ways to interject humor into a book is with odd animals, and my quirky heroine gave me ample opportunity to bring in the hilarious animal behavior!

Becca, the heroine, is a collector of wayward animals, including a goat named Ron Swanson. Ron's a little ornery, thinks he's part human, and is known to sneak into the house. My favorite scene to write is a scene where Ron gets on the roof of the ranch house. Inspired by a picture my friend sent me with an animal that refused to get off a roof, I decided it would be funny if no human being could coerce Ron off the roof. Only a rooster would do.

Enter Rasputin the Rooster:
"Ron Swanson. Look who I've got." She held up Rasputin, who flapped his wings until she let him go. He squawked and crowed and Ron bleated in return.
"What the fuck is happening?" Jack said, shaking his head.
"Just wait," Becca said as Ron started to pace the edge of the porch roof. Rasputin crowed again, starting to strut back toward the coop. Which was when Ron clattered down the slope of the roof and jumped the distance to the ground.
"That did not just happen," Gabe said, something like awe in his voice.
"Afraid it did," Becca returned cheerfully, walking toward the animals, who were now circling each other. She had to separate them before Rasputin took a chunk out of Ron.
"Need…help?" Alex offered, clearly hoping the answer was no.
Becca lunged and came up with Rasputin. "Nope. I'm good. Just have to put him back in his coop. Ron can wander a bit. He's never gotten up on the roof twice in the same day before."
She heard all the guys muttering, but she ignored them and walked toward the coop.
It wasn't such a bad way to start the day, all in all. A little animal shenanigans to get the blood pumping, and it never failed to make her laugh when three Navy SEALs looked dumbfounded.

Excerpt. © Reprinted by permission. All rights reserved.

I really had a fun time giving all three former Navy SEALs in the book moments where even with everything they've seen and done, there was something new and very strange to baffle them completely. Plus thinking about Ron Swanson and Rasputin never fails to make me laugh. What can I say? I love a bizarre animal story.

Thanks for blogging at HJ!
Giveaway:

Print copy of Cowboy SEAL Homecoming (Navy SEAL Cowboys) by Nicole Helm.
To enter Giveaway: Please complete the Rafflecopter form and Post a comment to this Q:

So, I'd love to hear yours. Unusual animals doing weird things? Hilarious human-like behavior? I want to know!
Book Info:
Alex Maguire never thought he'd go home again. The perfect soldier, the perfect leader, he's spent his whole life running away from Blue Valley, Montana—but when a tragic accident bounces him and two of his men out of the SEALs, there's nowhere left to turn but the ranch he used to call his own…and the confusing, innocently beguiling woman who now lives there.
Becca Denton's like nothing he could have imagined. She's far too tempting for her own good, but when she offers to help turn the ranch into a haven for injured veterans, he can't exactly say no. He'll just need to keep his distance. But something in her big green eyes makes Alex want to set aside the mantle of the perfect soldier and discover the man he could have been…safe and whole within the shelter of her arms.
Book Links: Amazon | Barnes & Noble | iBooks |Kobo | IndieBound


Meet the Author: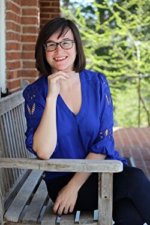 NICOLE HELM writes down-to-earth contemporary romance specializing in people who don't live close enough to neighbors for them to be a problem. When she's not writing, she spends her time dreaming about someday owning a barn. She lives with her husband and two young sons in O'Fallon, Missouri.
Find Nicole Online: Website | Facebook | Twitter  | GoodReads |