Today, HJ is pleased to share with you Melissa Foster's new release: 

CRUSHING ON LOVE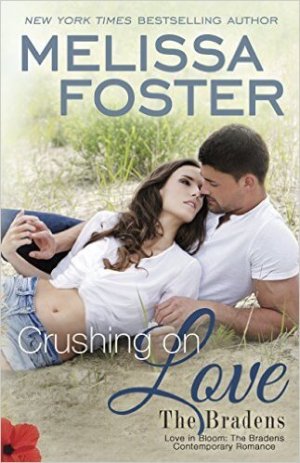 Steve Johnson is living his life's passion watching over the Colorado Mountains as a ranger and wildlife consultant. But his peaceful life is upended when overzealous and insanely beautiful Shannon Braden flits back into his life after returning from a brief trip home to Maryland. He thought his attraction to her was under control―after all, she's only in Colorado temporarily, and he doesn't do casual affairs.

Shannon's return to Colorado has as much to do with the game of cat and mouse she and Steve have been playing as it does the data she's been hired to collect. But despite her efforts to explore the undeniable heat simmering between them, Steve's intent on keeping his distance.

When a ranch abutting the national park goes up for sale, Steve will do whatever it takes to keep it from falling into the wrong hands. And when all his attempts fail, he's left with no alternative but to follow Shannon's guidance into the online world he abhors in order to raise the funds.

The more time they spend together, the deeper their attraction becomes, and a game of cat and mouse turns into an unstoppable connection. But when Shannon's assignment comes to an end, will it mean an end to them, too?

Enjoy an exclusive excerpt from Crushing on Love:
"We should get going," he said gruffly.
"Wait." Needing answers, she reached for his hand, and he stilled. "Did you really want me to go out with him?"
He didn't steal his hand away, but his serious expression sent a chill down her back.
"What I want doesn't matter."
Doesn't matter?"I don't understand. You've been hot and cold all day. One minute you're sucking my finger, the next you're telling me to go out with your friend. I have no idea where you stand."
"Where I stand?" He stepped closer. "Where I stand is right here on this mountain. Where I'll always stand."
She crossed her arms against the sting of rejection. "Come on, Steve. We've been playing this game since Rex and Jade's wedding, which was months ago."
"I don't play games," he said sharply.
She lifted her chin, meeting his gaze. "Then what do you call it? You took my cupcake, for God's sake, and whether you want to admit it or not, you definitelyhave been flirting with me."
"Why does it have to be called anything?" He turned away and ran his hand through his hair again. She realized it was a nervous habit. If he was nervous, that had to mean something.
"It doesn't, but…"
He turned toward her again. "But?"
"But…I don't know. Now I feel foolish for bringing it up."
His gaze softened and he grumbled a curse. "Well, don't feel foolish, for Christ's sake. I do like you." He reached for her hand and tugged her closer. "But I also respect you."
"But…?"
"We're saying that word a lot, aren't we?" His lips curved up in a smile. "But you're a social butterfly, and I like my solitary life. It doesn't matter if I like you, or if I find you insanely sexy. Nothing can come of it, so it's better if we don't torture ourselves with it."
She stepped closer and slipped her finger into the waistband of his pants. "You find me insanely sexy?"
"Shannon," he warned, and put his hand on hers to move it from his waist, but she curled her finger tighter.
"That's why you wanted me to go out with Will, isn't it? So I wouldn't want to go out with you? Or so I would be off-limits?"
He didn't respond, but his hand tightened around hers.
"So you wouldn't want me?" She closed the sliver of space between them. "Because you'd never hit on your friend's girlfriend. That's not who Steve Johnson is."
"For the record, your being with Will wouldn't stop me from wanting you. It would piss me off, but at least I'd know I didn't hold you back."
"From?"
"From the life you want. The life you deserve." His face went hard, tense."Stop this, Shannon. This can't happen."
"Why?"
"Because it can't go anywhere."
She heard the words. She even processed them, and she didn't do flings, but her heart was so full of Steve, not one ounce of her wanted to give up the chance to get closer to him.
"Do all relationships have to go somewhere?"It was a stupid question, because she knew everyone wasn't looking for a lifelong commitment, but she didn't care about everyone. She cared about him.
He closed his eyes for a second, and when he opened them, she sawa renewed struggle.
"You're asking the wrong guy." He dropped his gaze from her eyes to her mouth, and his entire body seemed to rise and expand.He grimaced, and just when she was sure he was going to turn away, his arm circled her waist and he tugged her against him.
Heat surged through her with his conflicting messages. He was looking at her like he wanted to devour her, but he gritted his teeth like she was the enemy.Breathing hard, her nerves tingling like pinpricks, she forced through her fear of being turned away and tried one last time to entice him over to the dark side.
"So," she said shakily. "Let me get this straight. You're attracted to me, but since we like different things, we can't"—she licked her lips, feeling his body flex against her—"kiss?"
His lips parted and his eyes narrowed.
"We can't"—she pressed her hand to his chest—"touch?"
"Shannon," he said gruffly. "I'm trying to do the right thing."
How come every guy she wanted to do the right thing inevitably did the wrong thing—like he was doing now?
"You think you're trying to do the right thing, but your definitions are mixed up, Grizz. The way you're holding me? That is the right thing." She held his gaze, their bodies instinctively moving closer. His long fingers splayed across her back, searing heat through her shirt.
"Damn it, Shannon. Don't you get it?" He pressed his cheek to hers, his whiskers scratching her skin as his hot breath rolled over her ear. "It's not wrong. Not by any stretch of the imagination."
He touched his lips to her cheek, and she closed her eyes. His lips brushed along her jaw, over her lips. His hips pressed forward, every hard inch of him sinking into her.
"Feel what you do to me with nothing more than your voice, a single touch, your sexy-as-hell eyes."
She couldn't respond, could barely think past the feel of his hands on her body, the power and frustration in his voice. Lord help her, because she wanted to feel that power wrapped around her.
"You know I want to lay you down right here and memorize every sweet curve of your body. I want to taste your pleasures, waylay your fears, discover your vulnerabilities, your secret pleasure points." His lips brushed over hers again, along her cheek, to her other ear. "Even when we're not together, all I can think about is what it would be like to be inside you."
Yes, yes, yes. Oh Lord, yes
Excerpt. ©Melissa Foster. Posted by arrangement with the publisher. All rights reserved.


Giveaway:

2 Ebook Copies of HEALED BY LOVE, 1st in Bradens at Peaceful Harbor Series
To enter Giveaway: Please complete the Rafflecopter form and post a comment to this Q:

What did you think of the excerpt spotlighted here? Leave a comment with your thoughts on the book…
Book Info: 
Crushing on Love
The Bradens at Peaceful Harbor #4
By: Melissa Foster
Releasing September 21, 2016
World Literary Press
Buy Links:     Amazon | B & N | Google | iTunes | Kobo


Meet the Author: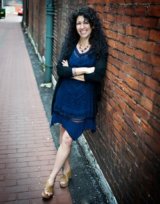 Melissa Foster is a New York Times & USA Today bestselling and award-winning author. She writes sexy and heartwarming contemporary romance, new adult romance, and women's fiction with emotionally compelling characters that stay with you long after you turn the last page. Melissa's emotional journeys are lovingly erotic, perfect beach reads, and always family oriented.
Author Links: Website | Facebook | Twitter | Goodreads