Today it is my pleasure to welcome author

Cecy Robson

to HJ!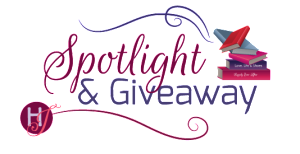 Hi Cecy, Welcome to HJ!
Hello. Thank you for having me!
What would you say is your motto or maxim as a writer?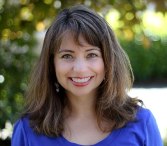 Keep writing. You'll only improve and become stronger.
If you were stranded on a deserted island… 
I would probably be eaten alive by demonic lawn gnomes riding rabid pigmy goats. Seriously, I have that kind of luck.
Let's talk about your newest release: Cursed By Destiny
If you had to summarize the book for the readers here…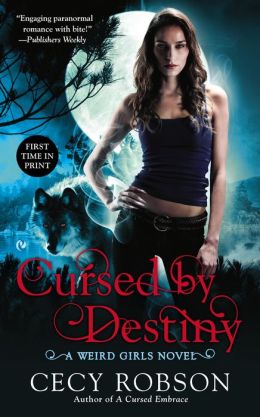 Celia Wird is in trouble. Again. A being within the supernatural community sees her as the key to its destruction and will stop at nothing to annihilate her. To make matters worse, a prophet reveals Celia's supposed destiny which will send her world spiraling out of control.
Please tell us about the characters in your book
My main characters are Celia, Taran, Shayna, and Emme Wird―sisters who received their unique powers as a result of a backfired curse. Celia is my protagonist and the first few novels are told through her perspective. Their story begins when the supernatural community of Lake Tahoe becomes aware of who they are, and what they can do.
As you wrote your protagonist was there anything about them that surprised you?
How ridiculously disastrous Celia is with men! Bless her heart, she will take on anyone, any time, any place, but heaven forbid she has to strike up a conversation with a male.
What scene did you most enjoy writing? Why? 
My favorite scene was when Celia went out for a jog and Misha, the master vampire she's living with, insisted she take vampire bodyguards. The vampires find her annoying and Celia has to work not to stake them on a daily basis. The way they interact is just hilarious.
"You know this really isn't necessary," I said to Hank.
He jogged alongside me, huffing and puffing like a two-pack a day patron. "Celia, the Tribe is getting desperate to off you if they're sending demons your way. Pardon the fuck out of the master for trying to protect you." He spat on the asphalt. "Do you think I want to run? It's idiotic. I don't understand why you do it."
"It's not idiotic. It helps my stamina and calms my tigress."
"So does sex—and it's much more pleasurable. I don't understand why you keep denying the master."
Vampires were all about overindulging themselves—whether with money, sex, or feedings. How could I have possibly reasoned with beings that were so selfish?
People driving in the opposite direction gawked at us. It was a clear, forty-degree day. I wore a baseball cap and sunglasses, but they weren't staring at my pitiful disguise. Nor were they stunned stupid by the gorgeous guy in the ridiculous 70's jogging suit running next to me. They stared at my security team, courtesy of my guardian angel master vampire.
Long gone were the days I raced along the lake trails by myself. Now every time I ran it was between two town cars full of combat-ready vampires. That was bad. The helicopter hovering above us? Much worse. Everyone in the Tahoe City area probably thought some eccentric billionaire was out for a stroll.
Hank grew impatient. "Well, are you going to tell me?"
"Tell you what?"
His expression told me he'd like to use my eyeballs to play ping-pong. "Why you don't bed the master? It's not like you're some shy virgin or something. That idiot Liam told me you and the pureblood were always getting it on."
My face flushed and I picked up my pace. "Hank, I am so not having this conversation with you."
He ignored me. "Not having sex is just unnatural, even for a weird-ass chick like you."
"Hank, you're really starting to piss me off."
"Just admit it, you want to have sex."
"I don't have to admit anything. And if you open your trap one more time, you're going to be sorry."
Again, he ignored me. "The master is reasonable. He'll probably allow his ears to be scratched during your love-making if that's the sort of shit that turns you on."
As my speed increased, the cars in front and behind us accelerated. "Hank, don't bring Aric into this, you know nothing about him or our love life."
"What love life? You have nothing with that mutt. Look, I'm not trying to pressure you, but the others and I have a pool going. The pot's getting high and I don't want to lose."
"You're betting on whether Misha and I are going to do it!" The revelation only made me run faster.
"Not whether you'll do it―when. Edith and Liz are already out twenty grand. You have to please the master by Valentine's Day or else I'm out fifty."
"You're such an asshole, Hank. I can't believe you'd bet on me."
"I wouldn't have if I'd known how difficult you'd be. Shit, Celia. I knew you were stubborn, but this is bad even for you."
Hank was now wheezing. Vampires were fast, but not designed to race for such long distances. We'd hit the ten-mile mark before I really began to sweat. I pushed faster. Hank tried desperately to catch me and lost his concentration. He slid on some gravel and took a dive. There was a loud grunt when the car behind us ran over him. Serves him right.
What scene was the hardest to write? Why?
The hardest scenes are those in which I have to hurt Celia. Honestly, I do love her and my other characters . . . despite how I continually torture them!
Aric rose from the couch, his jaw clenched. "I'm forced into a corner, Celia. My animal instincts roar to me to come out fighting, but my commitment to my pack keeps me in place." He lowered his head. "I don't sleep anymore. And I haven't known happiness since the day I left your arms. I don't expect your forgiveness nor do I deserve it for what I've done to you and to us. Just know that I hurt along with you, that I suffer without you, and that I'll love you forever."
Aric's thick boots marched across my small living room and into the kitchen. He grabbed his jacket without bothering to put it on and walked out of the house, disappearing into the darkness.
Who would you cast in the role of your characters if your book were optioned for a movie?
Celia—Emmy Rossum
Taran—Emmanuelle Chriqui
Shayna—Jennifer Lawrence
Emme—Ariana Grande
Aric—Milo Ventimiglia
Misha—Taylor Kitsch
If you could have given your characters one piece of advice before the opening pages of the book, what would it be and why?
Stay strong, watch your backs, and things aren't always like they seem. (Does that count as one? ☺)
What are you currently working on? What other releases do you have planned for 2014?
I'm currently working on my DEATH SEEKER series, an Urban Fantasy Romance series that deals with the Scottish and Irish Fae. I have three releases coming this year. The first is the third full-length novel in my Weird Girls series, CURSED BY DESTINY which released January 7th. The other is a Weird Girls prequel novella, A CURSE AWAKENED, which explains the origin of my Weird Girls' power and should release this summer. And the third is a New Adult tent. titled ONCE PERFECT, which is currently scheduled for a July release.
Where can readers get in touch with you?
Oh, jeeze, I seem to be everywhere these days. My links are below. I love hearing from fans so please feel free to say, hi!
cecyrobson.com
facebook.com/Cecy.Robson.Author
twitter.com/cecyrobson
GIVEAWAY:

2 print copies of CURSED BY DESTINY  
To enter Giveaway: Please complete the Rafflecopter form and post a comment to this Q:

Which supernatural character do you love to hate? Why?
Excerpt
I placed my foot into the monstrosity of a vehicle. The aroma of dried crushed herbs and magic smacked me in the nose and sent a stabbing pain into my skull. I whipped around and lunged at Misha and Hank, shifting us the moment my knee connected with the slate. I dissolved my body and that of the vampires into minute particles, easily and swiftly passing through the frozen soil and in the direction of the garden. The earth rumbled above us. We travelled fast, but I didn't get us far. I hadn't taken a sufficient breath and my lungs demanded air. I surfaced near an old redwood just as a second explosion sent the limo door spiraling toward us like a giant baton.
I shifted us down to our waists as the rim imbedded into the redwood above us like the blade from an electric saw, missing our heads by less than a second. Chunks of bark and broken glass peppered my scalp. I surfaced enough for us to crawl away from beneath the dented door. We were knocked onto our sides when a third blast pulverized what remained of the vehicle. I stared blankly at the roaring inferno.
Holy crap. Someone just tried to kill me.