Today it is my pleasure to Welcome author
Ashley Suzanne
to HJ!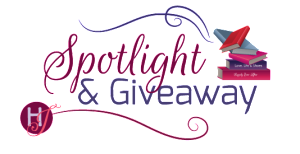 Ashley Suzanne follows up Raven with the next round in her scorching Fight or Flight series—the story of a damaged MMA fighter from the wrong side of the tracks, and the sizzling affair that forces him to grow up.
Please summarize the book for the readers here: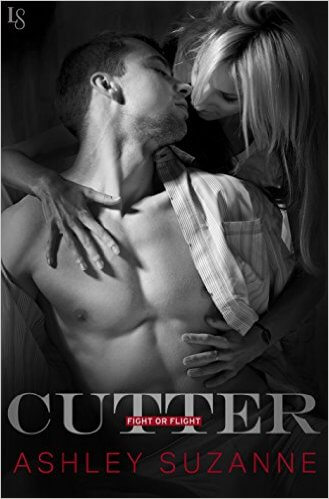 Cutter is a story about a young man who tries to find his way after a pretty terrible childhood. He makes a pretty quick connection to another employee at the gym where he works, and their friendship is beautiful, until … it isn't. There's a lot of angst, a lot of passion, and a lot of wonderful, complex characters you can't help but love even when you want to sock them in the face.

Please share the opening lines of this book:
Across the table from me a reporter sits, gathering her thoughts before she drills me with the questions I'm sure she'll ask. They're the same questions they all ask. When did I start fighting? . . . How do I feel tonight's match went? . . . Who am I looking forward to getting in the cage with? . . . Do any other fighters intimidate me? . . . It's all redundant and I wish, for the love of everything holy, that just one reporter would come to me and ask a question worth answering. I'd even settle for one that you couldn't Google the answer to.
Please share a few Fun facts about this book…
Cutter is a spin off book from Raven, my most favorite book written to date, that was never really intended for publication.
I fell in love with the name Cutter because of a super awesome chef on MasterChef
This book has gone through more re-writes than anything I've ever written, so I might have a few alternate ending chapters and middle chapters LOL
If your book was optioned for a movie, what scene would you use for the audition of the main characters and why?
I would have to say the scene where Cutter meets Josette … mostly because she's so witty, he's so clumsy, and they're so connected from the very first meeting, I'd need to make sure the actors chemistry is on point.
Suddenly, Josette leans into me, pressing her hand to my chest and stands on her tiptoes to get closer to my ear. "This is going to be really strange, but I need a huge favor. Care to help a girl out?"
"Sure," I mutter knowing there's no favor I could do for her that could end badly. I just met this woman, but I'm pretty sure there's not a whole lot I wouldn't do to keep feeling her hands on me.
"Okay, so there's this creepy guy from my history class. He's always asking me on dates and shit. Maybe if he thinks we're together, he'll get the hint—as if no wasn't hint enough—and leave me alone."
"So you're using me to scare off another guy?" I ask, amused at her reasoning.
"Yes, Cutter. Please? Will you be my fake dude for a few minutes?" She puffs out her bottom lip and softens her other facial features. I'd be a damn fool to say no.
"None of this reflects badly on me, got it?"
"Yes, sir." She giggles as I all but drag her onto the dance floor.
Excerpts. © Reprinted by permission. All rights reserved.

What do you want people to take away from reading this book?
Honestly, the moral of the story, in my mind while writing it anyway, was that … no matter where you come from, no matter how you started out in this world, you can truly achieve your dreams and it's never too late to start trying.

What are you currently working on? What other releases do you have planned for 2016?
I'm working on a book for my amazing agent … a non traditional love story with a killer of an ending … and I'm hoping to release a Destined Series book toward the end of the year.

Thanks for blogging at HJ!
Giveaway:

Ebook: CUTTER (A Fight or Flight Novel) by Ashley Suzanne (Gifted via AMZ)
To enter Giveaway: Please complete the Rafflecopter form and Post a comment to this Q:

If you could pick one actor to play your favorite book boyfriend, who would it be? Actor and book boyfriend.
Book Info:
Cutter Greer lives at the gym—literally. Abandoned by his parents as a teen, Cutter dropped out of high school and ended up on the streets. In a simple act of kindness, mixed martial arts trainers Garrett and Rian put him up in the apartment above their gym. Now he's got a surrogate family and a shot at MMA stardom—but he still has a lot to learn about women. And he certainly isn't prepared for the earth-shattering consequences that desire can bring.
Josette Morelli believes that she and Cutter have something special—more special than just being hot in bed. So when Cutter is scouted to go big time, the thought of being left behind scares her. And then Josette learns a shattering truth that could change everything between her and Cutter . . . unless she learns to set him free. Instead, she tells a lie that destroys their chances at happiness—and forces them both to fight for a future neither knew was possible.

Meet the Author: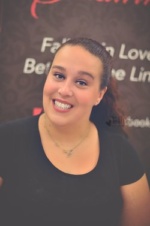 Ashley Suzanne has been writing as long as she can remember. As a youngster, she was always creating stories and talking to her imaginary friends. Thankfully, her parents also carried this love of fiction, and helped her grow into the writer she is today.
Ashley is a bestselling author and spends equal amounts of time writing and reading. Being the true book whore she is, Ashley would rather dive into a good book before going out of her house. Giving up her career in Real Estate, Ashley has officially moved to hermit status.
When Ashley isn't coming up with her next story, you'll most likely find her on the couch with a kindle in her hand (probably watching some crappy reality show while , annoying her husband by telling him all about her new book boyfriend or spending quality time with her two gremlins … Sorry, I mean adorable children.